A great homecoming for Kanor
Since emerging on the biggest of stages in 2016, left back Orlane Kanor played for Metz Handball, the team where she made the first steps in handball. However, in the summer of 2022, Rapid Bucuresti's offer was too good to turn down.
The 25-year-old left back, born in Guadeloupe, decided to change pastures for the first time in her career. It was a difficult decision, but one that underlines the ambition Kanor has always displayed in her career.
Rapid were debutants in the EHF Champions League Women, but assembled an interesting squad: a mix of Romanian players with experience in the European premium competition; and foreign stalwarts, mostly from Spain, the country of coach Carlos Viver.
In the previous season, Rapid delivered a huge shock in the Romanian league, winning the title for the first time in 19 years, but their ambitions were even higher. While challenging for a spot in the EHF FINAL4 is difficult for any team, for Rapid to break the established order was even more difficult.
However, with some excellent games and with some help from Kanor herself, the Romanian champions have been the biggest surprise of the season. They are now challenging for a direct quarter-finals berth, after drawing with Metz and beating Györi Audi ETO KC and Team Esbjerg on their home courts.
"I would have never thought to have such a great environment to thrive here, it is truly an amazing team to play for. And the fans? Wow, that is incredible, I have never played with such great fans behind you, it is just amazing, the energy we take from them. We can be invincible at home," says Kanor.
Indeed, Rapid have thrived this season, with a trio of back players – Eliza Buceschi, Sorina Grozav and Kanor – becoming their three best scorers, combining for 132 goals throughout the season. But every player has contributed, helping Rapid seal some excellent results.

But how has Kanor adapted to life outside France and outside Metz for the first time in her professional career?
"The differences are quite big, yes, because Bucharest is a huge city, way bigger than Metz, with plenty of things to do. Don't get me wrong, I love it here, I feel like home. There is, somehow, the problem of traffic, but everything is OK, I have adapted perfectly," says Kanor.
She has become one of the fan favourites, through her athleticism, never-say-die attitude and powerful shots. Nicknamed "Air Kanor", for rising from the ground to push her shots into the goal, the France left back has been crucial for Rapid's performances this season.
The Romanian champions will need one more excellent performance from Kanor in Saturday's game against her former side Metz Handball. A win would bring Rapid even closer to an unexpected quarter-finals berth.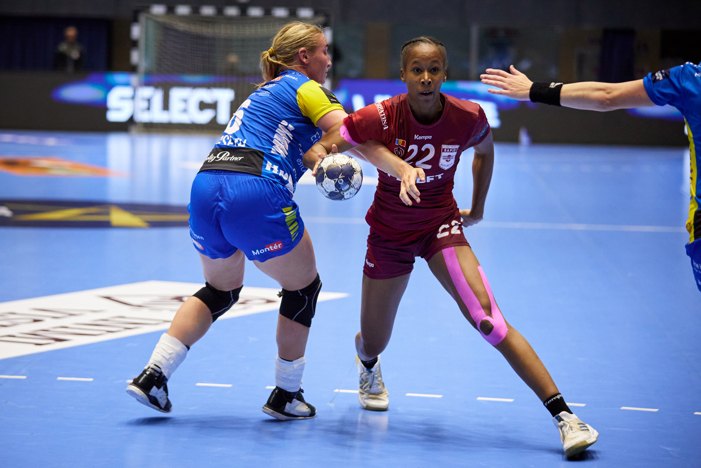 The game will be surely one to watch, as Orlane will face her twin sister, Laura, who is still playing for Metz. The Kanor sisters will reunite at Rapid from next season on. It will also be an emotional comeback for the French international, who won gold at the EHF EURO 2018 and silver at the EHF EURO 2020 with the national team.
"It is definitely one of the matches that I expected the most, because I had some excellent moments in Metz, it was my home, it was the only club I played for before joining Rapid. Sure, it will be a very tough game, but we hope to deliver a good performance and seal an important win," says the left back.
The Romanian side have lost only two of the 12 matches they played so far, and are currently fourth in group B in a three-way tie with Team Esbjerg and Györ, three points behind Metz. Györ and Esbjerg will face off in the last round, therefore Rapid winning against Metz would be a huge coup for them, getting even closer to a quarter-finals berth.
"Getting directly to the quarter-finals is difficult, but possible. Hopefully, we will be in that position. But even if we go to the play-offs, we will do everything in our power to qualify for the EHF FINAL4 in Budapest. That would be really amazing in our first season in the competition," concludes Kanor.