EHF Champions League
Summary: FTC and Valcea impress with home wins
The games are flying in thick and fast as the DELO EHF Champions League group phase reaches the business end. In two rescheduled matches on Wednesday evening, Valcea and FTC both had two-goal home wins against higher-ranked opponents.
two rescheduled matches from earlier rounds in the DELO EHF Champions League
in group A, FTC-Rail Cargo Hungaria defeat Metz Handball 32:30 (18:15) as both teams are now on 12 points
in group B, SCM Ramnicu Valcea beat Buducnost 25:23 (14:10) for their second win in a row, coming off six straight losses
the DELO EHF Champions League continues with round 12 this weekend
Eric Willemsen reported on Wednesday evening
21:05
Here ends our coverage of this nice midweek bonus with two rescheduled matches. The DELO EHF Champions League resumes in full force this weekend with round 12 so make sure to visit the live blog on eurohandball.com again!
For now it is goodbye and I leave you once more with the best pictures of the day.
21:00
Tonight's results again: two home wins, both by two goals, and each time with the hosts beating a higher-ranked team.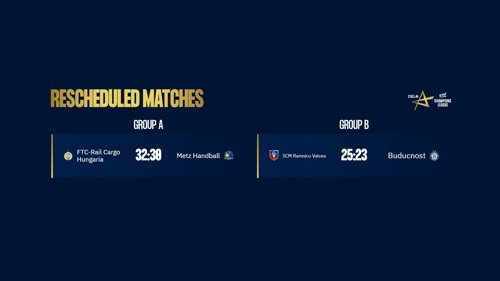 20:54
Let's hear from FTC head coach Gabor Elek, as his team has bounced back from a 28:24 loss against Team Esbjerg last weekend to take a convincing win over Metz tonight:
Saturday was really disappointing for us, but tonight we can be extremely happy. It was teamwork, we wanted this win, we were strong mentally and we always had somebody to help us in the more difficult moments of the game.
20:49
Broch is back!
Even though only for a few minutes near the end, it is a pleasure to see Yvette Broch back in the EHF Champions League, after the Dutch star line player has been away for nearly three years.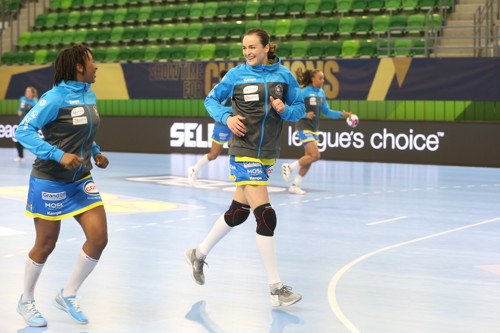 20:43
Read how FTC have won the first part of this week's double-header against Metz tonight, four days before the teams meet again in France on Sunday:
20:30
Metz are obviously down - but also looking forward to Sunday, when both teams meet again in France for their round 12 duel!
20:26
Sneaky pass, clever finish!

20:18
RESULT | FTC-Rail Cargo Hungaria vs Metz Handball 32:30 (18:15)
Congrats to FTC, who hold on to an early lead to deservedly beat Metz. Both teams are now on 12 points in group B, though Metz have a game in hand.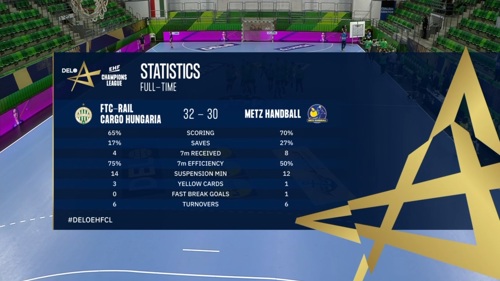 20:09
Team timeout Metz. It is 30:27 for FTC with five minutes on the clock and Metz coach Emmanuel Mayonnade will bring Yvette Broch as a second line player. It is all or nothing now!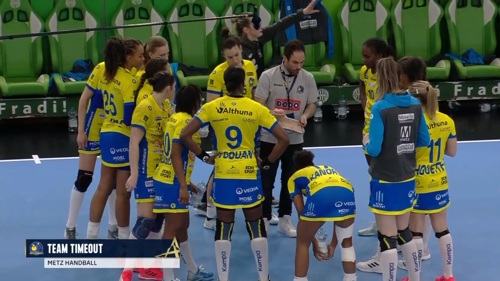 19:57
ICYMI - admire the will and power of Meline Nocandy:
19:50
Tjasa Stanko, next season back at Krim in her native Slovenia, but now converting a penalty for Metz against FTC as the French side reduce their deficit to just two, 22:20.
Still 20 minutes to go!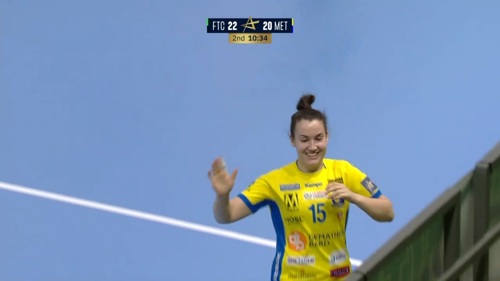 19:48
Let's hear what Mireya Gonzalez had to say after her Valcea earned their second straight win tonight, against Buducnost:
I am so happy. I am so proud of my team. We played very good in defence and we had good solutions in attack. It is important to continue this way in the Champions League, with confidence.

19:24
HALF-TIME | FTC-Rail Cargo Hungaria vs Metz Handball 18:15
It is their efficient attack (75 percent!) that has helped FTC open a three-goal lead in the first half. However, Metz's Meline Nocandy is the best scorer so far, with six goals.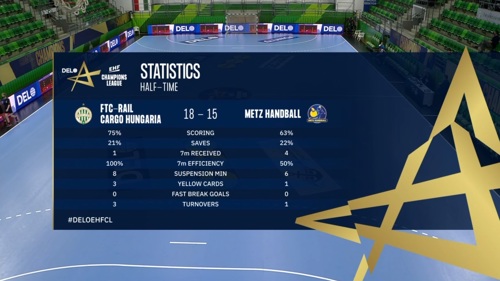 19:08
If you dream as a player how you would like to start your match, it must be something like this... Nice shot, Emily Bölk!
19:04
Team timeout Metz. Emmanuel Mayonnade has some instructions for his team as Metz are trailing FTC by two, 9:7.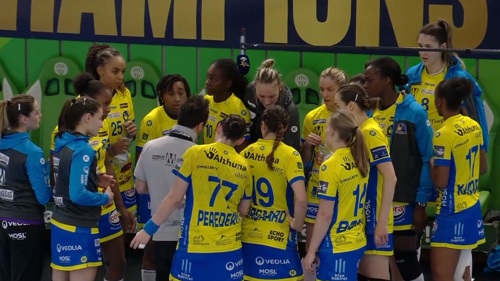 19:01
Read how Valcea downed Buducnost 25:23 earlier tonight for their second straight win:
18:57
Dutch wing Debbie Bont has just made it 5:5 as nothing is separating FTC and Metz after the opening 10 minutes.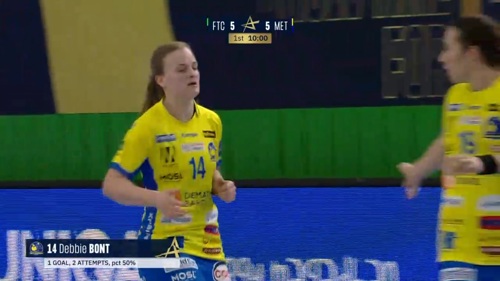 18:42
And it is right on to our next match. Join us as we visit Hungary where FTC play hosts to Metz.
Here is your DIRECT LINK TO FTC VS METZ ON EHFTV.

18:39
Buducnost did well to snatch a point from second-ranked Brest Bretagne Handball in France last weekend but fail to reproduce the goods against Valcea in Romania tonight and go down 25:23.
For Valcea, the only way is up after back-to-back wins, which follow their series of six straight defeats to start the season.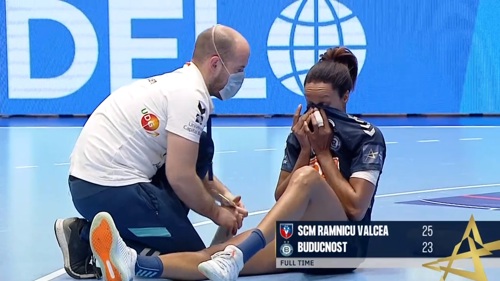 18:32
RESULT | SCM Ramnicu Valcea vs Buducnost 25:23 (14:10)
Well done, Valcea! The hosts have been in the lead against Buducnost throughout since 1:1 in minute two of the first half for a deserved win.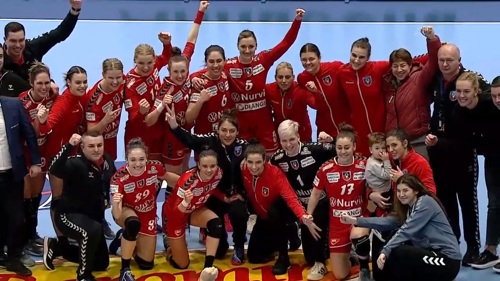 18:24
The content on our official EHF Champions League Twitter channel is so cool, the top players are even retweeting it during their matches... ;-)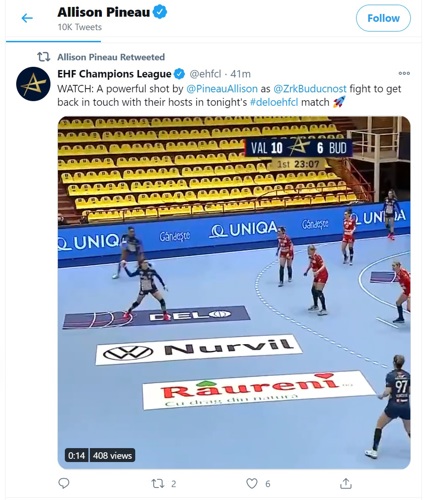 18:16
Team timeout Buducnost. They are 21:18 behind with 10 minutes left. Can they turn it around or are Valcea going to get their second straight win?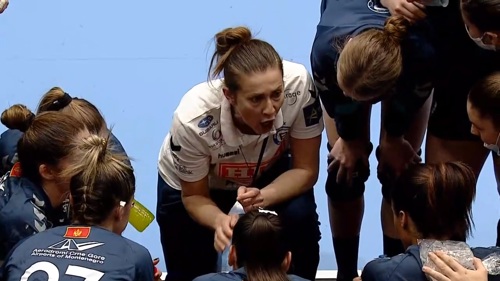 18:07
Halfway through the second half and Buducnost have closed the gap to Valcea to just two goals, 17:15. This is still anybody's game!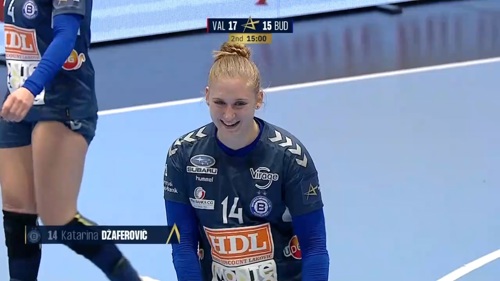 17:57
Kristina Liscevic had crackers like these to help Valcea to a healthy 14:10 half-time lead. Can she do it again in the second half?

17:37
HALF-TIME | SCM Ramnicu Valcea vs Buducnost 14:10
The hosts took an early lead and held on to it. We are up for an interesting second half in Romania.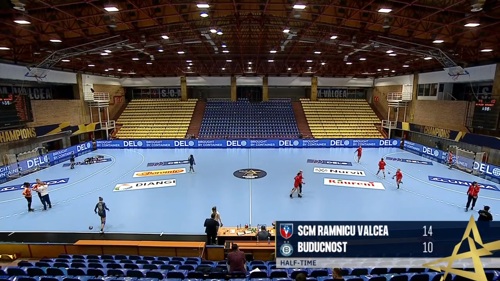 17:18
Halfway through the first half, Valcea lead by two. Not exactly a high-scoring game so far but we have seen some entertaining stuff.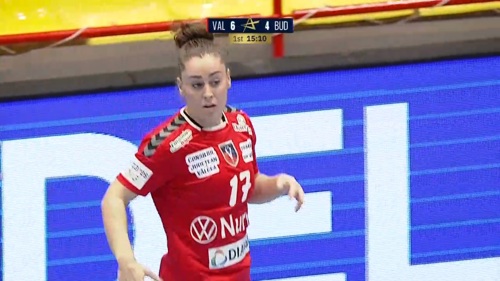 17:09
Just the start the hosts wanted! Valcea have gone 4:1 up against Buducnost in under eight minutes.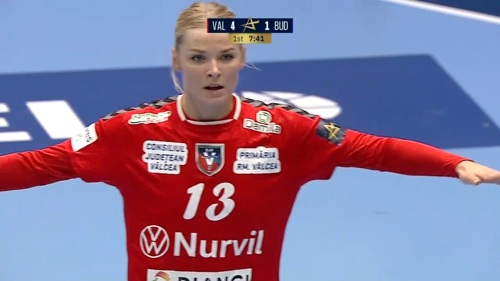 16:50
Get ready... we throw off in 10 minutes!
Here is your DIRECT LINK TO VALCEA VS BUDUCNOST ON EHFTV.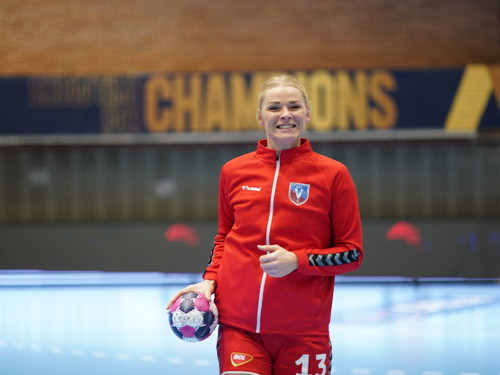 16:41
Metz can close the gap to group A leaders Rostov-Don to a single point if they beat FTC tonight. In that case, they could even go top of the group this weekend with another won over FTC, as Rostov won't play since their match against CSM Bucuresti has been postponed.
On the other hand, FTC could join Metz on 12 points tonight if they keep the points in Hungary.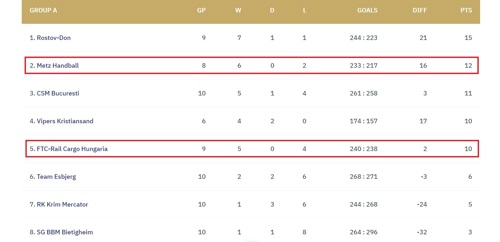 16:29
Tonight's second rescheduled match sees FTC hosting Metz at 18:45 CET, in what will be the first part of a double-header as the teams meet again for their regular round 12 match in France on Sunday.
What you need to know ahead of tonight's match, rescheduled from round 3:
Metz are ranked second with 12 points from eight matches, FTC fifth with 10 from nine
Metz travelled to Hungary straight from Slovenia, where they defeated Krim last Saturday
FTC suffered their third home defeat last weekend, against Team Esbjerg; only Bietigheim and Krim have worse home records in group A
Metz have signed French international Chloé Valentini for next season and extended contracts with many key players, including Orlane Kanor and Louise Burgaard

16:09
Valcea ended their six-match losing streak last weekend in Croatia. Can they continue the upward trend at home against Buducnost?
The visitors from Montenegro know one thing for sure: no matter the result tonight, they will remain in fifth place in group B.
Here is how both teams rank going into today's match: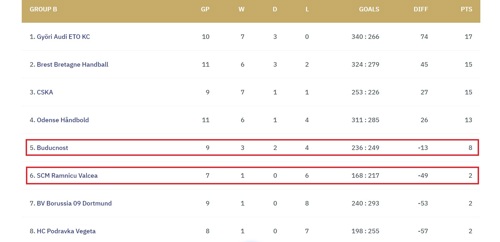 15:55
We throw off in Romania in just over an hour as Valcea will be hosting Buducnost in a group B clash that was initially planned for round 7 in November.
Here is some useful info to get you up to date:
after six straight defeats, Valcea finally earned their first points of the season at Podravka Vegeta (27:25) last weekend
that result saw Valcea overtake BV Borussia 09 Dortmund and Podravka into sixth place
Buducnost came close to upsetting second-ranked Brest in France last weekend, leading 18:11 at half-time before settling for a 28:28 draw
Buducnost have three points from two matches since former star player Bojana Popovic took over as head coach
in the reverse fixture in November, Buducnost claimed a hard-fought win at home, 29:28

15:30
It is Wednesday... but we do have some intriguing DELO EHF Champions League action for you today. So, welcome to the live blog!
We will see two rescheduled matches that were postponed in the autumn:
17:00 CET: SCM Ramnicu Valcea vs Buducnost in group B
18:45 CET: FTC-Rail Cargo Hungaria vs Metz Handball in group A
As always, our preview on eurohandball.com is a good starting point to get informed: