EHF European League
Summary: Leon bring Plock down a notch
Eight matches scheduled for Tuesday and three on Wednesday, all live on EHFTV
Nexe beat CSKA 32:31 and Nimes overcome Dinamo Bucuresti 32:29 in highlights of the 18:45 CET throw-offs
there were also wins for Schaffhausen, GOG and Magdeburg
Leon end Plock's winning run, Fivers score for fun and Sporting edge out IFK Kristianstad in the late throw-offs
22:58
We'll wrap it up on the live blog, on a day that saw a bunch of tense and tight matches, a perfect winning record come to an end and a game in Vienna with 75 goals. We do it all again tomorrow with three more matches as the European League Last 16 picture becomes ever clearer. Goodnight!
22:48
Tonight's action means we have made some progress in the race for the European League Last 16 as there are now 10 teams with a ticket to the next round. Here they are!
Orlen Wisla Plock
Abanca Ademar Leon
USAM Nimes Gard
Füchse Berlin
IFK Kristianstad
SC Magdeburg
Montpellier HB
HC CSKA
RK Nexe
Rhein-Neckar Löwen

22:24 | FULL-TIME
Sporting CP 27:26 IFK Kristianstad
A gritty second-half comeback falls just short for the Swedes as Sporting hold on to claim their fourth win of the group phase, putting a bit of breathing space between them and Dinamo Bucuresti in the race for fourth place in group B.
Sporting have had to come to terms with the departure of top scorer and a star of Egypt 2021, Frankis Carol, who moved to Qatar, but have managed well tonight and deserve the two points.
22:13 | FULL-TIME
Abanca Ademar Leon 32:27 Orlen Wisla Plock
The last remaining perfect record in the group phase comes to an end as Plock finally suffer defeat in their ninth match.
The damage was done in the first half with a rock solid performance by Leon and whenever Plock came charging back in the second half, the Spanish side had an answer for them.
22:06 | FULL-TIME
Fivers 45:30 Metalurg
45 goals. FORTY-FIVE GOALS! A demolition job by the young Austrian side tonight against Metalurg, who are now certain to remain rooted to the bottom of group A.
Fivers' big win keeps their hopes of making it through to the Last 16 alive, all will become clear over the next week or so.
21:59
Another beautiful act of solidarity in the European League tonight, this time from Sporting as they put their rivalry with Porto to one side and offer a message of support to goalkeeper Alfredo Quintana, who sadly suffered a cardiac arrest last night at training and is currently receiving treatment in hospital.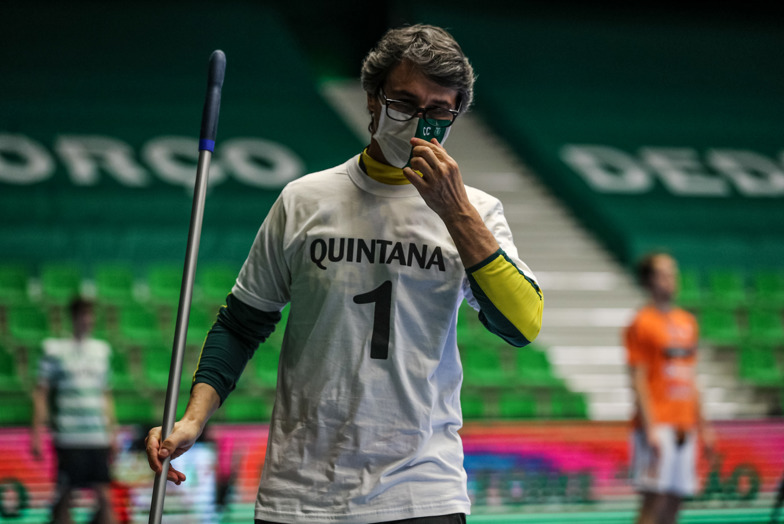 21:53
As soon as Plock appear to be fighting their way back into contention, Leon have the answers with a fluid rotation of their bench.
Ruben Marchan, who made a bit of a name for himself at last month's World Championship, comes in with two successive goals on the line, followed by one from Mateusz Piechowski against his fellow countrymen to give Leon a 24:18 lead with 14 minutes remaining.
21:39
A 3:0 run for Plock in the first three minutes of the second half and suddenly we have a game on our hands! Leon's advantage now down to 16:12.
21:25 | HALF-TIME
Sporting CP 16:14 IFK Kristianstad
Fivers 22:13 HC Metalurg
Abanca Ademar Leon 16:9 Orlen Wisla Plock
Leon have been impressive in all areas with their defence in control while Tin Lucin and Natán Suárez are doing the business in front of goal. Plock's perfect record is in serious danger.
Fivers are taking no prisoners in their clash against Metalurg, leading by nine goals in what looks set to be a long evening for their guests.
Two late goals have given Kristianstad something to work with after what was a first half largely dominated by Sporting.

20:21 | FULL-TIME
Grundfos Tatabanya KC 30:32 Kadetten Schaffhausen
RK Nexe 32:31 HC CSKA
GOG 32:31 RK Trimo Trebnje
SC Magdeburg 36:21 Alingsas HK
USAM Nimes Gard 32:29 C.S. Dinamo Bucuresti
Drama all around in the final minutes of these matches. Tatabanya throw away a chance to equalise late on and miss out on their first point of the group phase.
Nimes hold strong in the final minutes to outwit Dinamo and go top of group B.
And Nexe's Mario Tomic scores into an empty net with just seconds remaining to claim an impressive win over CSKA.
20:12
The did not make life easy for themselves but GOG get the job done in the end, beating Trimo Trebnje 32:31 in the first of their double-header. They now go second in group D and a draw tomorrow will be enough for them to secure a spot in the Last 16.
20:05
We're into the final 10 minutes of our early throw-offs and only Magdeburg look assured of the points at this stage.
Nimes vs Dinamo continues to be an engaging contest as well as a rough one with 11 suspensions. Nimes currently hold a 27:25 advantage with nine minutes left on the clock after Ahmed El Sayed smacks in a long range goal.
19:58
In their ninth game of the group, Tatabanya are within touching distance of their first points. They lead Schaffhausen 27:26 with 12 minutes remaining but have lost their defensive specialist Adrian Sipos.
Sipos got a red card after three suspensions, for the second game in a row, which will surprise absolutely nobody who knows him...
19:52
GOG have turned things around in their home match away from home against Trebnje. Having weathered the early storm, they now have a 26:23 lead and seem to be in control with a quarter of the game left to play.
It won't surprise you that Emil Jakobsen is having a stormer with nine goals so far.
19:44
The second half has begun and there is already a huge momentum shift in France as a couple of big saves by Dinamo's Saeid Heidarirad and goals down the other end see the Bucharest side take a 17:16 lead!

19:26
We've hit the halfway point of our 18:45 CET throw-offs and all five gives are pretty close, with three goals being the largest lead.
Nexe vs CSKA and Nimes vs Dinamo seem to be particularly dogged affairs but all five are well-worth keeping an eye on in the second half.
Grundfos Tatabanya KC 18:15 Kadetten Schaffhausen
RK Nexe 14:14 HC CSKA
GOG 17:16 RK Trimo Trebnje
SC Magdeburg 18:15 Alingsas HK
USAM Nimes Gard 15:14 C.S. Dinamo Bucuresti
19:19
Sanad is having a field day for Nimes. His seventh goal of the say sees him come in from the right wing and score on the line and his efforts today are keeping Nimes' noses in front against Dinamo - 14:12 after 27 minutes.
19:10
Magdeburg were pulling out the tricks from the get-go but have been unable to shake off Alingsas in the first half.
23 minutes on the clock and we're all square in Germany, 14:14.
19:03
Nexe and CSKA also living up to the pre-match hype as they are level at 7:7 after 15 minutes with Nexe young and powerful back court player Halil Jaganjac leading the way with three goals.
Meanwhile, Trebnje are doing their bit to stay in the competition with a fine start against GOG, leading 12:8.
18:54
Plenty of intensity in the Nimes vs Dinamo Bucuresti game, which has stood out to me so far. Mohamed Sanad is keeping up his brilliant form with three early goals as the home side lead 4:3 after eight minutes.
18:43
We're moments away from throw-off in five matches and we have four world champions in the house for GOG tonight as they look for a bright start to their double-header against Trebnje in Slovenia and jump into second place in group D.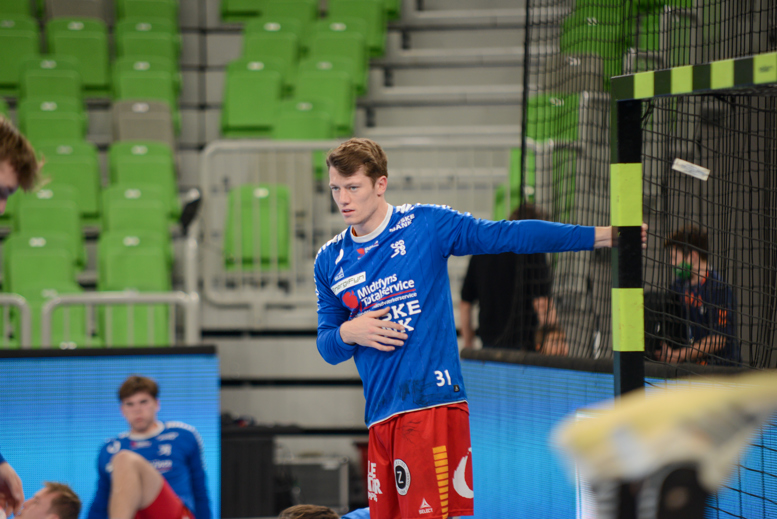 18:32
In group B, we have two teams who rarely fail to entertain, USAM Nimes (FRA) vs Dinamo Bucuresti (ROU), in a game both feel they really need to win.
After their impressive point at Füchse Berlin last week, USAM Nimes need a win to stay in touch at the top, while Dinamo require points to keep them in the hunt for a top-four finish.
18:21
Right behind Magdeburg, there is a fascinating battle in group C between RK Nexe (CRO) and HC CSKA (RUS).
Since his arrival in Nasice, coach Branko Tamse has recorded three consecutive wins in the EHF European League but will have to inspire his team to something big today as CSKA overran Nexe in their first encounter this season, 29:18.
The Russian team are on a winning streak, having won their last six matches in both the EHF European League and Russian League, and are just two points behind Magdeburg with a game in hand.
18:01
We're not too far from the 18:45 CET throw-offs on what is set to be a busy and very important evening in the group phase.
One of the wildest moments of the group phase was a last-second victory for Alingsas over Magdeburg in November. The sides meet again today and Magdeburg look like serious favourites as they aim to consolidate top spot in group C.
12:55
We already had one match this week, played last night between Besiktas and Montpellier. The French side took a fairly comfortable 36:26 win in the end but were pushed hard in the first half, particularly by a brilliant effort from Ramazan Döne - scoring 13 goals for the home side.
12:31
Lots to dig into with eight matches on the way but here is a quick overview from each of the four groups as written in our round preview.
In group A, Plock are already qualified for the Last 16, but the Polish side can secure first place on the table this week. On the other hand, Metalurg could be knocked out of contention this week, while Fivers and Toulouse are in the battle for the last ticket.
Sporting CP, Nîmes and Dinamo Bucuresti will all be playing twice this week, and all three teams are battling for the top spots in group B.
In group C, Alingsas will try to surprise Magdeburg once again, CSKA and Nexe have the chance to firm up their current positions and Montpellier travel to Turkey.
In group D, a double-header in Ljubljana may decide all four participants of the Last 16. If Trebnje do not take at least two points against GOG, the Slovenians are out of the race for the knockout stage.
12:15
Good afternoon and welcome to the European League live blog for 23 February and the penultimate week of matches in the group phase.
Remarkably, only four teams are sure of their future in the competition with many of the Last 16 places still up for grabs.
Here is the schedule for today:
18:45 CET
Grundfos Tatabanya KC vs Kadetten Schaffhausen
RK Nexe vs HC CSKA
GOG vs RK Trimo Trebnje
SC Magdeburg vs Alingsas HK
USAM Nimes Gard vs C.S. Dinamo Bucuresti
20:45 CET
Sporting CP vs IFK Kristianstad
Fivers vs HC Metalurg
Abanca Ademar Leon vs Orlen Wisla Plock