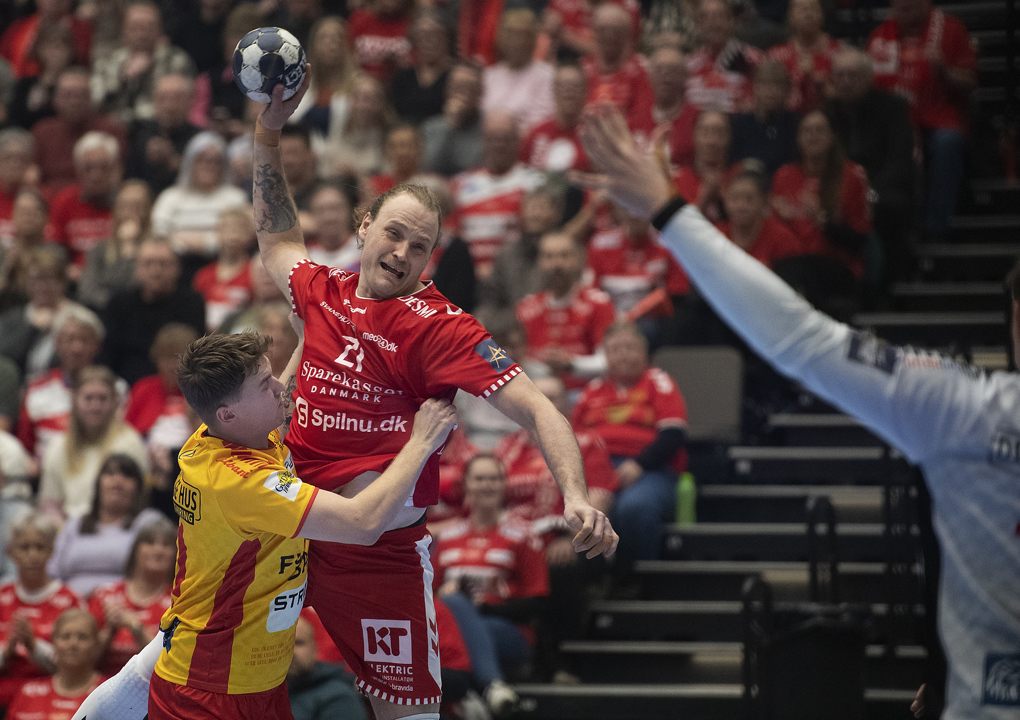 SUMMARY: Aalborg MOTW victory over GOG closes first leg of play-offs
The Machineseeker EHF Champions League 2022/23 returned to action after three weeks with the first leg of the play-offs, highlighted by the Match of the Week – the Danish derby between Aalborg Håndbold and GOG, in which the hosts pulled off an unexpected win with a heavily depleted squad. 
21:04
And with that we close our coverage of the first legs of the play-offs in the Machineseeker EHF Champions League 2022/23. 

We will be back for the second legs next week with more live action so stay tuned. Enjoy some of the best photos of tonight's match below!












20:30
Read our match review of MOTW by our journalist Kevin Domas: 
It was not good from our side. We have a lot to come with when we are playing in Odense so we have to go home and train a lot. We need to play a little faster in attack and also defend better, because they came with a new thing and we weren't prepared for that.
It's amazing, we play against one of the two best teams in Denmark and we did this at home with a new team. I'm just emotional and feeling great. If we can do it here we can also do it in Odense.
20:22
The magic of Match of the Week strikes once again! Aalborg come away with a two-goal win against all the odds. Hendrik Mollgaard comes away with player of the match with his performance that really wound back the clock. He was huge in defence for the hosts tonight and that backcourt rocket really showed his the old arm still has it.

But top scorer on the night for Aalborg is Marinus Munk, his six goal really lit up the arena and what a story that is! From a nobody to stealing all the headlines. Remember the name.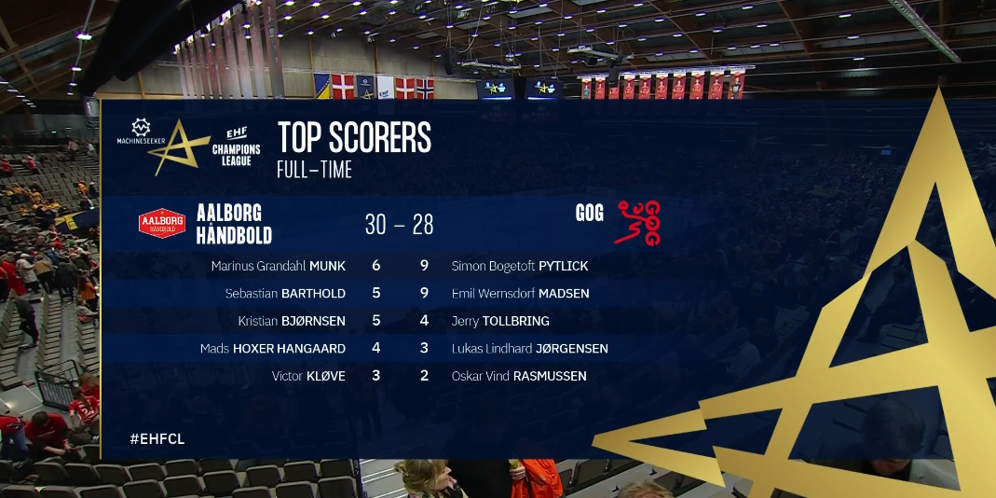 20:19
THAT goal: 


20:17
The name of everyone's lips: Marinus Munk! The 19-year-old has five goals to his name and what goals they were! Nobody knew his name before today, but they won't forget him after tonight. Fearless is the word that comes to mind. 
20:10
20:05
Mads Hoxer with the goal of the game! No passes left from nothing he rockets the ball standing and the fans jump to their feet. 
19:54
19-year-old Marinus Munk coming up with the goods! The young shooter is in to fill the shoes of Felix Claar and he has just netted two lovely goals. Munk showing his is not afraid to attack this GOG defence! Aalborg 22:19 GOG. 
19:49
How quickly things in handball can change! GOG with a wonderful opening to the second half are back in this one. They are looking a lot more like the GOG we know. Just two goals in it now after GOG pulling it back to just one briefly. Aalborg 18:16 GOG. 
19:26
Well, it is half-time and all the talking going into the game was about this Aalborg side and how depleted they were and if they could keep it close it would be a huge result. They have torn up that script and go into the dressing room four to the good. Mads Hoxer has been dangerous from the back court while being a tad expensive missing 50% of his shots, he is 3/6 at the break. Kristian Bjornsen has been a good boost of speed for the hosts and his four goals came at the right times. GOG will need to sort their back court out, with it looking a bit out of sync at the moment. 

Join us for the second 30 on EHFTV.com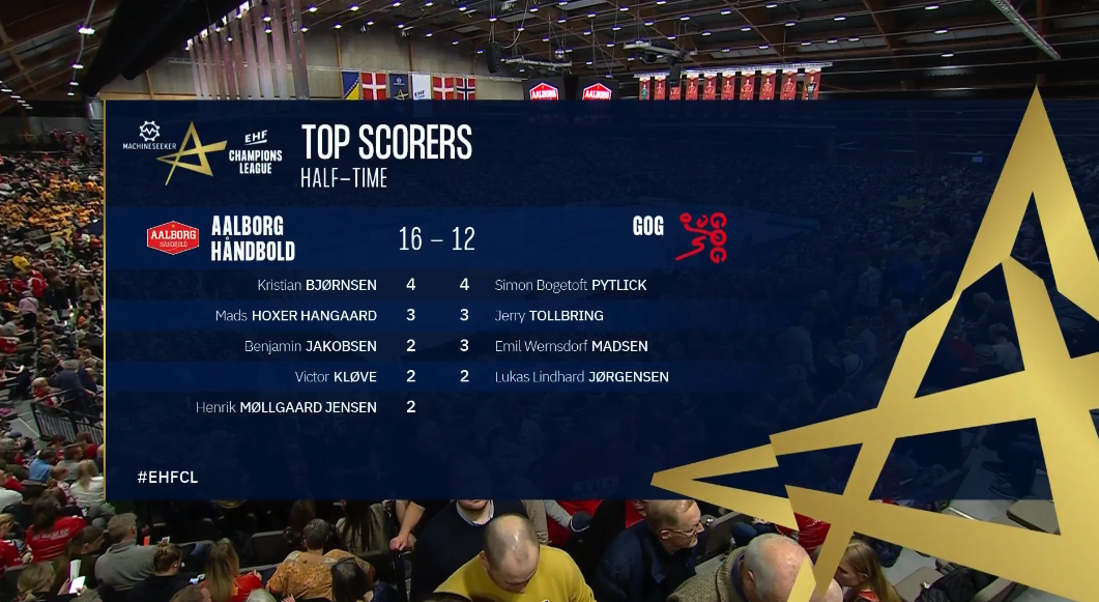 19:22
This is world-class wing play.
19:19 
Second two-minute suspension for Simon Pytlick. Perhaps too harsh on the Danish star and as Chris O'Reilly points out "gives us an interesting conundrum for the second half. Pytlick is just one suspension away from seeing red. Aalborg 14:10 GOG.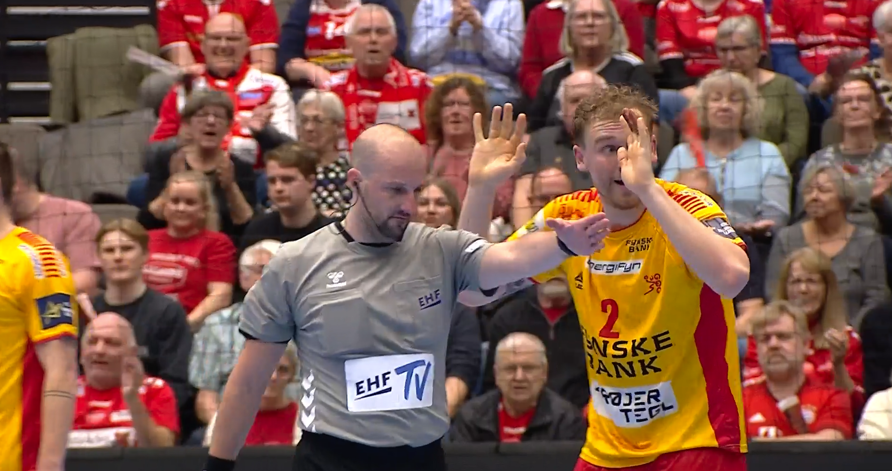 19:12
Welcome back Buster Juul. He winger converts his second attempt at a 7-meter throw; great reception for him after his injury break and the set back he suffered earlier in the season.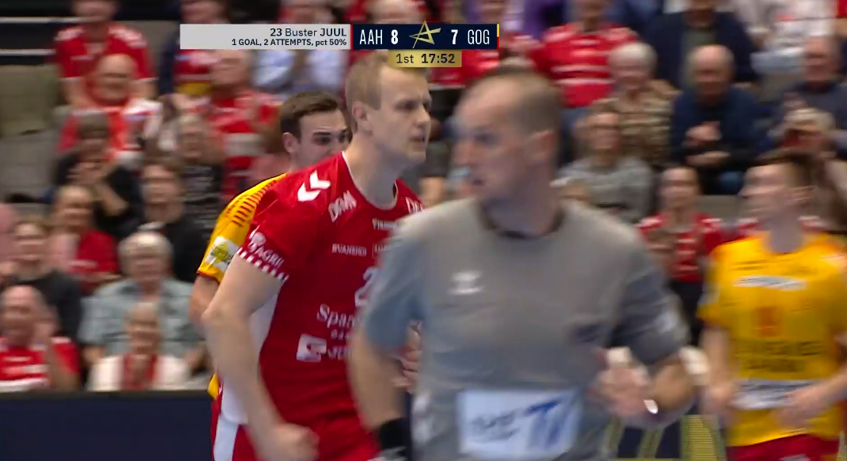 19:01
Barthold of Aalborg and Pytlick of GOG have just clashed heads after the two went in full steam one vs one. 

Both of the players shortly got treatment but Simon Pytlick is still off the court getting some treatment. Aalborg 6:5 GOG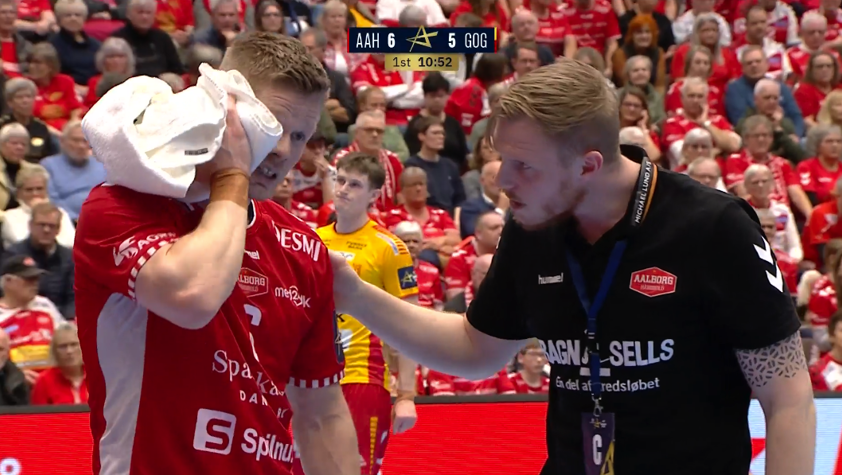 18:57
After a surpirsingly "slow" start for these two speed merchants, we are sitting at 3:3 after two shots missed by Oskar Vind. 
18:51
Bjornsen gets an early 2-minute suspension for a push on a GOG player. Not the start the Norway international would have hoped for.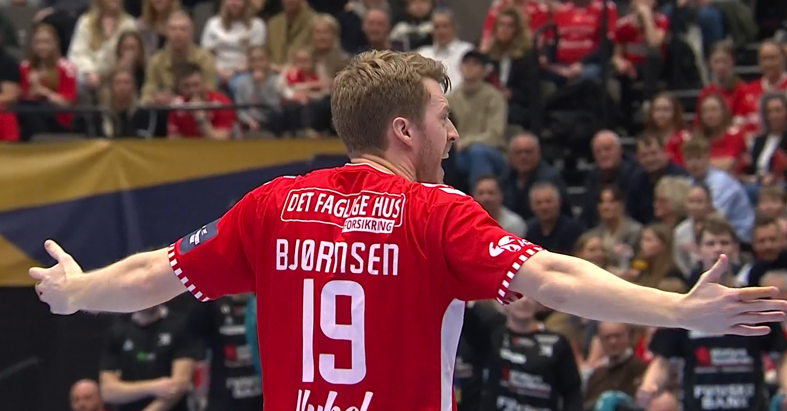 18:44
 We are ready for the off! Join Chris O'Reilly on EHFTV.com now for MOTW!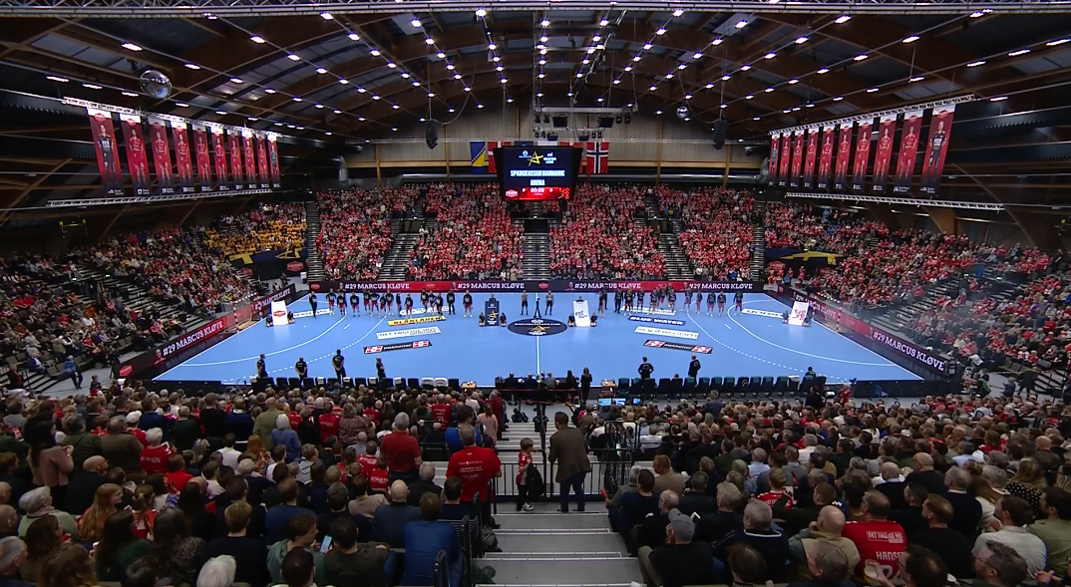 18:33
Our warm-up and chit-chats are done so make your way over the EHFTV.com for Match of the Week: Aalborg vs GOG!




18:03
Join us on Instagram for some shots of in and around the arena in Aalborg for tonight's solo match between them and Danish rivals GOG.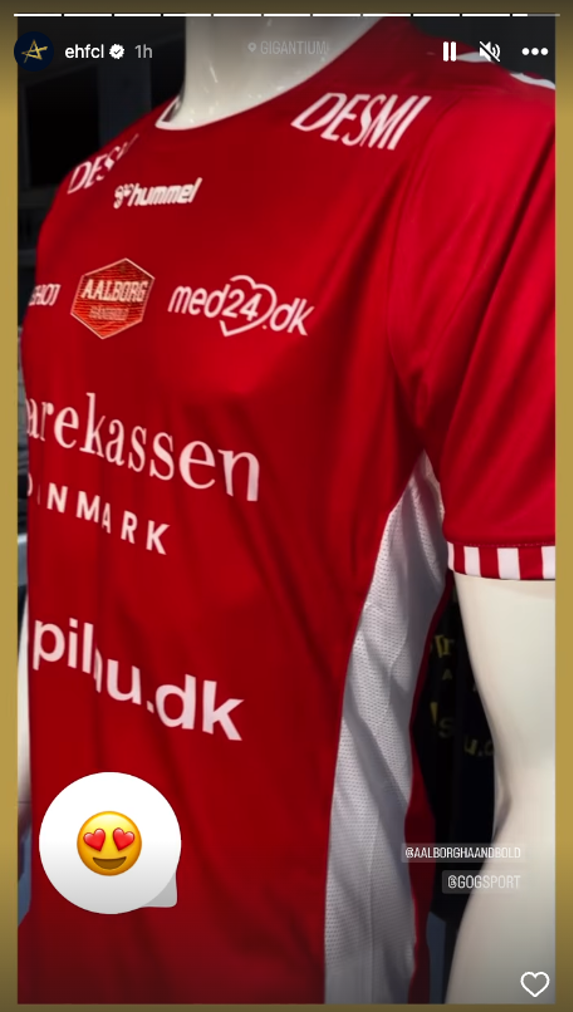 17:00
Aalborg have revealed their squad and they're missing a lot of key players - Felix Claar, Aron Pálmarsson, Lukas Sandell, Jesper Nielsen and Martin Larsen are all out. Mikkel Hansen remains on his mental health break. It certainly puts pressure on the selected 16 players to deliver against a GOG side who are undoubtedly hungry for a win.
16:30
It's no secret that Aalborg and GOG are old rivals - they've played each other in the Danish league and other domestic competitions several times this season. But Aalborg goalkeeper Mikael Aggefors still thinks tonight's match stands out - EHF journalist Ida Hummeluhr caught up with him earlier in the week.
16:10
Welcome back to the second day of Machineseeker EHF Champions League play-offs, with just one match ahead - but what a match! It's the Match of the Week, featuring Denmark's top sides Aalborg Håndbold and GOG. Throw-off is at 18:45 CET.

Wednesday 22 March
23:15
Here ends our coverage of the opening night of the play-offs. With Veszprém and Kiel all but through to the quarter-finals, Plock and Nantes have everything to play for in the second leg next week.
But, of course, first we will wrap up the first leg on Thursday evening at 18:45 CET as we head North for the Danish derby between Aalborg and GOG, the Match of the Week!
So, make sure to join us again here on the live blog on Thursday. For now, have a good night and enjoy our selection of the best pictures of the night in this gallery:





















22:56
If you missed a game or want to relive the best moments, head over to our Home of Handball channel on YouTube, where you find three-minute highlight videos of all matches tonight, like Plock vs Nantes:
22:51
An intriguing start to the play-offs tonight, with first two 13-goal wins for Veszprém (against Szeged) and Kiel (against Dinamo), then a tense draw between Plock and Nantes.
Here are the match reviews from EHF journalists Björn Pazen and Kevin Domas:
22:41
Look how Nantes, after leading by four, need a last-second save by Viktor Hallgrímsson to get at least a draw in Plock:
22:34
A close battle ending with a 32:32 draw in Plock that sets up a promising return game in Nantes next week. Let's hear from the game's top scorer, Nantes left wing Valero Rivera:
In the second half some shots were not good, but this is a good result. We must win in our house, with our public. For sure, it is a very difficult game there, too.
One half for Nantes, one half for Plock, so the draw is a fair reflection of how this match developed over 60 minutes. Plock had the final attack after a team timeout with 18 seconds left, but the hosts didn't create a decent chance anymore. Tin Lucin with six their best scorer; Valero Rivera had nine for Nantes.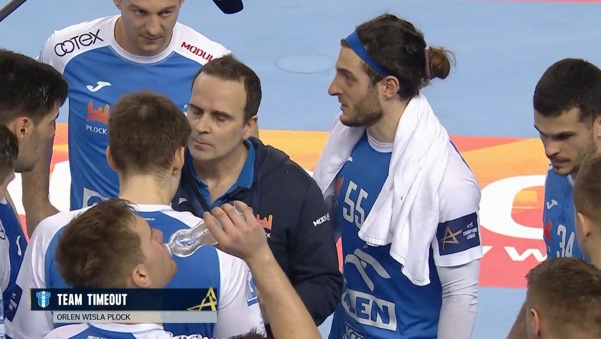 22:01
This one is really going down to the wire: it is Plock 24, Nantes 24 with 12 minutes on the clock!
21:54
And we are back level at 22:22! Plock have really stepped it up and make up that four-goal deficit from the break in less than 10 minutes. This is getting interesting! 
21:48
Plock start well in the second half and reduce the deficit against Nantes to just two. Would have been one if not:
Nantes edging in front again just before the break, and even opening a four-goal gap at half-time. Wing Valero Rivera is leading with four goals. Plock must start well into the second half to avoid this match – and this tie, for that matter – drifting away from them.
21:21
Sometimes power matters, sometimes precision. (Or both.)
21:12
Team timeout Plock. They are doing a good job so far, not impressed by that early deficit and meanwhile back at 10:10, backed by a strong and loud crowd. Good stuff!

20:58
Looks like we are in for a (much) closer game now after an early 3:0 and 4:1 lead for Nantes: Plock 6, Nantes 7 in the 12th minute.

20:40
No time to waste, onto the next: we stay in Eastern Europe as Polish side Plock host French visitors Nantes. Again, you can watch the match live on EHFTV though might run into restrictions in certain regions.

20:33
Just an unbelievable start to the play-offs: two 13-goal wins and two ties that are basically decided already after one leg.
Let's hear from Veszprém's Gasper Marguc after his 11-goal outing:
We expected a really tough match. This is an amazing team performance and we are so happy. Our defence made the difference: we had 23 goals for Szeged, which are a good attacking team. It just shows how good we played in defence. It allowed us to have a lot of fast breaks. Today, everything went our way.
Wow, what can you say?! Szeged improved a bit in the second half, but they had lost it all already in the first half and that disastrous opening phase. Gasper Marguc finishes on a game-leading 11 goals.
Big, big win for Kiel and Dinamo's dream to get to their first quarter-final in their ninth season the EHF Champions League seems in shatters.
Sander Sagosen, Eric Johansson and Miha Zarabec all net six times for Kiel.
20:12
Kiel's Nikola Bilyk with things you try when your team have a big lead:
20:06
Elsewhere, Kiel also just keep going and now lead Dinamo by a massive 37:23.
What a start to the play-offs this is, incredible!

20:01
Veszprém now 28:14 up in Szeged... Fair to say that Momir Ilic had not expected this. Before the match, the Veszprém coach said: "It will be a goal by goal match, no doubt."
He won't be worrying about it, though ;-)

19:52
Early team time-out from Veszprém in Szeged after the break. Momir Ilic far from happy with how his team has begun the second half: "We stopped to run!"
Veszprém still 22:11 up, though...
No, this is no typo, part II: Veszprém are outplaying Szeged – and that is even an understatement. Twenty (= 20!) goals in the first half, and eight of them from Gasper Marguc, for a massive 13-goal lead.
Time to start checking the record books, or can Szeged finally get into this match after the break?
No, this is no typo: Kiel are leading by eight (= 8!) goals – and we are only halfway through the first leg. Just a class too good for Dinamo in every department of the game tonight, and four players who all scored at least three times.
Is this tie already closed to being decided, or can Xavi Pascual instruct his players for a different-looking second half?
19:19
Not much to cheer about so far for the many Szeged fans in their brilliant arena, but this is a true highlight: 
19:17
And that is goal No. 6 for Gasper Marguc as Veszprém take a runaway 13:5 lead over Szeged. Wow, really haven't seen this coming..!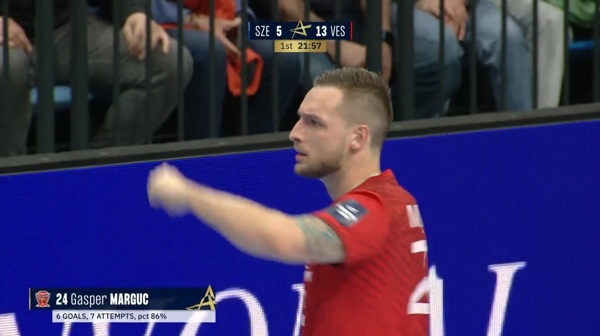 19:11
Joined from Kielce mid-season, here is Nedim Remili with his first goal for Veszprém. (And if tonight's early signs – an 11:4 lead at Szeged – are not misleading, he is bound to play with Veszprém against Kielce in the quarter-finals...)
19:05
Kiel are firmly in control in Bucharest. They have just opened a four-goal gap to Dinamo in the opening quarter. Rune Dahmke with four goals the best shooter so far.

18:59
Team timeout Szeged. Juan Carlos Pastor doesn't believe what's happening: we are more than 10 minutes underway and Szeged have still not found the net..! 3-0 and counting to Veszprém...

18:51
Tense start in Szeged, with just one goal (from Veszprém's Gasper Marguc) in the opening five minutes. In Bucharest, Dinamo and Kiel are at 2:2.
18:40
Five minutes until throw-off... A reminder you can watch all play-off matches live on EHFTV, but geo-restrictions may apply depending on where you are watching from.
Have fun!
18:27
Szeged against Veszprém is a true eye-catcher to open the play-offs with. Hard to believe Szeged have not progressed to an EHF FINAL4 event so far, and hard to believe Veszprém have not lifted the trophy yet.
Two big teams, but only one will be still in the race and advance to the quarter-finals after the second leg in Veszprém next week. It will be so important to start well tonight.
Here are both rosters: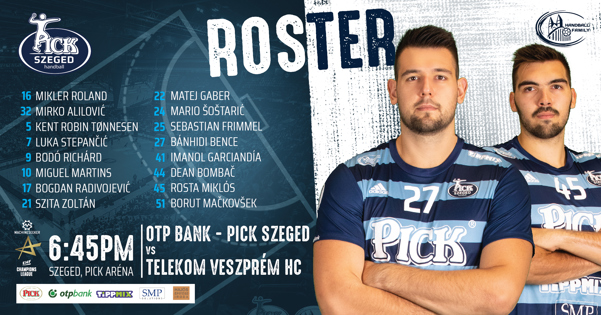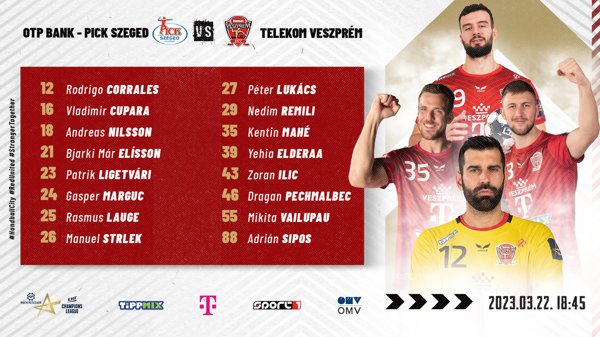 18:13
No matter the result in Bucharest tonight, Kiel will have a reason to celebrate tonight: team captain Patrick Piet Wiencek has turned 34 today. Congrats!
18:00
Tonight we enter the business end of the Machineseeker EHF Champions League 2022/23. After 122 matches in the group phase, it is time for the knockout phase, starting with the four play-off parings.
If you are into stats and numbers, then this article from EHF journalist Björn Pazen on all the facts and figures of the competition after the group phase is just right for you:
17:05
The heat is on in Hungary! Domestic rivals Szeged and Veszprém will battle it out for one place in the quarter-finals – and a match against 2016 champions Kielce. The first of the two national derbies throws off in Szeged tonight at 18:45 CET.
Szeged beat Veszprém to the Hungarian title in the past two seasons, but Veszprém have the stronger record in Europe: they reached the EHF FINAL4 again a year ago while Szeged, still aiming for their first trip to Cologne, had their campaign ended in the play-offs by Flensburg.
Who prevails this time? Our poll on Twitter gave Veszprém the benefit of the doubt...  
16:53
Starting at 18:45 CET is Dinamo vs Kiel. The hosts got 10 from their 13 points in the group phase in home games, but have only once beaten a German team – Nordhorn in the EHF Cup back in 2003/04.
Kiel, the four-time champions, hope to continue their path to a possible fifth title, but if they do get past Dinamo, they will next meet PSG in the quarter-finals again.
Bucharest is obviously the only city with three teams in the EHF Champions League this season, as CSM and Rapid are playing in the knockout phase of the women's competition. EHF journalist Adrian Costeiu took a closer look at Bucharest as handball city:
16:44
Let's first have a look at the last match tonight, Plock vs Nantes.
Plock only just made it out of the group phase three weeks ago with that late victory in their must-win game at Porto in round 14. That result sent Zagreb out of the competition. What can Plock achieve after that Houdini's act? They have nothing to lose from here, and getting to the quarter-finals would be a first for the Polish side.
Nantes finished third in group B and will feel that anything is possible again for them this season. They beat Plock twice in their only previous meetings – in 2017/18, the season where Nantes made it all the way to the final.
16:32
Those are four promising clashes to get the play-offs underway. Interestingly, we have two national derbies: Danish duo Aalborg and GOG are set to meet in the Match of the Week tomorrow, while Szeged and Veszprém take their domestic rivalry from Hungary to a European level tonight.
We will leave our extensive coverage of the MOTW with previews, stats, features, etc. for tomorrow, but we are surely going to talk a lot about Szeged vs Veszprém, which throws off the play-offs at 18:45 CET, alongside Dinamo vs Kiel in Bucharest.
This opening night closes in Poland, where Plock host Nantes:
16:15
Good afternoon and welcome to the live blog for the Machineseeker EHF Champions League!
It has already been three weeks since the group phase ended and the line-up for the play-offs was confirmed. So, here we are: this season's knockout phase starts in 150 minutes!
Here is our full schedule for tonight and tomorrow: