EHF Champions League
Summary: Play-offs start with close results, big wins, and surprises
The race to the DELO EHF FINAL4 has truly begun last weekend. Seven first-leg ties got the play-offs started as the DELO EHF Champions League 2020/21 entered its knockout phase.
SUNDAY 7 MARCH
20:25
With the best pictures of the night, that's all for this week. The play-offs are due to resume on Friday when Dortmund travel to Nancy for the first leg of their tie with Metz, with the second legs all taking place on Saturday and Sunday. Come back then for all the coverage as the DELO EHF Champions League quarter-finalists are determined.










20:10
Here are all the match reviews from today's games - find out what the highlights of each match were.
We knew Vipers are a very strong team and they played a lot as we expected. We are satisfied with the win but 35 [conceded] goals are too many. We hope that we can adjust the defence for the next game in Odense
19:55
Let's have a poll. There were four amazing games tonight - a masterclass by Györ followed by three close battles finishing with the closest of the lot. But which one did you enjoy the most?
19:42
Here's the full round-up of results from the weekend's play-offs. Some teams have put themselves in very strong positions heading into the second leg, notably CSM Bucuresti, Rostov-Don, Györ and Brest. Their big away wins should stand them in good stead.
In contrast others have work to do next weekend. It could go either way in the clashes between FTC and Buducnost, and Odense and Vipers. And a six-goal victory for CSKA at home is far from impossible.
19:27 | FULL-TIME
Whew! Inside the final minute Emilie Hegh Arntzen equalises for Vipers, but there is time for Odense to whip the ball back up the court and for Rikke Iversen to score her sixth goal to put Odense ahead once more. With 12 seconds remaining Vipers regain possession, but the last shot goes straight into Althea Reinhardt's hands and Odense celebrate a one-goal victory. 
Will it be enough to get them into the quarter-finals? We'll find out next week!
19:15
This clip of Mia Rej's first goal basically sums up this game. With just over five minutes to go, it's 32:32 - Henny Reistad has now scored nine times. 

19:10
Just 10 minutes to go and there's still nothing in this brilliant game! Rikke Iversen gave Odense the lead back at 28:29, but Henny Reistad equalised again almost immediately. 
19:02
Is the momentum swinging in Vipers' favour? They have now held the lead twice, at 24:23 and now 25:24. 
But Odense keep striking straight back. There are barely seconds between each shot, and now Althea Reinhardt makes a good save and gives her team the opportunity to regain the advantage. Mia Rej duly scores, and it's 25:26 to Odense.
18:53
Vipers equalised straight after the break and since then the two teams have simply been exchanging goals. The pace remains high, with neither side waiting long before taking a shot. It's 20:20.
18:40
While we wait for the second half, enjoy this Lois Abbingh classic. She looked especially pleased with this shot, as well she might.
18:35 | HALF-TIME
VIPERS KRISTIANSAND 16:17 ODENSE HÅNDBOLD
Vipers close up to one goal just before the break and it remains a close match with no time for a breath. The two sides' fast pace of play is making for an exciting contest.
Linn Jorum Sulland and Lois Abbingh have both scored six goals so far.
18:30
Odense are being a little more aggressive in attack and defence and this is helping them maintain their lead, although when it comes to shots on target the two sides are about even.
18:24
Vipers have scored more fast break goals so far and in the absence of Nora Mørk their second-best scorer, Henny Reistad, is adding to her tally.
Odense continue to lead but have not succeeded in extending beyond three goals, briefly. It's 12:13 after 22 minutes.

18:15
This is a high-energy, fast-paced match. Vipers are making more mistakes with three turnovers to Odense's 0 so far, and Odense maintain the lead - but only by a single goal. It's 8:7 already with less than a quarter of the match gone.
18:05
It's a quick start for both teams. Odense are making the early running, and lead 5:3 after six minutes with Lois Abbingh already scoring twice.
18:00
Vipers and Odense throw off! Here are the two squads.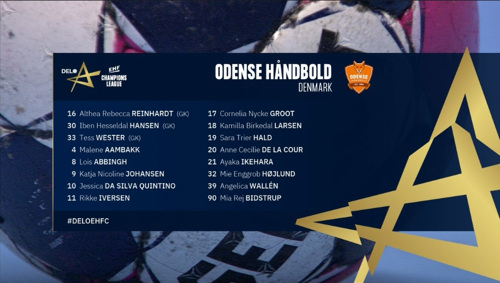 17:45
One more match in this first weekend of the DELO EHF Champions League play-offs! It's a Scandinavian derby between Vipers Kristiansand and Odense Håndbold and it promises to be just as exciting as the Buducnost-FTC game. 
Vipers finished fifth in group A, while Odense were fourth in group B. The Norwegian team had a great start to the season with five wins and two draws, before losing to FTC twice and Rostov-Don. But they ended the group phase on a high with a comfortable win against Krim.
Vipers are missing arguably their two most influential and experienced players, Nora Mørk and Heidi Løke, but they still have a strong squad. 
Odense's group phase was more up and down. They started well, but lost the last three games of the group phase, equalling their worst-ever run in the competition. 
Odense have made the quarter-finals before, in their only previous appearance in 2018/19, where they were eliminated by Györ.

17:30 | FULL-TIME
What a great game between two sides who know each other so well. Jovanka Radicevic's goal at the 59-minute mark put Buducnost two up and although Gabor Elek took a timeout FTC just didn't have enough time to close the gap - particularly when Armelle Attingré made yet another superb save. Bojana Popovic used the final seconds for her own timeout, and playing seven-on-six Allison Pineau closed the deal for the hosts. The return leg of this match-up will be a cracker!
Esbjerg threatened hard for a while at the start of the second half, but Brest were able to ride out the storm and take a six-goal win. The scale of the victory masks the closeness of much of the match, but it's the French team who will go into the return leg with more confidence of the quarter-finals.
17:15
Brest Bretagne have asserted control in Esbjerg. Coralie Lassource scored, and it's now been over six minutes since Esbjerg last managed to net, giving Brest a 30:23 lead. Cleopatre Darleux in goal for Brest Bretagne is helping, massively improving the save efficiency for her team compared to the first half.

17:06
FTC have the lead again! It's 15:14 in an excellent turnaround for the visitors.

17:02
Emily Bölk has scored four of her side's goals in this half so far and FTC are back to within a goal of Buducnost. Bojana Popovic has just used a timeout to calm down her team and get them back on track. 
Brest have withstood Esbjerg's initial attack, and it's back to 25:22 in favour of the visitors. Ana Gros has now scored eight times, again proving key to Brest's success.
16:55
Esbjerg took the lead for the first time at 18:17 courtesy of Sanna Solberg, but Brest's Isabelle Gulldén strikes straight back as this match remains close.
FTC closed the gap to Buducnost, with Emily Bölk scoring twice in the first four minutes of the second half, but Buducnost then opened it back up to 13:9.

16:38 | HALF-TIME
BUDUCNOST 11:7 FTC-RAIL CARGO HUNGARIA
After an incredibly tight start the hosts have managed to stretch out a four-goal lead at the break, all in the last five minutes as FTC scored just once. Barbara Arenhart is blocking pretty much everything and combined with Armelle Attingré's stops, Buducnost are on an otherworldly 67 per cent save efficiency. 

TEAM ESBJERG 16:17 BREST BRETAGNE HANDBALL
The French club looked like they were walking away with the first half, but Esbjerg rallied well in the closing minutes. Marit Røsberg Jacobsen netted 30 seconds before the buzzer to bring it back to a one-goal game.
Ana Gros's five goals have put her back at the top of the goalscorer rankings ahead of Cristina Neagu.

16:30
Suddenly Buducnost produce a 3:0 run of goals, courtesy of Jovanka Radicevic and Itana Grbic, and it's 8:6, the first two-goal lead in the game.
Brest have eased out to a 17:13 lead against Esbjerg and Jesper Jensen has taken a timeout.
16:25
It's still level between Buducnost and FTC - just 6:6 after 23 minutes. Anikó Kovacsics was the first to score and she's since netted twice more. 
16:20
Both of these matches so far are really, really tight and definitely worth tuning in for! If you can't pick between them on EHFTV, use the split-screen tool.
Kalidiatou Niakate nearly shoots this goal double-handed - great stuff.

16:15
In Esbjerg Kristine Breistøl fires in an equaliser and it's 7:7, after Brest Bretagne led for much of the opening minutes. Nerea Pena is having a great game with four goals from four attempts so far.
16:12
The game between Buducnost and FTC continues to be low-scoring - only four goals in 10 minutes. However, Barbara Arenhart and Armelle Attingré are largely responsible for blocking FTC's attack with two saves each.
16:07
There have been two goals scored in Podgorica so far, one apiece for Buducnost and FTC. Meanwhile Brest Bretagne lead Esbjerg 4:2. 
15:55
Here are the squads for the match between Buducnost and FTC.
15:52
Brest have announced their squad for today's match. In goal, former Esbjerg player Sandra Toft, who could be key ...

15:37
Next up, two matches.
First off, Esbjerg host Brest Bretagne. This is another first meeting in a European competition, making the result hard to predict. Esbjerg started the season slowly but improved after the New Year while Brest were more consistent throughout. 
Until yesterday Brest's Ana Gros was the top scorer in the competition with 87 goals after the group phase. Cristina Neagu overtook her in the Match of the Week, scoring 13 times, but Gros needs just three to retake top spot this afternoon.
The clash between Buducnost and FTC-Rail Cargo Hungaria renews old rivalries. The two teams are familiar foes - FTC have won six of their 11 European games and Buducnost four. FTC was fourth in group A and Buducnost fifth in group B this season so it should be a thrilling clash.
Both games throw off at 16:00 CET.

15:27 | FULL-TIME
Györ take a huge step towards the quarter-finals with an utterly dominant win against Bietigheim. There's a nice moment after the buzzer as Gabor Dányi thanks Markus Gaugisch for the game, but the fact remains that Bietigheim were simply outclassed by a strong team in good form. 
Julia Maidhof for Bietigheim, and Anita Görbicz and Veronica Kristiansen for Györ, all scored six goals. In fact all of Györ's players scored at least once today.
Györ's goalkeepers Silje Solberg and Laura Glauser saved 44 and 45.5 per cent of shots respectively. 
Kim Naidzinavicius says her team should have been braver, but is hopeful for a better performance next week.
15:15
With nine minutes to go Anita Görbicz scores Györ's 30th goal - a penalty. Bietigheim continue to fight, holding the gap at 14 goals, but it's way too late to do anything. 

15:05
Trailing 12:25, Markus Gaugisch calls a timeout to see what he can do with his team. A win is pretty impossible at this stage, with only a quarter of the match to play, but Bietigheim have the chance to at least try and close the gap a bit.

14:55
Four minutes into the second half and Bietigheim are yet to score, while Györ have netted three times. 
14:45 
Although Gabor Dányi has three goalkeepers to rotate, Silje Solberg's done all the work so far - and what a job she's done! She made seven saves for an efficiency of 47 per cent, backing up the stellar efforts from the rest of the Györ defence.
14:37 | HALF-TIME
SG BBM BIETIGHEIM 8:18 GYÖRI AUDI ETO KC
That was a dominant first half from the Hungarian club. After racing out to an early lead they show no sign of letting it go.
In the group phase, Györ's biggest win was 33:15 against Podravka (in Croatia). They went into the break there leading 13:8, so the signs are ominous for Bietigheim who will need to find another couple of gears to compete today.
In more positive news for the hosts, Karolina Kudlacz-Gloc's two goals mark her return to competition after suffering a shoulder injury early in the season. She scored twice against Esbjerg in September and has now doubled her season score in the EHF Champions League.
14:25
Györ rightly celebrated this superb goal by Estelle Nze Minko earlier on. It demonstrates the confidence and fluidity with which the record champions are playing at the moment. The lead now is 14:5.

14:20
It's a tough day in the office so far for Bietigheim, who after 15 minutes trail their guests 2:10. Valentyna Salamakha is doing her best, though. She's the German club's only goalkeeper today; Györ have brought all three of their fearsome line-up between the posts (Solberg, Glauser and Leynaud).

14:10
Amelie Berger finally scores to put Bietigheim on the board eight minutes into the game. Györ's defence is fierce and efficient, and Silje Solberg has also had a good start to the match. It's 5:1 to the visitors.
14:05
Györ's season top scorer so far, Veronica Kristiansen, is the first to find the net today just inside three minutes to give her team the lead. Kristiansen scored 65 goals in the group phase, just one more than Estelle Nze Minko.
14:00
As we throw off, have a look at today's squads for both teams.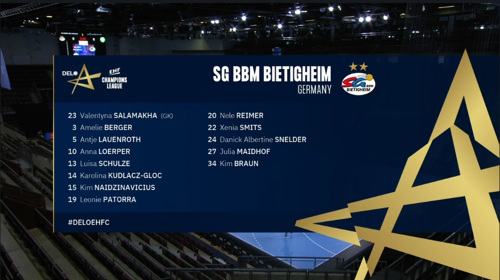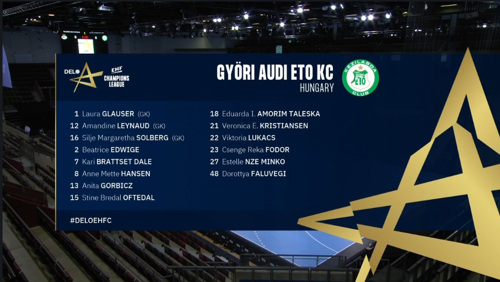 13:55
An added bonus for German speakers watching on EHFTV today is German commentary for this first match.
13:45
With 15 minutes until throw-off, the EHFTV coverage of the first match is up and running - you may not be able to access this if a local broadcaster is showing the game in your home country.
13:35
Later on today we've got another three exciting matches. Esbjerg host Brest Bretagne, who checked out the Blue Water Arena in the Danish city yesterday; Buducnost play FTC; and the day finishes with a Scandinavian derby between Vipers and Odense. We'll bring you some facts on those matches once the first game is over.
13:25
Györ have been out exploring Ludwigsburg ahead of their match against Bieitigheim. Looks like a beautiful day in a beautiful city!
13:10
Welcome to day 2 of the DELO EHF Champions League play-offs. Action gets underway at 14:00 CET as SG BBM Bietigheim host Györi Audi ETO KC.
Bietigheim finished the group phase bottom of group A with one win - but it was a win against a Hungarian team. They earned a shock 35:24 away victory against FTC back in November, but lost the return match the following week 25:29 at home. 
Györ romped through the group phase without a loss, picking up 10 wins and four draws to top group B. In fact they have won more games this season than Bietigheim in their entire history in the EHF Champions League – seven from 38 games. The odds, therefore, are stacked against the hosts but as Krim showed against CSKA yesterday, anything can happen in handball.
Saturday 6 March
20:30
We close the blog tonight with a poll question: will RK Krim Mercator reach the quarter-finals? They won the first leg against CSKA by five goals this afternoon – but is that a big enough margin ahead of their trip to Russia to believe that they can knock CSKA out and reach the quarter-finals? 
20:15
Lovers of handball photos can rejoice. We have a bumper selection in our image gallery for you to enjoy. And, of course, we have our galleries on our Instagram and Facebook pages for you to look at too.





















20:05
As the evening draws to a close, make sure that you read Saturday's match reviews, written by Adrian Costieu and Sergey Nikolaev, to find out more about what happened in the three matches played today. 
For the next game, we need to go home, watch the game and make preparations to change from this game to another game. We need to do a lot of work next week and battle at home. We did not lose a match at home this season, so we have a possibility, but this defeat today was not what we expected from our team.
19:30
It is all over in Croatia and Rostov-Don have recorded a resounding nine-goal win against Podravka. The result means that Russian side can be confident of progressing to the quarter-finals. 

19:17
Here is Dumanska's magnificent fast break stop from Managarova that we mentioned. However, the tide has not really turned in Podravka's favour since that moment, as Rostov hold a seven-goal lead, 26:19, with six minutes remaining and look on course for a big first leg win.

19:04
Even though Rostov lead 21:16, Podravka goalkeeper Yuliya Dumanska has been the Croatian side's best player in the match. A few minutes ago, Dumanska produced a stunning fast break save to deny Iuliia Managarova, but the Rostov-Don right wing got her revenge from the wing on their subsequent possession. 
18:56
The second half between Podravka and Rostov is underway. The Croatian side have scored four unanswered goals in just over six minutes of play.
Rostov's combinations in attack functioned well in the first half. This skilful deception from Grace Zaadi to find Katarina Krpez-Šlezak is the best example of their play that they may want to rediscover from the first 30 minutes. 

18:39
HALF-TIME HC Podravka Vegeta 10:17 Rostov-Don
If you believe in the importance of statistics in handball, one category has made the difference on the scoreboard in the first half between Podravka and Rostov. No, not scoring or save percentages – but turnovers. Podravka's 13 turnovers far exceeds Rostov's tally of four.

18:32
Katarina Krpez-Šlezak, usually a reliable penalty shooter, scores her first of the match from the seven-metre line and her third in total, extending Rostov's advantage in the first half against Podravka to five goals, 15:10, with a couple of minutes remaining in the period.
18:20
With 17 minutes gone, Rostov-Don have definitely made the stronger start and lead 9:6. 
18:17
Prior to the throw-off between Podravka Vegeta and Rostov-Don, both sides remembered Podravka head coach Zlatko Saračević, who recently passed away, and Vinko Zember, who was heavily associated with the sport in Koprivnica.   

18:03
Saturday's third and final match has just begun. Here are the line-ups for Podravka and Rostov-Don.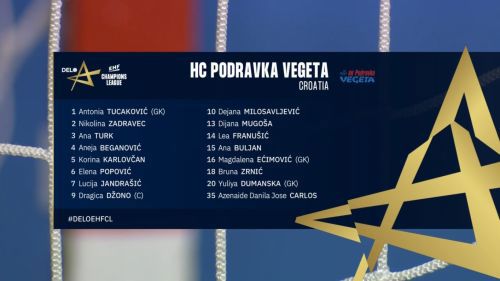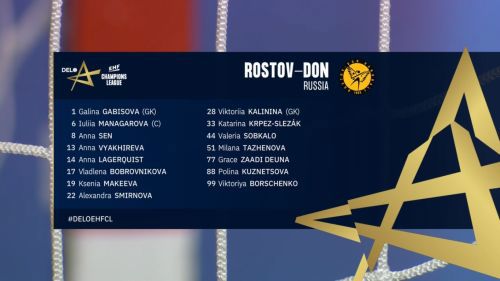 17:48
For her 13 goals and five assists in CSM Bucuresti's Match of the Week win against Valcea, Cristina Neagu has received the Player of the Match award, presented by DELO.
17:42
Naturally, CSM Bucuresti are delighted by their win in Match of the Week against Valcea.
17:40
What else can you say when a goalkeeper makes 26 saves but 'enjoy watching them in action?' Here is Jovana Risovic literally throwing herself in the way to make a one-on-one stop and preserve Krim's advantage against CSKA. 

17:35
In Match of the Week in Romania, CSM Bucuresti have produced a top-class performance in the second half to record a nine-goal win, 33:24. Neagu's final tally of 13 goals means that she finishes one shy of her highest total in an EHF Champions League match. However, with 89 goals scored, she is once again the top scorer in the competition this season, moving ahead of Ana Gros, who has netted 87 goals. 

17:30
The surprise of Saturday... or possibly the biggest surprise from the first leg matches from the DELO EHF Champions League play-offs? RK Krim Mercator defeat CSKA 25:20 in Slovenia, with Jelena Risovic finishing with 26 saves for Krim!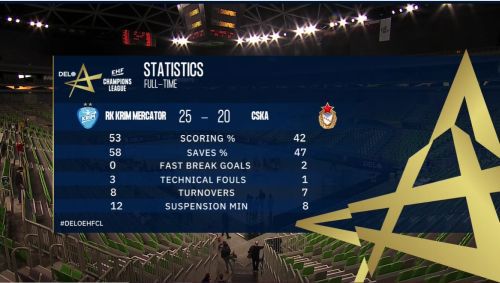 17:24
Five minutes to go in Romania but Cristina Neagu has already equalled her highest score for the season – 12 goals against Metz – and CSM, who have an eight-goal lead 30:22, are now heading for a big win in the first leg. 
17:18
With less than six minutes to go between Krim and CSKA, Krim are ahead by five goals, 22:17.
Staggeringly, perhaps, Chana Masson's official save percentage is 52 per cent – yet her side are in deep trouble in the first leg. 

17:15
It is fair to say that the CSM bench – coaching staff and players – have provided passionate support to those on court against Valcea so far in Match of the Week. When a big goal or save occurs, they are on their feet to applaud.  
17:09
Krim have opened up a sizeable advantage in the second half against CSKA. With just over 13 minutes left, the Slovenian side lead 18:13 against their Russian opponents. 
17:04
Barbara Lazovic has really shone in attack in the first 10 minutes of the second half, scoring three of her side's seven goals, but another Neagu penalty has put CSM Bucuresti five goals in front, 20:15. 
17:01
Beating Jelena Grubisic in the first half was a challenge for Valcea, and Elena Florica's accurate shooting from the wing was a solution to the problem posed by the Croatian goalkeeper.

16:44 - HALF-TIME - RK Krim Mercator 12:11 CSKA
In Slovenia, CSKA have fought back against Krim in the last 15 minutes of the half. Krim goalkeeper Jovana Risovic is on a 50 per cent save efficiency – but her counterparts for the Russian side are on a combined 40 per cent rate.
16:40 - HALF-TIME - SCM Ramnicu Valcea 12:13 CSM Bucuresti
Carmen Martin's goal in the final seconds of the half has given the visitors the slenderest of leads at the break, but it is one that they will be pleased to have after 30 minutes of action in Romania. 
16:32
Valcea left wing Elena Florica is matching Neagu in terms of goals scored in the first half. Both players have scored five goals from six shots, although three of Neagu's goals came from the seven-metre line. 
16:27
With CSM regaining the lead (10:9) after Lazovic fires home from nine metres, Valcea take the opportunity to call a timeout.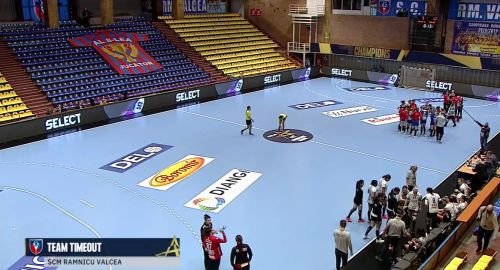 16:22
Is an upset on the cards in Slovenia? Krim are leading 10:6 against CSKA after 19 minutes.
16:17
CSM goalkeeper Jelena Grubisic has had a strong opening, making four saves from 10 shots faced so far, and her sharp reactions were to the fore when she stopped Evgenija Minevskaja's penalty rebound attempt in the second minute.

16:14
CSM left back Cristina Neagu has opened her account in the match, converting two penalties, and after 12 minutes the score is 4:4. 
16:06
CSM Bucuresti's official Twitter account is excited about Match of the Week getting underway! 

16:03
We are underway in Valcea for Match of the Week between Valcea and CSM Bucuresti. Two minutes gone and Barbara Lazovic has just opened the scoring in the match for the away side.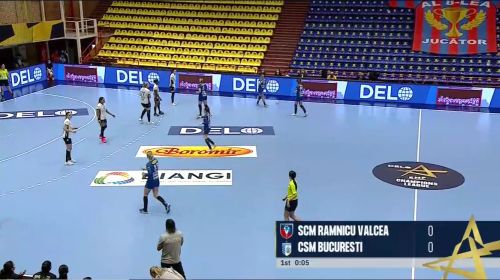 15:50
Live build-up coverage is now underway on EHFTV for both of our games at 16:00 CET. Meanwhile, you can check out the best build-up photos sent from Valcea in the image gallery below.  









15:40
Here is some interesting head-to-head information ahead of Match of the Week between SCM Ramnicu Valcea and CSM Bucuresti: with 17 wins and three losses, CSM lead the head-to-read record against Valcea, but Valcea recorded one of their victories this season.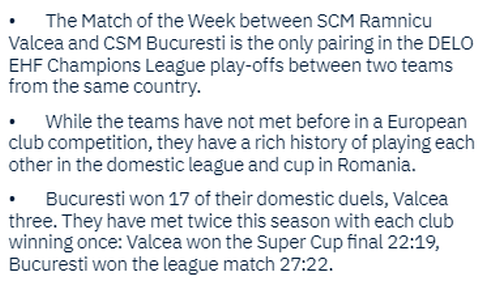 15:15
Welcome to Saturday afternoon's coverage of the DELO EHF Champions League play-offs. What better way is there to open proceedings than with Match of the Week? That is what we will do when SCM Ramincu Valcea meet CSM Bucuresti at 16:00 CET. Also at 16:00 CET, we have RK Krim Mercator hosting group B runners-up CSKA, followed at 18:00 CET by HC Podravka Vegata taking on group A winners Rostov-Don.
If you have not read the preview ahead of this weekend first leg matches, then click the link below and enjoy all the information prior to the action getting underway.