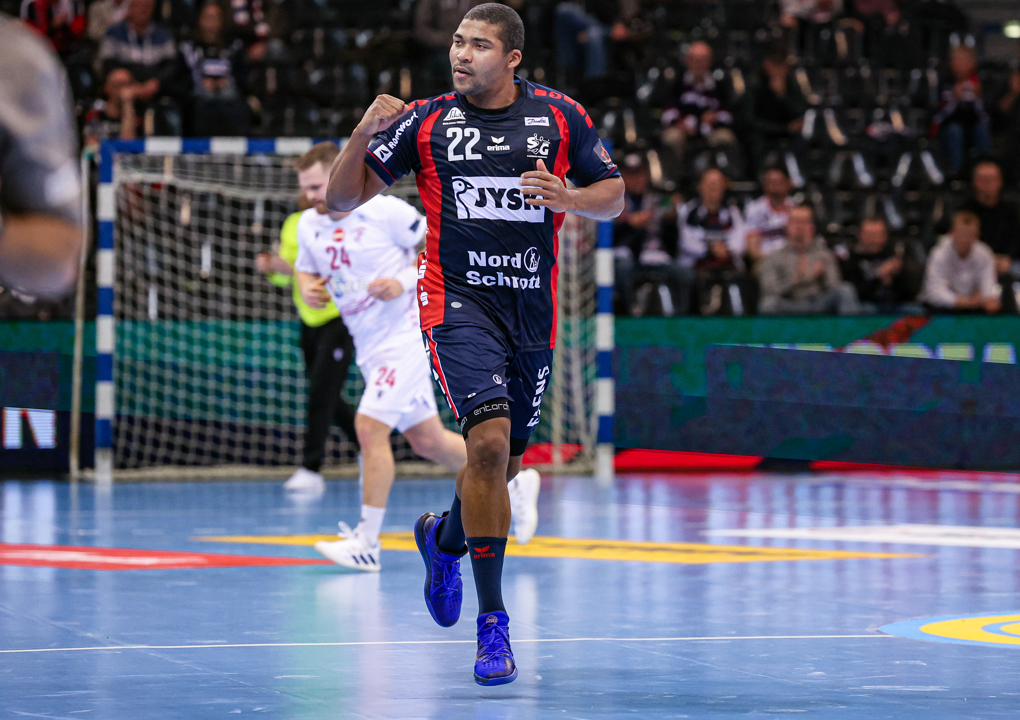 SUMMARY: Six more EHF EL Last 16 tickets given out in round 7
After Montpellier and Füchse Berlin managed to secure their EHF European League Last 16 phase tickets in the last round, six more teams did it in round 7 - Göppingen, Flensburg, Nexe, Granollers, Sporting and Skanderborg. 
round 7 of the EHF European League Men 2022/23 group phase
six more teams (after Montpellier and Füchse did it in the last round) successfully book a place for themselves in the EHF European League Last 16 phase
Last 16 phase-sealing wins for Skanderborg, Sporting, Flensburg, Göppingen, Granollers and Nexe
all matches streamed live on EHF TV (geo-restrictions may apply) 
TUESDAY, 7 FEBRUARY 2023
23:12
With that, we are concluding our EHF European League round 7 live blog. 

Eight Last 16 spots are now taken which means eight more are up for grabs. In addition to that, teams are going to fight for the best possible spots going into the knock-out stage which guarantees three more exciting EHF European League rounds starting from next week when we'll, among other matches, enjoy the derby game of the group C with Granollers visiting Sporting. 

Until then, stay tuned in keeping track of our various articles and previews for the EHF European League round 8. See you soon!
23:05
Wouldn't it be nice to have all the results in one place after such a busy EHF European League night? Well, we've got you covered!
This was all in round 7! We enjoyed an XL #ehfel night 👏

Which team was your favourite? 👇 pic.twitter.com/kKhYIHAthT

— EHF European League (@ehfel_official) February 7, 2023
23:01
Match-winning goal for Nexe's Tomislav Severec against Skjern. This one is worth watching at least a couple more times.
OMG! 🥵 Tomislav Severec with the winning goal for @rk_nexe against @SkjernHaandbold 🧨💥#ehfel pic.twitter.com/3wcDpPTRRb

— EHF European League (@ehfel_official) February 7, 2023
22:58
In our detailed group reviews you can, as always, find everything you need to know not only about what we've seen on the EHF European League courts today, but also what that means going forward. All the facts and figures are included so definitely make sure to check it out!
22:50
After Montpellier and Füchse Berlin managed to become the first two teams to secure this season's EHF European League Last 16 phase following the last round, this round proved to be the lucky one for six more teams - Göppingen, Flensburg, Nexe, Granollers, Sporting and Skanderborg. 
22:45
As we are slowly bringing the night to a close, we are bringing you some of the best photos from our final six matches of the EHF European League round 7. 





22:28
With the last-gasp win over Skjern thanks to Tomislav Severec' long-distance bomb, Nexe has secured the 'Last 16' ticket. Flensburg did the same with a win over Valur and Granollers did the same with the triumph over Balatonfuredi. 
We have to highlight Marin Jelinic and his six goals, most of which came in the final ten minutes when it mattered the most for Nexe. When it comes to Montpellier, Kylian Villeminot finished the game with 10 goalswhile Charles Bolzinger and Remi Desbonnet combined for 14 saves. Hans Aron Mensing finished the game with eight goals for Flensburg while incredible Kevin Moller grabbed stunning 17 saves. 
22:20 FULL TIME
22:12
It's 26:26 in Nasice with only five minutes left to play until the final buzzer. A real battle for each point in a match in which the stakes are high for both teams. 
22:07
Key man for Skjern in the first half. No doubt about that. 


Yes, it's a hard night to take a 7-metre throw ⛔️🙅 Christoffer Hoffmann Bonde keeps @SkjernHaandbold safe this time! #ehfel pic.twitter.com/5vTkRuiY0R

— EHF European League (@ehfel_official) February 7, 2023
22:06
Ten minutes before the final buzzer it's 23:22 for Nexe. Montpellier is leading 36:32. 
21:59
With 15 minutes left on the clock, Fahrudin Melic scores his fourth of the night to level the game at 20:20. Nexe's attack is looking better and better as the match progresses and everything suggests we're up to a great 15 minutes to end the day. 
21:50
Valur has managed to narrow the gap to only one goal (22:21) with Benedikt Gunnar Oskarsson leading their scorers with five. Ten minutes into the second, Nexe has a chance to completely close the gap while in France, Montpellier leads Kadetten 29:24. 
21:36
It's been incredibly hard for Nexe's players to put anything past Christoffer Bonde so far in this one. In order to succeed, you have to pull off something like this. 
Dorian Markušic and his golden wrist 🤯

📺 Watch now on https://t.co/NH7SmvqCrT | #ehfel @rk_nexe pic.twitter.com/0GURCCaoG2

— EHF European League (@ehfel_official) February 7, 2023
21:33
Looking at the individual performances in the first half, we can't help but notice that the impact Christoffer Bonde has had on the game so far from between the posts finishing the first half with 11 saves. Dominik Kuzmanovic was also good grabbing eight on the other side.
Montpellier's attack was functioning perfectly in the first half scoring 22 goals against cadets and orchestrating it was Slovenian international Stas Skube with five goals from just as much attempts. 
In other games, we have to highlight Sporting's Martim Costa and his seven goals, as well as Granollers' Antonio Garcia Robledo and his six. In a duel of goalkeepers, Flensburg's Kevin Moller finished the first half with eight saves while Valur's Bjorgvin Pal Gustavsson has only one less. 
21:25 HALFTIME
21:18
Defense seems to be the biggest problem for Kadetten Schaffhausen in the game against Montpellier. Scoring 11 in 20 minutes is good but allowing 16 is too much in case you want to defeat a team like Montpellier. Five goals for Stas Skube, three for Kylian Villeminot and Yanis Lenne. 
In Nasice, on the other hand, after one time-out called by Nexe's coach Branko Tamse, hosts are looking a lot better on the defensive side of the court playing more aggressive and not avoiding physical contact as much. The result is 12:13.
21:13
Beautiful offensive transition and, in the end, a goal for Zoran Markovic. Cadets Schaffhausen 11:14 Montpellier. 
When it comes to the game in Nasice, Nexe has managed to close the gap from four to two (9:11) goals thanks to some incredible saves by young Dominik Kuzmanovic. Eight minutes left to play until the half-time buzzer. 
21:07
Well, this is something you don't see very often. At least not this early in a game. 
𝐼𝑡'𝑠 𝑎 𝑘𝑖𝑛𝑑 𝑚𝑎𝑔𝑖𝑐 𝐼𝑡 𝐼𝑡 𝑠 𝑎 𝑚𝑎𝑔𝑖𝑐
! 🎶 versus Thor rikhardsson

and this beauty @ for @hbettenshiel #ehfel 📺 LIVE on https://t.co/NH7Smvq4Cl pic.twitter.com/mjwtHM6xND



— EHF European League (@ehfel_official) February 7, 2023
21:05
In other games, Flensburg is leading 12:8 versus Velur and Granollers is 11:9 ahead versus Balatonfuredi. Alpla Hard lead Sporting (8:7) and Aguas Santas is leveled with Bidasoa (7:7). 
21:02
In the middle of the first it is Skjern and Montpellier that are ahead. Stas Skube is leading the French team with three goals from just as much attempts, while Emil Siersbaek Bergholt has the same efficiency for Skjern. Christofer Bonde already has six saves for the guests. 
20:56 
After the win over Eurofarm Pelister, Skanderborg's coach was happy about two new points, but he stated that there is still room for improvement. 
First, I would like to thank Eurofarm Pelister for a great match here in Aarhus Arena. I am happy that we've in the second half managed to step up our game and show that we can work incredibly well under pressure. Even when we're not doing great, we are still able to find the right rhyhtm and decide the match in our favour which is important. I can say I'm happy about these two new points but there are certain aspects of the game we have to improve in.


20:51
Five minutes into the encounter, Dorian Markusic puts Nexe ahead at 4:3 versus Skjern. In Montpellier, the result is 2:2 as Odinn Thor Rikhardsson scores two in a row for cadets. 
20:37
In group C, Nexe will aim for the same against Skjern. Granollers and Sporting will, on the other hand, against Balatonfuredi and Alpla Hard look for a win which would, in case Nexe make a mistake versus Skjern, help them level with Croatian vice-champs in the standings.
Finally, in group D we'll see the encounter between Spanish Bidasoa Irun and Portuguese Aguas Santas in which Spaniards will be looking for an away win in order to stay close to Danish Skanderborg-Aarhus.
20:35 
Coming up, we have final six matches of our EHF European League round 7 12-game matchday.
In group B, we'll watch Flensburg welcome Valur with hopes of securing a Last 16 ticket with a win over the Icelandic representative in the competition.
20:27
And as we are waiting for our final six games of the day, we're bringing you some of the best photos from our first six matches of the EHF European League round 7. Hope you like them!








20:23
With the wins today, Ystads managed to stay close to group-leaders Flensburg, FTC successfully overtook the fifth spot in group B from Benidorm, Benfica managed to widen the gap between them and Tatran in the group A standings, Füchse extended the EHF European League Winning streak to seven games and Skanderborg managed to book a Last 16 ticket. 
20:20 FULL TIME
20:14
Let's look at some of the best individual performances from around the courts: 
In Aarhus, it's a battle of goalkeepers with both Urban Lesjak on one, and Salah Boutaf on the other side stopping over 38% of shots heading their way. 
In Berlin, Jacob Holm is shining with 11 goals while Jonathan Svensson scored nine for Ystads so far. Incredible Adam Borbely has 16 saves (40%) at the moment while young Ander Izquierdo Labayen scored seven goals against Tatran. 
20:04
Skanderborg managed to widen the gap to six goals (22:16) versus Eurofarm Pelister and they seem to be cruising towards a new win. Füchse leads Motor 28:20 going into the final ten minutes of the game, FTC has a 25:23 lead over PAUC and Benfica is looking comfortable against Tatran being 30:21 ahead. In Sweden, Ystads is leading 33:28 against Benidorm. 
19:55
We're always excited when we see a young talent and Benfica's own Ander Izquierdo Labayen appears to be one. 
𝐈𝐃 𝐂𝐀𝐑𝐃 🪪
ɴᴀᴍᴇ: Ander Izquierdo Labayen
ɴᴀᴛɪᴏɴᴀʟɪᴛʏ: 🇪🇸
ᴄʟᴜʙ: @SLBenfica
ᴀɢᴇ: it 22

remember: the name once! We'll say! 💎 #ehfel pic.twitter.com/VkH8yce2aM

— EHF European League (@ehfel_official) February 7, 2023
19:53
Jacob Holm is at six goals already as Füchse keeps on widening the gap against Motor (22:13). Benidorm is, on the other hand, closing the gap in Sweden against Ystads (27:25) and PAUC is back in completely (19:19). Exciting last 20 minutes are ahead of us in Hungary, Denmark and Sweden. 
19:45
A solid start of the second half gives Skanderborg a 14:11 lead only five minutes into the second period. Morten Balling Christensen is leading the way with five goals for hosts. 
19:35
In a duel between Ystads and Benidorm we are once again privileged to witness the greatness of Kim Andersson who is shining with two goals and a couple of great assists. 
Forget Hogwarts Legacy 👋 The magic is here and has a name: 𝐊𝐢𝐦 𝐀𝐧𝐝𝐞𝐫𝐬𝐬𝐨𝐧 🤯🧙‍♂️ #ehfel @YIFhandboll #HogwartsLegacy pic.twitter.com/m2eLzvcEZs

— EHF European League (@ehfel_official) February 7, 2023
In Denmark, Skanderborg managed to close the gap versus Eurofarm and in Hungary, Borbely is leading the way for FTC against PAUC with 10 saves in the first half. 
19:28
Benfica and Füchse have managed to showcase their quality and come inches away from sealing the deal in their respective encounters in first halves only. Petar Djordjic is leading Benfica with four goals, while Jacob Holm netted five for Foxes. Dejan Milosavljev is at 11 saves. 
19:25 HALF TIME
19:17
Serbian internationals are on fire so far with Petar Djordjic leading Benfica offensively with four goals and Dejan Milosavljev shining with eight saves versus Motor. 
19:13
It's a night of goalkeepers so far as Adam Borbely leads Ferencvaros from between the posts and Urban Lesjak shines against Skanderborg Aarhus. What a day he is having so far!
Urban Lesjak is on a 8/14 after only a few minutes 😱 May we serve you 3 of his best saves?👨‍🍳🍽️ #ehfel pic.twitter.com/eQehGYbvBa

— EHF European League (@ehfel_official) February 7, 2023
19:10
Skanderborg levels the game at 6:6, Ferencvaros escapes to 11:8, Benfica widens the gap to 12:8. We have to highlight Adam Borbely and his nine saves so far for Ferencvaros. 
19:05
Urban Lesjak between the posts is playing a big part in Eurofarm's good start of the match. Slovenian international has six saves already as Eurofarm leads 4:5. 
Ystads double the advantage at 12:6, Holm and Drux lead Füchse offensively (9:6). 
18:59
Swedish Ystads IF is off to a flying start against Benidorm as Anton Mansson and Jonathan Svensson combine for five goals in the first ten minutes. The result is 6:2. 
Füchse Berlin is, on the other side, dominating Motor in the beginning of their group stage clash with Jacob Holm leading scorers with two goals. 
In Aarhus we are watching a battle of defenses so far with Eurofarm Pelister leading 3:2 after their captain Mirko Radovic netted his first of the night from the seven-meter line. 
18:57
Ten minutes into our 18:45 encounters, the results are: 
Benfica - Tatran 6:4
Ferencvaros - PAUC Handball 5:3
Füchse Berlin - Motor 5:2
Skanderborg - Eurofarm 2:2
Ystads - Benidorm 6:2
18:50
Ferencvaros starts the game the right way in the attack taking an early 3:1 lead over PAUC Handball. Hans Lindberg, on the other side, opens the scoring for Füchse Berlin.
18:43
With two group D matches coming up from 18:45 CET, let's have a quick look at the group D standings going into this round.

18:38
In the game between Skanderborg and Eurofarm, head coach of the Macedonian team Lars Walther and one of their best players so far this season Sebastian Henneberg will have a kind of homecoming as both are Danes. Henneberg moved to Macedonia from Aalborg and, on the other hand, Lars Walther's last job in Denmark was on the bench of Ribe-Esbjerg. 
18:33
Group B is bringing us the duels between second-placed Ystads and fifth-placed Benidorm as well as the one between third-placed Aix and bottom-placed Ferencvaros. Eventual wins would help Ystads and Aix stay close to group leaders – Flensburg.
In group D, Füchse Berlin will try to extend the winning streak welcoming Motor. Skanderborg will, on the other side, aim to defeat Eurofarm Pelister at home and secure the ticket for the Last 16 phase.
18:30
With the first match of the day behind us, there is no time to waste as we've got five matches coming our way starting from 18:45 CET.
In group A, fourth-placed Benfica will aim to narrow the standings gap between themselves and third-placed Kadetten with a win over fifth-placed Tatran Presov. The team led by coach Marek Gernat managed to secure its first EHF European League win of the season in the last round celebrating against Fejer B.A.L-Veszprem.
18:25
A 40-piece from Frisch Auf Göppingen starts us off on this 12-game matchday in the EHF European League. Sarar, Gulliksen, Hermann and Till finished the match scoring five each for guests while Eles netted seven for the hosts. 
With this win, Germans have managed to secure the Last 16 ticket as currently fifth-positioned Tatran Presov can no longer catch them. 
18:14
Eles Benedek once again proves to be home-team's most dangerous player in this one scoring his seventh goal of the night with a little less than ten minutes left in this one. Unfortunately, German attacking transition remains a mystery for Fejer B.A.L-Veszprem as Göppingen keeps on widening the gap. With 55 minutes behind us, the result is 21:38. 
18:03
Yet another great example of how to turn defense into offense from Göppingen. Kresimir Kozina steals the ball on one side of the court and David Schmidt finds the net on the other scoring his third goal in this one, Göppingen's 30th. Going into the final 15 minutes of the second half, the result is 19:30. 
17:54
Göppingen start the second half with a couple of counter-attack goals but Eles Benedek reacts in the best possible way scoring three in a row for the Hungarians. Six minutes into the second, the result is 15:24. 
17:45
What a move from Jaka Malus, but it's Janos Podoba in for the rescue! One of the highlights of the first half, that's for sure!
This move surely deserved a goal but János Podoba said not this time! ❌😍

𝐇𝐚𝐥𝐟-𝐓𝐢𝐦𝐞 result:
Fejer BAL Veszprem 1⃣1⃣:2⃣0⃣Frisch Auf Göppingen #ehfel pic.twitter.com/T0XY1dwDVJ

— EHF European League (@ehfel_official) February 7, 2023
17:35 HALF TIME
German team's defensive performance seems to be the key so far. It is going to be hard for the Hungarians to turn the corner in this one. Gulliksen leads scorers for Göppingen with five while Ludman, on the other side, netted three for the hosts. 

And here are some half-time stats!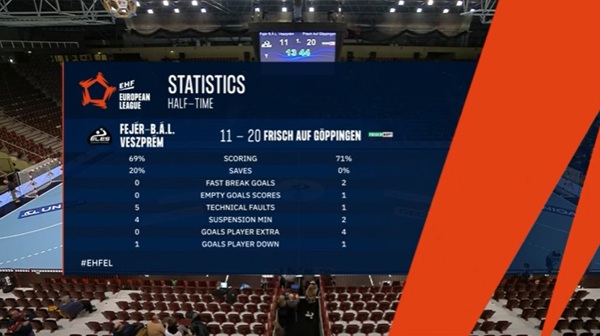 17:29
Going into the match, guest-team coach Markus Baur said that he feels like they are in good shape and that they'll focus on the defensive performance which is exactly what we're seeing from the German side so far as they have allowed Fejer BAL-Veszprem only ten goals with less than three minutes left to play in the first. Their offensive transition, on the other hand, appears to be deadly and in case nothing changes, they seem to be cruising towards another win and the EHF European League Last 16 phase. 
My players are in good shape going into the match in Hungary. We'll miss some players due to injuries but I feel like we have a good roster which is at least 'doubled' on each position. We're not expecting an easy match which is why we'll focus on delivering a good, strong defensive performance which will then, hopefully, help us find our pace in the transition.
17:20
Peter Szmetan fails to use a clear scoring chance going 1-on-1 against the goalkeeper and the German team knows how to take advantage of that. In a matter of seconds, Marcel Schiller has a perfect goal-scoring opportunity he uses to put Göppingen six goals ahead (7:13). 
17:15
A little less than 15 minutes into the encounter, home-team coach calls for a time-out as his team falls three goals down following a quick-fire double from Josip Sarac and David Schmidt. The result is 7:10 in favour of Göppingen. 
17:06
What a start of the match for Kevin Maageroe Gulliksen. Three goals for him, from just as much attempts in only five minutes time as the guests from Germany take an early 4:5 lead. 
17:01
Following the devastating earthquake in parts of Türkiye and parts of Syria, handball all across the Europe stands together expressing solidarity with a moment of silence before the EHF European League and Machineseeker EHF Champions League matches scheduled for this week, to pay tribute to the victims and those that are suffering. 
The match is now underway. 
16:57
An exciting day of the EHF European League handball is ahead of us and we've got no time to waste with the first match of the day between Fejer BAL-Veszprem and Frisch Auf Göppingen about to start! In it, the German team will be looking to take full bags back home against, currently bottom-placed Hungarians in group A, which would help them join French Montpellier in the EHF European League Last 16 phase. 
16:45
With the beginning of our 12-game EHF European League matchday, here are all the fixtures waiting for us in the next couple of hours!