EHF Champions League
Live blog: Narrow wins for Kiel and Nantes, PSG thrash Kielce
Read the round preview for all the latest news
On Tuesday, Paris Saint-Germain outplayed group A leaders Lomza Vive Kielce, comfortably winning 37:26
Then in group B, THW Kiel rallied to beat Aalborg Handball by two, and HBC Nantes edged past HC PPD Zagreb
Watch all the action live on EHFTV
23:20
And that's it for our coverage of Tuesday's matches in the EHF Champions League. We'll be back here tomorrow for two more games.
In the meantime, check out our Twitter, Facebook and Instagram (@ehfcl) for more great content!
Goodnight handball fans!
23:15 
THW Kiel coach Filip Jicha - "It was a great evening with a happy end and a huge step forward to get into the flow after this long quarantine break. We won two points against a strong Aalborg team, now we sleep over and start our next challenge."
23:12
HBC Nantes coach Alberto Entrerrios - "The key was our reaction during the 2nd half. We played with more intensity, especially during the money-time."
23:02
Both Group B matches were on a knife edge for so long! In Nantes, the away side would have been dreaming of getting points on the board, but it wasn't to be.
Here's our review of how Nantes just saw off Zagreb.
22:50
In case you missed anything - or can't quite believe what you saw - here's the scores from tonight's matches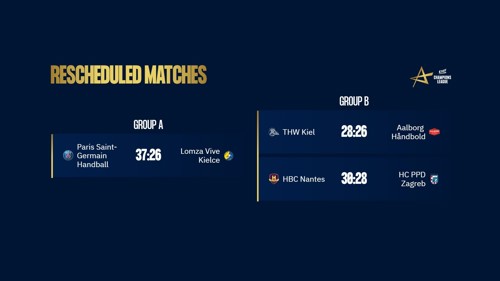 22:46
THW Kiel stay in 5th in Group B but are now just a point behind tonight's opponent Aalborg. Here's our review of an action packed game that the away side led for so long.
22:43
We always knew Kiril Lazarov was magic... here he is performing his famous disappearing-ball trick...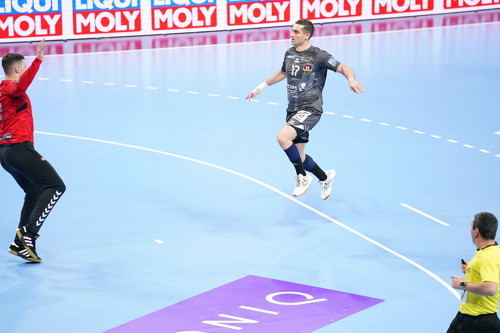 22:31
The boys in black and white praising their late turnaround!
22:29
Close but not close enough tonight for Aalborg, but this was special! Finished off by Nicolaj Christensen
22:23
Sebastian Barthold top scored in the Kiel v Aaloborg match with 7 despite ending up on the losing side.
But a special shout out to Valero Rivera who reached double figures for Nantes tonight! 10/13 against Zagreb.
22:20
Here's Domagoj Duvnjak being Domagoj Duvnjak
22:14
Drama in Kiel too! After being down for most of the second half, the Zebras turn things around late on against Aalborg to win 28:26
22:12
Heartbreak for Zagreb as they see a 28:27 lead disappear and lose 30:28. They remain without points in Group B
Congratulations to Nantes who move on to 10 points
A fantastically close game that could have gone either way
22:11
Nantes go 2 goals ahead before another Nielsen save, is that Zagreb's chance gone?
22:10
A 7m save keeps Zagreb alive, still 29:28, 2'
22:08
Nielsen makes a save and then his Nantes team go down the court and score, 29:28, 3' to play
22:03
Meanwhile in Kiel, Aalborg are maintaining a two-goal cushion, 23:25
22:01
Close, edgy, nervy... add in your own words to describe how tight Nantes v Zagreb has been! 

It's 27:26, Zagreb with the ball
21:53
Around 15 minutes to go in tonight's late games...
Nantes 25:24 Zagreb
Kiel 20:22 Aalborg

ALL TO PLAY FOR!
21:45
For most of the evening, Nantes and Zagreb have been difficult to separate... in more ways than one!
22:21 after 40'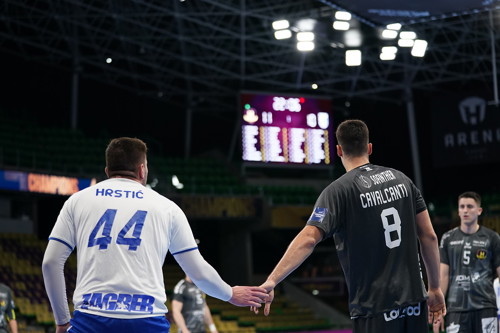 21:34
We're about to get underway again for the second half in both games! 
As much as we're enjoying your company here, we would understand if you switched over to EHFTV to watch live
21:22
We are now at the break in Germany too
THW Kiel 15:15 Aalborg
Harald Reinkind has 5 strikes for the Zebras, while three Aalborg players are on 3 goals
21:20
It's the Croatian side with the lead at the break in Nantes. 13:14 to Zagreb
They've shared the scoring around, but David Mandic leads with 3 
21:17
Teamwork making the dream work for Zagreb! Will they finally get points on the board tonight?
21:15
Closing stages of the first halves of our two live games, Zagreb are ahead 12:13, and Kiel are leading at home 13:12
Same score-lines, plenty of drama!
21:11
Too close to call so far between Nantes and Zagreb!
21:02
We're already a quarter of the way through our two late games, Aalborg have hit back against Kiel, 7:7, and Nantes have found a bit of daylight between them and Zagreb, 9:7
21:00
Our review of today's Group A match is in! If you missed any of the action, read about how group leaders Kielce went down by 11 in the French capital
20:50
Kiel have the better of their opening exchanges against Aalborg, 4:2
Nantes and Zagreb are trading blows, 2:2
20:40
Five minutes from the off in Kiel and Nantes, live updates here, live coverage on EHFTV and our social media channels @ehfcl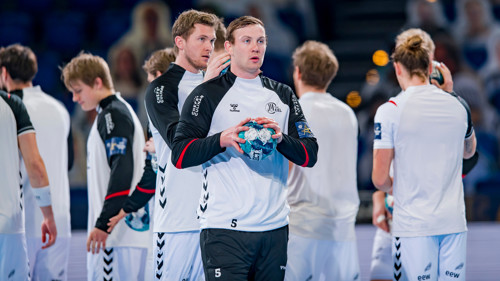 20:28
Also in Group B and at 20:45, Nantes in 6th welcome last-placed Zagreb. It's all smiles for now but I'm not sure how much longer that will last!

A win for Nantes could see them go 5th whereas Zagreb are hoping to at last get points on the board.
Both games are live on EHFTV
20:25
That's Group A done for another evening, but never fear handball fans, we have Group B action on the way!
THW Kiel will try and close the gap on Aalborg Handball to just a point! A win for Aalborg put them in a great position
But it wasn't just goals that helped PSG build a big lead tonight, Vincent Gerard also proved his worth between the posts 
20:18
After some squad rotation, Mikkel Hansen joins Luc Steins on 6/6 for the game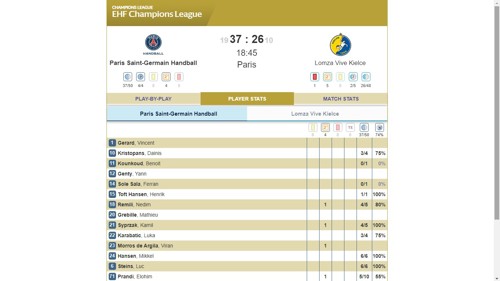 20:10
This one was over long ago! PSG 37:26 Kielce
Kielce add some respectability to the score and only lose by 11, but the group leaders were second best throughout tonight.
Congrats to the Parisians!
20:03
Seven minutes remaining, Kielce have a 7m shot saved. Nothing has gone their way today, 36:22
19:54
Under 15 minutes to go now and we're all a bit stunned, 30:16 to PSG! They have looked different class this evening.
19:49
"No way through" means absolutely nothing to Luc Steins.
19:40
Kielce are struggling to get a look in! They've just scored their first goal of the second half to cut the gap to 10, 21:11!
19:36
The teams are back out on court for the second half
Live updates here... Live coverage on EHFTV and social media @ehfcl
19:35
EHFTV commentator Tom likes what he sees!
19:25
6/6 for Luc Steins so far... 4/4 for Dylan Nahi! Simply unstoppable!

Check out our Live Ticker for more stats!
19:21
Half-time in tonight's early game!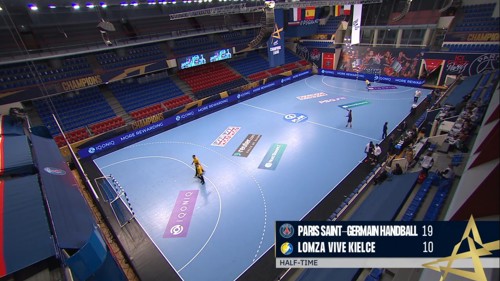 19:18
We are into the final 30 seconds of the first 30 minutes. It has been a half for PSG to savour, 18:10 ahead.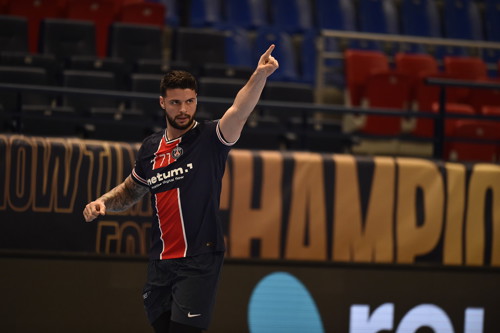 19:15
A 7-goal lead for the Parisians with 5 minutes to go in the first half! Who saw this coming? Can the group leaders Kielce bounce back?
19:05
Take care of yourselves when watching Luc Steins!
19:03
3/3 from Luc Steins has helped Paris race ahead! 11:5 to the home team after 15 minutes.
18:55
Eight minutes on the clock and the home side have the better of the opening exchanges, 6:3
18:45
Paris v Kielce is underway! Watch live on EHFTV
18:44
Make sure you have a read through our round preview! We have matches coming up for you over the next few days, make sure you can impress your friends with your EHF Champions League knowledge
18:40
It's never easy to "face au leader de la poule", how will PSG get on this evening? Your 5 minute countdown starts now!
18:35 

We are 10 minutes away from our first match this evening! Follow the action here, on our social media channels @ehfcl, and live on EHFTV.com