EHF Champions League
MOTW holds hopes and dreams for FTC
The race for the EHF Champions League Women quarter-finals is coming to an end and round 13 could be decisive in group A. FTC-Rail Cargo Hungaria and Brest Bretagne Handball both have 11 points ahead of the last two games, and narrowly lead SG BBM Bietigheim and Krim Mercator Ljubljana with 10 points each. One of these sides will miss out on the play-offs.
Hungary's FTC will host Bietigheim in Match of the Week (Saturday 4 February, 16:00 CET, live on EHFTV), and they are desperate to avenge themselves for a 20-goal loss against the German side in round 2.
There is extra motivation for FTC in their bid to reach the final stage of the European premier flight – the EHF FINAL4 is now held in the MVM Dome, in their home district of Ferencváros in Budapest. Despite reaching the quarter-finals four times since the EHF FINAL4 system began, FTC have never made the last jump to the final weekend in Budapest.
FTC have had a strong domestic season. Their 12 wins and one draw after 13 rounds include a December defeat of their nemesis, the five-time EHF Champions League winners Györi Audi ETO KC, by six at home.
Yet they have struggled internationally. In this season in Europe's top flight FTC have registered five wins, one draw and six losses after 12 games, including a 21:24 defeat to Brest Bretagne in France in round 12. Right back Katrin Klujber admits the September loss to Bietigheim was one of the low points.
"It was a huge slap in the face and we cannot let that happen again," she says before MOTW. "We want to take revenge, and more importantly keep the two points at home. If I think about our roller-coaster like performance this year, victory should come after the loss in Brest."
On the other hand, the Hungarian club have also had a number of near-perfect games.
"In the triumph against Krim, everything was just perfect. Everybody played her absolute best as we kept our focus on the highest level which led us to a positive feeling and thinking, which are really important for the team's chemistry," says Klujber.
"Also we were only one goal shy against Vipers and we sent home Györ by six in the Hungarian league," she points out.
Klujber herself has had a superb season, netting 78 times, which puts her fourth in the competition's top scorer rankings – despite missing the Brest match through illness.
"I had fever and coughed a lot, and I could not train. I fully recovered from the sickness and feel 100 per cent ready for the upcoming challenges," she says ahead of round 13.
Another boost for FTC is the return of centre back Anikó Kovacsics, who notably put 15 goals past Bietigheim in the Champions League group phase in 2018/19.
"As Anikó Kovacsics plays again we deepened our squad and it is always sensational to have one of the team's leaders back," Klubjer adds.
Klujber is under no illusions as to the key to a potential victory against Bietigheim this Saturday.
"Everything starts with defence. We believe in our system and we want to help our goalkeepers by not letting the opponents close to the six-metre line. With tough defending and quick counter-attacks we might surprise the German club, although we also know that the clash will not be easy," she says.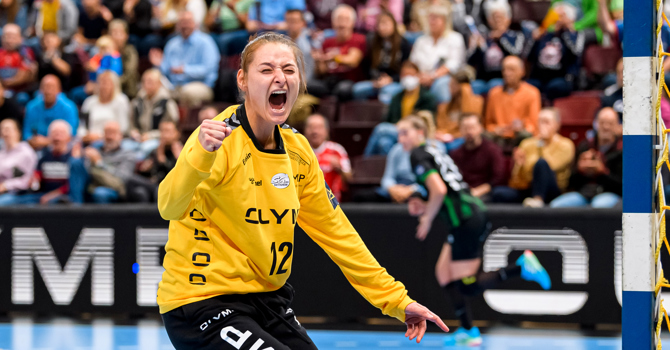 The match will also see the return of an old friend to the scene of her previous successes. Hungarian national team member and Bietigheim goalkeeper Melinda Szikora spent six seasons with FTC until 2019.
"Sziki knows most of us and is a great goalkeeper, but we also know her favourite spots and habits. I hope we can use this knowledge and net more," says Klujber.
Although FTC are still aiming for the EHF FINAL4, they want to take each round as it comes, according to Klujber.
"Of course we think about the final weekend of this competition, but to keep us focused we only talk about the upcoming matches and try to always be happy event after a defeat. It is still one of my biggest dreams to play in the FINAL4, however there are plenty of good teams in this season. I hope that the roller-coaster will go uphill," she sums up.
Photos © Marco Wolf / SG BBM Bietigheim