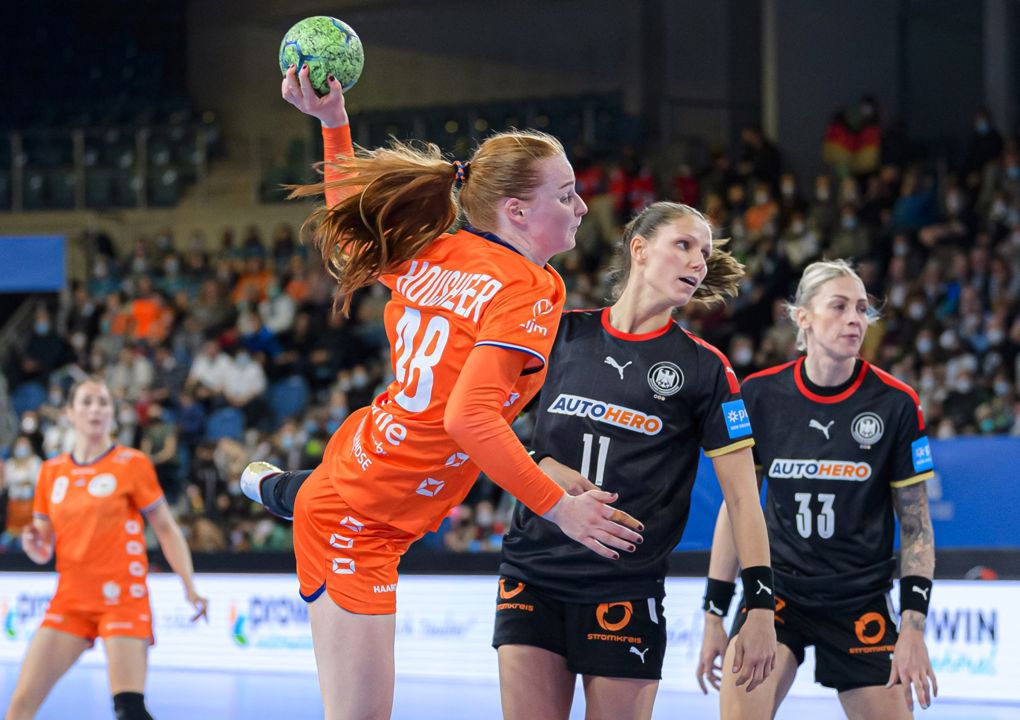 Teams ready for the Women's EHF EURO 2022
The Women's EHF EURO 2022 in Slovenia, North Macedonia and Montenegro is just around the corner, with four days separating us from the throw-off in Ljubljana and Celje. 16 teams are counting down until they step on the court and start to play with heart for the throne.
As the EHF EURO is approaching, euphoria rises and head coaches are applying the final touches after a diverse set of friendly matches took place throughout Europe.
Morale of the host nations growing
As they try to create history, the three host nations are eager to start their EHF EURO journey in front of their fans. North Macedonia's young team did not play any friendly matches and have put all their efforts into their final training sessions and tactics. A few days before the first whistle in Skopje, the national team had a meeting with the leadership of the Macedonian Handball Federation. Playing the European championship at home, in Skopje, will be an opportunity to bring women's handball back into the spotlight in a country with so many handball achievements.
"All you have to do is believe in yourself, believe in the team and be committed to the end. Fight for every ball, without calculations, and bowing down to the favourites," said president Zhivko Mukaetov.
The lionesses from Montenegro are equally excited. The 2012 European champions are hoping for good support from the stands to secure their place in the main round. Having a full team without any injuries is something head coach Bojana Popovic has wanted for a long time, and their morale has been boosted after winning both friendly matches against Slovakia. Every player got some minutes on the court, showing they are ready for what is coming. Montenegro won the first match 37:20 and repeated the success a day later with a 33:24 victory.
Slovenia have played two matches against Croatia. Despite Slovenia losing both games, head coach Dragan Adzic is satisfied with Slovenia's level of performance. While the first match was completely in Croatia's hands, the second showed Slovenia's fighting sprit and what a team they have. For most of the match on Saturday 29 October, it was a tie – but Nenad Sostaric's team snatched a 23:22 victory.
Slovenia's players had Sunday off and are getting back to training on Monday 31 October for the final touches.
"I am very satisfied with the performance in this match. It should not be forgotten that Croatia is the third-ranked national team from the last EHF EURO, while Slovenia finished last. Through these matches, we strengthened our character, the team and the connections within it," said head coach Dragan Adzic.

Netherlands win Intersport Cup in Norway
13 EHF EURO 2022 participants have already played their friendly matches in the last preparation week. Norway have been hosting the Intersport Cup in Stavanger, playing against Denmark, the Netherlands and Brazil. The reigning EHF EURO champions won against Brazil 27:22 and Denmark 28:27 after a 33:24 defeat against the Netherlands on the opening day.
The Dutch players performed well in all three matches, showing their skills and proving they will be a hard nut to crack at the EHF EURO. After a clear win over Norway, the Netherlands then defeated Brazil 27:26 and beat Denmark 26:25 on the final day. The Netherlands lifted the trophy and boosted their confidence ahead of their first match in Skopje on Saturday 5 November.
The EHF EURO 2020 runners-up tested their players against group D participants, Poland. Olivier Krumbholz's team left no hope for the Polish team. A confident France overran Poland 33:26 in the first match and 30:19 in the rematch.
Torrevieja, home of the 2021 IHF Women's World Championship, hosted another tournament. Spain played against EHF EURO debutants Switzerland and two non-European national teams, Egypt and Tunisia. "Las Guerreras" won all three matches, closing the tournament with a 37:26 win over Switzerland. Switzerland, on the other hand, finished second after clear wins over Tunisia (41:31) and Egypt (37:28). Both teams remain in Spain for their final preparations ahead of their journey to the EHF EURO.
After six days of preparation Grosswallstadt, Germany are awaiting their final tests in Hungary. On Monday 31 October, Germany will face Hungary. Two days later, on Wednesday 2 November, they will face Romania. While Germany were waiting to play, Hungary beat Romania 33:28.
Last but not least, Sweden played two matches against the Czech Republic. And while the first match was clearly in favour of Sweden, 36:20, the Czech Republic stepped up in the second to earn a 26:26 draw.

EHF EURO debutants set to shine
While we will have a chance to witness some stellar performances by well-known stars of women's handball, new names might enter the scene. The whole team of Switzerland are debutants at the European championship, and they will have their chance to show their skills in Ljubljana in group A. Respect Your Talent participant and future star Mia Emmenegger will represent the team at only 17 years old.
German goalkeeper Sarah Wachter will not have a chance to get her first minutes at the EHF EURO, as Katharina Filter and Isabell Roch will form the goalkeeping duo for Germany.
France, the silver medallists from EHF EURO 2022, have introduced a few name names to the squad. Audrey Dembele and Lena Grandveau are two of the young players that will make their EHF EURO debut in Skopje.
For Spain, Alba Spugnini should welcome her first minutes in the European Championship, while Katarina Pavlovic, Lara Buric and Tena Petika will be under the spotlight for Croatia in their EHF EURO premiere.
Sweden's side might introduce us to Linn Hansson, Elin Hansson, Nina Koppang and Clara Petersson Bergsten, all young players making their EHF EURO debut. Linn and Elin Hansson even made their debuts for the national team in the last preparation matches ahead of the EHF EURO.
Reigning champions Norway will be one of the teams with the most rookies in their squad. Missing players like Sanna Solberg, Camilla Herrem, Kari Brattset Dale, Marta Tomac and Heidi Løke, who are expecting children or have had children, Norway have turned to their young stars. Ane Høgseth, Thale Rushfeldt Deila, Marie Skurtveit Davidsen, Kristina Novak, Ragnhild Valle Dahl, Susanne Næs Andersen and Anniken Wollik will have a chance to represent their country for the first time on the EHF EURO stage.