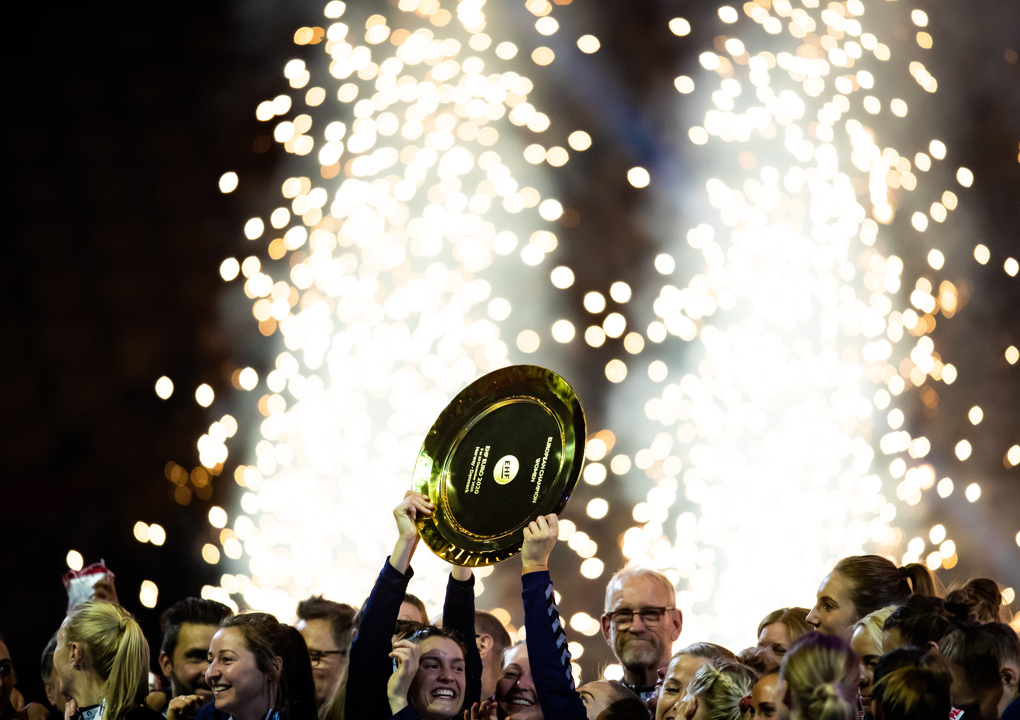 30 iconic moments in Women's EHF EURO history
With throw-off of the Women's EHF EURO 2022 in Slovenia, North Macedonia, and Montenegro approaching fast, the EHF has started a daily series, presenting one iconic moment from Women's European Championship history each day.
Before new highlights are created, let's enjoy 30 unforgettable memories from Women's EHF EURO history.
Wednesday 2 November
Qualifying for an EHF EURO has always been a mountain too high to climb for Switzerland... until this year! Finally the team of coach Martin Albertsen make their debut at the European Championship.
And now matter how their premiere will go, we will see Switzerland back at the EHF EURO 2024 – as co-hosts alongside Hungary and Austria.
1 day to go – Switzerland's breakthrough
Tuesday 1 November
There are shots that lead to goals that people remember, and shots that lead to memorable saves, but at the EHF EURO 2016, Suzana Lazovic managed to pull off a shot that will be long remembered even though it didn't lead to a goal, or a world-class save. 
Against Denmark the Montenegrin's shot hit the post and... stayed there. She cut in from the left and let fly with a right-handed shot which stuck to the base of the post without crossing the line. 
There was a moment of confusion as no one could work out where the ball had gone. Denmark's goalkeeper Sandra Toft eventually realised what had happened and got the match going again. 
2 days to go – Lazovic's sticky shot
Monday 31 October
At the EHF EURO 2018 in France, Denmark led 30:29 against Sweden with less than three seconds remaining when Anne Mette Hansen conceded a penalty after stopping a goalbound shot with her foot.
Nathalie Hagman had scored her first five penalty attempts of the match, but when it came to the biggest moment of the match, Denmark's Sandra Toft denied Sweden's prolific right wing to ensure that her side held on. 
3 days to go – Sandra Toft's save vs Sweden
Sunday 30 October
Only few players enjoy the honour in their careers to be crowned MVP of an EHF EURO tournament. Mind you, Gro Hammerseng received the award twice – in 2004 and again in 2006. The Norwegian star became the first player ever to get the prestigious title two times.
4 days to go – Hammerseng's unique double
Saturday 29 October
One of the greatest players of her time, two-time IHF World Handball Player of the Year Bojana Radulović rose to the occasion at her home EHF EURO 2004, leading Hungary to the bronze medal while setting a new best mark for most goals scored in a single EHF EURO tournament: 72. Legend!
5 days to go – Radulovic's stunning 72
Friday 28 October
Denmark touched handball greatness in the mid-1990s when they held all three major titles at the same time. 
First came victory at the Atlanta 1996 Olympic Games, with a defeat over South Korea in the gold medal match.
Later that year the Danes added the EHF EURO 1996 title following victory over Norway, before they repeated the result in the 1997 World Championship final. 
Women's handball - for two years Denmark owned it.
6 days to go - Denmark win the lot
Thursday 27 October
EHF EURO 2000 is remembered fondly across the continent, but probably nowhere more than in Ukraine. 
It was the east European outfits best showing at a EURO, and they came so, so close to the top of the sport. 
Romania hosted the tournament in December and Ukraine nearly gave their fans the perfect Christmas present, but Hungary denied them at the last, winning 32:30 after extra-time.
7 days to go - Ukraine threaten the top order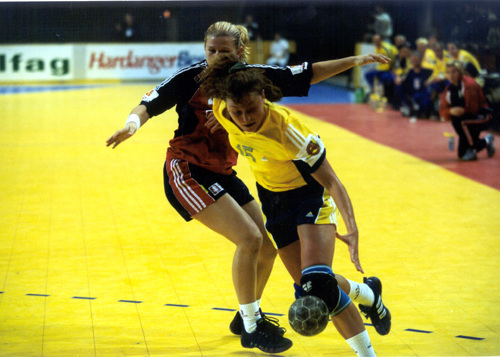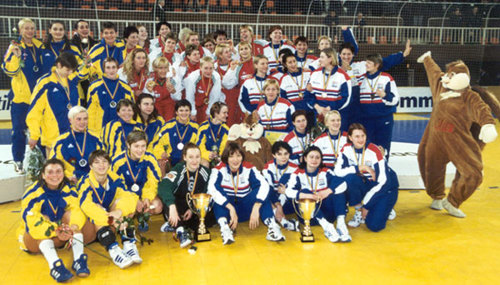 Wednesday 26 October
He has coached Norway at the last six EHF EURO events... and ended up winning the title on four occasions! The success rate of Thorir Hergeirsson has been incredible. Can he make it a handful of gold medals next month?
8 days to go – Hergeirsson's quartet
Tuesday 25 October
No time left on the clock, you are somewhere halfway down the opponents' half... what else can you do than shoot?
That is just what Betina Riegelhuth did for Norway against Spain at the EHF EURO 2014, and with success! 
9 days to go – Riegelhuth's buzzer beater
Monday 24 October
If you are a goalkeeper and want to become the Most Valuable Player of a big tournament, you must do something really special.
Well, that is exactly what the brilliant Karin Mortensen did 20 years ago. The Danish goalkeeper was instrumental for the host nation of the EHF EURO 2002 on the way to Denmark's third gold medal.
10 days to go – Mortensen's magic
Sunday 23 October
When Austria and Norway met in group A of the preliminary round of the Women's EHF EURO 1994, the teams scored a combined total of 25 goals.
In a match dominated by defence, Norway led 8:6 at half-time. Remarkably, although Norway only scored six more goals in the second half, they claimed a 14:11 win that helped them qualify for the semi-finals. 
11 days to go -  defensive masterpiece between Austria and Norway
Saturday 22 October
At the EHF EURO 2012, Montenegro were on the cusp of their first EHF EURO final when they faced Serbia in the semi-finals.
In a tense match, Serbia led 14:13 at the break. Milena Raicevic had scored two goals in the first half, but Montenegro's star centre back added six more goals in the second half as she guided her side to a 27:26 victory. Crucially, Raicevic scored Montenegro's last three goals of the match.
12 days to go - outstanding performance from Milena Raicevic 
Friday 21 October
Every record breaker needs to start somewhere and for Siraba Dembélé her journey to becoming the EURO appearance record holder began at EURO 2006.
It was a memorable tournament for the French left wing, as she helped her team to the bronze medal. 
Since her debut, Dembélé has played 54 EURO matches and tasted gold-medal glory at EURO 2018. 
13 days to go - Siraba Dembélé enjoys her first taste of EURO life
Thursday 20 October 
It is one thing scoring a buzzer-beater, and another at an EHF EURO but against a powerhouse like Spain? Now that is something to remember! That's right we are going back to the EHF EURO 2018 to relive Lois Abbingh's last second-second cracker, enjoy!
14 days to go - a buzzer-beater for the ages
Wednesday 19 October 
A juggernaut might be an understatement... Norway in 2004 were different gravy. And the semi-final blowout when they set a new high-scoring record against EHF EURO 2004 hosts, Hungary (44:29), was only building on huge wins against Slovenia (41:18), and Serbia and Montenegro (39:24 ) earlier in the main round. 

The talented outfit went on to lift their second EHF EURO gold by beating Denmark in the final 27:25. Check out the gallery below and see how many faces you can name!

15 days to go - reaching new heights 


Tuesday 18 October
When a fairy tale becomes reality... Montenegro upsetting Norway in the EHF EURO 2012 final came as a surprise to many. But it was not just the result, but also the sheer passion and willpower of Montenegro that captured the imagination of fans world wide.
And what a final it was... thrilling until the very end!
16 days to go – Fabulous final
Monday 17 October 2022
Few things feel sweeter as a player or fan than a last-gasp equaliser.
In the preliminary round of EHF EURO 2014, Denmark and Romania were engaged in a back-and-forth battle throughout the second half.
When Cristina Neagu gave Romania a two-goal lead in the 59th minute, all looked lost for Denmark. But these are iconic moments for a reason. Playing the old-school version of 7vs6 in attack, Susan Torp Thorsgaard received the ball on the line, kept her cool and slotted home an equaliser with three seconds left on the clock.
17 days to go – Leaving it late 
Sunday 16 October 2022
Croatia had never won a medal at the Women's EHF EURO... until 2020! The team led by coach Nenad Sostaric impressed from the preliminary round with a spirited performance as they translated their positive approach on the court to a string of strong results.
Croatia's feel-good story lasted until the final weekend, where they earned bronze to finally carry home their first medals.
18 days to go – Everybody's darlings 
Saturday 15 October 2022
France was the host of the Women's EHF Euros in 2018, for the first time in its history, and they did not let an opportunity go to waste.
After defeating the Netherlands in the semifinal, The French defeated Russia 24:21 to bring home their first Women's EHF EURO title.
19 days to go – Fabulous France
Friday 14 October 2022
You never forget your first time and Dutch handball fans will never forget EHF EURO 2016 when they reached the final for the first time. 
They needed to overcome handball powerhouse Denmark in the semi-finals, and in a dogged performance they prevailed 26-22. 
20 days to go - Dutch delight
Thursday 13 October 2022
Norway are the most successful nation in the history of the Women's EHF EURO, with eight golds in total - including from 2020. 
So of course our iconic moments wouldn't be complete without a look at gold number four, which was their last under their incredible coach Marit Breivik.
21 days to go - Breivik's golden goodbye

Wednesday 12 October 2022
Ten years ago, Serbia were proud hosts of the EHF EURO 2012. Backed by a big crowd of home fans, Serbia made it to the semi-finals - and watch what it meant to them!
22 days to go – Katarina's heroics

Tuesday 11 October 2022
Their unlimited passion made Croatia the fans' favorites of the EHF EURO 2020 in Denmark. With a fresh approach and a positive attitude, the team that had never won a medal before made it all the way to the semi-finals, and ultimately ended up winning bronze.
From the many incredible memories Croatia created that tournament, maybe goalkeeper Tea Pijevic's one-handed saves stood out.
23 days to go – Tea's one-handed catch

Monday 10 October 2022
2012 champions Montenegro were in deep trouble at half-time in their final main round match at EHF EURO 2014.
Trailing by five and needing a win to reach the semi-finals, the spirited side clawed their way back, inspired by nine goals from Jovanka Radicevic, to beat Sweden 30:29 and progress top of the group.
A repeat of their heroics two years previous was not to be repeated, however, as they lost a tense semi-final to Spain 19:18 and then Sweden got their chance to strike back in the bronze medal match, winning 25:23.
24 days to go – The second-half comeback
Sunday 9 October 2022
At the Women's EHF EURO 2018 in France, Sweden began the main round with a 30:28 loss against Montenegro and a 21:21 draw against France.
In their final game of the main round, Nathalie Hagman scored 17 goals for Sweden against Russia in Nantes to tie the record of Poland's Karolina Kudlacz-Gloc for the most goals scored by a player in a Women's EHF EURO match. Hagman's goalscoring exploits helped Sweden take a 39:30 victory against Russia.
Interestingly enough, while Kudlacz-Gloc set the record at the EHF EURO 2006 in Sweden, both players achieved the feat on the 12th December. Here is iconic moment #6.
25 days to go - Sweet 17
Saturday 8 October 2022
20 years ago, we were treated to an exhibition in goalscoring as Hungary and Yugoslavia shared 82 goals in 60 minutes. Both teams came into the championship with high hopes but narrowly missed out on the semi-finals.
Left with competing for fifth place, they let loose in a free-flowing game, which Hungary won 43:39, inspired by 14 goals from Ágnes Farkas. Here is iconic moment #5.
26 days to go – Goals galore
Friday 7 October 2022
There's nothing like a late winner to send fans and players into rapturous celebrations, and that's exactly what Allison Pineau did for France at EHF EURO 2016. 
With the clock racing down, the scores tied at 22-22, and Spain in France's half, the ball ran free to Pineau who flung the ball three-quarters of the court into Spain's unguarded goal.
The ball hit the net as the buzzer sounded to send everyone on France's side wild with delight. 
here it is, our iconic moment #4
27 days to go – Allison Pineau's 'buzzer beater' 
Thursday 6 October 2022
She was an iconic player, and now she's an iconic coach - in fact, the only female head coach to lead her side at the upcoming EHF EURO 2022, and in the EHF Champions League Women.
Bojana Popovic has a raft of achievements to her name and has been essential in Montenegro's handball successes. So it's right that one of our iconic moments is her eight-goal outing against Denmark in 2010. 
And don't miss our exclusive interview with her either!
28 days to go – Bojana's masterclass
Wednesday 5 October 2022
Memorable moments in a match don't always have to be winning goals or decisive saves. No, sometimes things so extraordinary happen on court, that you will never forget them, even though the match in question has long been decided.
A great example is Tonje Nøstvold's stunning 360-degree penalty shot for Norway in the EHF EURO 2008 final against Spain, our worthy iconic moment #2: 
29 days to go – The pirouette penalty
Tuesday 4 October 2022
The countdown is running fast: today, it is only 30 days to go until throw-off of the Women's EHF EURO 2022 in Slovenia, North Macedonia, and Montenegro. To celebrate the occasion, the EHF is starting a new daily series, presenting one iconic moment from Women's European Championship history each day.
While we have had a look at stalwarts and rookies to shine at the EHF EURO earlier today, let's now go straight to...
... iconic moment #1:
30 days to go – Bella's farewell