"Chapeau, Cristina!" Sigurdsson praises Neagu for breaking his record
Fans who were attending the Women's EHF EURO 2022 main round match between Romania and Montenegro in Skopje on Tuesday can tell their children and grandchildren that they witnessed a historic night in handball. Romania star Cristina Neagu became the all-time top scorer of the EHF EURO: no player – male or female – has netted more times during European Championships.
Before the match against Montenegro, Neagu was on 287 EHF EURO goals, already the women's record by far. And by netting nine times, she has gone top of the combined all-time goal scorers' list for Women's and Men's EHF EURO events, overtaking men's record holder Gudjon Valur Sigurdsson.
The Icelandic great, who played for his national team from 1999 until retiring in 2020, has netted 289 times at EHF EURO events.
Sigurdsson, currently coach of German club VfL Gummersbach, praised Neagu right away for her achievement.
"Chapeau, Cristina," he said in a personal message sent to ehfeuro.eurohandball.com.
"Dear Cristina, congratulations on your record. Finally, finally, I have been passed by you. I have huge respect for your performance, it proves you have been on top level for many years and that you are constantly on this level. Personally, I am absolutely delighted for you, it is a huge joy for me, as I know how hard you have to work to reach this milestone. Enjoy the record. All the best, Gudjon Valur Sigurdsson."

It was hard for Neagu to enjoy the next record in her illustrious career, since Romania went down by a single goal (35:34) against Montenegro after a tough battle that went down to the wire.
"Of course, it makes me proud and I am no hypocrite, but I am a team player. My job is that Romania win their matches, it is not about my goals," she said.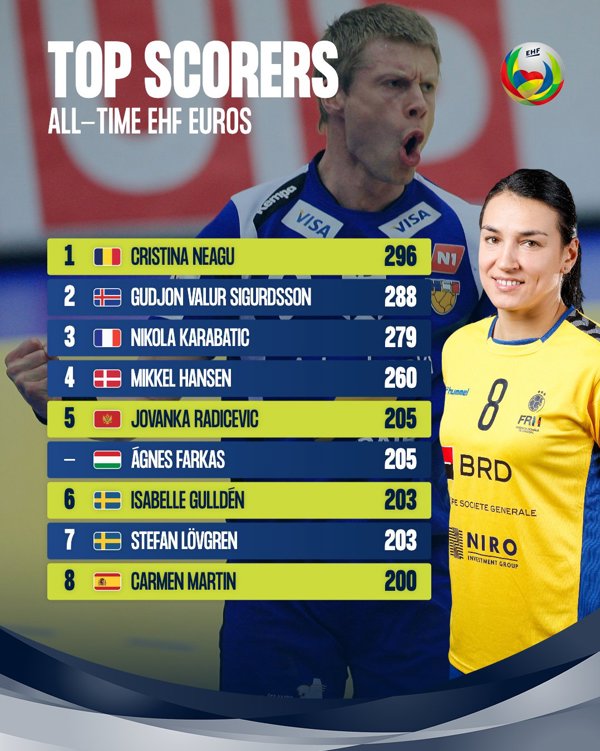 Less than 24 hours later, Neagu and Romania are set to face Germany in the teams' last main round encounter. While both can't make the semis anymore, they could finish in third place and reach the match for fifth place in Ljubljana on Friday.
The 34-year-old Neagu, who has announced that this is "probably" her last EHF EURO, needs four more goals to become the first player to pass the 300-goal mark at the EHF EURO; four years after she reached the 200-goal mark at the 2018 edition in France.
Just to compare: Neagu alone has scored 296 EHF EURO goals so far; the whole German squad is on 306 goals.
It makes me proud and I am no hypocrite, but I am a team player. My job is that Romania win their matches, it is not about my goals.
But, again Neagu, will not have the record on her mind, but only the success of the team.
"I am proud of these girls, we have been fighting a lot and it has been something that we had for some years," she said. "We now need to focus on the game against Germany, because it would give us a better placement in the competition and, hopefully, we can go to an Olympic Qualification Tournament."
While Neagu is approaching the 300-goal record, the match against Montenegro saw another legend pass the 200-goal milestone, when Jovanka Radicevic netted for 16:16.
With her team qualified for semi-finals, the Montenegrin star has two more chances to add to her current tally of 205 goals before ending her national team career after the tournament.
And another great has been getting close to 200 EHF EURO goals as well: Norway right back Nora Mørk is on 195 – with, just like Radicevic – three more chances to score at the Women's EHF EURO 2022.
photos © Anze Malovrh, Nebojsa Tejic, Axel Heimken / kolektiff