SUMMARY: Ystad upset Flensburg; Skjern end Granollers' run
The EHF European League Men 2022/23 group phase entered round 4 on Tuesday, with previously unbeaten SG Flensburg-Handewitt and Fraikin BM. Granollers suffering their first defeats, and Kadetten Schaffhausen edging titleholders S.L. Benfica on a last-second penalty.
round 4 of the EHF European League Men 2022/23 group phase with 12 matches across the four groups on Tuesday
key results: Kadetten beat titleholders Benfica 26:25 in group A / Ystad upset Flensburg 30:26 in group B / Skjern end Granollers' winning run in group C, 32:29 / unbeaten leaders Skanderborg-Aarhus (38:27 vs Bidasoa Irun) and Füchse (34:20 vs Aguas Santas) have double-digit wins in group D
check out the updated standings in the four groups
recorded matches available on EHFTV (geo-restrictions may apply)
Tuesday 29 November 2022
23:15
Here ends the coverage on our live blog for round 4 in the group phase of the EHF European League Men. Remember you can read the reviews of all four groups on ehfel.eurohandball.com tonight.
Next week we are back with round 5, which includes many eye-catching highlights again, like defending champions Benfica hosting Montpellier in group A, and the two unbeaten leaders in group D, Füchse and Skanderborg-Aarhus, going head-to-head in Berlin. So make sure to join us again next Tuesday!
For now, it is goodbye and enjoy our big gallery with 36 pictures, covering all 12 matches from tonight:




































23:06
The biggest upset of the night has certainly been Ystad's terrific win over Flensburg. So let's hear from Ystad head coach Oscar Carlén:
Fantastic game, amazing victory for us that gives us a lot of self-confidence! I am very satisfied with the way we played, without respect against one of the best teams in the world.
22:51
Tonight the EHF European League has lived up to its billing as one of the most spectacular handball competitions in Europe once again!
You can now watch the highlight videos of tonight's key games:
22:26
And this is the complete overview of round 4 results. Indeed, what a night!
22:23
Here are the full results of the late matches in round 4:
B - PAUC vs Valur 32:29
B - Skjern vs Granollers 32:29
C - Hard vs Nexe 24:35
C - Sporting vs Balatonfüred 35:32
D - Füchse vs Aguas Santas 34:20
Skjern dig deep to keep the points in Denmark. They come from behind and use a 5:0 run halfway through the second half to get on top of Granollers, who suffer their first defeat after three straight wins.
22:11
With Skjern now four goals ahead against Granollers with three minutes left, it leaves PAUC vs Valur and Sporting vs Balatonfüred the only close matches in this late session going down to the wire.
21:57
A sudden 5:0 run for Skjern give them a three-goal lead over Granollers: 24:21! The first time the Danish side are ahead by this margin. Can Granollers, the unbeaten group C leaders, hit back?
21:55
Whip it like Ian:
21:51
Nothing separating Skjern and Granollers: 21:21 after 13 minutes in the second half. The hosts have had a few more shots, the visitors the slightly better efficiency.


21:28
Best goal of the round? Füchse on fire:
The expected close game. Granollers have a 4:0 run to come from 5:4 down and go 8:5 up on Skjern, but their lead has never been bigger than three. Alfred Jönsson with six for Skjern and Pol Valera with five for Granollers the best scorers in the first half. Granollers will do well to maintain their unbeaten status tonight...
Elsewhere, Nexe (18:11 at Hard) and Füchse (17:9 against Aguas Santas) are cruising towards big wins.
21:13
In Austria, Nexe seem cruising to a huge win over hosts Hard, leading 15:9, also thanks to six goals of Fahrudin Melic.
Looks like the unbeaten status of Nexe and Füchse will not be endangered tonight, contrary to Flensburg, who have lost to Ystad in Sweden earlier.
21:07
All matches started at 20:45 pretty much still in the balance after the opening quarter, except for Füchse, who lead Aguas Santas 11:5 after 17 minutes with Jacob Holm and Milos Vujovic both netting four times.
21:03
Costa's class:
20:45
Take a deep breath, here we go with the final batch of round 4 matches right now on EHFTV:
B - PAUC vs Valur
B - Skjern vs Granollers
C - Hard vs Nexe
C - Sporting vs Balatonfüred
D - Füchse vs Aguas Santas

20:34
And THIS is how Kadetten downed the titleholders: on a last-second penalty, converted by Odinn Thor Rikhardsson to give the Swiss team a 26:25 win over Benfica:
20:28
Here are the results of the 18:45 CET matches:
A - Kadetten vs Benfica 26:25
A - Veszprém vs Montpellier 31:39
A - Göppingen vs Presov 34:24
B - Ystad vs Flensburg 30:26
D - Motor vs Pelister 30:33
D - Skanderborg-Aarhus vs Bidasoa Irun 38:27
Crazy scenes in Sweden! Ystad hold on to their early lead for the entire match to beat the mighty Flensburg by four goals. That ends Flensburg's winning streak in this competition.

20:07
Elsewhere, Skanderborg-Aarhus keep scoring at, literally, a high pace:
20:03
Ystad standing strong after the break as well. They are up 25:21 with 10 minutes left. Is there a way back for Flensburg? The unbeaten favourites from Germany are struggling to find gaps in the tight Swedish defence. Maybe a team timeout from Maik Machulla helps.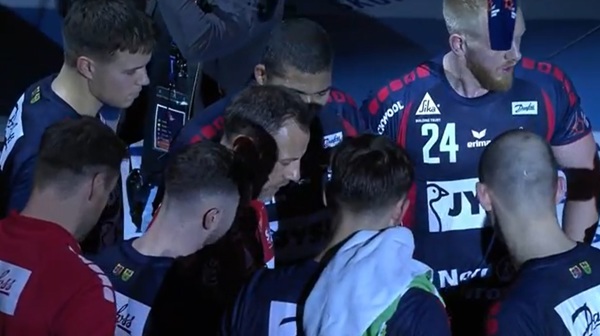 19:47
Shout-out to Kadetten, which were behind against Benfica early on but have completely turned that match on their home court around, now leading the titleholders by 19:14, thanks to five goals from Joan Cañellas and four from Luka Maros.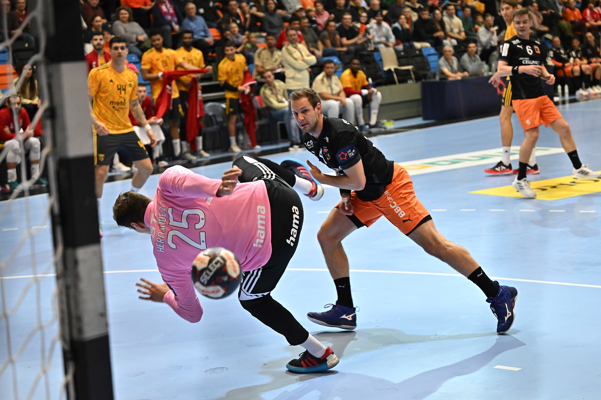 19:41
Speaking of Kim Andersson, this is an example of what we have just been referring to:

19:28
And mind you, good old Kim Andersson is having some match for Ystad. The former THW Kiel player has scored five goals in the first half against Flensburg. We had this feature with Kim just yesterday on eurohandball.com:
What a first half in Ystad! Flensburg were even 17:12 down entering the last minute of the first half but Mads Mensah Larsen and Johannes Golla managed to reduce the gap to three.
The winning streak of Flensburg seriously under threat here?!
Elsewhere, Kadetten lead titleholders Benfica 13:12, Montpellier are 25:16 (!) up in Veszprém, and Skanderborg-Aarhus 21:13 against Bidasoa Irun.
19:15
Skanderborg-Aarhus are one of the unbeaten sides in action, and they look like consolidating that status as they lead Bidasoa Irun 19:12 with three minutes left before the break.
19:06
Montpellier might be leading early on, but check out these saves from Veszprém goalkeeper Tibor Balogh:
18:59
Wow, what a start in Ystad, where the hosts are 9:4 up against Flensburg! Elsewhere, Benfica (in Schaffhausen) and Montpellier (in Veszprém) with early leads.
18:45
No time to waste as we have a six-pack for you right now on EHFTV:
A - Kadetten vs Benfica
A - Veszprém vs Montpellier
A - Göppingen vs Presov
B - Ystad vs Flensburg
D - Motor vs Pelister
D - Skanderborg-Aarhus vs Bidasoa Irun

18:36
Here is THE moment in Hungary tonight:
Can you believe it? What a start to round 4 as Benidorm have a 7:2 run in the closing stages to beat FTC 33:32 from 30:26 down. Ivan Rodríguez Martínez beats the buzzer to give Benidorm their first points in group B as the Spanish side draw level with FTC. Ivan Nikcevic with nine the leading scorer.
18:22
Well, maybe we have been a bit early with that production, since Benidorm have had a sudden 6:2 run to draw level with FTC, 32:32. What a finish!
18:11
The margin is four (30:26) with 10 minutes left on the clock: Looks like FTC are closing in on their second home win this group phase. They also have scored at least 30 times in all four matches so far. Impressive!

18:07
Ádám Borbély is at it again:

17:47
FTC opened the first half with this in-flight goal. Can they keep it up in the second half? Find out live on EHFTV now.
Happy faces in Hungary, as FTC hold a two-goal lead over Benidorm at the break. Maté Ónodi Jánoskúti for FTC and Ivan Nikcevic for Benidorm with five goals each the best shooters so far.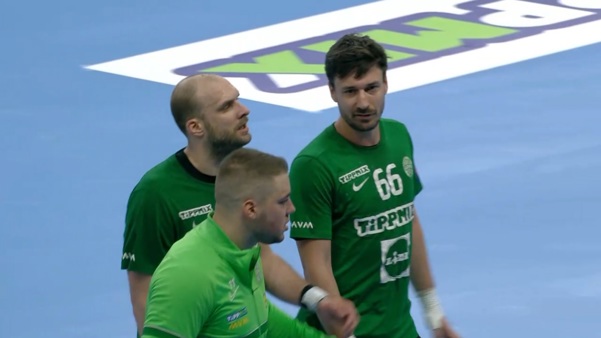 17:22
FTC lead, but Benidorm have provided us with the highlight so far:
17:14
Early team timeout for Benidorm as FTC are pleasing the home crowd in Hungary so far with a 9:6 lead after 12 minutes.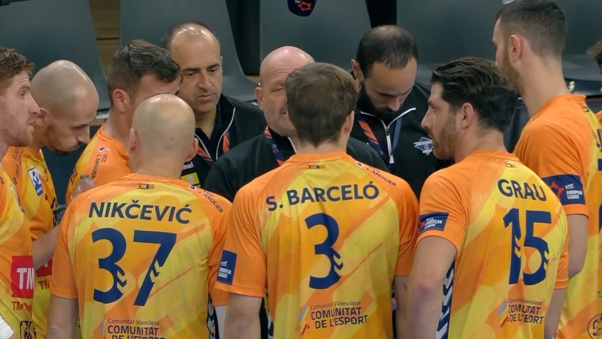 16:56
Let's go! FTC (two points) and Benidorm (zero) are ready to get round 4 going with this group B game in which both teams are eager to earn points and boost their chances to advance.

16:47
Another interesting game tonight features defending champions Benfica, who lifted the trophy last May while hosting the EHF Finals Men 2022. By the way, the procedure to find the host for the EHF Finals Men 2023 has already started.
Benfica are up for a true challenge tonight as they meet Kadetten in Switzerland at 18:45 CET in a duel between two teams that are both on four points in group A. Who takes the advantage tonight?

16:36
One of the unbeaten teams, and one seen by many as the main title contenders, is Flensburg, which face a tricky away match (18:45 CET) at Ystads IF HF, where former THW Kiel player Kim Andersson is still going strong at age 40.
"We must not be afraid of Flensburg, play like it is any other match," says Andersson, who lost only once to Flensburg in six years with Kiel.
Read the feature with Kim Andersson here.

16:22
We throw off the evening in Hungary again, where FTC host Benidorm at 17:00 CET. The other matches are following either at 18:45 or at 20:45 CET and include the six teams that have won all three matches so far: Montpellier (group A), Flensburg (B), Granollers, Nexe (C), Füchse and Skanderborg-Aarhus (D).
No other team is unbeaten as, remarkably, we have not seen a single draw in the 36 matches in the group phase so far.
Here is the complete preview of all matches this round:
16:10
Good afternoon and welcome to the live blog for round 4 in the group phase of the EHF European League!
We have another bumper night of handball coming up so quickly check out the full schedule below: