EHF European League
Summary: Plock grind out vital win at Sporting
seven of the eight European League Last 16 first leg matches took place this evening
nine goals from Alexander Kotov inspires Chekhovskie Medvedi to a 30:25 win over USAM Nimes Gard
Montpellier snatch last-gasp draw against Schaffhausen, while GOG and Rhein-Neckar Löwen score two-goal victories
Plock overcome slow start to beat Sporting, big wins for Berlin and Magdeburg
22:50
We'll leave it there for today, wrapping up a genuinely entertaining evening of European League action. The quarter-final line-up is far from certain at this stage, so you'll definitely have to return next Tuesday for the second leg action. Goodnight!









22:37
Here's a look back at the results from the seven matches played today. The only Last 16 game not on today was the clash between IFK Kristianstad and Abanca Ademar Leon, which will be decided next week, along with the return legs of these ties.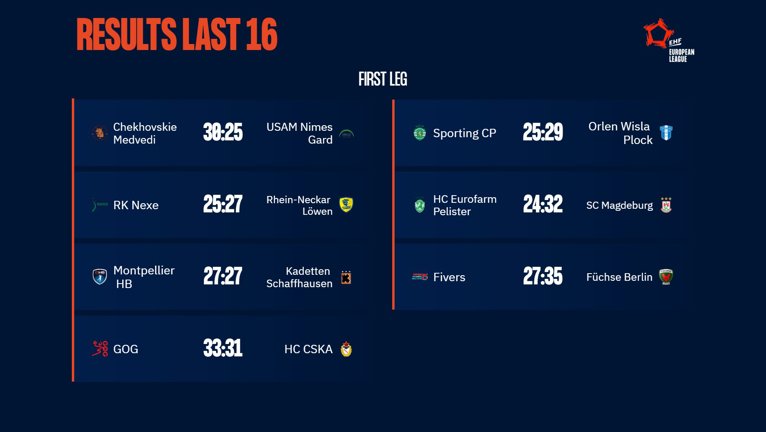 22:18
RESULTS: Fivers 27:35 Berlin; Pelister 24:32 Magdeburg; Sporting 25:29 Plock
Michal Daszek was everywhere in the second half as his seven goals led Plock to a hard-fought and incredibly valuable away win in Lisbon. In a match where they showed at times that they had what it takes to win, Sporting will be left to rue a poor goalkeeping return of just four saves, compared to 14 by Plock's Adam Morawski.
Magdeburg were in control from the very start in their win, with Omar Ingi Magnusson's 10 goals the highlight. It took a lot longer for Berlin to get going but in the end they proved to be too much for their hosts in Vienna.
22:07
Magdeburg are just minutes away from a big win and one foot in the quarter-finals, leading 31:23. It has been a much improved second half from Eurofarm Pelister but the damage was already done.
21:59
A pair of penalties for Niko Mindegia have give Plock a three-goal lead for the first time tonight, 22:19. Sporting have been up to the task so far tonight but will need to dig deep in the final 12 minutes to turn this around.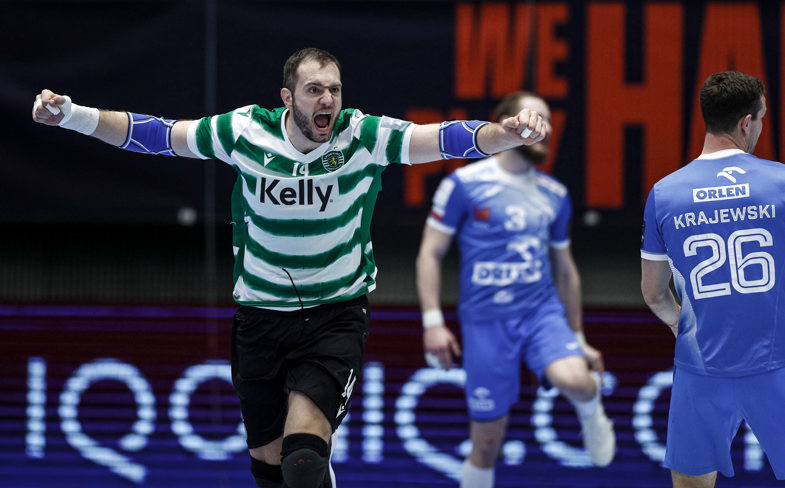 21:50
Füchse Berlin have come out all guns blazing in the second half and it hasn't taken them long to grab the match by the scruff of the neck. We've just passed the 40-minute mark and they now lead 26:17, a 9:2 run in the second half.
21:42
Jannick Green is having an evening to remember here. He has saved eight of the 14 shots he's faced so far, an incredible 57% and this is one of his best.
His teammates are not too bad either and Magdeburg lead 21:12 after 38 minutes.
21:26
HALF-TIME: Fivers 15:17 Berlin; Pelister 9:15 Magdeburg; Sporting 15:15 Plock
Two of the group winners aren't having it all their own way so far tonight. In a game that still feels like it has yet to hit top gear, Sporting and Plock go into the break all-sqaure. Neither will be delighted with how things are going but will be confident of getting a result tonight.
Füchse Berlin enjoyed a late flourish to take a two-goal lead but aren't enjoying much else about this challenge. Fivers will be giving Lasse Andersson nightmare's tonight as he was blocked down over and over again before being taken off.
21:16
With eight saves from Wolfgang Filzwieser combined with some smart and brave play all around, Fivers are still in touch with Füchse Berlin. Six minutes left in the first half and they trail by a single goal, 15:14!
21:04
We have two very different games in Lisbon and Vienna.
While Plock have recovered from a slow start to draw level with Sporting, 5:5, we've had more than twice as many goals between Fivers and Berlin, with the young Austrian's keeping pace with their esteemed rivals, trailing 11:10 after 16 minutes of play.
20:58
After going 4:0 down at the start of their game against Magdeburg, Pelister have found their stride somewhat, but it still feels like it could be a long evening for them if they don't find a way past Jannick Green on a regular basis. It's 6:3 to the German side after 12 minutes.
20:50
Fivers' hopes of causing an upset today were dealt a blow over the weekend as top scorer Lukas Hutecek was ruled out for the next few weeks with a finger injury.
After a high-paced opening five minutes, they trail Berlin 6:4.
20:36
Four down and just three games remaining tonight, all beginning in just a few minutes' time.
We have three group winners taking on fourth-placed sides in this block, so it will be fascinating to see which of the underdogs can push their opponents harder and perhaps snatch a win.
Sporting CP (POR) vs Orlen Wisla Plock (POL)
Fivers (AUT) vs Füchse Berlin (GER)
HC Eurofarm Pelister (MKD) vs SC Magdeburg (GER)
Before they begin, check out Hugo Descat's match-saving penalty from a few minutes ago!
20:22
RESULTS: GOG 33:31 CSKA; Nexe 25:27 Rhein-Neckar Löwen
GOG manage to just about keep CSKA at bay to claim a two-goal win.
Who knows how important that late fast break goal by Emil Jakobsen will prove to be as the young Danes will have a slender advantage to defend next week in Russia, where home advantage may be more of a factor with a crowd present.
Seven goals from Halil Jaganjac wasn't quite enough for Nexe as they ran out of gas a bit late on in their game against Löwen, falling to a two-goal defeat. Anything is possible in the return fixture but the German club will be confident of getting the job completed at home next week.
20:14
RESULT: Montpellier HB 27:27 Kadetten Schaffhausen
An audacious in-flight by Sebastian Frimmel gives Kadetten a lead with less than three minutes remaining. It doesn't last long but that doesn't stop them from coming back and scoring another. Finally, it's a Hugo Descat penalty with the last throw of the game that saves a draw for the home side
This fearless approach was key for them today, alongside 15 saves from Kristian Pilipovic, in securing a brilliant draw that it's fair to say is a surprise to most of us.
One of the favourites for the title have a job to do in Switzerland next week to keep their aspirations alive.
20:03
Oooh, it's getting tight in all three matches heading into the final 10 minutes. GOG lead by one, Schaffhausen now lead by one and Rhein-Neckar Löwen have also taken a one-goal lead. You couldn't write a better script!
19:52
A quickfire trio of goals from one-time Kiel player Dener Jaanimaa brought CSKA back within two-goals of their guests before future Flensburg man Emil Jakobsen restores GOG's three-goal lead at 24:21 with 10 minutes played in the second half.
Neither side wasting any time in their attacks, which makes this three-goal gap quite perilous...
19:46
Can Nexe keep their fight going for another 30 minutes? It would be one hell of a result if they can. The second half in Croatia is underway!

19:28
Tight affairs in the other two games as well, with Montpellier leading Schaffhausen 15:13 and Nexe keeping up the good work against Löwen, winning 14:13 at the break.
19:25
HALF-TIME: GOG 18:15 CSKA
An entertaining first half comes to an end with 33 goals and not too much to choose between the sides. GOG have managed their attack better for the most part but will they rue not capitalising on the five-goal lead they held earlier?
CSKA are far from their best so far but aren't too far behind. Coach Velimir Petkovic has kept himself busy trying to be the third referee today, which earned him a suspension late in the half.
19:15
After GOG raced into a 13:8 lead, the game seems to have settled a bit and CSKA are back within striking distance, trailing 15:12. Despite all the speed, it's the two big men, CSKA's Vinogradov and GOG's Lærke who lead the scoring for their teams as we pass the 23-minute mark.
19:06
Not only is Jonas Schelker breaking ankles but he's tearing the Montpellier defence apart. Four goals already for the Swiss playmaker as his side trail 10:9 after 19 minutes.
19:00
Emil Lærke is stealing the show so far for GOG as his four goals have propelled them to a 9:6 lead after 13 minutes.
Elsewhere, it's neck and neck between Montpellier and Kadetten, while Nexe have an early 5:3 lead over favourites Rhein-Neckar Löwen.
18:52
Surprise, surprise, it's a high-octane opening to the match in Denmark with both GOG and CSKA going at each other at full-speed from the first whistle. Just six minutes played and it's 4:4.
18:42
Three more matches about to throw-off in Denmark, Croatia and France.
GOG (DEN) vs HC CSKA (RUS)
RK Nexe (CRO) vs Rhein-Neckar Löwen (GER)
Montpellier HB (FRA) vs Kadetten Schaffhausen (SUI)
We'll focus a bit on the GOG vs CSKA game to begin with and see how the games flow.
18:30
RESULT: Chekhovskie Medvedi 30:25 USAM Nimes Gard
The way the band played towards the end of the game, I felt as if I was watching Batman in the 60s. But it made for quite the atmosphere and it's something we can all enjoy nowadays.
Chekhovskie Medvedi end the match with a flourish, grabbing a 30:25 lead with a minute to spare and holding onto it for dear life. Alexander Kotov's nine goals, seven of which came in the second half, made all the difference as the Russian side give themselves a solid lead to defend in France next week!
18:22
Michael Guigou has a stroke of luck on the penalty line to cut the deficit to two goals. It feels like a case of damage limitation for Nimes at the moment as they try to ensure they stay within a couple of goals in the final five minutes and give themselves a somewhat easy target for the home leg next week.
18:16
We're into the final 10 minutes now and Nimes are really struggling to overpower this Russian defence. You have to give Chekhov plenty of credit for their approach in the second half, they stuck to what they believe in, tweaked their shooting a bit and it has worked a treat with the back court scoring 17 of their goals as they lead 26:23.
18:06
Desbonnet was in sublime form in the first half for Nimes but he cannot buy a save at the moment. Another Kotov goal, his seventh of the night, has given the Russian club a 23:20 lead as they continue to pepper the Nimes goal with long-range shots. 42 minutes played.
17:59
The hosts have come out swinging at the start of this second half and a 4:1 run has suddenly given them a lead with Alexander Kotov making it 17:16. And suddenly, the in-house band starts playing the Rocky theme tune, what an evening this is turning out to be!

17:44
Looking at the two squads, it feels like Chekhov have laid out their hand, while Nimes still have a couple of aces up their sleeve in the form of Egyptian goal machine Mohamed Sanad and France international Jean-Jacques Acquevillo. The guests have done perfectly well without them so far but it's great to know that you have such firepower held in reserve if needed.
17:37 
HALF-TIME: Chekhovskie Medvedi 13:15 USAM Nimes Gard
Despite having their early lead cut down, Nimes will be very satisfied with how this first half has gone. With an efficient 65% scoring rate, they have little to worry about in that area, though they will be wary of their hosts trigger-happy approach in front of goal, particularly if they improve on their 43% shooting so far.
Chekhov's rising star Sergei Kosorotov has struggled so far but it hasn't stopped him from shooting, he has three goals from nine shots, underlining how dependant the home side has been on the back court so far.
17:19
Chekhov have quickly set the record straight, with Dmitriy Kiselev leading their surge into the lead before Nimes level it at 7:7. Just 18 minutes have passed and it's turning into a must-watch match.
17:08
It's a fairly packed house in Chekhov and there's even a band in the stands, which gives it a very French league vibe. That seems to have helped Nimes settle in quickly and they have opened an early 4:1 lead with Remi Desbonnet already making four saves.
16:59
We're ready for throw-off! Nimes have recorded two wins and two draws in away matches so far this season. A result along those lines would give them a big advantage but it won't come easy against Chekhov.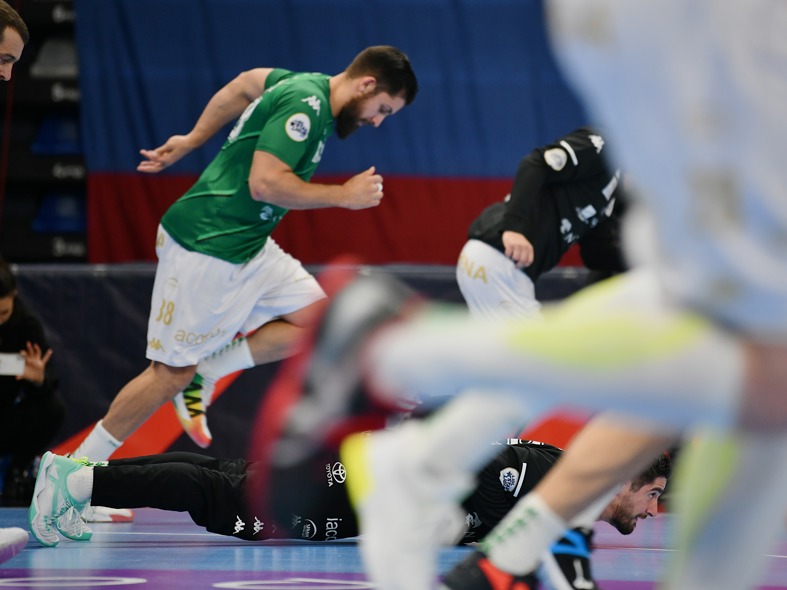 16:46
Not long to wait before we get the Last 16 action underway in Russia with Chekhovskie Medvedi (RUS) vs USAM Nimes Gard (FRA).
Throw-off is at 17:00 CET and of course it is live on EHFTV.
This is the very first time the teams will meet in European competition. Nimes finished second in group B with five wins from 10 games, while Chekhov finished third in group A with seven wins.
It is great to see the Russian bears back competing in the business end of European competitions again, let's see how they get on against a very talented Nimes side.
11:52
It is not the first knockout clash between a Danish side and CSKA. The Moscow-based club made waves in qualification round 3 with a stunning turnaround against Bjerringbro-Silkeborg.
Having trailed 40:36 on aggregate midway through the second leg at home, CSKA went into hyperdrive and went on to win 55:50 to reach the group phase. GOG can consider themselves warned.
11:13
All seven matches have a real edge to them, with a feeling that anything is possible, but one of the games I'm most looking forward to is a clash of two super exciting and fast-paced teams, GOG and CSKA.
Ahead of the match, I spoke to GOG's star wing and one of the hottest properties in handball, Emil Jakobsen. You can read the full interview here.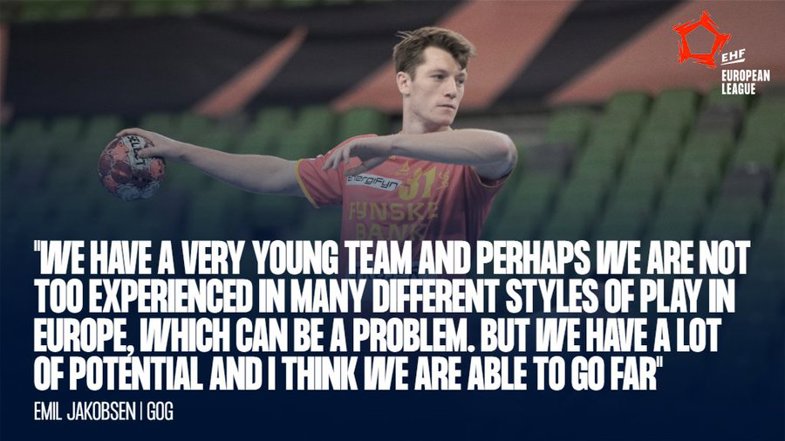 11:00
Good morning and welcome to the start of the Last 16 in the European League Men! 
We have a fun-filled schedule this evening, with seven of the eight first leg games taking place.
17:00 CET
Chekhovskie Medvedi (RUS) vs USAM Nimes Gard (FRA)
18:45 CET
GOG (DEN) vs HC CSKA (RUS)
RK Nexe (CRO) vs Rhein-Neckar Löwen (GER)
Montpellier HB (FRA) vs Kadetten Schaffhausen (SUI)
20:45 CET
Sporting CP (POR) vs Orlen Wisla Plock (POL)
Fivers (AUT) vs Füchse Berlin (GER)
HC Eurofarm Pelister (MKD) vs SC Magdeburg (GER)