EHF European League
Summary - Plock and Chekhov complete quarter-final line-up
22:53
Before we leave you for this evening, a fun fact...
Among the eight sides to progress are all four group winners and all four sides which finished third in the group phase.
Seeing fourth-place sides losing is no big shock but the fact that all four second-place teams lost to lower-seeded opponents is fascinating.
Something to chew on before you sleep tonight. Goodnight!
22:39
Three German sides, and one club each from Denmark, Poland, France, Sweden and Russia.
Now that we know who will be facing each other in the next round, which of these four clashes are you most looking forward to?
22:34
Not long to wait until the quarter-finals either, with the games on 13 and 20 April. Here are the pairings.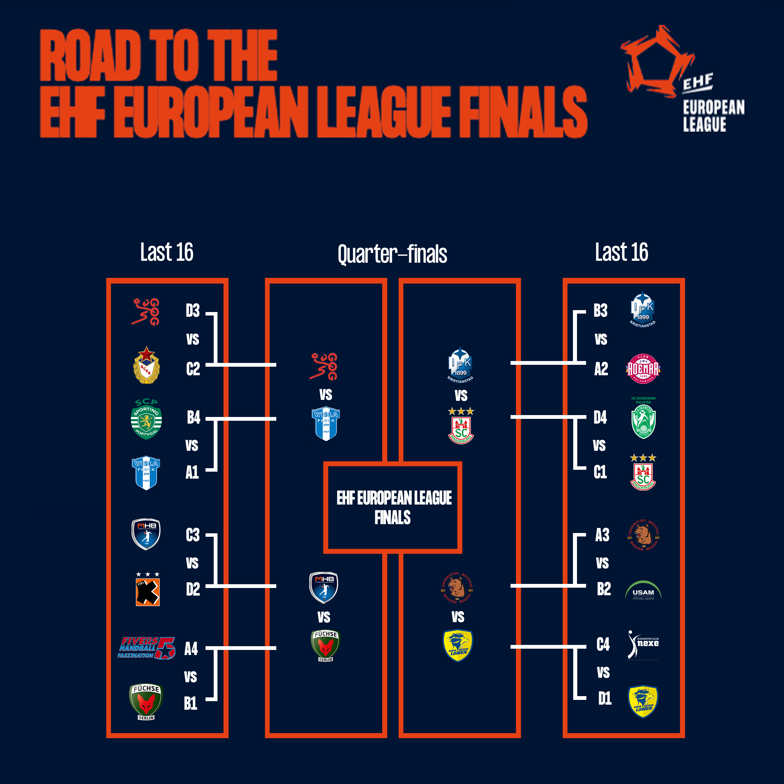 22:26
Well well, that was some evening of knockout handball! Here's how it all went down and with these results, we now have our eight quarter-finalists.
GOG
Orlen Wisla Plock
Montpellier HB
Füchse Berlin
IFK Kristianstad
SC Magdeburg
Chekhovskie Medvedi
Rhein-Neckar Löwen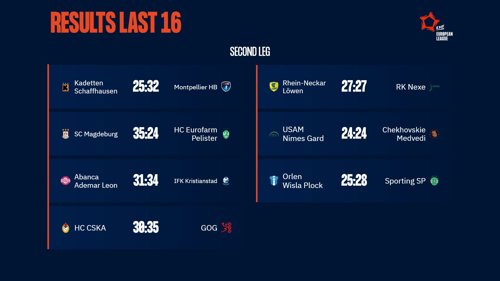 22:17
RESULT: USAM Nimes Gard 24:24 Chekhovskie Medvedi - Chekhov win 54:49 on aggregate
How about that? It has been a while coming but Chekhovskie Medvedi are back into the business end of a European competition.
Led by 21-year-old Sergei Kosorotov and his seven goals, the Russian side never really looked in danger today, taking an early lead and controlling the pace of the game. Congratulations to them and we can now look forward to their quarter-final clash against Rhein-Neckar Löwen.
22:13
RESULT: Orlen Wisla Plock 25:28 Sporting CP - Plock win 54:53 on aggregate
Sporting blow a chance to reach the magical five-goal lead with just over a minute left, saved by Adam Marowski. With the score at 28:24, it's enough to see Plock through on away goals. Przemyslaw Krajewski scores for Plock but does he score too soon? There's still time for one last Sporting attack.
After going through their go-to set play, they force a suspension for Plock with six seconds remaining. A man up, Salvador Salvador tries to find the wing but only finds the grateful hands of a Plock defender. Chance wasted, Plock go through!
22:01
Jens Schöngarth's sixth goal of the night extends Sporting's lead to 24:21, bringing them within one goal on aggregate with seven minutes left!
21:56
Any thoughts of a comeback must be fading away slowly for Nimes as they continue to be kept at bay by Chekhovskie Medvedi. Ahmed Hesham brings Nimes within one, 17:16, but they trail by 6 overall with just a quarter of the game left to play.
21:45
10 minutes down in the second half of both matches and Sporting have drawn level on aggregate with a 17:13 lead tonight - this feels like it's going to be a real scrap until the end.
Chekhov are still going strong with their six-goal aggregate lead and continue to frustrate their hosts, who cannot seem to string a run of goals together.

21:24
HALF-TIME: USAM Nimes Gard 11:12 Chekhovskie Medvedi
It has been a tale of wasted opportunities by Nimes and good game management by Chekhov so far. Alexander Kotov's four goals makes him the leading scorer so far and his side will be very satisfied with the situation.
Expect Nimes to come out swinging in the second half, but will it be enough to overturn a six-goal deficit?
21:19
HALF-TIME: Orlen Wisla Plock 12:14 Sporting CP
Sporting are well and truly in this tie, now trailing by just two goals on aggregate but they may be heading into the dressing room slightly disappointed having not built on the five-goal lead they flew into.
It was a good response by Xavi Sabate's men to falling behind but Plock can consider themselves warned.
21:14
Nothing seems to be working for Nimes today. Despite Desbonnet making the more saves, his teammates aren't creating enough clear chances in front of goal and giving the ball away with some sloppy play. Chekhov looking very comfortable now as they lead 12:9 after 24 minutes.
21:06
Bingo with a bang for Sporting CP early on and since then, his side have turned this tie on its head! A 5:0 run midway through the first half has put them 10:5 up and suddenly they lead the tie by one goal after 16 minutes.
21:01
We've passed the quarter-hour mark in Nimes and the Russian bears still hold a narrow lead, 7:6. They're managing the game very well, taking the pace out of it in attack and in turn, Nimes are finding it hard to really get motoring the way we have seen them do in the past.
20:55
Early doors in both games and we have two tight scorelines, which will not suit Nimes and Sporting.
Chekhovskie Medvedi have looked the slightly brighter team in France and have taken a 5:4 lead at the 10-minute mark.
20:43
Both games should be fascinating if last week is anything to go by, but we'll focus a bit more on Nimes' goal hunt at home to Chekhov for now, throwing off any minute now.
20:28
In just over 15 minutes, we round off the evening with these two matches:
USAM Nimes Gard (FRA) vs Chekhovskie Medvedi (RUS) - Chekhov won the first leg 30:25
ORLEN Wisla Plock (POL) vs Sporting CP (POR) - Plock won the first leg 29:25
And here is the current quarter-final line-up:
GOG vs Sporting or Plock
Montpellier vs Füchse Berlin
Kristianstad vs Magdeburg
Chekhov or Nimes vs Rhein-Neckar Löwen
20:14
In the other three games just played, we had some comfortable victories in the end!
Full credit to GOG, who manage the tricky away game with CSKA brilliantly, winning 35:30 today and 68:61 on aggregate - they look forward to a quarter-final against Sporting or Plock.
Kristianstad and Magdeburg will face off in the next round after comfortable wins tonight. Kristianstad withstood some early pressure against Leon to win by 10 on aggregate, while Magdeburg win 35:24 against Eurofarm Pelister and by 19 over two legs.
20:10
RESULT: Rhein Neckar-Löwen 27:27 RK Nexe
Löwen are the next side to book their place in the quarter-finals but it was a damn close call, winning 54:52 on aggregate, thanks in large part to the Andy Schmid's cameo midway through the second half with six goals in a row. They now await the winner of Chekhov vs Nimes in the next round.
20:01
So much for a Nexe miracle, Andy Schmid had other ideas. The Swiss superstar picked himself up off the bench to score six goals in a row and drag Löwen into a 24:22 lead. Incredible!
19:56
There's some fight left in Nexe, yet! The Croatian side have drawn level with Rhein Neckar Löwen, 21:21, and trail by just two goals overall with 12 minutes remaining.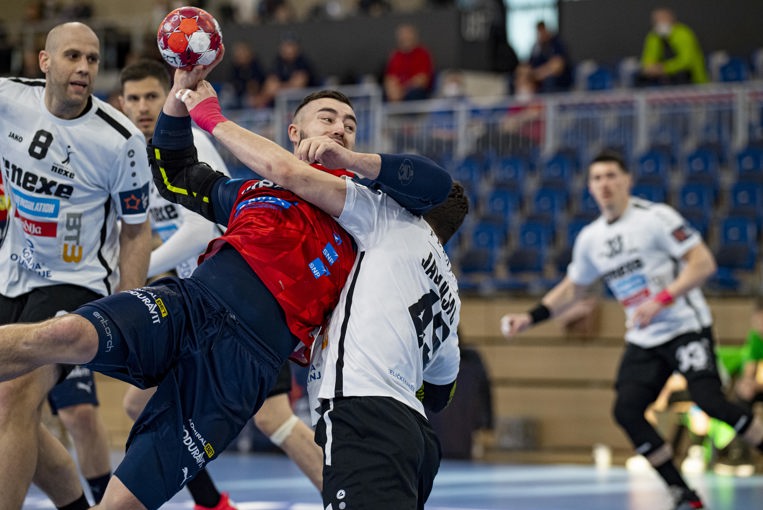 19:51
The eighth goal of the night Mathias Gidsel brings GOG to the 25-goal mark and a four-goal lead over CSKA, who appear to be flagging a bit and struggling to maintain their pace. 16 minutes left for them to fight.
19:43
Leon needed to do something special today to progress against Kristianstad and for a while it looked like they had what it took. The Swedish side has managed the situation brilliantly, however, and opened the second half with a 4:0 run to lead 19:16 on the night and by 10 goals on aggregate.
19:35
After witnessing perhaps the most impressive half-time show in the European League this season, the second half is upon us in Moscow.
CSKA have an uphill battle from here but we know they won't simply roll over. They already pulled off one great escape against a Danish side, Bjerringbro, in qualification, let's see if they can emulate that tonight.
19:27
Here's the full list of half-time results. Leon's advantage has been cut short, leaving them with plenty to do in the second half, while it looks like we'll have a full complement of three German teams in the quarter-finals, barring a big swing of momentum in the Löwen vs Nexe clash, where the home side now lead by four on aggregate.
19:22
HALF-TIME: CSKA 17:19 GOG
Goals, goals, goals in Moscow, just as predicted. 36 in 30 minutes and it's the away side with the advantage at the break.
Danish back court duo Emil Lærke and Mathias Gidsel have fired in five goals each for the guests as their aggregate advantage now stands at four goals. But with goals flying in at this rate, it can all turn upside down very suddenly in the remaining 30 minutes.
19:12
The crowd and DJ in Moscow are doing their best to push on CSKA, with an atmosphere somewhat akin to a nightclub, as they begin to find their flow against the young Danes. 
They are back within one goal, 15:14, on the night but trail by three on aggregate with seven minutes left in the first half.
19:07
Kristianstad's seven-goal lead from the first leg is in serious danger as Ademar Leon have really hit the ground running today, taking a 12:8 lead after 19 minutes.
18:56
The clash in Moscow is not disappointing so far. Both side going at it at full speed and GOG are finding joy in almost every attack, taking an 8:5 lead after 10 minutes.
Over in Sweden, Leon are enjoying a better start than they did last night and lead Kristianstad 6:4.
18:49
The most open of the four matches on paper is CSKA vs GOG, so that's where we'll focus the coverage for now. Much like the first leg, both sides are pushing the pace and leaving themselves a bit exposed on the break, which is a recipe for plenty of goals. Just one so far, however, to GOG after four minutes of play.
18:41
Up next is the biggest block of games, here's what's coming up at 18:45 CEST:
Abanca Ademar Leon (ESP) vs IFK Kristianstad (SWE) - 34:27 to Kristianstad in first leg
HC CSKA (RUS) vs GOG (DEN) - 33:31 to GOG in first leg
Rhein-Neckar Löwen (GER) vs RK Nexe (CRO) - 27:25 to RNL in first leg
SC Magdeburg (GER) vs HC Eurofarm Pelister (MKD) - 32:24 to Magdeburg in first leg
18:32
RESULT: Kadetten Schaffhausen 25:32 Montpellier HB
In a sign of just how perfect Yanis Lenne's day has been, with eight goals from as many shots, the right wing decides against adding a ninth, instead setting up an in-flight goal for Hugo Descat. That plus the introduction of 19-year-old Alexis Berthier to score his first goal in Europe shows just how comfortable the final minutes were for Montpellier, who have to be commended on their improvement from the first leg.
It was a better second half from Schaffhausen as they threatened a comeback once or twice but ultimately left themselves with too much to do in the end.
18:24
As we approach the end of this first game, it looks like Montpellier are going through and we already know their quarter-final opponents. Unfortunately, Fivers have reported a positive COVID-case within the team and cannot play the second leg against Füchse Berlin.
The 10:0 win awarded to Berlin, alongside their 35:27 win in the first leg, means they go through to the next round.
18:15
Some hope, perhaps? Zarko Sesum cuts the deficit to just four goals before Montpellier wake themselves from the momentary lull with their leading scorers Yanis Lenne and Kyllian Villeminot adding two more to their totals. 26:21 to Montpellier with 10 minutes left to play.
18:03
This is going downhill, and fast, for Schaffhausen. Just 10 minutes into the second half and they haven't found a way to consistently deter Montpellier, who now hold a 21:14 lead and look set to claim the first quarter-final spot.
17:53
The second half is underway in Switzerland and Kadetten have a lot of catching up to do. A pair of Pilipovic saves sets a good tone, however, and Donát Bartók gets the first goal of the half.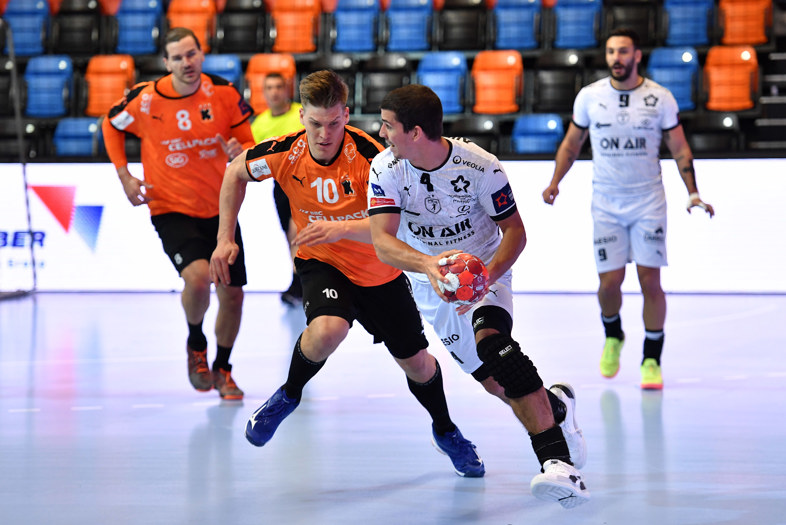 17:39
HALF-TIME: Kadetten Schaffhausen 10:16 Montpellier HB
Montpellier's dynamic and speedy attack begins to take its toll on Schaffhausen as they get themselves two soft suspensions at the end of the half. Montpellier take advantage of it and go 16:10 right before the half-time buzzer.
It's a very different story compared to last week, Particu Canayer has figured out how to stop the Swiss side in attack, with Bonnefoi's nine saves and a strong defensive display, while the attack found plenty of joy in the second quarter.
17:27
We have a nice save from Pilipovic, as mentioned earlier, below but it's Montpellier's Kevin Bonnefoi leading the goalkeeper battle so far with six saves.
Melvyn Richardson has also come to life with three quick goals as the French side extend their lead to 12:8 after 23 minutes.
17:15
While Kadetten are spreading the love in attack, with five players each scoring one, most of Montpellier's have come from wing duo Yanis Lenne and Hugo Descat. It's working for them though as they have opened up an 8:5 advantage at the 14-minute mark.
17:07
It's been a high-intensity start to the match, with Kadetten looking to make an impact physically. A nice save by Kristian Pilipovic keeps the scores level on the day, 3:3, and on aggregate.
16:45
It's almost time to get this bumper evening underway with Kadetten Schaffhausen vs Montpellier. If you weren't sure about tuning in at 17:00, the first leg highlights will sway you!
16:05
While Montpellier face a difficult task in Switzerland, the other French team in the Last 16 have an uphill battle ahead of them: Nimes must wipe out a five-goal deficit from the first leg against Chekhov in a match that starts at 20:45 CEST.
Still, their Egyptian right wing Mohamed Sanad believes Nimes can turn the tide on their home court, as he explained to EHF journalist Kevin Domas:
15:15
Today's action will already start at 17:00 CEST in Switzerland, where Kadetten will try to build on their surprise 27:27 draw at Montpellier a week ago as both teams left it all open for the decisive leg this afternoon.
EHF journalist Björn Pazen caught up with Kadetten centre back Jonas Schelker for this portrait:
14:45
It's all or nothing for the 16 teams in the EHF European League Men as we will learn the eight quarter-finalists today.
To get up to date on all eight matches check out the preview:
12:54
We were given a nice appetise for today's action with the rescheduled first leg clash between Kristianstad and Leon last night. Here's how it went down!
12:30
Good afternoon handball fans and welcome to the live blog for today's all-important second leg of the European League Men Last 16!
We'll know all eight quarter-finalists by the end of the evening, so stick with us and take note of the games coming your way on EHFTV.
17:00 CEST
Kadetten Schaffhausen (SUI) vs Montpellier HB (FRA)
18:45 CEST
Abanca Ademar Leon (ESP) vs IFK Kristianstad (SWE)
HC CSKA (RUS) vs GOG (DEN)
Rhein-Neckar Löwen (GER) vs RK Nexe (CRO)
SC Magdeburg (GER) vs HC Eurofarm Pelister (MKD)
20:45 CET
Füchse Berlin (GER) vs Fivers (AUT)
USAM Nimes Gard (FRA) vs Chekhovskie Medvedi (RUS)
ORLEN Wisla Plock (POL) vs Sporting CP (POR)