SUMMARY: Race to EHF EURO 2024 on after round 1 qualifiers
The road to the Men's EHF EURO 2024 in Germany opened with round 1 of the qualifiers, while the EHF EURO Cup 2024 also threw off. The live blog followed all the action in the 18 matches across Europe, with 10 matches on Wednesday and eight on Thursday. 
23:24
The first points on the road to Germany have been decided and that brings us to the end of round 1 and our coverage of it! But there is still plenty of EHF EURO 2024 Qualifiers and EHF EURO Cup 2024 action coming your way this week, with a jam-packed weekend of games. 
Check out the group standings so far here and see a list of all the match times for the weekend here. 
See you on Saturday!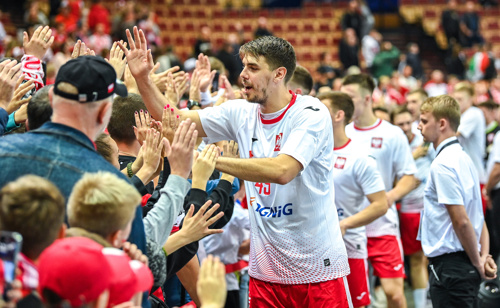 23:18
Difficult keeping up with so much action? Recap on all of today's matches with our match reviews below!
22:57
The race to the Men's EHF EURO 2024 trophy has well and truly begun — and it all starts with booking a place at the final tournament. 
Below, see a rundown of all the scores from round 1 of the qualifiers as well as the EHF EURO Cup 2024.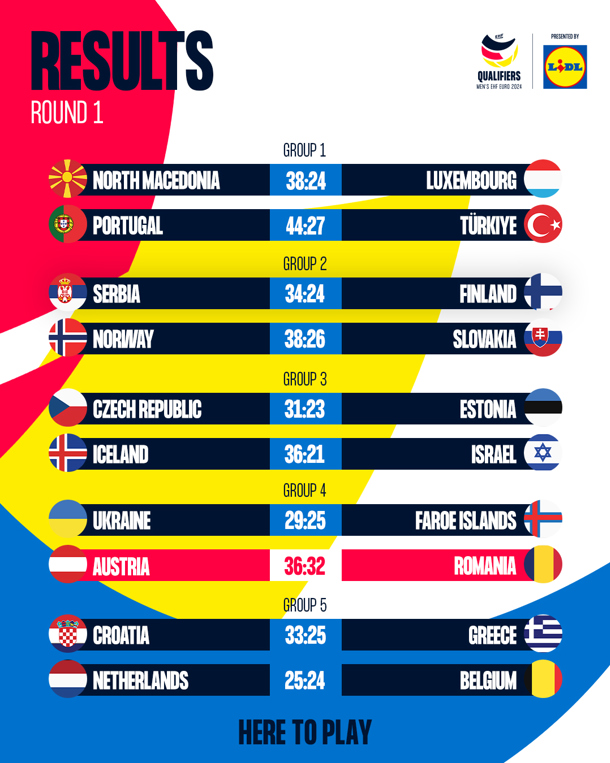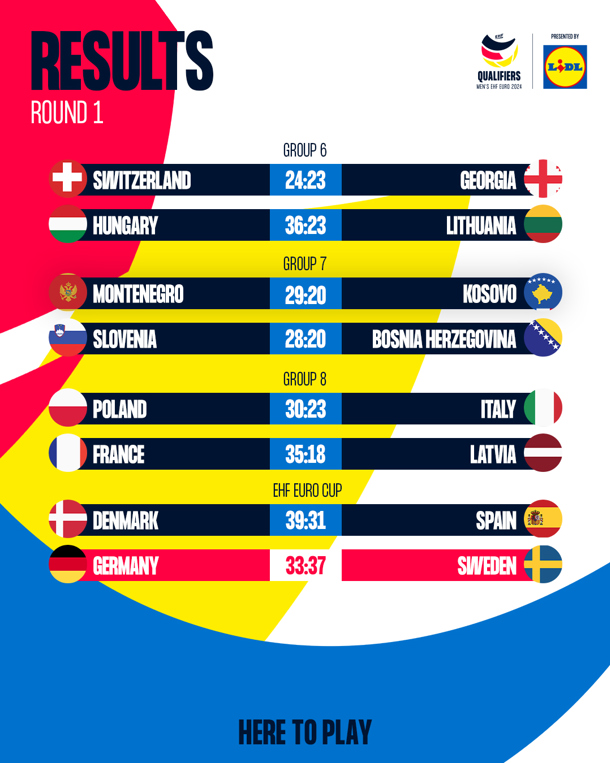 22:40 RESULT
Round 1 of the EHF EURO 2024 Qualifiers ends with a big win for France, who lead Latvia from start to finish and join Poland on two points on the group 8 table with the victory. 
22:15 
The day of action is drawing to a close but you can relive it all on the Home of Handball YouTube page, where you will find highlights of all matches! Check out the best of one of the most exciting games of round 1, Netherlands vs Belgium, below. 
22:06
The second half of France vs Latvia is live now — and it's your last chance to catch some EHF EURO 2024 Qualifiers action until the weekend and before round 1 comes to an end!
Five minutes into the second period, France have a clear 10-goal lead, 19:9. 
21:57 RESULT
A big win for Portugal to conclude round 1 for group 1. An admirable effort from Türkiye to score 27 goals, but Portugal prove unstoppable for the visitors. 
21:49 
One of the most exciting endings to a match in round 1 — and here it is! The Netherlands secure their opening win with this great goal from Kay Smits. 
21:44 HALF-TIME
France vs Latvia 16:7
Latvia overcome a tough start to put some goals on the board, with their first successful strike coming in the 14th minute. At that point France had a 6:0 lead, and the record world champions have only extended the advantage from there. It looks as though France are set to clinch a comfortable two points to end the round.

21:36 RESULTS
Slovenia vs Bosnia Herzegovina 28:20
A clear win for Slovenia to open their EHF EURO 2024 Qualifiers campaign, which sees them move up to two points alongside Montenegro at the conclusion of the round for group 7. 
Aleks Vlah is the top scorer with seven goals for Slovenia. 
Right down to the wire in The Netherlands! After Belgium are rewarded for their persistence with a level score with two minutes to go and the score still locked as the final minute begins, Kay Smits nets the match winner for the home side to clinch a one-goal victory. 
Below, check out one of Slovenia's top goals, scored by none other than Vlah. 
21:22
10 minutes to go in Slovenia and the home side are holding steady well in front, at 24:17. The Netherlands are also eyeing the clock, with 10 minutes to go and a two-goal lead, 21:19, as they fight off a strong challenge from Belgium. 
Portugal and Türkiye have just returned to court for the second half of their clash, while in France, Latvia are struggling to find the goal and find themselves without a notch on the score board at the 10-minute mark. France lead 5:0 — a one-side affair, but five goals in 10 minutes in such a situation also speaks some positives for Latvia's defence and mainly their goalkeeper. 
Goalkeeper Edgars Kuksa is having a strong match despite facing tough attack from France, having saved three shots so far at 37 per cent. But he is eclipsed at the other end of the court by Vincent Gerard, who has saved all shots that have come his way so far. 
21:11
Throw off in France! Watch France vs Latvia here. 
Meanwhile, in The Netherlands, the home side still have the edge but are having a tough time holding Belgium off. As the match enters the final 15 minutes, it's 19:18 for The Netherlands. 
In Slovenia, the hosts are much more in command, with the score now at 20:15 with just under 17 minutes to go. 
21:08 HALF-TIME
Portugal vs Türkiye 24:12
It's a tough task for Türkiye against Portugal, with the visitors well behind at the break. Portugal look set to open their qualifiers campaign with a dominant win unless Türkiye can turn things completely around here.  
20:59
The last match of the night is coming up at 21:10 CEST, with France hosting Latvia in group 8. 
France have won the EHF EURO three times but are currently in their longest medal wait in the competition since 2004, as they won a medal at at least every second edition of the EURO since then, until now. In 2018 they took bronze in Croatia, before bowing out in the preliminary round in 2020 and recording their lowest ranking ever, 14th. In 2022, they returned to the semi-finals but placed fourth. 
Latvia have a very different record, having only reached the final tournament once before, in 2020, where they ranked 24th — but coach Davor Cutura promises things are changing:
"Things are changing in Latvian handball. It is a new start, new players are joining to the team and we are trying to find the best way how to cooperate with each other."
Latvia will be without their back Dainis Kristopans, who plies his trade in France at PSG. 
20:42 HALF-TIME
Slovenia vs Bosnia Herzegovina 13:10
A fiery first half in Maribor comes to an end with home side Slovenia in front, but Bosnia Herzegovina are hot on their heels in this group 7 encounter. 
Netherlands vs Belgium 12:9
Exactly the same advantage for the home side in 's-Hertogenbosch, where the Netherlands lead their visitors by three goals. And who else would leave the biggest impression on the first half but right back Kay Smits? The Dutch sharpshooter is the clear top scorer of the first half, with seven goals.

20:34 RESULT
Sweden put their first win on the board in the EHF EURO Cup 2024, defeating Germany away in a very high-scoring clash. 
Line player Johannes Golla nets an incredible 12 goals for Germany, although it is a very well-spread effort towards the score board all round — and no wonder, with 70 goals scored.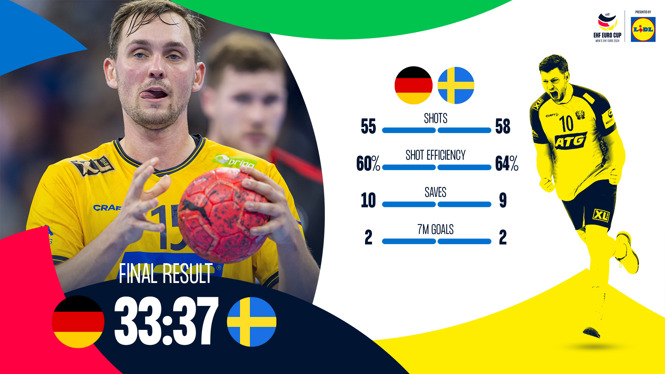 20:28
What matches so far tonight — and still more to come! Below, check out the best photos from EHF EURO 2024 Qualifiers round 1 highlight match Austria vs Romania, Poland vs Italy and Norway vs Slovakia. 




















20:21
The action for tonight is far from done, with two matches still to come. Next up is Portugal vs Türkiye (watch here), who will conclude the round for group 1, with both teams looking to join North Macedonia on two points at the top of the table. 
While Türkiye are aiming to reach the EHF EURO for the first time, Portugal returned to the competition in 2020 after a wait of 14 years. They have now played a total of seven final tournaments in the competition, with their sixth place in 2020 the best ranking. 
"We will fight for this qualification in order to continue to make history for Portuguese sport. We feel that we can still do more and better. An unfinished story is not a story," says Portugal coach Paulo Pereira before the match. 
20:15
A quick round up of the scores in the matches currently live: with 10 minutes to go in the EHF EURO Cup 2024 clash, Sweden are maintaining their lead over Germany, 33:28. At roughly the 13-minute mark in Slovenia and the Netherlands, both home sides are setting up a comfortable advantage — Slovenia lead Bosnia Herzegovina 7:3 and the Netherlands have the edge over Belgium 8:5. 
Both Slovenia and Bosnia Herzegovina have new coaches at the helm since their participations in the EHF EURO 2022, with former national team player Uros Zorman now coach for Slovenia and Irfan Smajlagic leading Bosnia Herzegovina.
Slovenia sensationally missed the main round at the EHF EURO 2022, after making it to the semi-finals at the previous edition and placing fourth. The side have missed only two EHF EURO tournaments (in 1998 and 2014), while Bosnia Herzegovina are relative newcomers to the final tournament, having made it for the first time in 2020. They target their third straight participation now. 
20:10 RESULT
Italy keep it tight until early in the second half but are ultimately overpowered by Poland, who take a dominant win to earn their first two points on the group 8 table. 
Group 8 is the only one with both round 1 games to be played on the same night, with France vs Latvia still to come at 21:10 CEST as the final match of the round. 
Poland wing Arkadiusz Moryto top scores the clash with nine goals, one ahead of Italy's top scorer, Andrea Parisini, on eight. 
19:52
Two matches come to an end and another two approach throw-off — at 20:00 CEST, it's time for two derbies: Slovenia vs Bosnia Herzegovina (watch) in group 7 and Netherlands vs Belgium (watch) in group 5. 
The Netherlands were one of the biggest stories of the last EHF EURO, after they shocked co-hosts Hungary on opening night and made it into the top 10 at an international championship for the first time ever — and actually, at only their third major international tournament. Centre back Luc Steins also made it into the All-star Team for the EHF EURO 2022. 
Belgium have never reached the final tournament of the EHF EURO, but have recently qualified for the World Championship, coming up in January 2023, for the first time ever. The Netherlands received a wild card for the same event. 
Although the teams have met many times before, this is their first ever EHF EURO Qualifiers encounter — the majority of their official matches before this one were in the qualification stages for World Championships. 
19:42 RESULT
Norway power to their first two points of the qualifiers with a decisive victory over Slovakia. It was a solid effort from Slovakia all round, with almost every player contributing on the score board. For Norway, wing Sebastian Barthold reached a tally of eight goals from eight shots. 
19:39 RESULT
From the eighth minute to the final whistle, Austria lead the highlight match of EHF EURO 2024 Qualifiers round 1 and pick up a deserved two points with the final whistle in Graz.
What an incredible duel between Robert Weber and Nicusor Negru, who netted 23 goals between them. 

19:35 HALF-TIME
Germany vs Sweden 15:19
A superb half from the EHF EURO title holders Sweden on Germany's turf. The Scandinavian side come out on top after a high-scoring first 30 minutes. 
The top scorer of the match so far is Germany line player Johannes Golla, with eight goals in his tally.
19:28
Five minutes on the clock in the highlight match of the qualifiers round, and Austria are holding Romania off with a steady lead — now at 31:26. Robert Weber has entered double digits on his score tally, with 11 goals for Austria, while Romania's Nicusor Negru is not far behind on eight. 
In Norway, the home side are charging on ahead in the second half, now holding an eight-goal advantage over Slovakia, at 31:23. 
Poland and Italy are in the opening minutes of their second half and are still locked in a tight tussle, with the score at 11:11. 
In the EHF EURO Cup 2024, Sweden lead Germany by three goals, 16:13, in the final minutes of the first half. 
19:11 HALF-TIME
Poland vs Italy 10:9
Poland may not have expected such a challenge from Italy on their own court, but it is a very tight game at half-time in Katowice.
Italy are chasing their first appearance at a final EHF EURO tournament since their hosting duty in 1998, which was their sole participation. Can Italy possibly pull off a victory over Poland in Poland? 
19:07
Timeout Austria, as the home side in the highlight match of EHF EURO 2024 Qualifiers round 1 find their opponents far closer eight minutes into the second period — 22:17. 
Although Romania have closed the gap rapidly, Austria back Nikola Bilyk also had a great start to the second half, with three goals scored within four minutes. 


18:56
A quick check in on the multiple courts live now: While Norway and Slovakia are on their half-time break, Austria and Romania have returned from theirs in the highlight game of the round. Romania have scored the first goals of the half to reduce the deficit from half-time slightly, with the score now sitting at 18:13 for Austria. 
In Katowice, Poland are having a tough time shaking off Italy — the score is level at 7:7 with seven minutes to go in the first half. 
Meanwhile, Germany vs Sweden is about to throw off (19:00 CEST). 
18:53 HALF-TIME
Norway 19:10 Slovakia
Norway are looking confident with a commanding half-time advantage over Slovakia in their group 2 encounter. The Scandinavian side are showing some precision attack, with an 83 per cent success rate on their shots against 45 per cent for Slovakia.
Sebastian Barthold is having a top match for Norway, with six goals at 100 per cent in the first half. In Sander Sagosen's absence, Gøran Johannessen is leading the back court with three goals from as many attempts and four assists. 
18:46
Throw-off in the EHF EURO Cup 2024 highlight match, Germany vs Sweden, is drawing closer. Watch it here!
Let's dive in to this match with some key facts. 
Overall, including both official matches and friendlies, Germany and Sweden have met 110 times before, making this truly one of the classic encounters in handball. The teams last faced each other in the EHF EURO 2022 main round, with Sweden taking the victory on the path to their fifth title in the event. 
For Sweden it is already the second participation in the EHF EURO Cup, which is in its third edition after the launch ahead of the EHF EURO 2020. Sweden placed third in the 2020 edition, behind Spain and Norway. Germany are debuting in this competition. 
18:43 HALF-TIME
Austria 18:11 Romania
Romania go to the half-time break in Graz with a big comeback task on their hands, as their hosts Austria lead by seven goals in the highlight match of the round. 
Austria have very much been led by the duo of Robert Weber and Tobias Wagner, who have combined for 12 of their side's goals. 
18:30
Starting whistle in Poland! Watch Poland vs Italy here. 
Meanwhile, in the other currently live matches, Austria have a 15:10 lead against Romania nearing the end of the first half in the EHF EURO 2024 Qualifiers round 1 highlight match and Norway are in control vs Slovakia, 9:4. 
18:22
Just past the end of the first quarter in Austria, the home side have inched ahead of Romania, leading 12:8. 
Whoever takes the victory here will join Ukraine on two points on the group 4 table, after Ukraine beat Faroe Islands by four goals in an exciting match last night. 
Check out the highlights of Ukraine's victory below and find more highlights of the round on the Home of Handball YouTube. 
18:13
Two minutes from throw-off in Norway vs Slovakia (watch here), and yet another match to follow soon after, with Poland meeting Italy in group 8 at 18:30 CEST. 
Poland have qualified for 10 final EHF EURO tournaments, with their best position fourth in 2010. At the EHF EURO 2022, they qualified for the main round and finished 12th after being one of the four best third-ranked teams in the qualification. 
Italy were only once participants in a Men's EHF EURO, in 1998, when they hosted the final tournament and finished 11th. 
It is the first official match between Poland and Italy since 1999, when they last met in the EHF EURO qualifiers. Poland have won three of the four mutual matches.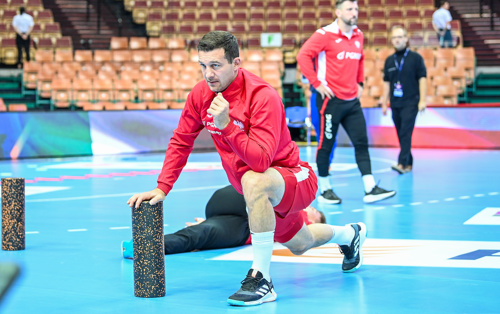 18:07
Five minutes played in our highlight EHF EURO 2024 qualifiers round 1 match, and Austria have a one-goal edge over Romania at 3:2. 
But Austria's statistics already look more promising than Romania's, despite the level game a few minutes in. The home side's shooting and attacking percentages are higher and their goalkeeper Thomas Eichberger is winning the contest between the posts with a save rate of 50 per cent so far. 
18:01
And we're off with day two of round 1! 
Next up, EHF EURO 2016 and 2020 semi-finalists Norway meet the co-hosts of the EHF EURO 2022, Slovakia, to close the round for group 2. Slovakia have reached the final tournament four times, including as automatic qualifiers due to being co-hosts in 2022, while Norway have qualified 10 times. 
Norway have had mixed results on the international stage since a breakthrough tournament at the EHF EURO 2016, but have ranked among the top eight on every occasion they did not play for a medal.
However, the Scandinavian side are without their leading star Sander Sagosen. They remain the favourites at home against Slovakia, but will surely notice the key back's absence.  
17:54
After the first match of the night begins, we will have a steady stream of games starting. Here is the complete schedule for the second night of round 1 games:
EHF EURO 2024 Qualifiers
18:00 CEST Austria vs Romania — highlight match
18:15 CEST Norway vs Slovakia
18:30 CEST Poland vs Italy
20:00 CEST Slovenia vs Bosnia Herzegovina 
20:00 CEST Netherlands vs Belgium
20:30 CEST Portugal vs Türkiye
21:10 CEST France vs Latvia
EHF EURO Cup 2024
19:00 CEST Germany vs Sweden — highlight match 
Remember you can keep up with all the action on EHFTV, where you can watch up to four matches at once!
17:47
It's time to tune in on EHFTV for the first match of the night: Austria vs Romania! 
17:42
Not just one but two highlight matches of the round to look forward to! And you can follow our special content coming to you live from Graz, where Austria will meet Romania in the EHF EURO 2024 Qualifiers at 18:00 CEST, and Mannheim, where Germany will play Sweden in the EHF EURO Cup 2024. 
Check it out on the EHF EURO page Instagram stories. 
17:22
We are not far from the start of Thursday's action now, with the highlight match of round 1, Austria vs Romania, first up in exactly 38 minutes. Let's take a look at some key facts about this encounter. 
The two teams have very different EHF EURO participation records, with Austria being part of five of the last seven editions, including the last three consecutively. Following their best ranking ever in 2020 — eighth place achieved on home turf — they dropped to 20th in 2022.
Romania have not made it to a final EHF EURO tournament since 1996, when they placed ninth. 
The teams have met in official international matches only three times before — although the first game was almost 100 years ago. More recently — and more relevant — they traded wins in the qualification stage for the 2017 World Championship, each winning by three goals on the home court. 
Watch the highlight match of round 1 live on EHFTV.com. 
17:00
Germany have announced their squad for today's game against Sweden in the EHF EURO CUP.
16:25
As well as the highlight matches there are another six games tonight. We get to see how Norway are looking - remember they're still missing the injured Sander Sagosen. Portugal take on Türkiye, and Olympic champions France, who were fourth at the EHF EURO 2022, start against Latvia. That last game throws off at 21:10 CEST, so there's over four hours of handball to look forward to!
15:40
It's not too long until the first matches throw off in the second day of Men's EHF EURO 2024 Qualifiers. Today we have our first Highlight matches - streamed on EHFTV with English commentary and plenty of coverage.
Today, these games are Austria vs Romania, throwing off at 18:00 CEST, and the EHF EURO CUP match between Germany and Sweden at 19:00 CEST.
Find out a bit more about Romania and Sweden's mindsets ahead of the clashes in our features.
Wednesday 12 October
00:15
It is past midnight here at the EHF home base in Vienna, so I can say: the Men's EHF EURO 2024 Qualifiers resume later today!
Jokes aside, it has been a long an intense night, so thanks for joining us here on the live blog. Make sure to check back in on Thursday at 18:00 CEST, for the first of our two Highlight matches, Austria vs Romania. The other Highlight match starts an hour later: Germany vs Sweden in the EHF EURO Cup 2024.
For now, it is good night and enjoy the best pictures from all of tonight's matches:

































23:58
Remember you can see the highlights of all qualifiers and all EHF EURO Cup games on the Home of Handball YouTube channel.
23:53
Read how North Macedonia, Ukraine, and Iceland complete a sweep for the home teams in the nine Men's EHF EURO Qualifiers played tonight:
23:13 | FULL-TIME
Iceland 36:21 Israel
Never in doubt, Iceland cruise past Israel to become the ninth home team to win... in the first nine qualifiers of round 1 tonight!
22:58
Read how Denmark got their EHF EURO Cup campaign off to a great start against Spain tonight:
22:31 | FULL-TIME
Denmark 39:31 Spain
What a start for Denmark into the EHF EURO Cup 2024! They beat Spain by eight goals. With Mathias Gidsel netting eight times, fair to say he has made the difference.

22:22 | HALF-TIME
Iceland 16:10 Israel
Seems the trend of home teams winning keeps going until the end of the night. Iceland enjoy a comfortable lead at the break against Israel in the last qualifier of the opening night.
22:09
Denmark just keep going! Mikkel Hansen with his fifth of the night put the hosts eight goals up against Spain: 27:19 with 19 minutes left on the clock.

22:05
Save the best for last?
The last qualifier of tonight, Iceland vs Israel, is off to a great start with this stunning goal from Daniel Mosindi:
22:02
Denmark vs Spain, can you spot the ball here? Answers on a postcard to the EHF, please...

21:52
See what it means to Ukraine to get those two points against Faroe Islands:

21:40 | HALF-TIME
Denmark vs Spain 19:16
Six goals from Mathias Gidsel are the main difference between the two teams. Interesting start to the EHF EURO Cup!

21:37 | FULL-TIME
Ukraine 29:25 Faroe Islands
Ukraine earn the points in Aschaffenburg tonight, but also well done to Faroe Islands, who maintain the four-goal gap that was already on the scoresheet at half-time.
21:32
Ukraine and Faroe Island are in for a close finish, with the hosts leading (but what's new tonight?) by three goals in the closing minutes...
21:13
Denmark not messing around in their EHF EURO Cup opener, leading Spain 8:4 in a duel between the 2021 world champions and the 2018 and 2020 European champions.
21:00
An excellent restart from the Faroese - they've closed back up and it's a two-goal game early in the second half, with Ukraine leading 19:17.
20:51
While we wait for Ukraine vs Faroe Islands to resume, and for Denmark to throw off against Spain in their EHF EURO CUP 2024 match at 21:00 CEST, here's a recap of the first six results tonight and what happened in those games.
20:46
We've already mentioned the 'Respect Your Talent' programme several times tonight, and here's another graduate - Óli Mittun from the Faroes - showing just how good those who pass through it are. Definitely a star of the future.
20:42 | HALF-TIME
Ukraine 18:14 Faroe Islands
The Faroe Islands are missing their star player, centre back Elias Ellefsen á Skipagøtu, who is currently injured - and perhaps it's showing, as they've allowed Ukraine to take a useful four-goal lead. These two sides have met five times in the past in competitive matches, and Ukraine have won all five - although twice, by just one goal. 
20:30 | FULL-TIME
North Macedonia 38:24 Luxembourg
The Macedonians were consistently too strong for Luxembourg, despite a good effort. Nikola Mitrevski was on particularly fine form, with a 53 per cent save rate - but his counterpart Chris Auger also saved 11 shots.
20:19
The young Faroe Islands team made a confident start to their game and took the early lead, but Ukraine wasted no time in getting back into it and 14 minutes in, it's a pretty level match. Trondur Mikkelsen has already scored four goals as Ukraine lead 8:7. 
20:02 | FULL-TIME
Hungary 36:23 Lithuania
Tadas Stankevicius nets inside the last minute, but it's little comfort for Lithuania who stood no chance against a dominant Hungary. 
Particularly impressive were the two goalkeepers. Roland Mikler came off at half-time with eight saves (40 per cent) and was replaced by Márton Székely, who promptly saved 13 out of 24 shots (54 per cent).
19:55
Another match is about to start: Ukraine vs the Faroe Islands.
This one is a little special, as it's Ukraine's first competitive match played in Germany - the country which has taken in the team during the war in their home country. A moment's silence is being held before the match honouring the victims of the war.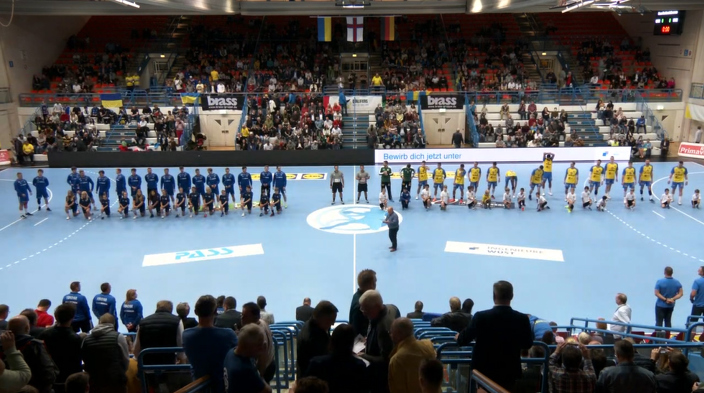 19:45 | FULL-TIME
Switzerland 24:23 Georgia
Georgia came roaring back towards the end of the match and nearly forced a draw, with Respect Your Talent alumnus Nikoloz Kalandadze scoring 27 seconds before the end of the match to make it a one-goal game. They will be disappointed to lose, but surely galvanised by the way they played.
Czech Republic 31:23 Estonia
The Czechs take their first win after steadily widening the gap in the second half. Amazingly, only three field players on both teams failed to score.
19:40 | HALF-TIME
North Macedonia 18:7 Luxembourg
The Macedonians already have a huge advantage and it's doubtful Luxembourg can get anywhere close. The experienced Filip Kuzmanovski, Kiril Lazarov's right-hand man, has scored four from four, while 22-year-old Cvetan Kuzmanovski has netted four from six.
19:33 | FULL-TIME
We have our first results!
Serbia 34:24 Finland
No mistakes by Serbia, and no chances for Finland - Toni Gerona's men finish very comfortably, in a strong team performance all round. Again, it's worth a shout to Max Granlund. The Finnish left back, who plays his club handball for Alingsås HK in Sweden, ended up with 10 goals.
Montenegro 29:20 Kosovo
Montenegro take an equally decisive win against Kosovo - eight goals by Milos Vujovic and 13 saves (50 per cent!) by Nebojsa Simic were simply unanswerable.
Croatia 32:25 Greece
In Varadzin, Greece put up a good fight but Croatia were just too strong in the end and take the win. Right wing Filip Glavaš was particularly influential for the home team, with some of their stars like Domagoj Duvnjak taking a back seat
19:20
The Kiril Lazarov-coached Macedonians are cruising against Luxembourg, with a substantial lead into the second quarter of the match.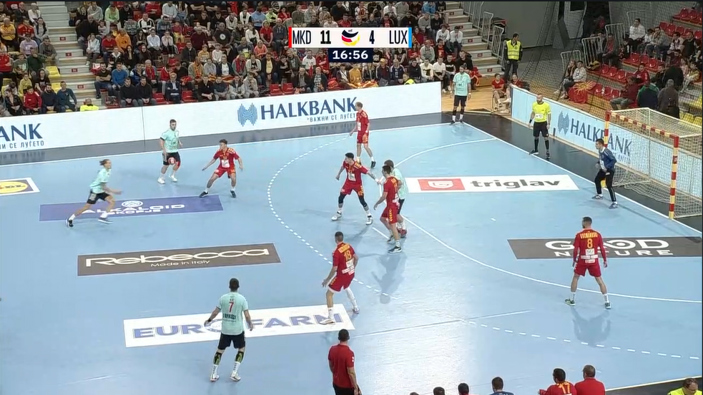 19:17
And more from that game in Switzerland, this time from Nikola Portner. What a player! He always seems to show up for national team matches.
19:10
The game in the Swiss town of Gümligen looks set to be low-scoring, because both Nikola Portner and Zurab Tsintsadze are playing absolutely brilliant handball with 12 and nine saves respectively. Switzerland lead 18:14.

19:07 | HALF-TIME
Hungary 20:13 Lithuania
Hungary are given a penalty as the half-time buzzer goes, and young left wing Stefan Sunajko duly nets it to give the home team a seven-goal lead. Roland Mikler continues to be critical in making life easy for his teammates, with eight saves in the first half.
19:03
The early matches are back underway and Serbia now lead Finland by 10 goals.
We mentioned Nebojsa Simic earlier - here's one of his first-half saves.

19:00
Another match is throwing off: North Macedonia vs Luxembourg. They've previously met four times, and it's been a win for the Macedonians on each occasion.
In Erd, Hungary lead comfortably.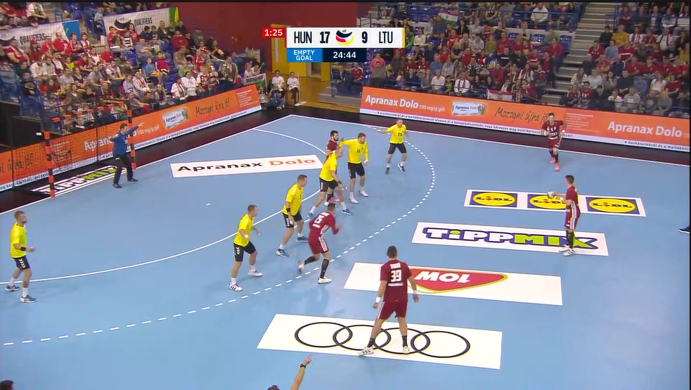 18:52 | HALF-TIME
Czech Republic 17:13 Estonia
Jakub Hrstka is making the difference for the home team at the moment, scoring five and helping the Czechs go into the break four up. But Estonia aren't out of this and are playing solid handball - they're just a little less efficient than their hosts right now.
18:45
The match between Hungary and Lithuania is well underway and Hungary are clearly determined not to make any of the mistakes that saw them leave the EHF EURO 2022 after the group phase. Roland Mikler in particular is a wall tonight - he's saved five, and allowed just three shots in. Hungary lead 10:3 after less than 13 minutes.
18:40 | HALF-TIME
Halfway there in the first qualifying matches for four teams, and the scores so far are:
Serbia 19:11 Finland
Despite an amazing six goals from Max Granlund, Finland have no answers against the experienced Serbian side and will have to pull out something special to get back into this game.
Croatia 18:13 Greece
Greece have been playing well, pushing Croatia hard and even levelling the game at 13:13 with a penalty by Dmitrios Tziras. But Croatia rallied and a 5:0 run took them into the break well ahead.
Montenegro 15:9 Kosovo
Kosovo are also finding the going tough, and Montenegro - spurred by seven Milos Vujovic goals and eight saves (47 per cent) by Nebojsa Simic are well in control.
Switzerland 15:12 Georgia
Georgia briefly held the lead against Switzerland, at 8:9, but Switzerland wasted no time getting back into the match. As ever, Andy Schmid is on fire with seven goals, but both goalkeepers - Nikola Portner and Zurab Tsintsadze - have made seven saves and are helping keep this match close.
18:32
Serbia are totally dominating Finland, and one of the reasons is Uros Borzas. The 23-year-old left back has been having a superb season for Elverum in the Machineseeker EHF Champions League and he's bringing that form to bear tonight, with three goals so far.
18:25
Surely there's not much more joyful than being able to watch so much handball at once?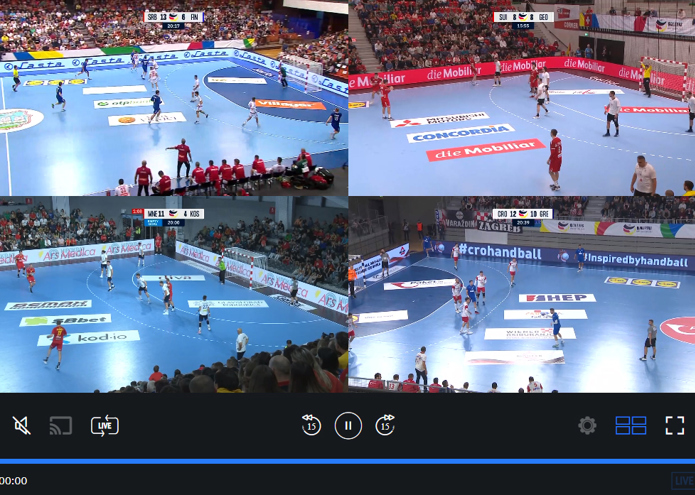 18:20
The home Balkan nations have had very good starts to these games. Serbia lead Finland 10:4, Montenegro lead Kosovo 10:3, and Croatia are 10:7 up against Greece. in Switzerland, Georgia, who have been improving rapidly in recent years, have closed the gap on Switzerland and it's a one-goal game coming up to halfway through the first half. 
Over in Ostrava, it's 1:1 between the Czech Republic and Estonia.
18:10
The home teams all have the early lead; Finland in particular are having difficulties against Serbia and the score in that match is 6:1 already.
18:01
And we're off! 
17:45
Just 15 minutes until the fun begins - and we start with a bumper selection of games. Throwing off at 18:00 CEST are:
and then at 17:10, it's the Czech Republic vs Estonia (group 3).
So lots of Balkan, Baltic and Nordic interest to begin with. Of course every game is on EHFTV, and you can watch more than one match at once!
17:28
The EHF 'Respect Your Talent' programme helps foster the development of young players - and eight alumni will be playing for their senior national teams in the qualifiers over the next couple of days. Find out more about them here, and watch out tonight for Serbia's Stefan Dodic and Milos Kos, Oli Mittun and Hakun West av Teigum of the Faroe Islands, Georgia's Nikoloz Kalandadze, and Croatian goalkeeper Dominik Kuzmanovic.
16:57
In just over an hour, the first four of tonight's 10 matches will start. You are not sure how you are going to keep track of everything, apart from visiting this live blog?
We have got you covered. Here is our How to follow... guide that helps you to stay on top of things:
16:42
When is who going to play against who?
This the colourful schedule of all matches in round 1 of the qualifiers: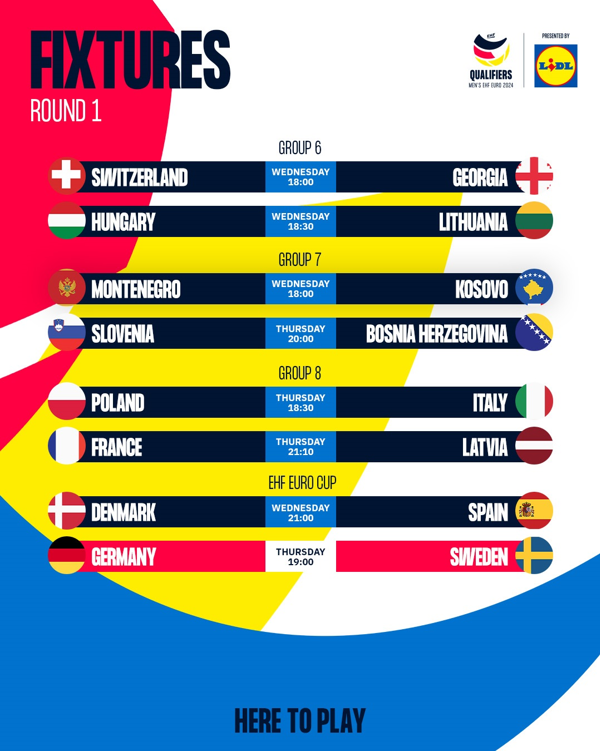 16:30
Only 90 minutes to go and we will embark on our journey to the Men's EHF EURO 2024 in Germany! So, welcome to the live blog for the start of the EHF EURO 2024 Qualifiers!
As if those 16 matches over two days were not enough, we are also treated to some action in the EHF EURO Cup 2024, which starts with its two round 1 matches today and tomorrow.
It was not without reason that we labelled our round preview "a bumper midweek programme".