EHF European League
Summary: All Last 16 pairings confirmed
The final round of the EHF European League group phase took place on Tuesday, with four Last 16 tickets - one in group C and three from group D - being confirmed. 
23:23
The group phase of the EHF European League Men is in the books and boy, was it one to remember! We would like to congratulate all the teams that made it to the Last 16 and we wish a safe onward journey to all the teams that are departing us after the group phase, we hope to see you again soon! 

The next round of action will be on the 29th of March when we will have the first leg of the Last 16. 

You have EHF Champions League Men and World Championship qualification to tie you over until then! See you at the end of March for another Live Blog, good night!

22:53
If we cast our eyes past the Last 16, we have some huge, huge, huge clashes coming up with the winners of Nantes vs Füchse playing the winners of Magdeburg vs Sporting. So much to look forward to!
22:49
After bringing down one big German side tonight away from home now Plock will be filled with confidence going into their Last 16 clash against Lemgo! And if they manage to get through that round, they play the winner of Sävehof vs Kadetten Schaffhausen.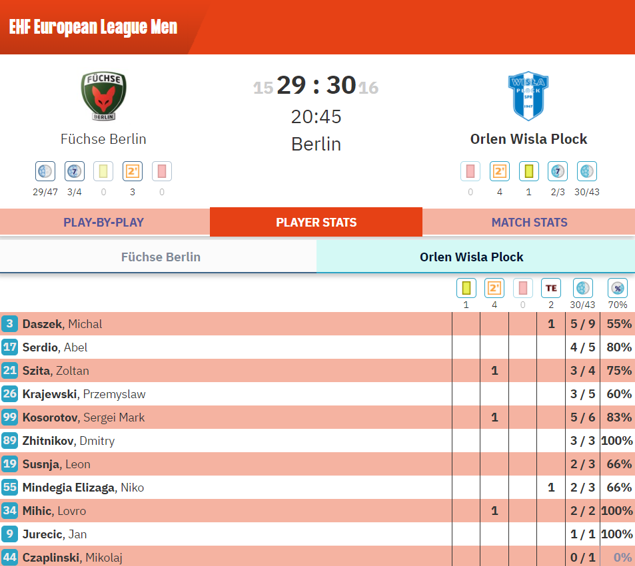 22:25 
LAST 16 PAIRINGS
So, we now know all of the Last 16 clashes. And we have some really monster clashes coming up:
HBC Nantes vs Füchse Berlin
Orlen Wisla Plock vs TBV Lemgo Lippe
GOG vs Bidosoa Irun
Fenix Toulouse Handball vs SL Benfica
RK Gorenje Velenje vs USAM Nimes Gard 
SC Magdeburg vs Sporting CP
Sävehof vs Kadetten Schaffhausen
HC Eurofarm Pelister vs RK Nexe
22:17
And there you have it, a flat performance from La Rioja and PAUC knock them out of the EHF European League. Big shout out to Kristján Örn Kristjánsson who had a super game for PAUC, letting them fly from the back court. The Icelander netted 7 goals and really helped keep La Rioja at bay. Of course, Wesley Pardin with his 11 saves caused the Spanish side huge headaches.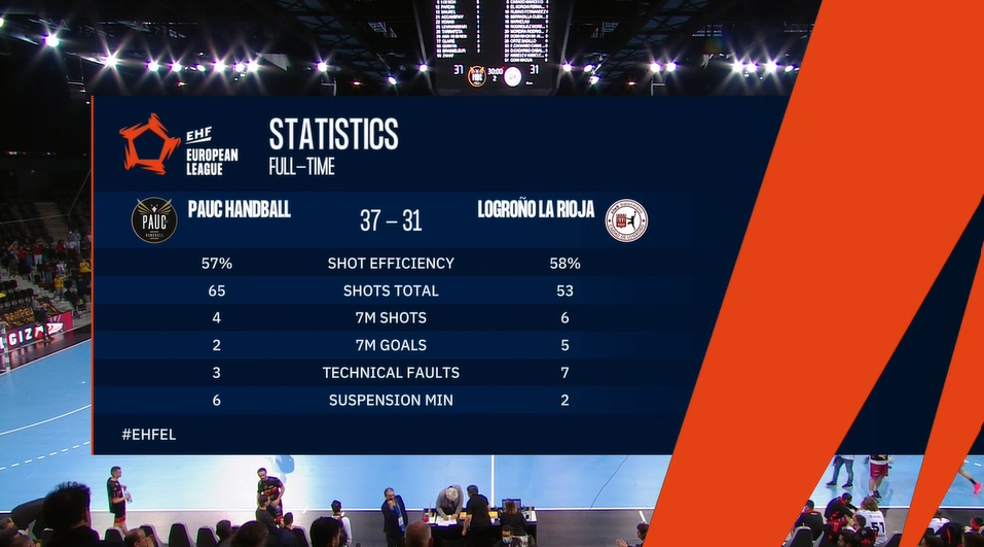 22:11
He is up to save number 10 now, that's Wesley Pardin! 
21:58
It looks like this is proving too difficult for La Rioja to close the gap, they are currently sitting five goals adrift and surprisingly enough they lack somewhat urgency to close the gap. This is not to take away from PAUC who are playing one of their best games this season. It's old head William Accambray who has been most successful in front of goal, he is 6/8 so far. 31:26.
21:30
HALF-TIME 
Kadetten Schaffhausen 19:17 Grundfos Tatabanya KC
RK Nexe 11:11 SC Magdeburg 
Sporting CP 17:18 USAM Nimes Gard 
SL Benfica 15:16 HBC Nantes 
Füchse Berlin 15:16 Orlen Wisla Plock


21:25
Kristján Örn Kristjánsson comes around the middle block at speed on the back of some nice switches to net a goal into the bottom right-hand corner and with that restores PAUC's three goal lead at the buzzer! 

Can they keep up this good work for the second half and deny La Rioja a Last 16 spot? 
21:08
Game on! Look at this, PAUC with a two-goal lead. As it stands Velenje would progress. 
21:03
7:7 at the start of this all-important tie between PAUC Handball & La Rioja!
20:45
Let's go our last group matches of the EHF European League 2021/22 season! 

All eyes are on the PAUC Handball vs La Rioja, if the Spanish side win, they are through - anything less and they are out and Velenje take the spot. 

Watch it on EHFTV.com








20:33
Gorenje with their win now keep their hopes alive for the time being. They will be hoping that PAUC can snatch a point from La Rioja. If so Gorenje will be in the Last 16. 
20:26
So with that AEK will now not make it to the Last 16 and Pelister are now confirmed second in group D. This means that now Sporting and Kadetten are sure of Last 16 spots but just the finishing order is up for grabs. 
20:19
RESULTS
Eurofarm Pelister 30:19 AEK Athens  
TBV Lemgo Lippe 39:35 GOG 
Pfadi Winterthur 27:31 TATRAN Presov 
IK Sävehof 27:28 RK Gorenje 
Fenix Toulouse Handball 26:26 Bidasoa Irun 
20:16
WOW! Gorenje leave it SUPER late but squeeze a one-goal win off the Sävehof youngsters. They were down since the score read 18:17 to them, but they stuck in there and in the last 5 minutes they had some luck. Two seperate two-minute suspensions to Pontus Brolin (55 & 58th minute) hurt the Sävehof efforts.
19:57
Gorenje are still struggling against Sävehof. And all that versus a Sävehof side which have many of their big names sitting out. 25:21 to Sävehof.
19:51
Not looking good for AEK at the opening of this second half. They are six down now after a 4:0 run by Pelister. 
19:25
Massive tension in the Pelister vs Athens, the last 5 minutes of the half took so long to get done with all the stopping and starting. Tensions were almost boiling over at points. Feels like a real cup final. Pelister will be happy with the two-goal lead while AEK will be fighting for survival in the second half. Not looking good for Gorenje who need a win to stay alive. 
19:23
HALF-TIME: 
Eurofarm Pelister 10:8 AEK Athens  
TBV Lemgo Lippe 19:17 GOG 
Pfadi Winterthur 12:14 TATRAN Presov 
IK Sävehof 14:11 RK Gorenje 
Fenix Toulouse Handball 13:12 Bidasoa Irun 
19:08
Example A...
19:04
If you are watching Eurofarm Pelister vs AEK Athens you will see it is all about the goalkeepers so far. Both men pulling off some big saves. Boukovinas for AEK is on 6 saves from 11 (54%) while Hungarian international Székely is on 50% with his four saves. 
18:45
Join us now on EHFTV.com for tonight's action! 
18:35
State of affairs for 18:45 (CET) throw-offs: 
Eurofarm Pelister (MKD) vs AEK Athens (GRE) 
- All or nothing for AEK; Pelister could face Magdeburg, Sävehof or Nexe depending on the results.

TBV Lemgo Lippe vs GOG 
- Both are already in the Last 16
Pfadi Winterthur vs TATRAN Presov 
- Both teams are out
IK Sävehof vs RK Gorenje 
- Sävehof fixed Last 16 spot; all or nothing game for Velenje. To progress to the Last 16 they need a win and for La Rioja to drop at least a point against PAUC
Fenix Toulouse Handball vs Bidasoa Irun 
- Fixed Last 16 spots 
18:29
Kadetten Schaffhausen can finish as high as second place in group D but can also be eliminated, so their star his the nail on the head here... Their match against Tatabanya who cannot progress is up at 20:45 (CET).
18:05
Just over 40 minutes to go until we throw-off tonight's action. We of course will be keeping an eye on all the games that have a Last 16 ticket at stake but a big focus will be on HC Eurofarm Pelister and AEK Athens at 18:45 CET. It has all the makings of a classic and can have a ripple effect throughout the whole evening depending on an Athens win. 
16:55
In case you're a visual sort of person and want to see which teams have definitely confirmed where they'll finish in the group phase, and which will find out tonight, this is the roadmap for the EHF Finals, which will take place at the end of May.

16:40
Possibly the most important game tonight is between HC Eurofarm Pelister and AEK Athens at 18:45 CET. Athens are fifth in group D, but a win would see them through to the last 16, and put pressure on Kadetten Schaffhausen and Sporting CP who play later on. 
Ahead of the match, EHF journalist Adrian Costeiu caught up with Athens line player Ignacio Plaza, who tells us how he has found a second home in Greece. It's well worth a read before tonight's action throws off. 
16:20
With 11 matches to play tonight there's tons of choice for you - although it's always worth remembering that EHFTV has a handy split-screen option to watch up to four games at once. There are five matches in the early 18:45 CET slot, and six more at 20:45 CET.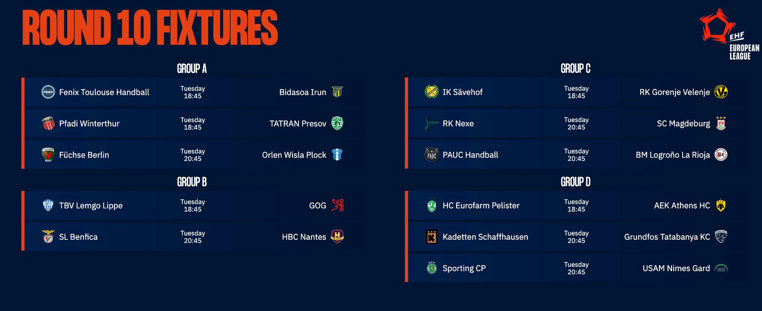 16:00
After weeks of hotly contested action in the EHF European League Men, the group phase finally comes to an end tonight.
But there are still four places in the Last 16 still to be decided. In group C, it's between RK Gorenje Velenje and BM Logroño La Rioja. Both teams are playing away today. Velenje need both a win against Sävehof and for La Rioja to draw or lose. La Rioja need a win against already eliminated PAUC.
In group D, there are three places available and they'll go to three out of four teams. USAM Nimes know they have topped the group, and Tatabanya are eliminated.
AEK Athens must win in their away match to Eurofarm Pelister as they're currently fifth with eight points to second-placed Eurofarm's 10. If Athens lose, Eurofarm, Kadetten Schaffhausen and Sporting CP will progress. If Athens win, then the last two matches between Kadetten and Tatabanya and Sporting and Nimes could be decisive. 
Here's the round preview with more!