EHF EURO
Summary: Emotional end to preliminary round
Follow the live blog for all the coverage of the final day of preliminary round matches, with action in groups B and D.







23:15
The rankings for the main round groups are now confirmed. Both groups take to the court on Thursday 20 January. 
Although tomorrow is a rest day the live blog will not rest - join us from 10:00 CET for analysis and reaction to the preliminary round, and a look ahead to what's next.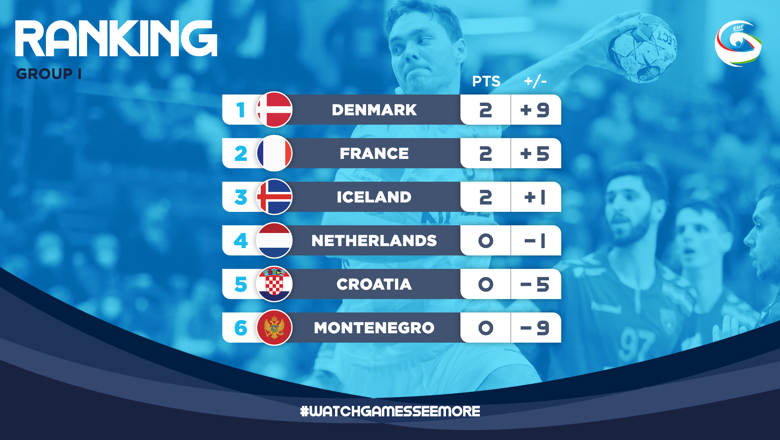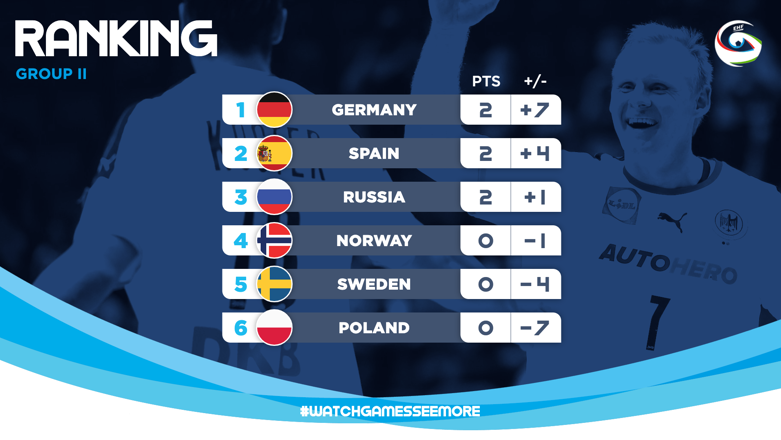 It is an amazing feeling. It is a huge step for Dutch men's handball that we qualify to the main round, because it is only the second time that we could qualify for an EHF EURO. We came with a goal here that everyone could see from the first match until the last one. It is a really big step for us.
22:45
Here are our last preliminary round match reviews, recapping an emotional night in Budapest and Bratislava.
22:38
With the preliminary round over, we know the ranking of the teams in 13th to 24th place at this EHF EURO: the Czech Republic, Serbia, Hungary, Slovenia, Belarus, Slovakia, Portugal, Austria, Lithuania, North Macedonia, Bosnia and Herzegovina, and Ukraine. 
The Czech Republic, Serbia and Hungary have qualified directly for the second part of the IHF Men's World Championship 2023 playoff, while the remaining nine teams will compete in the first part in March against Switzerland and the eight qualifiers from the first phase: Greece, Turkey, Finland, Estonia, Romania, Israel, the Faroe Islands, and Italy.
22:22
A group of perhaps 50 Dutch fans are still in the stands singing, and most of the team are sitting on the court looking faintly dazed. Now some of them are getting up and dancing again. Perhaps someone ought to remind them to save their energy - they have at least four matches left!

22:05 | FULL-TIME
NETHERLANDS 32:31 PORTUGAL
You can never write Portugal off, and they battled right to the end. With exactly 60 seconds on the clock, the score was 31:31 and Portugal had possession; both teams had players suspended. Diogo Branquinho shot but it hit the post and gave the Netherlands the tiny buffer they needed. 
Erlingur Richardsson called a timeout with 10 seconds left to steady his men's nerves. Kay Smits nets for the victory and the team run on to celebrate. 
The Netherlands are in the EHF EURO main round for the first time in their history, in only their second participation.
BELARUS 29:26 AUSTRIA
Meanwhile, a good second half means that Belarus finish third in group D and go home with a win.
21:58
A reminder once again - the Netherlands can lose by one goal, and still progress. It's 30:30.
21:56
PORTUGAL ARE LEVEL. Three minutes to go.
21:45
Portugal keep on pressing and keep bringing it back to a one-goal game - but they need to win by at least two to turn this EHF EURO into another dream performance. 
Over in Bratislava, it's still an even match between Belarus and Austria.

21:39
Portugal are deploying a seven-on-six attack and are punished as Dani Baijens steals the ball and Rutger Ten Velde runs it home into the empty goal. Gustavo Capdeville comes on court just too late. 
Then they nearly conceded another goal, but Rui Silva intercepts the Dutch pass - only for Bart Ravensbergen to save Diogo Branquinho's shot. The pace is starting to pick up!
21:33
Led by Rui Silva, Portugal are fighting well, and have narrowed the gap to three in the first eight minutes of the second half. They are defending hard too against the Dutch attack.
21:20
This is a seriously impressive milestone. In five and a half EHF EURO matches, Kay Smits has scored 50 goals. He becomes the first Dutch player to reach that mark, and you can bet he'll pass it in the second half.

21:13 | HALF-TIME
NETHERLANDS 17:13 PORTUGAL
It is looking rather like the Dutch might be en route to their first-ever EHF EURO main round place. They lead 17:13 - below, see what EHF journalist Courtney Gahan has to say about that first half.
BELARUS 16:16 AUSTRIA
Austria looked like they were stretching to a decent lead, but Belarus dug in and clawed it back to an equal match at the break. Mikita Vailupau is the top scorer so far with five goals.
Bart Ravensbergen vs Gustavo Capdeville. The two goalkeepers have played a superb opening half here in the final group B clash, with seven saves for Ravensbergen at 35 per cent and nine saves for Capdeville. But Ravensbergen's team is helping him a lot more, as Capdeville has faced several more shots and the Netherlands are also scoring on more of their chances. The Netherlands look very much on their way to the win and their first main round appearance.
21:00
If the Dutch keep their nose in front like this they will be safe, but there's nearly 40 minutes left - an eternity in handball terms. Don't discount Portugal, though!

20:54
Lots of saves and not many goals are characterising this game so far. Both Bart Ravensbergen and Gustavo Capdeville are performing exceptionally.
Dani Baijens is leading the scoring with four goals, as the Netherlands go 10:8 up.
20:46
The Netherlands are looking a little stronger at the moment and Bart Ravensbergen made some great early saves, but it's still just a two-goal game.

20:38
The last group B match is another even affair so far - 3:2 to the Netherlands, two saves apiece by Bart Ravensbergen and Gustavo Capdeville, but it's a totally different game to the frantic pace of the earlier match.
20:31
We're into the last 60 minutes of preliminary round action, and Victor Iturizza scores first for Portugal.
20:14
Attention now turns to the second matches. The Netherlands will go through to the main round if they win, draw, or lose by one goal. Portugal progress if they win by at least two goals.
Kay Smits of the Netherlands was the tournament's top scorer after round 2 with 24 goals and if he scores at least four tonight will become the first Dutch player to hit 50 EHF EURO goals.
In Bratislava, Austria and Belarus duel for a win in their last appearance in the competition.
19:53
Iceland and their fans celebrated the victory as Hungary and the Hungarians tried to process what had happened. It's the first time since 2006 (Switzerland) that the hosts of an EHF EURO have not reached the main round, now that Hungary are out and Slovakia finished third in group F.

19:34 | FULL-TIME
ICELAND 31:30 HUNGARY
End of the road for the hosts. They had to earn at least a draw to stay in, and Mate Lekai had a chance with 25 seconds left, but it was saved by Björgvin Pall Gustavsson. And although top scorer Bjarki Mar Elisson missed his last attempt, it was all over and Hungary had run out of time.
Iceland are through.
19:28
Now it's Iceland's turn to lose a player after three suspensions - Ýmir Gíslason trudges off the court. But Björgvin Pall Gustavsson saves Dominik Mathe's penalty. Less than 90 seconds left, and Iceland lead 31:30.
19:22
The pace of goal-scoring has slowed and both defences are working extremely hard. Adrián Sipos picks up his third suspension and a red card with it. 
But it's STILL level, now 29:29. 
Germany seem to have secured top spot in group D, with a four-goal advantage.
19:12
We've hit the 50-goal mark at 15 minutes but the pace is NOT letting up, and neither is the intensity of the atmosphere. The timeout buzzer has to be pressed twice as the noise in the sold-out arena is so loud.

19:05
Iceland have pulled out a two-goal lead and the fans are getting louder and louder. They know their team needs a win here to be sure of staying in the competition.

19:00
The physicality continues, both teams fighting for every ball, and subsequently each incurring suspensions. The goals are coming thick and fast, it's already 21:21.
Germany have withstood an early attack by Poland, and maintain their three-goal lead in Bratislava.
18:55
With Hungary trailing in the goalkeeping statistics, Márton Székely is on at the start of the second half. He missed a penalty save, but has just made a couple of sensational stops which leave Iceland's coach Gudmundur Gudmundsson with his head in his hands.
18:48
In the break Iceland's two goalkeepers and some of the bench are practising their shots while their teammates return to the court, earlier than Hungary. Clearly Gudmundur Gudmundsson's half-time chat was to the point. They know what they have to do - win, draw, or lose by a single goal, and they are through.
18:42 | HALF-TIME
Germany's birthday boy, Christoph Steinert, is leading the way for his team with six goals and that's making the difference so far. Germany are also being more aggressive, with 20 shots to Poland's 15, and accordingly have a decent advantage at the break.
18:38 | HALF-TIME
ICELAND 17:17 HUNGARY
Wow. Just wow. 
Seven Icelanders and nine Hungarians have scored and four players have netted four times in a high-octane 30 minutes of handball. EHF journalist Courtney Gahan gives her assessment of the match so far.
Can anything separate the teams in group B? We expected this to be a heart-stopping day in Budapest, and with Hungary and Iceland trading goals all through the first half for a completely level game so far, it's clear we are set for another late decision. Iceland are handling the pressure of the 20,000 fans against them superbly — the main question seems to be whether Hungary will be able to take advantage of the 'eighth player' in those critical final minutes and secure the win they need to keep their main round chance alive.
18:25
This is an intensely physical match. Iceland earn a penalty as Patrik Ligetvári is suspended for a foul - but Márton Székely, brought on for the penalty, saves Ómar Ingi Magnusson's shot. Regaining possession Richard Bodo equalises for 13:13.
18:17
If this pace keeps up we're on for a high-scoring game. It's 9:9 in just 15 minutes. 
Germany are leading Poland 5:4 in the battle for top of group D, with three goals from birthday boy Christoph Steinert.
18:12
Hungary took the lead at 4:3 after just over six minutes, but the teams are now exchanging goals and it's still very much a level match.

18:03
It's already deafening in Budapest and only two minutes have been played, with one goal apiece (and, as usual, a starting save from Björgvin Pall Gustavsson for Iceland).
17:55
A reminder of what is needed in group B tonight:
Iceland - through to the main round if
they do not lose to Hungary by more than one goal
the Netherlands do not beat Portugal
Netherlands - through to the main round if
they beat Portugal
they do not lose to Portugal AND Hungary do not beat Iceland
they do not lose to Portugal by more than one goal AND Hungary lose to Iceland
Hungary - through to the main round if
they beat Iceland by at least two goals
they beat Iceland AND the Netherlands do not beat Portugal
they do not lose to Iceland AND the Netherlands lose to Portugal
Portugal - through to the main round if
Iceland beat Hungary AND Portugal beat the Netherlands by at least two goals
17:50
Player introduction time. In Budapest the Icelandic fans are doing an excellent job of making their voices heard, but they are definitely outnumbered by thousands of Hungarians who have come from across the country to support their team.
17:35
The pressure of a sold-out crowd cheering for your opponents can be daunting, but the Netherlands have already shown in Budapest how to overcome that. Tonight it's Iceland's turn.
Twelve years ago in Linz, also on the river Danube, Iceland were playing Austria in the preliminary round. They were winning right up until the 59th minute before conceding three goals in the final minute in front of a full house. The match ended in a draw. 
That wasn't the end of Iceland's story as they went on to win bronze in 2010. Today they can also settle for a draw against Hungary to progress. Let's see what coach Gudmundur Gudmundsson, who was also in charge 12 years ago, has up his sleeve.
17:15
The first game in Bratislava tonight, between Poland and Germany, will determine who finishes top of group D and takes two points to the main round. Their last meeting was at the IHF Men's World Championship in Egypt this time last year, when they drew 23:23. This is Poland's squad for today's match.

17:05
We're now reporting from the Budapest Handball Arena, where fans are gathering ahead of the Iceland vs Hungary game which throws off the final night of preliminary round action. The atmosphere promises to be electric. Throw-off is at 18:00 CET.
16:20
Iceland's coach Gudmundur Gudmundsson has unveiled his 16 players for tonight's crunch match against Hungary. Click for the list, which includes stalwart Aron Palmarsson, and of course two-time Player of the Match Sigvaldi Bjørn Gudjonsson. 

16:05
You have a little less than two hours to make your final predictions for the preliminary round in the match predictor. If you haven't already, download the Home of Handball app and join in. 
14:50
News in from France: Karl Konan, the young defender who has made a big impact so far (and was the guest on yesterday's episode of the (Un)informed Handball Hour podcast) is in isolation after a positive Covid test. The rising HBC Nantes star Théo Monar has been called up for his EHF EURO debut at the age of 20.

14:40
Resin. A handballer's friend. We've had a look at the different ways players are using it at the EHF EURO 2022. Turn your sound on and enjoy!

14:05
The goalkeepers really proved their worth last night - in particular Nebojsa Simic, whose saves in the final minutes of Montenegro's match with Slovenia ensured the Lions booked a place in the main round. Enjoy the top five saves of the penultimate day of the preliminary round:

12:55
The top five goals from yesterday's action come from five different players from five different countries: Croatia, France, Ukraine, Denmark and Serbia. Don't miss this compilation.

12:40
News out of Germany - yesterday five of their players unfortunately tested positive for Covid-19 (Kai Häfner, Timo Kastening, Lukas Mertens, Luca Witzke and Andreas Wolff). Luckily for Germany they have some pretty good replacements on hand, and have called up Johannes Bitter, Rune Dahmke, Sebastian Firnhaber, Paul Drux and Fabian Wiede. 
Bitter and Dahmke have already already arrived in Bratislava, with the others en route.
In other news, it's Christoph Steinert's 32nd birthday. The right back has had a good tournament to date, scoring five against Austria and three against Belarus. 

12:15
Hungary have published a big gallery of photos from training yesterday. Let's hope they're ready for a big day in the Budapest Handball Arena - the hopes of a nation rest on their shoulders.

11:45
Montenegro are the fairytale story of the competition at the moment after their impressive victory against 2020 semi-finalists Slovenia last night. Safe to say their fans are pretty happy, and rightly so. They'll join main round group I in Budapest, alongside France, Croatia, Denmark and whichever two group B teams qualify tonight.
11:08
Norway have not yet had the tournament they would have wanted. The 2020 bronze medallists spoke before the EHF EURO 2022 about their hopes of winning a European title - but they go to the main round second from group F, after being beaten by Russia on Saturday night. Last night, they defeated Lithuania, but made it harder than it should have been. 
EHF journalist Adrian Costeiu has analysed what's gone wrong so far, and what needs to improve if Norway are to reach their second successive final weekend.
10:40
It's all about group B today. Not that we don't enjoy watching Austria, Belarus, Germany and Poland play, because we do - but group D in Bratislava is sewn up and the only outstanding question is which of Germany and Poland will take two points to the main round.
Group B in Budapest is a very different story. It has been a group of drama from day 1, when the Netherlands sensationally beat Hungary in front of the red-clad home fans. Sunday night provided further excitement, as Portugal bounced back from their round 1 defeat and pushed Hungary all the way in a close match followed by Iceland clinging on to their second victory.
All four teams still have a chance to progress now and EHF journalist Courtney Gahan has taken a closer look at the situation. One thing's for sure, two deserving teams will have to go home.
10:00
How time flies when you're having fun! It's the last day of the preliminary round already, and there are still two main round places up for grabs. All four of the group B teams have a chance and we're expecting some close matches in Budapest.
In group D, Poland and Germany are both looking for maximum points, so don't think their match doesn't matter. Belarus and Austria will also want to leave the competition with their heads high after a win.