EHF Champions League
Nordic joy as Esbjerg, Sävehof and Odense seal wins
The 2021/22 DELO EHF Champions League season threw off on Saturday 11 September, headlined by MOTW between Györi Audi ETO KC and Vipers Kristiansand, won by Györ. On Sunday, it was victory for the three Nordic sides in the competition, with Esbjerg and Sävehof both taking one-goal wins and Odense looking comfortable against debutants Kastamonu.
Sunday 12 September
18:30
That's all from the blog for tonight - read the match reviews for more on today's action.
The DELO EHF Champions League will be back for round 2 next Saturday with a bumper round of matches. Will group A leaders Podravka continue their strong start with an away win against FTC? What will group B leaders Györ produce when they visit Krim in Ljubljana? 
There's also a Nordic derby between Vipers and IK Sävehof to look forward to, while CSM Bucuresti host Rostov-Don. Odense host Metz, and Brest Bretagne welcome Team Esbjerg. See you for all that Champions League action next week!










We are still a new team and still have to adjust to each other and it takes some time to get the right timing in the game. Today we focused on playing fast and let the ball do the job. So we are very happy with the win.
I am very proud of the team. As always when you play against Bucuresti, it is a hell of a game, and it is always enjoyable to play against them, and now we have a win, too. But they are a top team in this tournament.
17:45
That's round 1 over. Just two teams haven't played - as we announced yesterday, the match between Metz and CSKA has been postponed after travel issues. 
So, with that in mind, which of the six winning teams, plus Dortmund and FTC who drew, were the most impressive this weekend? Your chance to have your say. Vote now!
17:23 | FULL-TIME
Odense take their first points of the season with a confident performance in Turkey. Kastamonu now know at what level they need to play to be competitive in the DELO EHF Champions League - but, as we've seen in previous seasons with debutant clubs, there is plenty of opportunity left for them. It's a long group phase after all.
17:11
Odense have this in the bag now - they hold an seven-goal lead, with eight minutes left. They look relaxed and like they're enjoying themselves.
17:01
Jovanka Radicevic is key to Kastamonu, scoring seven goals so far. With the Montenegrin star serving a suspension Odense are taking full advantage; Dione Housheer scored the penalty and then, after Kastamonu lost possession, a field goal to put the visitors four goals up once more.
16:50
Kastamonu captain Serpil Iskenderoglu is the oldest court player in the entire DELO EHF Champions League (only Vipers goalkeeper Katrine Lunde is older). Iskenderoglu is proving age is no barrier, scoring early in the second half as her team quickly pull the gap on Odense back to just two goals.
16:37 | HALF-TIME
KASTAMONU BELEDIYESI GSK 11:15 ODENSE Håndbold
Here's our journalist Sergey Nikolaev with his thoughts on the first half of this match:
"Of course Kastamonu would be delighted to win their debut match at this level, but so far it looks like their rivals from Odense have a better chance. The Danish team play a fast-paced handball, with Freja Cohrt having a special impact, as the left wing scored five goals from as many attempts."

16:23
After a frantic start to the match, the pace has slowed and Odense have taken a comfortable five-goal lead, prompting a timeout from Kastamonu's new coach Costica Buceschi. Can he inspire his team to get back on terms with Odense?
16:08
Less than 10 minutes played and 11 goals scored already in a rapid start for this match, with both teams playing fast handball. Sára Kovárová for Kastamonu and Mie Højlund for Odense have both netted twice as Odense take a slight advantage.
15:50
Kastamonu and Odense will throw off very soon. The Turkish club's new arena is looking lovely!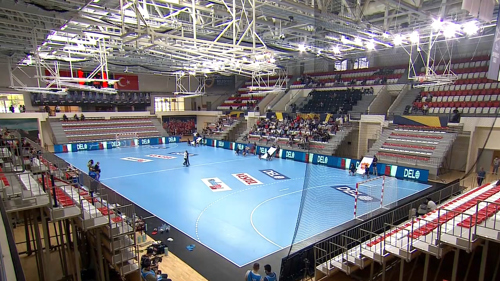 15:35 | FULL-TIME
A low-scoring, tight contest is won when Marit Røsberg Jacobsen nets a beautiful goal just seven seconds before the buzzer. Esbjerg - and their red-clad fans - are thrilled, and look slightly stunned by their victory. That was won through pure aggression and attack rather than accuracy. CSM netted a far higher percentage of shots and Jelena Grubisic was excellent throughout in goal, but Esbjerg just went for more attempts. 
Welcome back to the DELO EHF Champions League, IK Sävehof! They win by a single goal, with a simply stellar Jamina Roberts leading the charge with 10 goals and a steal in the last few seconds that prevented Krim from equalising. A perfect start for the Swedes.
15:27
We're back level in Sweden, while CSM now lead Esbjerg by one goal. Elizabeth Omoregie is the Romanian club's top scorer.

15:15
Tense stuff in both matches right now. Krim have rallied, and moved back in front, but only by two goals. Esbjerg have also regained the lead, but neither side has found the net for over five minutes amid a few technical errors.
15:08
An insane start to the second half for Jamina Roberts has given Sävehof the lead against Krim. Roberts has scored four goals in 12 minutes - two penalties, two field goals - and for the first time Krim are on the back foot.
15:00
CSM have come back firing on all cylinders - a 4:1 run for the visitors puts them one goal ahead of Esbjerg. Cristina Neagu has scored her first goal of the season on her third attempt. 
14:52
The second halves are underway!
Here's Henny Reistad's first Champions League goal for Esbjerg to enjoy.

14:40 | HALF-TIME
IK Sävehof 11:13 KRIM MERCATOR LJUBLJANA
EHF journalist Sergey Nikolaev assesses the first half:
"Despite scoring their first goal nearly 11 minutes into the match, Sävehof later found the way to get back in the game. The match is still very open, but Krim look like a slightly better side, and they have a fair chance to grab two points in Sweden."
TEAM ESBJERG 13:10 CSM BUCURESTI
Esbjerg are the more confident of the two teams here right now, and the more aggressive - they are shooting a lot more and it's paying off with more goals. But if CSM can ramp up the attack they could easily fight back into the game.
14:30
Yet another transfer this summer was Barbara Arenhardt, who moved from Buducnost to Krim. She was largely responsible for Sävehof remaining goalless for over 10 minutes at the start of this game and while she's now conceded a few goals she's still looking incredibly good between the Krim posts.

14:27
In her Champions League debut for Esbjerg Henny Reistad has already scored twice, showing she remains in the form that made her the stand-out star of last season for Vipers. Her goals, combined with a strong start for Mette Tranborg, Marit Røsberg Jacobsen and Annette Jensen have put Esbjerg ahead of CSM - despite Jelena Grubisic performing in goal for the visitors.
14:20
Andrea Lekic last played for Krim in 2010/11. Since then she's gone on to multiple honours, and was set to play a starring role for Serbia at the EHF EURO 2020 before an injury in the first match.
The good news is she's back, and back scoring for Krim!

14:08
With seven minutes played, Krim have scored twice and Sävehof are yet to find the goal. There's a bit more action in Esbjerg, with the score currently at 3:2 to the home team.
13:45
Your 15-minute warning for the first two games. Pre-match coverage is beginning on EHFTV so settle down, tune in and be ready for the show!
13:30
Krim have posted some photos from their training in Sweden, while their opponents IK Sävehof have revealed today's line-up. 
The two sides met in group D in the 2019/20 season. Both won their away matches: Krim won in Sweden 25:21, and Sävehof gained revenge with a 28:26 victory in Ljubljana. 

13:15
Welcome to day two of the first round of the DELO EHF Champions League group phase. There are three matches ahead this afternoon - starting at 14:00 CEST as IK Sävehof return to the Champions League after missing last year. They play Krim, who have brought 10 new players on board including French Olympic champion Allison Pineau.
Also at 14:00 CEST, Team Esbjerg, reinforced by DELO EHF FINAL4 2021 MVP Henny Reistad, meet CSM Bucuresti. CSM have won all three matches they have played in Esbjerg - will today be different?
At 16:00 CEST, Turkish club Kastamonu Belediyesi GSK make their Champions League debut against Odense Håndbold. Kastamonu had a solid outing in the EHF European League Women last season, although they failed to make it out of the group phase - but they have recruited and have the likes of Jovanka Radicevic in their squad.
Saturday 11 September
20:20
Read the match reviews from all of tonight's matches below, and make sure you're back tomorrow for more DELO EHF Champions League drama. The live blog will pick up at 13:00 CEST ahead of a 14:00 CEST throw-off for the first two matches of the day.
Thanks for joining us for today's action!
It is not easy to play the first game at home against a really good opponent, they were playing really good at the beginning of the match, they could use all the opportunities. We fixed the defence later and the second half was much better, and our goalkeeper could perform also fantastic. We need to be patient and we will be able to play better and better










19:48
So that's the first day of DELO EHF Champions League action over, and it was a good one! Several players made outstanding debuts for their new teams; Dortmund earned a superb draw against FTC; Podravka made a great start to their season; and Györ look as dangerous as ever. But tell us which match you enjoyed most!
19:34 | FULL-TIME
Reigning champions Vipers looked dangerous right at the start, but once Györ drew level they never looked back. Goalkeeper Silje Solberg, with 13 saves (31 per cent) and one goal earns the Player of the Match award.
With such a new, young squad it was always going to be difficult for Buducnost to play at the level they did last year, and Podravka have taken advantage. It's their first win against Buducnost since 2014 in the Champions League.
19:28
There have been plenty of goals for new arrivals tonight across all the matches. Here's Jelena Despotovic with her first Champions League for Györ.

19:25
Led by a stellar performance from Valeriia Maslova, with eight goals, Buducnost have held on a little bit better in this second half - but simply had too much to do against Podravka.
19:17
Now well ahead of Vipers, Györ coach Ambros Martin is rotating his bench. That's given new Korean arrival Ryu Eun Hee the opportunity to score her first DELO EHF Champions League goal, which is greeted with cheers from the stands and hugs from her teammates. 
19:10
Vipers have brought on Katrine Lund into goal. They have just under 14 minutes to turn around a 22:27 deficit - they pulled it back to just two goals, but Györ took advantage of a suspension for Ragnhild Dahl, and opened up the gap straight away.

Over in Croatia, Podravka lead Buducnost by 10 goals.
18:58
Györ have kept up the pressure as the second half begins, and look comfortable. Ragnhild Dahl is the only Vipers player to have found the net since the match resumed, scoring two field goals and a penalty.
18:43
Some news for you: the match between Metz and CSKA due to take place tomorrow has been postponed.

18:38 | HALF-TIME
Györi Audi ETO KC 17:13 VIPERS KRISTIANSAND
EHF journalist Sergey Nikolaev assesses the MOTW so far:
"Probably Vipers were lucky to avoid meeting Györ in last season's DELO EHF FINAL4. The new-look Norwegian side enjoyed an excellent start to this game. But once the hosts woke up, they went on to fully dominate, and goalkeeper Silje Solberg enjoyed a 43 per cent save rate in the first half."
HC PODRAVKA VEGETA 22:12 BUDUCNOST BEMAX
Adrian Costeiu delivers his half-time verdict:
"It is nearly impossible to provide adequate replacements for players like Jovanka Radicevic and Majda Mehmedovic, especially if you are trying to push young players into orbit. This is the conundrum Buducnost BEMAX find themselves with, fielding the youngest team in the competition, with an average age of 21.8 years old.

"Last year, Podravka beat Buducnost 29:26 on their home court but this time around it looks like the defeat will be tougher. Buducnost cannot simply compete with Podravka in this game."
18:25
Podravka, who last season struggled to find a way to win in the DELO EHF Champions League, have stormed out to a massive eight-goal lead only 21 minutes into their match against Buducnost.

18:17
The Norwegian players are dominating at both ends at the moment, with Stine Oftedal Györ's top scorer so far, and Ragnhild Dahl and Nora Mørk leading the way for Vipers. 

18:08
What a start by Vipers! Just over seven minutes in, they're four goals up - Andrea Pedersen is having a brilliant start in goal with almost nothing getting past her. Let's see if the packed Györ arena will make a difference for the home team.
17:55
Anja Althaus is in Györ for us this week, and our Instagram story will bring you exclusive clips throughout MOTW. Check it out!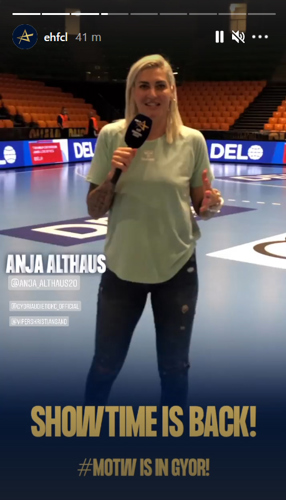 17:40
And so we move on. 
Next up it's Match of the Week, which promises to be a cracker as 2021 champions Vipers Kristiansand visit record champions Györi Audi ETO KC. The last European match between these two was in the DELO EHF FINAL4 in 2019, when Györ won 31:22, and overall Vipers have won only once in seven meetings.
However, with four Norwegian players on each team, and several Vipers players having played for Györ in the past, the two sides will have a pretty good idea of what to expect. What can we expect? Drama, hopefully!
At the same time, Buducnost BEMAX have travelled to Croatia to face HC Podravka Vegeta. The Montenegrin side are one win away from 150 Champions League victories, but they are a new-look team this year having lost a lot of players. Wings Majda Mehmedovic and Jovanka Radicevic, backs Andrea Lekic, Allison Pineau, Milena Raicevic and Itana Grbic, and line player Ema Ramusovic are among those to have quit the club.










17:32 | FULL-TIME
It's not how last season's runners-up would wanted to have started this year's campaign, but Brest pressed Rostov hard there - especially when their opponents looked like they were running away with the match in the middle of the second half. 
Djurdjina Jaukovic particularly came into her own and helped keep Brest close. But ultimately it is Rostov who take the two points to begin the season with a win.
17:29 | FULL-TIME
What a cracking match between these two teams! Initially it looked as though FTC were going to waltz away with the win, but Dortmund held on magnificently to keep themselves in the running. Alina Grijseels shone with nine goals in total.
With 30 seconds to go, FTC had possession and it was once again Emily Bölk seeking to score as the clock ticked down - but Yara Ten Holte made two astonishing saves and it all ends in a draw.
17:22
The Rostov fans are having a great time now - there's a lady with some brilliant yellow and black glasses in the stands - but their team aren't quite home and dry yet. Brest trail by three goals with six minutes to play. The French club's coach Pablo Morel is looking a bit nervous, however.
17:13
Rostov have stretched to a six-goal lead over Brest, but it would have been a lot more if Brest's new coach Pablo Morel hadn't decided to replace Sandra Toft with Cleopatre Darleux in goal. Toft had a poor start to the game, conceding nine goals and saving none. Darleux has saved eight out of 21 shots so far (38.1 per cent) - more than both Viktoriia Kalinina and Anatasiia Lagina for Rostov together.
17:05
Dortmund have rallied. An unanswered goal from Merel Freriks and a penalty by Alina Grijseels put them level with FTC - this has become very much a match still to be won now.

Over in Russia, Rostov maintain a two-goal lead despite some energetic defending by Brest.
17:00
Into the second halves. Although Brest's Djurdjina Jaukovic clawed one goal back for her team early on, the margins in both matches are currently just as they were at the break and it's FTC and Rostov who look like taking the first wins of the season.
16:42 | HALF-TIME
EHF journalist Adrian Costeiu has some half-time thoughts:
BV Borussia 09 Dortmund 12:14 FTC-Rail Cargo Hungaria
"FTC has not won their first match of the season in the DELO EHF Champions League since 2015/16, but things might change for the Hungarian champions in this game. German back Emily Bölk is on point today, scoring five goals in the first half."
Rostov-Don 16:13 Brest Bretagne Handball
"Losing Ana Gros and Bella Gulldén was a big blow for Brest Bretagne Handball, one that could not be patched over the summer. While the French champions kept their cool for 20 minutes, it was all Rostov from that moment. Brest have relied heavily on back Kalidiatou Niakate, who scored four goals, while Rostov's Eduarda Amorim has scored twice so far for Rostov."
16:23
Today's the first DELO EHF Champions League appearance for Rostov for Eduarda Amorim, and guess who scored Rostov's first goal ...

16:20
After a slow start, Dortmund have found their rhythm and are now going toe-to-toe with FTC. 
A couple of simultaneous suspensions were unhelpful for Brest, who have let Rostov slip two goals ahead.
16:14
It's nice to see and hear fans in both arenas for the first matches of the season. There's been a bit of face-painting going on in Rostov.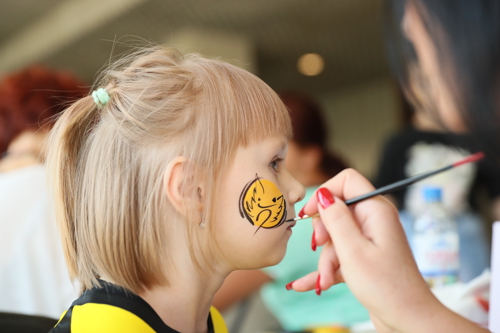 16:03
And both games are underway! FTC's Emily Bölk has the honour of scoring the first goal of the season, inside the first 30 seconds as the visitors make a good start against Dortmund.
15:45
The season begins with two group A games. 
Dortmund made their Champions League debut last year. It took them until January to earn their first home win (against Podravka). They have never played FTC so it's difficult to predict what will happen this afternoon. FTC need four more wins to become the sixth team in Champions League history with 100 wins in the competition.
Rostov and Brest have not met for nearly three years. In their last encounter in Russia, Rostov beat Brest 30:24. Both teams have changes to their squads this season; notably, Rostov have picked up French line player Beatrice Edwige and Brazilian left back Eduarda Amorim, while Brest have lost Ana Gros to CSKA and Isabelle Gulldén to Vipers.
15:30
There's just time before the first match throws off for you to check out your knowledge of the competition in our quiz.
15:15
Welcome back to the DELO EHF Champions League! Round 1 of the 2021/22 group phase begins in only 45 minutes and as usual, we will keep you up to date with all the action. 
Read this blog, watch the matches on EHFTV, and follow us on social media. We're on Twitter, Facebook and Instagram and will be sharing photos, videos and behind-the-scenes fun throughout the season. 
To start with, read the preview of the weekend's action to find out what's in store.