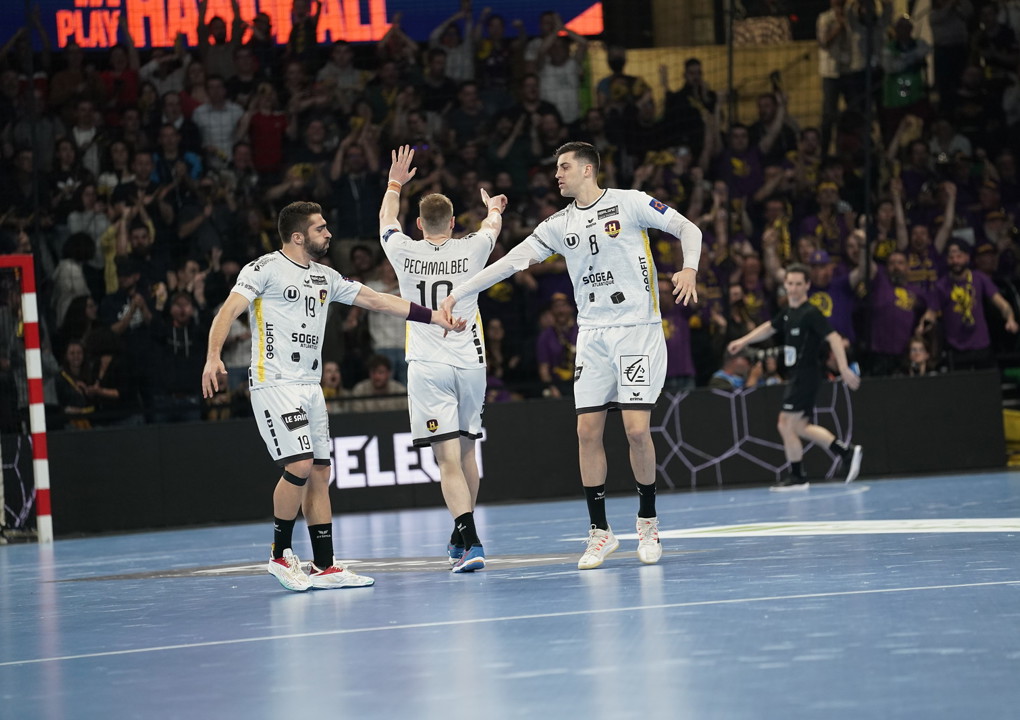 Summary: Nantes beat Füchse; Magdeburg draw in first leg
23:15
Wow, the Last 16 certainly has lived up to its billing in the first leg tonight, with some close matches, some big wins, some surprises - but great handball entertainment overall. The second leg awaits us in seven days!
Here ends our coverage for tonight. Thanks for joining us and we leave you as always with the best pictures from all matches in our gallery:
























23:11
Watched one match and missed what happened in the others? Here are the match reviews covering everything you need to know:
23:06
Alberto Entrerrios was "satisfied" after the 25:24 win from his Nantes over Füchse:
We didn't start well in the game but came back thanks to our mentality. Both goalkeepers were amazing. We are happy with this one-goal advantage before the second game. A two- to three-goal lead was possible, but we are satisfied.

22:41
The first leg of the Last 16 is over and all 16 teams know what they have to do next week in order to make it to the quarter-finals.
Here is the overview of all the results from tonight:

22:26 | RESULTS
> Irun vs GOG 28:30 (12:13)
> Nantes vs Füchse 25:24 (10:12)
> Sporting vs Magdeburg 29:29 (16:13)
> Toulouse vs Benfica 38:34 (17:20)
Well done to Nantes, who were 17:14 down with less than 19 minutes on the clock but in the end edge Füchse for a one-goal win. If it will be enough, remains to be seen next week in Berlin.
Also, titleholders Magdeburg are made to sweat heavily in Portugal and come from three down at the break to take a draw against Sporting.
A 13-goal outing from Petar Djordjic keeps Benfica in the race, as their defeat in Toulouse is limited to four goals in the match with the most goals of the night.
And GOG start the return game against Irun next week at home with a two-goal buffer, making the Danish side a strong favourite to take the next step. Jerry Tollbring once again decisve for GOG, with 10 goals this time.
22:16
Nantes meanwhile lead Füchse but they were still a few goals behind when Théo Monar did this:
22:09
Wondering about that "great save" by Jannick Green I mentioned at 21:53? Here you go:
22:07
Nantes coach Alberto Entrerrios having a look at the score against Füchse: 19:19. We are in for an exciting finish in France!

21:59
Elsewhere, at Toulouse vs Benfica, a lesson to always keep an open eye for your teammate:
21:53
10 minutes into the second half and we are back at level terms in Portugal (after a great save by Jannick Green): Sporting 19, Magdeburg 19.

21:46
Quick look over the shoulder to the first half in Portugal:
21:42
Let's hear from the winning coach of Velenje, Zoran Jovičić, after their surprise 29:22 triumph over Nimes:
The result is good, but everything remains open. We have got a re-game next week. For us, this game is a great experience, we played above expectations. We have a tough game in France in a week's time and we have to prepare well.
21:36
Before we head back to the four matches running, read what happened earlier tonight:

21:26 | HALF-TIME SCORES
> Irun vs GOG 12:13
> Nantes vs Füchse 10:12
> Sporting vs Magdeburg 16:13
> Toulouse vs Benfica 17:20
The defending champion in troubles: Sporting lead Magdeburg by three goals. The other German side, however, have withstood the pressure of Nantes so far and lead by two.
21:20
Team timeout Magdeburg: Worrying times for Magdeburg coach Bennet Wiegert as Sporting going three goals up shortly before the break. The defending champions face a true challenge - just as expected!

21:16
It is the expected difficult night for Magdeburg, who are two down (13:11) with five minute left and have just seen Sporting goalkeeper Yassine Belkaied save a penalty. Party in Portugal so far!

21:03
Visiting Nantes, Füchse have the more efficient start - and a quick 7:3 lead. Three goals from Hans Lindberg.

20:58
Just your ordinary first goal of the match...:
20:53
Also Magdeburg have a tricky Last 16 draw, facing Sporting. Remember that one Portuguese-German encounter this season went the Portuguese way, when SL Benfica defeated Rhein-Neckar Löwen in the qualification for the group phase. 

20:50
There has been a lot of talk about HBC Nantes against Füchse Berlin - two teams that could go all the way this competition. Read what David Balaguer had to say before the match in this interview:
20:39
We had a breath-taking opening to the Last 16 - but don't go anywhere! The next four games start in just a few minutes:
Irun vs Gog
Nantes vs Füchse
Sporting vs Magdeburg
Toulouse vs Benfica
So, that is two times France, two times Germany, and two times Portugal in the late session, completed by a team from Spain and one from Denmark. Good stuff!

20:29
And this is what it means to Velenje to beat Nimes by seven goals:
20:21 | RESULTS
> Lemgo vs Plock 28:31 (15:13)
> Velenje vs Nimes 29:22 (15:12)
> Nexe vs Pelister 29:26 (12:10)
> Kadetten vs Sävehof 32:26 (13:14)
Plock edge ahead of Lemgo in the closing stages to take a three-goal lead into the return leg next week.
In the other three matches, the hosts take the win, most notably in Schaffhausen, where Kadetten 'win' the second half against Sävehof 19:12 to take a six-goal buffer to Sweden next week.
Also, Velenje have a strong showing to add to the woes of Nimes, which have changed coach after the weekend; and Nexe come out on top in the Balkan derby but will be wary of the return game next Tuesday.
20:12
Team timeout Lemgo: Plock have been more consistent in the last couple of minutes and built a 31:27 lead. Not too much time left for coach Florian Kehrmann to help the German side get a more favourable result ahead of the return leg in Poland next week.

20:10
Croatian history repeating itself:
19:59
And while we have been focussing mainly on Lemgo against Plock, note a stunning turnaround in Switzerland, where Kadetten were behind at half-time but are now leading Sävehof by six (!) goals: 26:20. Samuel Zehnder, I mentioned him before, the big scorer again for Kadetten, with eight so far.
19:54
This tie could go down to the wire next week: nothing is separating Lemgo and Plock tonight. A physically intense battle, and Plock - at the moment - just one in front: 22:21 halfway through the second half.

19:47
Velenje keep going against Nimes and now lead by five: 18:13. Impressive stuff from last season's European Cup semi-finalists. Domen Tajnik has scored five so far, and Aljaz Panjtar is excelling in goal.

19:37
One of the best goals from the first half came from Sävehof:

19:29 | HALF-TIME SCORES
> Lemgo vs Plock 15:13
> Velenje vs Nimes 15:12
> Nexe vs Pelister 12:10
> Kadetten vs Sävehof 13:14
Three times the host are in the lead, one time the visitors, as Sävehof edge ahead in Schaffhausen in the closing seconds. All matches tight with all to play for in the second half.
19:09
Elsewhere, Velenje are 12:9 up (three goals by Ibrahim Haseljic) against Nimes, the biggest lead in any of the four matches started at 18:45 CEST.
19:04
Some magic from Michal Daszek here:
19:02
Well, add a 6:1 run to my previous post and Lemgo are now leading 8:6..! Lukas Zerbe, nephew of
European champion and current Füchse sports director Volker Zerbe, their best scorer so far with three goals.

18:55
Plock enjoying the better start in Germany, leading Lemgo 5:2 within 10 minutes.

18:47
We are off and running! Remember you can watch four matches at the same time live on EHFTV with that brilliant multi-screen function.

18:26
We love regional derbies and the clash between Balkan sides RK Nexe and HC Eurofarm Pelister is certainly one to look forward too.
Both teams also reached the Last 16 last season - but both went out at that stage, too. So, who will go one step beyond this time?
18:19
Kadetten Schaffhausen are one of the teams who started their journey in the first qualification round, meaning tonight's match is already the 15th of their European season. They finished just one point behind group winners Nimes, led by prolific goal scorer Samuel Zehnder, who netted 61 times in the group phase.
IK Sävehof finished second in group C, seven points off the lead (Magdeburg), and also had one player reaching the 60-goal mark: Elias Ellefsen á Skipagøtu. Sävehof played Kadetten once before, but their meetings in the EHF Champions League 2011/12 group phase are more than 10 years ago. Anyway, they both clearly won their respective home game back then.
18:07
Germany has had a subscription to the title in Europe's second-tier club competition for ages, and it has three teams left in the competition this season. We will get to Füchse and Magdeburg later tonight, first up are TBV Lemgo Lippe - and they face a huge task.
Orlen Wisla Plock made it all the way to the inaugural EHF Finals last year and have also been impressive in their current campaign, beating Füchse to the the No. 1 spot in group A.
17:59
Velenje sneaked into the knockout phase by securing fourth spot in group C in the final round of the group phase; Nimes ended up on top of that incredibly tight group D. Hard to predict this one, especially interesting to see if that change of coach will affect the game of Nimes.
17:55
The countdown is on: less than an hour until the Last 16 throws off in Slovenia, Germany, Switzerland, and Croatia. This is coming up at 18:45 CEST:
Velenje vs Nimes
Lemgo vs Plock
Kadetten vs Sävehof
Nexe vs Pelister
16:55
The knockout phase certainly marks a new start for USAM Nimes Gard. The French side won that tight group D in the EHF European League and are set to play RK Gorenje Velenje in the Last 16 tonight, but have been less successful in their domestic Starligue, where they are only ranked in eighth position.
Following their big 33:23 home loss to Montpellier HB last weekend, Nimes and head coach Franck Maurice have parted ways with immediate effect, and Yann Balmossière is taking over. The former centre back and team captain played 10 years for Nimes (1997-2007) and has been working as a coach with the club since 2009.
16:28
Tonight, group phase achievements count for nothing anymore. No matter how many goals you scored in those 10 rounds over the last few months and how many points you gathered, or in what position you finished: everyone starts at zero again when the knockout phase throws off.
You have two matches to earn your quarter-final ticket, and it all starts at 0:0. 
16:11
We started the group phase with 24 teams, we are now 16. This means business! All 16 teams want to get to the quarter-final, only eight of them will make it.
Read the preview of the first leg of the Last 16:
16:00
Good afternoon, welcome to the knockout phase of the EHF European League Men 2021/22!
It is the first leg of the Last 16 tonight. From now on, it is make or break for the 16 teams that are still in the race for the EHF Finals Men 2022 on 28/29 May.
We throw off at 18:45 CEST and here is the playing schedule: