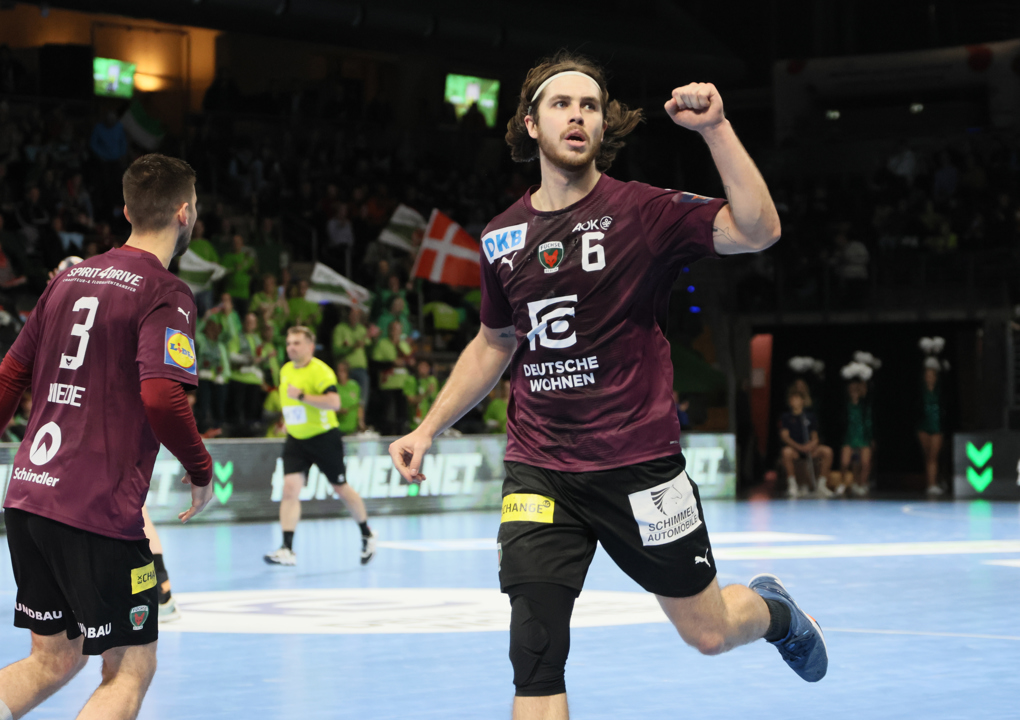 Füchse Berlin dominant ahead of Last 16
After 120 matches, the thrilling group phase of the EHF European League Men 2022/23 concluded. Teams from 11 nations are confirmed for the Last 16, and no games between two teams from the same country can happen before the EHF Finals Men in Flensburg (27/28 May).
Here are more facts and figures of the group phase, in which Füchse Berlin scored a new record.
0 teams from the same country will meet in the Last 16 and the quarter-finals
1 former European League winner – 2022 champions SL Benfica – are still in the competition. Inaugural first winners SC Magdeburg play in the Machineseeker EHF Champions League and have qualified for the quarter-finals
1 debutant in the competition is part of the Last 16: Danish club Skanderborg-Aarhus, founded in 2021
1 city – Portuguese capital Lisbon, as in 2021/22 – is represented by two clubs in the Last 16: Benfica and Sporting CP
1 club is part of the EHF Champions League Women and the EHF European League Men: FTC from Hungary. Both teams made it to the knock-out stage of their respective competitions. In the European League, FTC is the only team to have got to the knock-outs from qualification round 1
2 teams which were part of the EHF Finals 2022 are still in the competition: defending champions Benfica and fourth-ranked RK Nexe
2 former Cup Winners' Cup winners have qualified for the Last 16: Bidasoa Irun (1997) and SG Flensburg-Handewitt (2011, 2012)
3 former Champions League winners are still part of the competition: Montpellier (2003, 2018), Irun (1995) and Flensburg (2014)
3 of the Last 16 participants have been part of the EHF FINAL4 in Cologne: Berlin, Montpellier and Flensburg
3 countries represent the group winners: Germany (Berlin and Flensburg), France (Montpellier) and Croatia (Nexe) – none of them won their groups last season
3 defeats in 30 matches was the final outcome for the three German clubs
4 former EHF Cup winners are part of the Last 16: Fraikin BM. Granollers (1995, 1996), Flensburg (1997), Frisch Auf Göppingen (2011, 2012, 2016, 2017) and Füchse Berlin (2015 and 2018)
5 clubs which previously played in the EHF Cup Finals are still part of the competition: Montpellier (2014); Berlin (2014, 2015, 2017, 2018, 2019); Göppingen (2013, 2016, 2017, 2018); Skjern Handbold (2015); and Granollers (2016)
6 teams which were part of the Last 16 in 2021/22 are back again: Portuguese sides Sporting and Benfica, Nexe, Irun, Berlin and Kadetten Schaffhausen
7 teams in the Last 16 started their journey in qualification round 2: Montpellier, Nexe, Flensburg, Irun, Skanderborg-Aarhus, Göppingen and Sporting
8 teams in the Last 16 were directly seeded to the group phase: Benfica, Schaffhausen, Ystads IF, Granollers, Skjern, Berlin, HC Motor and Valur
8 of the 120 group matches ended in draws
9 matches were attended by more than 3,000 fans, topped by three home matches in Berlin – against Skanderborg (4,700), Motor (4,595) and HC Eurofarm Pelister (4,517)
11 of 120 group matches ended with a margin of 10 or more goals
11 different nations are still represented by the 16 participants of the knock-out stage – the same number as in the last season. Germany still have three teams in competition; Portugal, Spain and Denmark two; while France, Iceland, Sweden, Switzerland, Hungary, Ukraine and Croatia have one Last 16 participant each. Compared to 2022, North Macedonia, Slovenia and Poland are out, Iceland and Hungary are in. Three nations which were part of the group phase 2022/23 are out: Austria, North Macedonia and Slovakia
17 times there were at least 70 goals in a group match
17 goals was the biggest margin in a single group phase match, when Göppingen won 40:23 at Fejer Veszprem – the re-match ended with the second biggest margin of 16 goals (46:30)
20 points – the maximum – were won by Füchse Berlin, who are the first team since the introduction of the European League to have this clean record
42 goals in a single match was the lowest score in the group phase, when Presov beat Fejer Veszprem 22:20
56 times in the group phase the home teams were victorious, 46 times the away sides won
59 times 60 or more goals were scored in a group match
+77 goals was Berlin's goal difference, an average of 7.7 goals per match. Göppingen finished on +49 goals, ahead of the third German team Flensburg (+47)
82 goals were scored in the highest-scoring match between Valur and FTC (43:39), ahead of 77 goals between Eurofarm Pelister and Füchse (34:43), and 76 goals in the duels Göppingen vs Veszprem (46:30) and Montpellier vs Schaffhausen (40:36)
85 goals were scored by Ihor Turchenko, the top scorer of the group phase – 30 per cent of all HC Motor strikes. He leads Odinn Thor Rikhardsson (Kadetten/67); and Bence Nagy (FTC) and Jonathan Svensson (Ystad), both on 66 goals
266 goals were conceded by Berlin to have the best defence ahead of Göppingen (274) and Skanderborg (276)
343 goals from Berlin was the best attacking performance, ahead of Valur (338) and Montpellier (330)
7,256 goals were scored in the 120 games in the group phase for an average of 60.4 goals per game
Top 3 of the group phase
Points
20: Berlin
17: Flensburg
16: Nexe, Montpellier and Göppingen
Attack
343 goals: Berlin
338 goals: Valur
330 goals: Montpellier
Defence
266 goals conceded: Berlin
274 goals conceded: Göppingen
276 goals conceded: Skanderborg
Goal difference
+77: Berlin
+49: Göppingen
+47: Flensburg
Highest-scoring matches
82 goals: Valur vs FTC 43:39
77 goals: Eurofarm Pelister vs Berlin 34:43
76 goals: Göppingen vs Veszprem 46:30
76 goals: Montpellier vs Schaffhausen 40:36
Lowest-scoring matches
42 goals: TATRAN Presov vs Veszprem (22:20)
47 goals: Granollers vs Nexe (25:22)
48 goals: Irun vs Motor 26:22
Biggest margins
+17: Veszprem vs Göppingen 23:40
+16: Göppingen vs Veszprem 46:30
+14: Berlin vs Aguas Santas Milaneza 34:20
+14: Nexe vs Balatonfüredi KSE 37:23
Top scorer
85 goals: Ihor Turchenko (HC Motor)
67 goals: Odinn Thor Rikharssson (Kadetten)
66 goals: Bence Nagy (FTC), Jonathan Svensson (Ystad)
Photos © Foto Laechler, Ingrid Anderson-Jensen, Kenny Beele