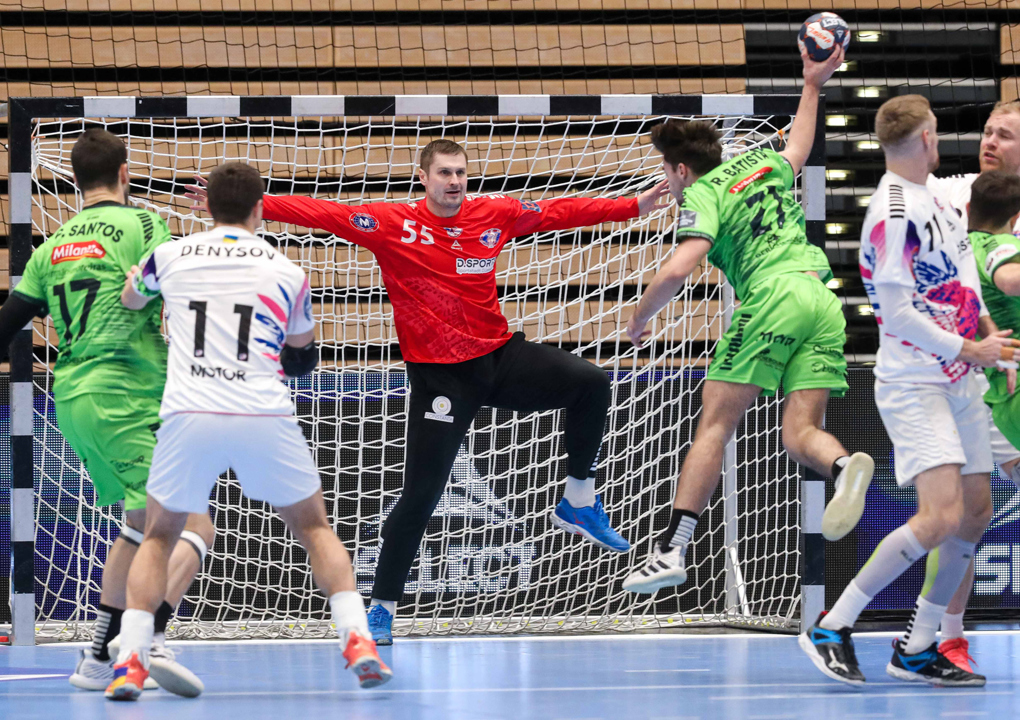 Komok: Thinking about home is very painful
When the second part of the EHF European League Men re-starts on Tuesday, HC Motor have a quite short trip to make as they face top team Füchse Berlin in the German capital.
Since last summer the Ukrainian champions found a new home - far away from their war-hit hometown - in Düsseldorf, Germany. Motor are part of the second German Bundesliga and compete in the European League, and most of the players are also part of the Ukraine national team, which is playing its EHF EURO 2024 qualification home matches on German ground.
Motor and Ukraine goalkeeper Gennadii Komok is one of the most experienced players in head coach Gyntaras Savukynas's squad. After playing for local rivals ZTR Zaporozhye for a long time, he joined Motor in 2015 – and since then has also been a cornerstone of the national team.
Like all his teammates, Komok left Ukraine last year after Russia's invasion. They first arrived to Großwallstadt with the national team, then moved to Düsseldorf. The city organised flats, training facilities and a playing hall for Motor, to help the players, staff and their families to have as normal a life as possible.
"We have been able to settle very well in Germany and Düsseldorf over the past few months. We are accommodated in small but very comfortable apartments. The city of Düsseldorf has managed that many of us live in the same buildings, so our families can also spend time together. We do a lot together in our free time," says Komok.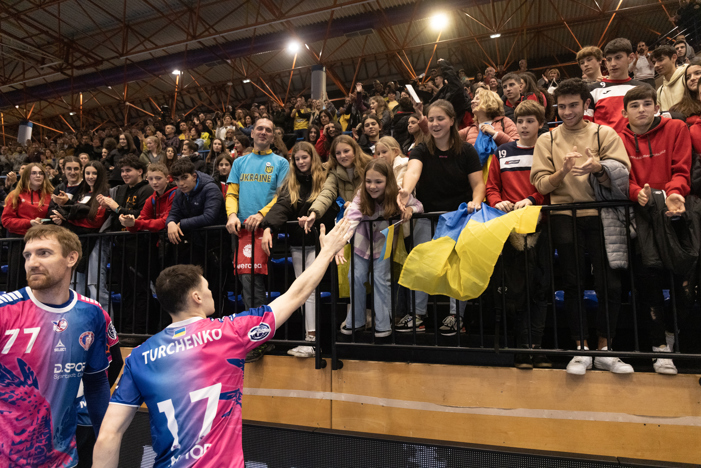 But when not playing or training on the court, the heads and minds of the players are with friends and relatives in Zaporizhzhia, a city hit extremely hard by the Russian invasion.
"Most of our teammates have relatives in Ukraine. We are in contact with home every day via FaceTime, Skype or at least via WhatsApp. Many of us often think of home. We're still trying to focus as best we can, but: The way you feel when there's war in your home country is very painful," says Komok.
But the help from outside and the support from their families makes life a bit easier for the Motor players.
"Family and friends here in Düsseldorf give us a lot of cohesion and support us every day in what we do. And from a handball point of view we were getting better and better over the past few weeks," Komok thinks.
"We have gained experience in the second German Bundesliga and we had a good run right before the winter break. Now we are looking forward to the second half of the season, in which we hope to give a better picture than in the first half of the year," says the Motor goalkeeper.

In the EHF European League, Motor took three points against Portuguese side Aguas Santas in the last two rounds, and currently are only two points below HC Eurofarm Pelister and fourth place in group D, which means that a spot in the Last 16 is still in sight.
"We will do everything we can to keep improving our performance and win as many games as possible. In a competition like the EHF European League, every single game is enormously important – and even more every single win," adds Komok.
The goalkeeper knows that the re-start in Berlin, facing unbeaten leaders Füchse including World Championship MVP Mathias Gidsel, is potentially the highest hurdle to cross.
"We will do everything we can to do and as possible. Berlin have many top players. At some positions, there aren't many players around the world who can compete with them. Nevertheless, we will go there with confidence and make the game as exciting as possible for the spectators and for ourselves," Komok concludes.
Photos © Kenny Beale, HC Motor / Bidasoa Irun