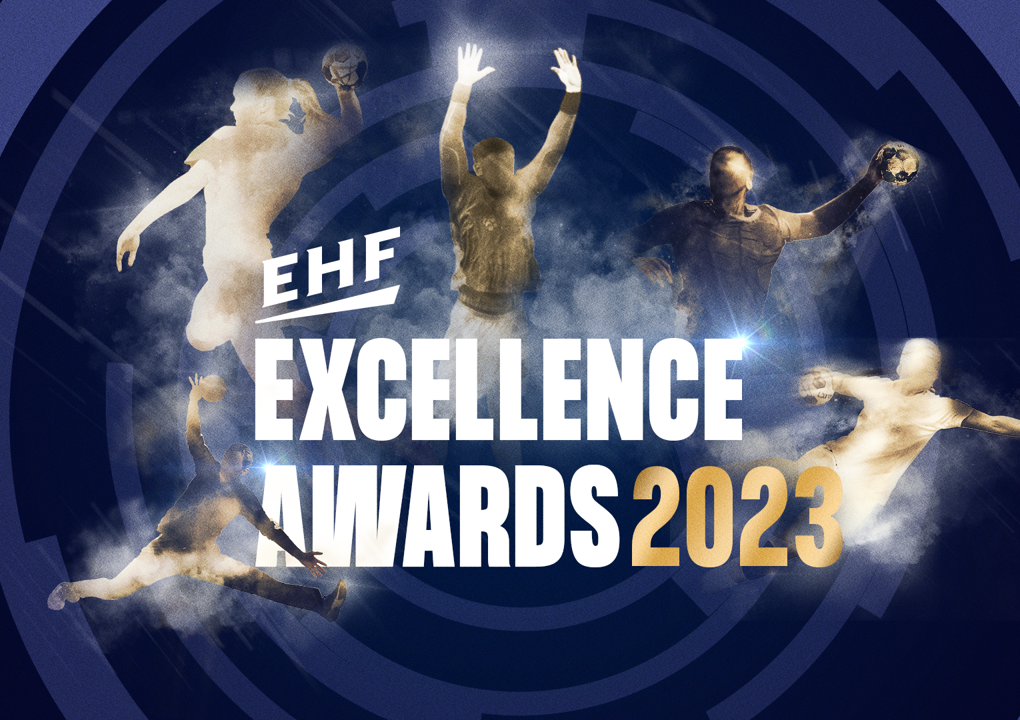 Male nominees for EHF Excellence Awards announced
While the female nominees for the EHF Excellence Awards are already known and the vote to find the best among is in full swing, the nomination process for the season's best male players was still in progress.
With only the EHF Finals Men in Flensburg and the TruckScout24 EHF FINAL4 in Cologne left to play, nominations have been closed and the male candidates for the EHF Excellence Awards have been chosen.
__PRESENT
The Awards – for both men and women – honour the best players in each position: Best goalkeeper, left wing, left back, centre back, right back, right wing and line player plus best defender and rookie of the season.
The seven playing positions and the best defender can be voted for, and players, coaches, selected media as well as fans can participate in the vote with each group's votes accounting for 25% of the overall result for every position.
The fans' vote will be conducted via the 'Home of Handball' app. The vote for the male players starts on 26 May; the vote for the female candidates runs until 25 May.
From the seven playing positions and the best defender a season MVP, the Player of the Year, will be selected. The best beach handball athletes receive a dedicated award, ensuring an additional aspect of European handball is covered.
The EHF Excellence Awards Gala Night will take place on 26 June 2023 in Vienna.
Male players nominated for the EHF Excellence Awards 2023
Left wing
Sebastian Barthold - NOR / Aalborg Håndbold
Timur Dibirov - RUS / HC PPD Zagreb
Angel Fernandez Perez - ESP / Limoges Handball
Lukas Mertens - GER / SC Magdeburg
Lovro Mihic - CRO / Orlen Wisla Plock
Valero Rivera Folch - ESP / HBC Nantes
Milos Vujovic - MNE / Füchse Berlin
Left back
Mykola Bilyk - AUT / THW Kiel
Antonio Garcia Robledo - ESP / Fraikin BM Granollers
Rasmus Lauge - DEN / Telekom Veszprem HC
Elohim Prandi - FRA / Paris Saint-Germain Handball
Simon Pytlick - DEN / GOG
Sander Sagosen - NOR / THW Kiel
Szymon Sicko - POL / Barlinek Industria Kielce
Centre back
Luka Cindric - CRO / Barça
Igor Karacic - CRO / Barlinek Industria Kielce
Gisli Kristjansson - ISL / SC Magdeburg
Nedim Remili - FRA / Telekom Veszprem HC
Diego Simonet - ARG / Montpellier HB
Luc Steins - NED / Paris Saint-Germain Handball
Aleks Vlah - SLO / RK Celje Pivovarna Laško
Right back
Alex Dujshebaev - ESP / Barlinek Industria Kielce
Mathias Gidsel - DEN / Füchse Berlin
Dainis Kristopans - LAT / Paris Saint-Germain Handball
Emil Madsen - DEN / GOG
Dika Mem - FRA / Barça
Kay Smits - NED / SC Magdeburg
Faruk Yusuf - NGR / Fraikin BM Granollers
Right wing
Niclas Ekberg - SWE / THW Kiel
Blaz Janc - SLO / Barça
Hans Lindberg - DEN / Füchse Berlin
Arkadiusz Moryto - POL / Barlinek Industria Kielce
Bogdan Radivojevic - SRB / OTP Bank - Pick Szeged
Ferran Sole Sala - ESP / Paris Saint-Germain Handball
Hákun West Am Teigum - FAR / Skanderborg-Aarhus
Line player
Ludovic Fabregas - FRA / Barça
Johannes Golla - GER / SG Flensburg-Handewitt
Victor Iturizza Alvarez - POR / FC Porto
Lukas Jørgensen - DEN / GOG
Artsem Karalek - BLR / Barlinek Industria Kielce
Veron Nacinovic - CRO / Montpellier HB
Kamil Syprzak - POL / Paris Saint-Germain Handball
Goalkeeper
Ignacio Biosca Garcia - ESP / Orlen Wisla Plock
Benjamin Buric - BIH / SG Flensburg-Handewitt
Viktor Hallgrímsson - ISL / HBC Nantes
Niklas Landin Jacobsen - DEN / THW Kiel
Gonzalo Perez de Vargas Moreno - ESP / Barça
Tobias Thulin - SWE / GOG
Andreas Wolff - GER / Barlinek Industria Kielce
Best defender
Blaz Blagotinsek - SLO / Frisch Auf Göppingen
Alexandre Cavalcanti - POR / HBC Nantes
Matej Gaber - SLO / OTP Bank - Pick Szeged
Tomasz Gebala - POL / Barlinek Industria Kielce
Thiagus Petrus Gonçalves dos Santos - BRA / Barça
Simon Hald Jensen - DEN / SG Flensburg-Handewitt
Henrik Møllgaard Jensen - DEN / Aalborg Håndbold
__PRESENT