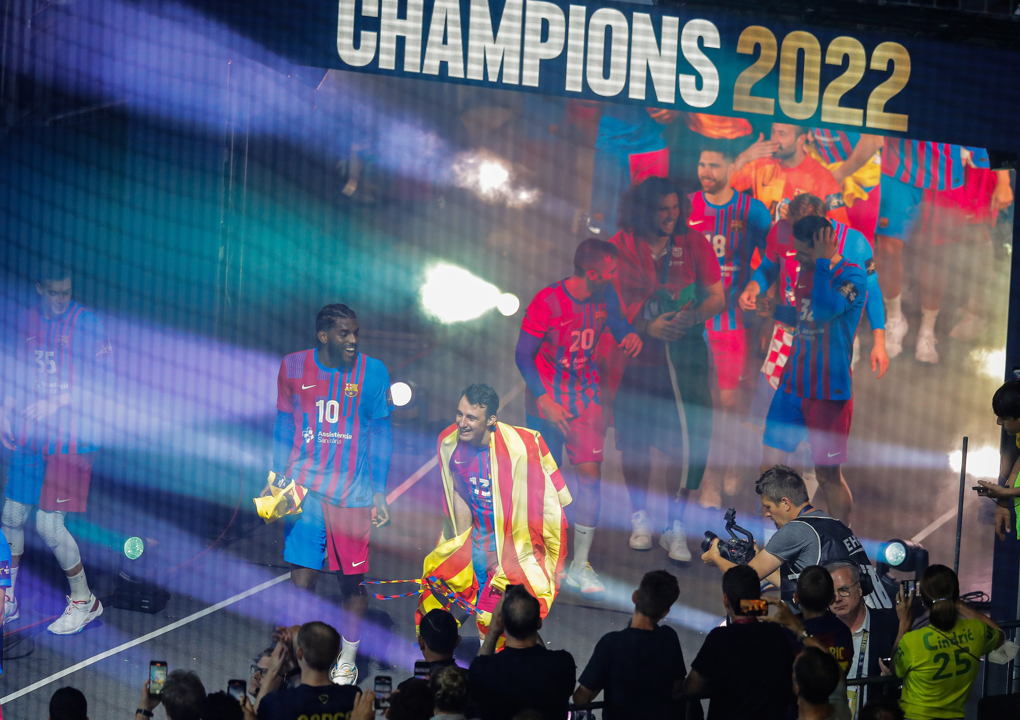 Spectacular season-end sets tone for the new men's club campaign
The EHF men's club competitions season came to a spectacular end last weekend, with an unforgettably dramatic final day in front of a wild crowd in Cologne.
Barça survived a penalty shootout in the final against Lomza Vive Kielce and became the first club to defend the title in the EHF FINAL4 Men era. It was the 10th EHF Champions League trophy for the record winners, who won in front of a packed crowd at LANXESS arena, which was sold out for the first time since 2019.  
There was also drama beyond the 60 minutes at the EHF Finals, the second edition of which took place in Lisbon.
A thriller in an outstanding atmosphere featured 70 intense minutes with two video replays and 79 goals, culminating in the 'Miracle of Lisbon'. SL Benfica dethroned SC Magdeburg and became the first Portuguese winners of the EHF European League Men.

There was another fairy tale finish in the third-tier competition as Norwegian team Nærbø IL wrote history by claiming the EHF European Cup Men trophy in their debut season on the continental stage.
Nærbo had won the first leg against CS Minaur Baia Mare 29:25 at home and confirmed their aggregate advantage by claiming a 27:26 victory in Romania, becoming the first Norwegian men's club to claim a title since 1996.
The 10 teams competing for the trophies in the three finals came from eight different countries: Poland (two), Germany (two), Spain, Hungary, Portugal, Croatia, Norway and Romania

EHF Champions League group phase draw on 1 July in Vienna
The EHF Executive Committee will confirm the final line-up for the EHF Champions League Men 2022/23 on 27 June. During the EHF FINAL4 Men in Cologne on 18/19 June, the EXEC decided that the suspension of Russian and Belarusian clubs from all EHF competitions will continue.
The official start for the new EHF Champions League season will already take place on Friday 1 July, when the group phase – also for the women's competition – will be drawn at the EHF office in Vienna.
See the list for the place distribution for the 2022/23 European Cup season.
Important dates of the men's EHF club competitions 2022/23 season:
21 June 2022: deadline for final club registration for participation in the EHF Champions League Men 2022/23 as well as for all teams which request an upgrade to the EHF Champions League
27 June: Confirmation of EHF Champions League Men 2022/23 participants
1 July 2022: Draw EHF Champions League Men - group phase
5 July 2022: Deadline for final club registration for participation in the EHF European League Men 2022/23 and EHF European Cup Men 2022/23 and incl. clubs (registration) which request a possible additional place/upgrade/downgrade
12 July 2022: Publication of the participating teams in the EHF European League Men and EHF European Cup Men
19 July 2022 at 11:00 CEST in Vienna: Draw of the EHF European League Men and EHF European Cup Men – first playing round(s)
27-28 August 2022 - first matches in the EHF European League  Men qualification
10-11 September 2022 - first matches in the EHF European Cup Men 
14-15 September 2022 - Round 1 of the EHF Champions League Men group phase
25 October 2022 - Round 1 of the EHF European League Men group phase
27/28 May - 3/4 June 2023 - final legs of the EHF European Cup Men 
27-28 May 2023 - EHF Finals Men 2023
17-18 June 2023 - EHF FINAL4 Men 2023