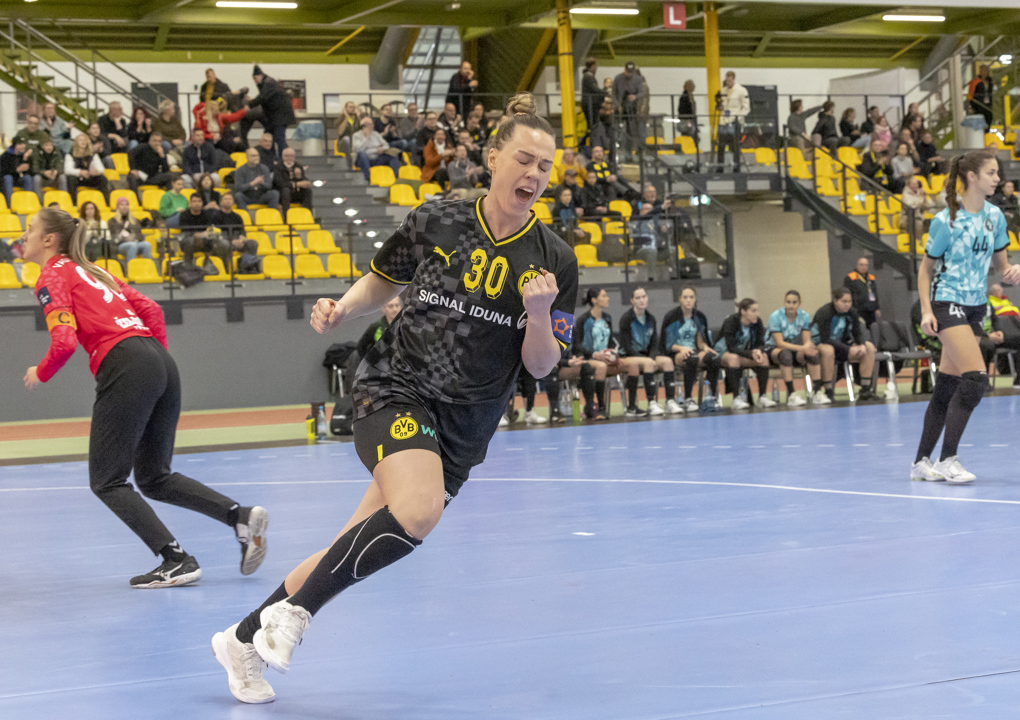 Dortmund and Vác storm into group phase
Dortmund and Vác are the first two teams in EHF European League Women 2022/23 qualification round 3 to progress to the group phase after winning their doubleheaders at home against Zeleznicar and LC Brühl, respectively. The other 10 ties will be decided next weekend, as last season's finalists Viborg HK are on the brink of elimination against fellow Danish side Nykøbing Falster Håndbold.
While Dortmund and Vác secured their coveted placed in the group phase with straight forward wins, some of the other ties will go down to the wire in the second leg.
with German right wing Meret Ossenkopp scoring 14 times, Dortmund clinched a berth for the group phase with a clear 74:37 aggregate win over Serbian side ZRK Zeleznicar-Indjija
Vác qualified for the group phase for a third season in a row, taking a 68:55 aggregate win against LC Brühl Handball, with back Csenge Kuczora scoring 11 times
Nykøbing took an all but decisive 34:21 win against domestic rivals Viborg HK, the hosts and losing finalists of the EHF Finals Woman 2022
four teams secured away wins in the first leg and are now favourites to progress to the group phase: 2021 champions Les Neptunes de Nantes, SCM Ramnicu Valcea, Thüringer HC, and Sola HK all clinched clear wins this weekend
four teams have been seeded directly for the group phase: Denmark's Ikast Håndbold, Hungary's DVSC Schaeffler, France's Paris 92, and Norway's Molde Elite









Many ties are left with all to play for in the second leg
Hungary are the first nation with more than one participant confirmed for the group phase – and they will likely end up with at least three teams. Vác have already joined directly seeded DVSC, while Siófok KC are on the cusp of qualification following a 33:24 first-leg win against Romanian side Magura Cisnadie. Motherson Mosonmagyaróvári KC are also in with a decent chance, having beating Romanian side SCM Gloria Buzau 29:26.
Norway are also likely to have three teams in the group phase: apart from Molde, both Fana and Sola HK won their first-leg matches last weekend against Buxtehuder SV (28:21) and Rocasa Gran Canaria (32:29), respectively.
Romanian side SCM Ramnicu Valcea are also on the brink of progressing to the group phase for the second season in a row, after their 31:24 win against H 65 Höörs HK.
Arguably the most interesting second-leg games will be played in Croatia, after experienced side HC Podravka Vegeta only managing a draw in Poland against MKS Zaglebie Lubin, 24:24. vari KC, and between ES Besancon Feminin and Super Amara Bera Bera, with the Spanish champions losing the first leg 29:32.
EHF European League Women 2022/23 qualification round 3
BV Borussia 09 Dortmund (GER) vs ZRK Zeleznicar-Indjija (SRB) 74:37 on aggregate (43:22 and 31:15)
Praktiker-Vác (HUN) vs LC Brühl Handball (SUI) 68:55 on aggregate (30:26 and 38:29)
Nykøbing Falster Håndbold (DEN) vs Viborg HK (DEN) 34:21
Siófok KC (HUN) vs CS Magura Cisnadie (ROU) 33:24
Fana (NOR) vs Buxtehuder SV (GER) 28:21
VfL Oldenburg (GER) vs Neptunes de Nantes (FRA) 27:34
ES Besancon Feminin (FRA) vs Super Amar Bera Bera (ESP) 32:29
Rocasa Gran Canaria (ESP) vs Sola HK (NOR) 29:32
H 65 Höörs HK (SWE) vs SCM Ramnicu Valcea (ROU) 24:31
MKS Zaglebie Lubin (POL) vs HC Podravka Vegeta (CRO) 24:24
Motherson Mosonmagyaróvári KC (HUN) vs SCM Gloria Buzau (ROU) 29:26
IK Sävehof (SWE) vs Thüringer HC (GER) 22:30