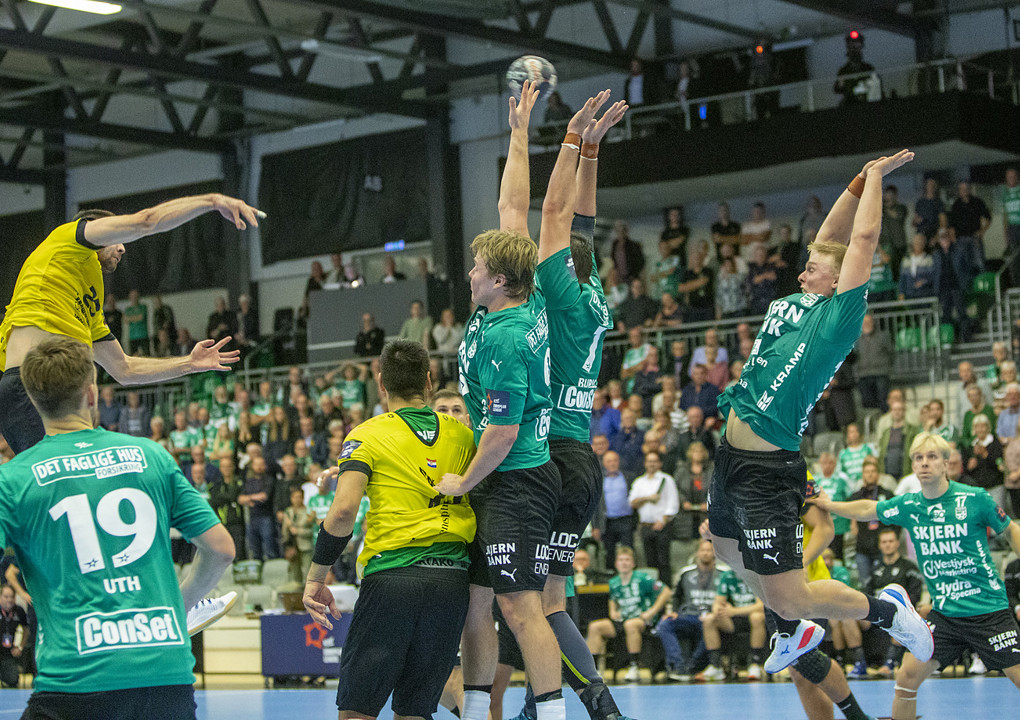 Severec's last-minute shot secures Nexe's win over Skjern
In the debutants' clash, Granollers had an easy trip to Hungary and after a strong performance by Pol Valera Rovira, they are the early group leaders. The winner between Nexe and Skjern was decided in a nail-biting finish by a rocket from Tomislav Severec, while Sporting take the second spot in the group with another offensive display from young talent Francisco Costa.
GROUP C
Balatonfüredi KSE (HUN) vs Fraikin BM. Granollers (ESP) 25:30 (12:15)
Granollers celebrated their comeback to the European competition with a clear 30:25 win over Balatonfüredi KSE, their third consecutive against Hungarian teams. The Spanish side opened the match with a 5:0 run and their opponents  could not catch up despite all their efforts. Even though Balatonfüredi had a few good moments, closing the gap to only three goals at half-time, Granollers pulled away in the second half, reaching the match's biggest lead of nine-goals. A good start to the match was achieved by the strong performance of Rangel Rual da Rosa between the posts who ended the match with 15 saves at 38% efficiency. He was followed by his teammate Pol Valera Rovira who scored 14 times out of 16 attempts.
Pol Valera Rovira, Granollers: We deserved it and we had prepared very well which is a pride for the team.
Skjern Handbold (DEN) vs RK Nexe (CRO) 29:30 (14:14)
In a thrilling finish, Tomislav Severec's rocket of a shot from ten metres secured Nexe's win at the start of the season after Skjern's attempt on the line failed in their final attempt for a draw. It was a close game, with both teams making comebacks and turnovers. With only 15 minutes to go and trailing by three, the goalkeeper Robin Paulsen Haug stepped into the game and made crucial saves, allowing for Skjern's final comeback and nail-biting finish. With 20 seconds to go, one man down and one last shot, Tomislav Severec made the jump of the night to secure the first points of the season. Halil Jaganjac's departure from the team may be a big loss, but Tomislav Severec and Luka Moslavac netted 13 times combined from the left-back position, proving they are up for the job.
Borna Manci, RK Nexe: We succeeded to stop their counterattack and our goalkeeper helped us a lot today. We are very happy right now
Sporting CP (POR) vs Alpla HC Hard (AUT) 31:30 (18:18)
Sporting have never lost a game at the start of the EHF European League Men, and it was no different this time around. Alpha Hard gave their best and were even holding onto a lead for 20 minutes before the home team put in a strong defensive display and opened up a five-goal lead, which shattered in the final minutes. Hard's top scorer in qualification Luca Raschle continued on the same path, keeping his team close to their opponents by netting six times without a miss. As the final whistle was approaching, Hard were playing better and could have taken their first point in the competition if there was more precision in the attacking areas. Francisco Costa netted seven times and Manuel Gasper's 12 saves made the two of them the standout names for Sporting.
Manuel Gaspar, Sporting player: It was important to enter with a victory. It wasn't our best game, but we won.