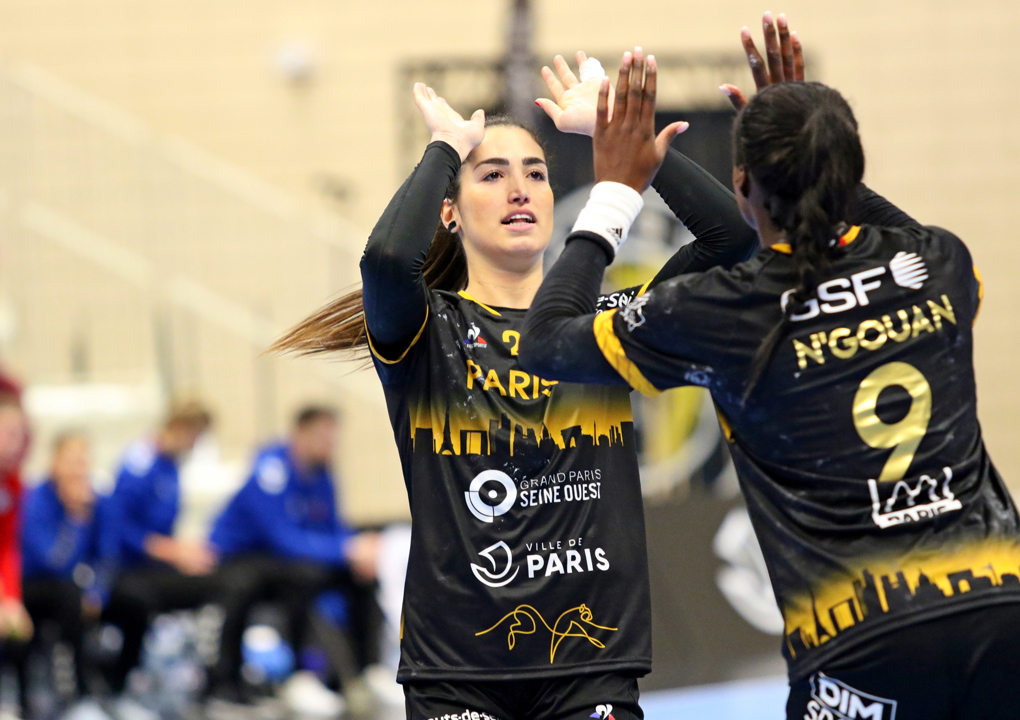 Siófok and Paris stand the heat
After Besancon and Sola on Saturday, Ikast, DVSC and Thüringer HC each took their second victories in their second group matches on Sunday - and all in away games. On another note, Siófok and Paris stood the pressure in thrilling games to avoid their second defeat.
GROUP A
Siófok KC (HUN) vs BV Borussia 09 Dortmund (GER) 27:24 (13:11)
After their clear 21:30 defeat at Besancon in round 1, Siófok had already been under pressure, but the Hungarian side stood the heat in a true thriller against Dortmund. A late double strike from top scorer Tamara Mavsar - top scorer with ten goals - prevented Siófok from another defeat. Despite an intermediate 19:15 and 20:16 advantage, the hosts could not cast off the visitors, for whom Emma Olsson scored eight times. After the 3:2 scoreline, Siófok did not trail anymore, but could permanently feel Dortmund's breath on their necks. Three minutes before the end, the gap had melted to 25:24, but when Mavsar struck for the hosts and Sara Garovic failed on Dortmund's side, the victory was sealed - followed by Mavsar's tenth tally in the last minute. Both sides now have two points on their account, being each two points below unbeaten side of Besancon.
I'm very happy that we could win two important matches this week. Today we were in control, I could rotate the squad which helped a lot. Our defense was the key of the victory. The atmosphere was really good, we can not wait to play again.
GROUP B
Fana (NOR) vs Ikast Handbold (DEN) 24:35 (15:15)
After Sola's away victory at Nykøbing on Saturday, Denmark took revenge in the second Scandinavian duel. After a real close first half, in which the hosts turned a 7:10 deficit into a 12:11 advantage, Ikast took the upper hand after the break. Boosted by the ten saves of goalkeeper Jessica Ryde and the seven goals of Trine Mortensen, the Danish side pulled ahead easily, while the European Cup debutants from Norway were chanceless in the last 20 minutes. The crucial period of the game was Ikast's 5:0 run from 21:19 to 26:19, as Fana did not score any goal within eight minutes, followed by another 4:1 run for the first double-digit lead at 30:20. Ikast now have the optimum of four points on their account after their surprising clear 30:20 win in the opener against Nantes, while Fana still wait for their first point in the group phase. The best scorer of the hosts was Celine Solstad with seven strikes.
I´m pretty happy with our performance in the second half, not so much with the performance in the first half. We did too many mistakes in the first half, and we allowed Fana to stay in the game.
GROUP C
HC Podravka Vegeta (CRO) vs DVSC Schaeffler (HUN) 20:26 (7:11)
Like Sola on Saturday against Nykøbing, DVSC took their second group phase victory in the same number of matches. And the Debrecen-based side did not have any problems in doing so - Podravka's only lead in the whole match was 1:0, then the visitors took full control in a first half lacking goals. Striking twice after the break to lead 13:7 was the foundation for the never endangered victory. The biggest gap was eight goals at 23:15 in minute 54. Podravka lacked precision and efficiency in scoring - though the DVSC goalkeepers only combined for eight saves. Debrecen's Alexandra Töpfner was top scorer by seven goals, more than a quarter of all DVSC strikes.
I am very proud of my team. They did a great job today, defense was excellent. We knew that Podravka is a great team and that they can play very good defense, but we were also good. We had some problems in the attack in the first half but it was better in the second half. Congrats to my team one more time
GROUP D
Paris 92 (FRA) vs SCM Ramnicu Valcea (ROU) 24:22 (10:10)
After nine unbeaten matches in the Romanian league and EHF European League, Ramnicu Valcea lost for the first time since October - despite a great comeback in a crazy finish. Paris had lost their group phase opener at Thüringer HC, therefore needing a win to remain on course for the quarter-finals. But most of the time - and expectedly - Valcea were a tough nut to crack. Boosted by 12 saves of goalkeeper Lea Serdarevic and six goals from Déborah Lassource, the hosts were constantly ahead from the 39th minute (16:15) onwards. Paris entered the winners' rown in their strongest period, pulling ahead to 24:19 in minute 50. But after this strike by Lara Gonzalez, Paris missed all their seven chances until the end, and were lucky that Valcea only managed to score three times. Like Lassource, Iryna Glibko scored six goals from 11 attempts. Both sides are on two points by now.
Praktiker-Vác (HUN) vs Thüringer HC (GER) 28:34 (13:21)
Thüringer HC remain on track for the quarter-finals after their second victory, while Vac are still on zero points. The German side never were down in the whole match, and Vac were only quite close until minute 22 - then THC extended the gap by a 6:0 run from 14:11 to 20:11 and had already broken the resistance of the hosts. Right after the break, the difference reached double digits for the first time at 23:13 - then THC easily cruised towards their next win, remaining ahead by at least seven goals. Best scorers for the hosts were Nikolett Marincszak and Csenge Kuczora with eight goals each, Nikoline Lundgren and Sonja Frey each scored seven times for the victors.