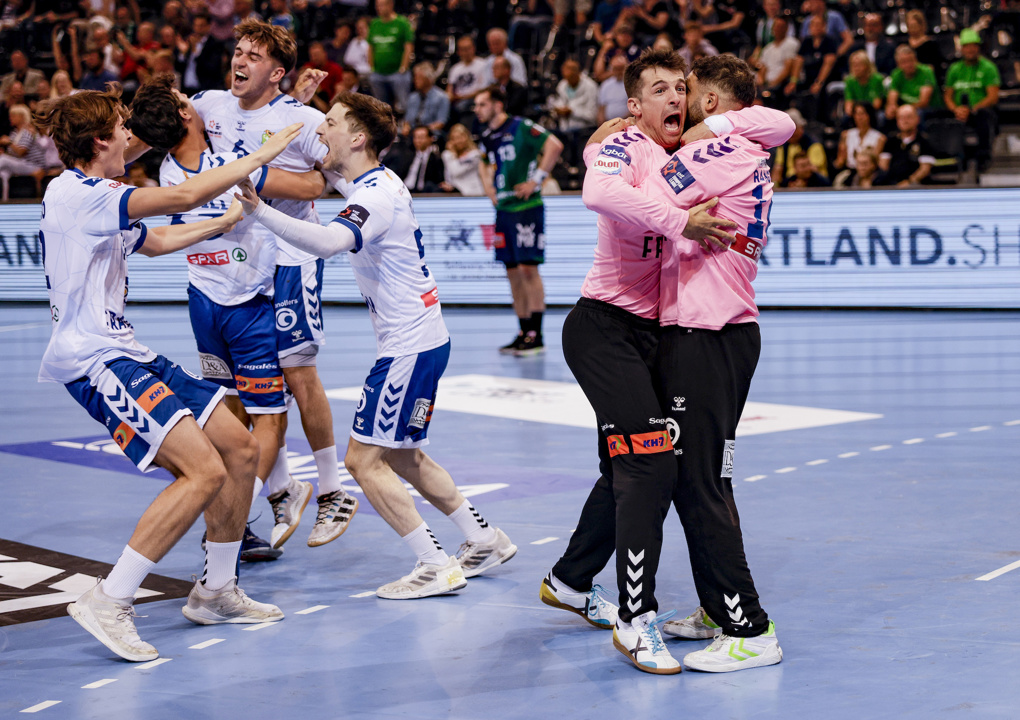 Granollers shock Göppingen and make history
Fraikin BM. Granollers remain unbeaten in Flensburg and make history: After winning the second leg of the quarter-final against SG Flensburg-Handewitt in Campushalle in April, the Spanish side beat Frisch Auf Göppingen in the second semi of the EHF Finals in the same place, 31:29.
Two strong goalkeepers, an extremely high efficiency in counter attacks, the goals of Jan Gurri and Antonio Garcia Robledo and never ending will to win decided the match. Finally, Gurri's ninth strike with the final whistle made the fans, staff and team jump for joy. 
On Sunday, Granollers will face Füchse Berlin in the battle for the trophy — as the first Spanish finalists in a second-tier European cup competition since BM Aragon in 2007. Göppingen will lock horns with Montpellier in the 3/4 placement match.  
SEMI-FINAL
Fraikin BM. Granollers (ESP) vs Frisch Auf Göppingen (GER) 31:29 (16:18)  
the German side had a perfect start (5:2), but goalkeeper Rangel da Rosa woke Granollers up with some impressive saves. His side intermediately turned the match around, although their last advantage before the break was at 11:10
while Göppingen scored from almost all positions before the break and took a deserved 18:16 lead after 30 minutes of high-speed play, Granollers' focus was on the left side, as Jan Gurri (five) and Antonio Garcia (four) combined for more than half of their goals 
after the break, Göppingen missed many chances when Granollers were short-handed, and the match remained on the edge. Both fan corners created a great atmosphere far away from home 
still backed by their goalkeepers da Rosa and Marc Guardia, the Spanish side remained extremely efficient in counter attacks, while Göppingen had to fight much harder for every goal 
as the German side did not find their rhythm and were put under extreme pressure by the Granollers' defence, the Spanish team again turned the match around and pulled ahead 25:23 
even a 3:0 run from Göppingen did not shock Granollers — they simply continued in their style, now scoring from their right side thanks to Faruk Yusuf and Sergi Franco 
90 seconds before the end of this semi thriller, Esteban Salinas netted for 30:28, immediately followed by a Frisch Auf timeout and a score of 30:29. Finally, Gurri netted the winners' strike 
An incredible season for Granollers  
They finished third in their group, lost both home matches in the knockout stage — and now made it to the final of the European League. "We are the underdogs in all matches in Flensburg," said Granollers coach Rama Garcia on Friday. "We have nothing to lose here." Exactly this relaxed attitude now propelled Granollers to the final against Berlin.
They were not shocked after a weak start, they always fought back when they were down, their defence caused many problems for Göppingen, and in attack they counted on youngster Gurri and veteran Garcia Robledo.
For the first time since 1996, Granollers have made it to an international final — and when they made it that far, in 1995 and 1996, they won the trophies. Göppingen simply caused too many mistakes in attack to make their final dream come true.  
Photos: kolektiff/Axel Heimken
I am very, very happy for this result, for the club and the history of the club. It was a very tough match and hard for us. Göppingen have powerful players who are difficult to defend. In the second half, we defended better than before. Our goalkeeper Rangel [da Rosa] helped us and we could run a lot and run more and score better. My players are so young, but today, they played like experienced players.