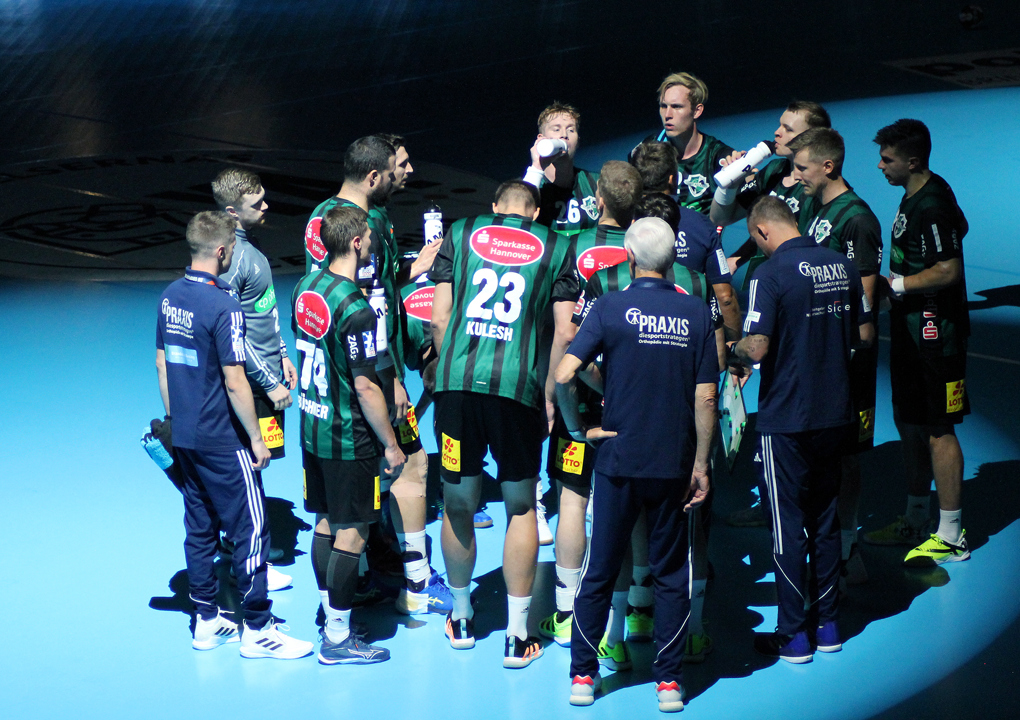 Humble warriors hope for more trips throughout Europe
When the final whistle of the 2022/23 season of the German Bundesliga was blown, the "Recken" ("warriors") from Hannover had won their big fight. By finishing the last three league matches victorious, including a spectacular win at former EHF Champions League winners SG Flensburg-Handewitt, head coach Christian Prokop and his team TSV Hannover-Burgdorf had finished sixth and snatched the last ticket for the EHF European League Men from HSV Hamburg and MT Melsungen.
"Qualifying for an EHF European Cup competition is like winning the Bundesliga trophy for us," states manager Sven-Sören Christopherson, a former German international. Hannover are back after their first participation in the EHF Cup in 2012/14 and 2018/19. "Recken" now are only one step away from the group stage after winning the first leg of the qualification at Swedish side Ystad 33:28; the second leg will follow on Saturday in Hannover.
"We took the reward for a great final stage of the season. We deserve to play at the European level. Every year it gets harder to make it to EC competitions, as the league in Germany gets balanced more and more," says Renars Uscins. The 21-year-old right back was Hannover's best scorer in the first leg in Ystad with nine goals: "As our regular right back Branko Vujovic was injured, I had to jump in. It went quite well. I felt confident and I was well-integrated by the team."
Like most of his Hannover teammates, the qualifier at Ystad was the first-ever European Cup match for Uscins who had started his career in the youth and junior teams of current Champions League winners SC Magdeburg. In Spring 2023, the player with Latvian roots moved to Hannover, and in between the last Bundesliga round and the qualifier at Ystad, Renars Uscins had the highlight of his career up to now: Two years after winning the U19 EHF EURO with Germany, he took the gold medal on home ground at the U21 World Championship by beating Hungary in the final – both as captain of the German team.
"Those were two brilliant weeks; we were flying on the wings of success, and we stood the pressure of being the favourites," as Uscins looks back. After a short break, he and his U21 Recken teammate Justus Fischer (All-star Team member as best line player) returned to "normal handball life": "The re-start was easy, both of us had a lot of fun returning to club level. Now we have to confirm our performances and develop further. That's why it would be great to continue on the international level to gain experience in Europe. This is what we fight for on Saturday."
Even for his coach Christian Prokop – German men's national team coach from March 2017 until February 2020 – the match at Ystad was something special: it was the first-ever European cup match in his career as player or coach. "Many memories of my matches as national team coach arose, it felt great to be back on the international stage. It filled up really well."
Finally, his side even had the chance to take a bigger advantage than the 32:27 victory: "Intermediately we were ahead by seven, eight goals, but Ystad have a really strong team with many top talents. They fought well, and therefore we have to be aware on home ground, especially if they speed up," says Prokop, definitely not sure that his side is already through to the group stage: "It is only halftime. We are ahead by five goals, but the overall decision will happen in the second half. It is our huge goal to continue at the European level, but currently we have not won anything yet. We want to have more trips abroad. Therefore, we have to give 100 percent," he concludes.
After starting the season victorious by winning at Erlangen in the Bundesliga and at Ystad, the confidence is high at Hannover: "We have had a great first week, but if we lose twice in the second week, it was worth nothing," says Prokop.
Talking about his super talents Fischer and Uscins, who both extended their contracts at "The Recken" for several years, the coach is optimistic that they will forge their way: "Justus and Renars are in the spotlight now as world champions, the Bundesliga opponents focus more on them. This is what they have to cope with and learn from. They will need some time, they need to have constant improvement. I hope we make the next step by qualifying for the group phase, then they get more matches and more chances to develop on the highest level."
The first week of the season was thrilling and enduring for Uscins, who improved from zero goals in Erlangen to nine at Ystad: "It was a new experience for me to play on a Thursday night, then enter the plane on Friday and play a European cup match less than 48 hours after our Bundesliga match. But we made a good step towards the group phase, we have to be humble and focused and then go through the gate. It is challenging to face a team you never played before, and it is different to play at the European level." By looking towards the re-match against Ystad, Uscins shares the humbleness of his coach: "Ystad showed last weekend how quickly they can score three goals in a row. We have to be aware from the start to the end, then I am sure that we make it," as he finishes his interview.