SUMMARY: Metz and Esbjerg take key victories; Vipers win MOTW
Round 11 of the EHF Champions League Women 2022/23 begins with five matches on Saturday, including the MOTW between defending champions Vipers Kristiansand and SG BBM Bietigheim. A further three games take place on Sunday with group B leaders Metz Handball in action against WHC Buducnost BEMAX.















18:20
We end our coverage of round 11 with the match reviews from today - and check out the match highlights on YouTube! 
Next week, the Match of the Week goes to Germany as Bietigheim host CSM Bucuresti - the German side need a win, as the race for sixth place in group A is pretty tight. Keep an eye out for our round preview and features during the week as we build up to the next eight games.
18:00
Poll time!
As you can see from the group standings, CSM Bucuresti and Vipers Kristiansand in group A, and Metz and Györ in group B, are currently poised to reach the quarter-finals and avoid the play-offs. Assuming they do so, that puts them in a strong position to reach the EHF FINAL4 Women in early June. But which of the quartet do you think is most likely to make it to Budapest? 
17:48
So a high-scoring round has come to a close. There are three group phase rounds left now - and still plenty to play for. Here are the results of the weekend:

17:42
Just in case we haven't covered the extraordinary Henny Reistad enough today, here's one of her best goals. Her ball control is so good!
17:35 | FULL-TIME
Buducnost battled until the buzzer, but Metz were just stronger throughout across the court - a little more efficient in attack, tougher in defence and with a slightly better goalkeeper in Hatadou Sako. Given, however, that Metz won 36:28 in Montenegro in round 4, the visitors should be proud of the way they took on the return leg. 
Metz go back to the top of group B; Buducnost stay fifth, three points clear of Storhamar. 
A big win for Esbjerg which puts them level on points with Rapid - they now both have 16 points, and Esbjerg have the superior goal difference. 
Henny Reistad is always good but today she was exceptional, scoring a huge 15 goals from 17 attempts, including only one penalty, and dishing out four assists. She's only two goals behind Cristina Neagu in the top scorer standings, which look like this:

17:25
Metz are five minutes away from regaining the top spot in the group, as they continue to hold off Buducnost. It's still a physical game and the visitors are being encouraged with passion by Bojana Popovic.
17:19
Both visiting teams are putting up very good fights to try and stay in the match. With Rapid producing a 4:0 run they closed up to 24:29, prompting a timeout from Jesper Jensen and Henny Reistad's 14th goal of the game. 
A shout-out here to Rapid's Spanish players, who were instrumental in their comeback - Jennifer Gutíerrez, Alicia Fernandez and Ainhoa Hernández have all been strong. 
17:07
A string of technical errors and fouls by Buducnost have been really costly since the start of the second half, and Metz took full advantage - they now lead 22:13 after just over 40 minutes, despite the best efforts of Armelle Attingré in goal.
17:02
Esbjerg now have an 11-goal lead over Rapid after an incredibly strong restart, powered again by Henny Reistad who's added three goals to her tally already. Carlos Viver has called a timeout, talking his team through the tactics they need to get back on track in both attack and defence. 
16:52
Off we go again - 30 minutes to decide the points in these two important matches!
16:38 | HALF-TIME
Metz remain on track to stay top of group B but Buducnost are not making things easy for them. Bojana Popovic's side is nothing if not determined, and they are battling hard against the strong French side.
Top scorers so far: Chloé Valentini, Kristina Jörgensen and Matea Pletikosic, who have all scored three times.
Esbjerg have won four out of their five home games so far this season and currently look like they'll add a fifth to that record. They know how important this match is - a win keeps them in the hunt for one of the top two places in the group - and they are piling the pressure on Rapid. Henny Reistad has been outstanding with eight goals from nine shots, and Amalie Milling has made seven saves (43.8 per cent). Currently Rapid can't match Esbjerg's pace and efficiency.
16:32
Metz are leading 13:9 and Hatadou Sako is definitely one reason. She's having a superb outing today, with seven saves for 43.8 per cent coming into the last five minutes of the first half.
16:26
It's a physical match in Esbjerg. Rapid, defending hard, lose Estavana Polman to her second two-minute suspension after she fouls Marit Jacobsen in the act of shooting. Nora Mørk takes the penalty; Ivana Kapitanovic, who's not having a brilliant day, saves it but Mørk catches the rebound and scores. Superb reflexes from the Norwegian superstar!
Esbjerg lead Rapid 13:10; Metz lead Buducnost 12:8.
16:20
Over in Metz, Buducnost are playing well and keeping pace with their hosts for the most part; Metz have a slender advantage, 10:8 after 16 minutes. It's notable how many Metz players have scored already (seven). 
Mind you, the teamplay by Buducnost is also very impressive.
16:17
Before today, Esbjerg's Henny Reistad - EHF EURO 2022 MVP, remember - was fourth in the top scorer standings, with 68 goals. She's on track to rise up those rankings today, with four goals already that have helped take Esbjerg out to a 10:6 lead over Rapid. 
Esbjerg goalkeeper Amalie Milling is just walking off after falling down following a particularly hard shot straight at her by Estavana Polman, who is suspended. Time for Rikke Poulsen to step in.
16:09
Not much in ether of these games so far - Metz lead Buducnost 5:3, and it's 3:3 in Esbjerg. 
16:00
Throw-off!
Metz and Buducnost all ran on for their introductions with young players as mascots, who were clearly loving the chance to run out with their heroes - what a way to inspire the next generation!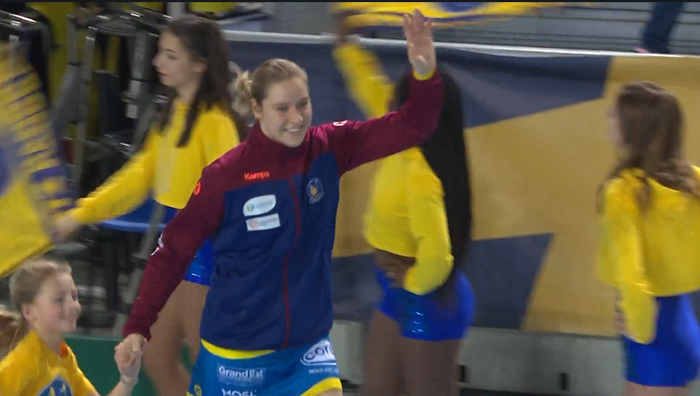 15:40
Six round 11 matches down, two to go ... you've got 20 minutes to pop the kettle on, grab a snack and be back for Metz vs Buducnost and Esbjerg vs Rapid, both at 16:00 CET!
15:24 | FULL-TIME
After a bit of a seesaw match, with both teams having ups and downs, it's Storhamar who take the points and significantly enhance their chances of the play-offs. With six points they are now in sixth, three points clear of Kastamonu, with three rounds to go.
While round 12 sees both sides face clubs who beat them comfortably in round 3, Storhamar can look forward to round 13 when they visit Zagreb for a match they will hope to win and thus seal their play-off spot.
15:16
Kastamonu are fighting hard, led by their Croatian line player Katarina Jezic and captain Serpil Iskenderoglu, and got back to just five goals down on Storhamar before the visitors steadied again to add two goals in a power play situation. Time is not on the hosts' side.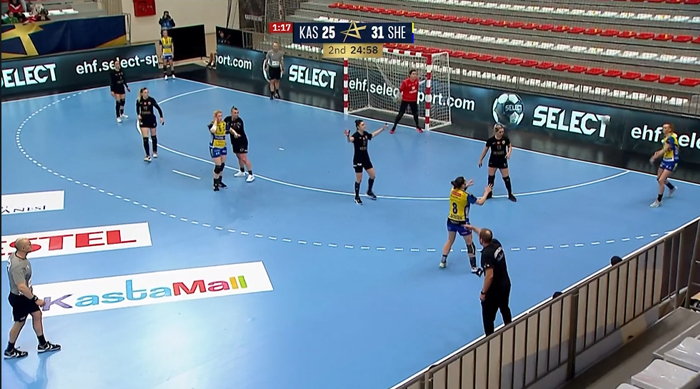 15:13
The clock ticks into the last 10 minutes and Storhamar have all but sewn this up; their lead is still seven goals despite a good run from Kastamonu and more saves from Merve Durdu. 
15:00
Kastamonu coach Claus Mogensen called a timeout at 14:21 and decided to switch to a seven-on-six strategy - always a risk, and so far one which hasn't paid off, as the score stretched out to 14:24. Right wing Simone Böhme nets to make it 15:24, but it's a long way to catch up still.
14:54
The second half has started; Storhamar scored first, and have just extended their lead to six after a good penalty taken by Anniken Obaidli.
Obaidli, incidentally, is the third of her family to take to the European courts this weekend. Yesterday her sisters Sherin and Mona featured for Molde Elite in the EHF European League Women, scoring five and six times respectively - although Molde were unable to beat a strong ES Besancon Feminin side. 
14:35 | HALF-TIME
KASTAMONU BELEDIYESI GSK 13:17 STORHAMAR HANDBALL ELITE
Perhaps not unsurprisingly, Storhamar haven't been able to sustain their initial high speed of play and Kastamonu profited to get back into the match. A strong finish to the second half have brought them back to just four goals and they could easily close up further if they sustain this level. The home team also made the most of their power play periods, scoring into the empty net.
But Storhamar do still lead, and some more saves like this one from Eli Marie Raasok could be key.
14:19
Kastamonu have settled into their game more now and are providing a more effective defence, backed up by an excellent Merve Durdu in goal. Storhamar lead 11:5, 17 minutes in.

14:08
After a timeout and another goal for Storhamar, Kastamonu veteran Mouna Chebbah scores her team's first goal, six minutes in. Storhamar, however, now lead 7:1 and have just earned a penalty.
14:04
Three minutes played, three easy goals for Storhamar, whose speed has been too much for Kastamonu to handle so far.
13:52
Our EHFTV coverage has started - so tune in there, or to your local broadcaster, and settle in for an afternoon of superb handball.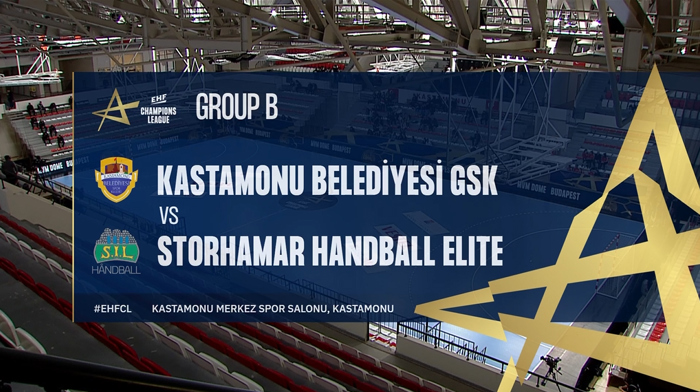 13:40
Later today, at 16:00 CET, the round concludes with two more group B games featuring the teams currently ranked second to fifth in the group.
Metz want to go top again with another win, to keep their one-point margin over Györ. To do so they need to beat Buducnost, who have had some solid performances of late although they have won just four matches out of the 10 played. 
Esbjerg welcome CS Rapid Bucuresti, knowing that they really need to win to keep their hopes of an automatic quarter-final spot alive. Rapid currently sit third with 16 points after an incredible debut season in the Champions League, while Esbjerg are fourth with 14 points.

13:15
Welcome back to our coverage of round 11 of the EHF Champions League Women 2022/23. Yesterday we had five great matches including a brilliant MOTW in which Vipers came back from two goals down against Bietigheim to win by two.
The round finishes today with three games, starting at 14:00 CET as Kastamonu host Storhamar. Last week the Turkish side drew 26:26 away at Zagreb, while Storhamar had a tough away game against Györ. Kastamonu's only win this season was against Zagreb in round 5, while Storhamar won their home game against the Turkish club 31:29, and also beat Zagreb back in round 2. At the moment, it looks as though one of these two teams will finish sixth and earn a play-off spot, while the other will be eliminated - so today's result could be critical. 
Today it's Storhamar line player Ane Cecilie Høgseth's 22nd birthday, so a win would certainly be a lovely present!













SATURDAY 14 JANUARY
20:25
That's all from us from the Champions League goalfest for tonight. Don't forget there are three more games on Sunday, and the blog will be back from 13:00 CET to get you up to speed on those encounters.
20:16
Five matches in round 11 were played today, and if you missed any moments, head to our YouTube highlights playlist. 
And check out the match reviews below - full of facts, stats and all the key information from every game.
20:05
And here are some thoughts from Ole Gustav Gjekstad. That really was an important win for Vipers, who showed class to stay firm against a strong Bietigheim side. The game should also buoy Bietigheim's mood for the final rounds, as it was one of their better performances recently, although they lost.
A very important win for us tonight, against a team that plays with high intensity and quality. Over the two matches against Bietigheim this season we have been challenged both in attack and defence. I want to thank my girls for their effort.
19:59
A couple of reactions from two outstanding right backs for Hungarian teams - FTC's Katrin Klujber, and Györ's Ana Gros. Both were their sides' top scorers tonight. 
Good team performance. Their defence was really aggressive in those opening 15 to 20 minutes but later on, we were able to find the right solutions by playing patiently in attack and waiting for the right opportunity. Our goalkeeper was also really good today and we in the end managed to secure new points. 
I am really proud of the team, I felt the fire in everyone's eyes before and during the game. We came here to fight, and we did until the end. We had a lot of good solutions on the attacking side, and clever finishes, so I think we can be pleased.
19:45
What a high-scoring day in the Champions League! Only three of the 10 teams playing managed fewer than 30 goals, and Brest and CSM both netted 40 or more. 
That meant some high-scoring individual performances too. But which of the top five scorers, who all struck nine or 10 times, stood out for you? Vote now!
19:32 | FULL-TIME
With a minute to go Vipers have their last timeout with a 33:32 lead, and it pays off as Ragnhild Dahl scores again to give them a crucial two-goal cushion which they ride into the buzzer. The home team avenge their 30:32 defeat to Bietigheim in Germany and extend the gap to Odense in third place in group A, making yet another quarter-final even more likely.
Anna Vyakhireva is named Player of the Match after a nine-goal outing; she was particularly key to Vipers' fightback in the second half, and added five assists. Ragnhild Dahl also scored nine goals, including all four of Vipers' penalties.
Another solid showing from CSM keeps them top of group A, now with nine wins and 18 points. They remain unbeaten at home this season.
Cristina Neagu scored 10 goals and has netted 85 in 11 games - she's on track to become the third player in history to score 1,000 EHF Champions League Women goals in the next round. 
Until Metz play tomorrow, Györ are back on top of the group B standings. Zagreb couldn't do much more than start strongly against the record champions, who now have 18 points. Ana Gros and Tena Petika both scored eight goals, while Silje Solberg was a rock in goal - making 15 saves (50 per cent).
That was Györ's 200th win in the EHF Champions League Women. They're the first side to hit that milestone!
19:20
Veronika Mala fouls Anna Vyakhireva as she shoots and they both go down. It's a penalty for Vipers, which Ragnhild Dahl scores - her seventh goal of the match. With every minute Vipers look a little more likely to hang on to their lead; Jana Knedlikova makes it 31:28 with just over five minutes to play.
19:15
CSM's Cristina Neagu is just five goals away from an all-time tally of 1,000 goals in the Champions League, and she's back on top of the top scorer standings for this season. Her efforts tonight have been decisive in giving CSM what is currently a 33:26 lead over Odense - although Odense have fought back from a bigger gap and there's still 10 minutes to play.
19:10
It's taking Bietigheim longer to find the goal on their attacks, and Vipers' defence has strengthened. 
Ole Gustav Gjekstad calls a timeout to talk tactics and ask for more space in the centre; he's calm and knows exactly what he wants his team to do. Victory is not assured, but Vipers look better than in the first half and when play resumes Jamina Roberts instantly scores to put them 27:25 up.
19:00
Vipers have regained the lead, and it's another timeout called by Markus Gaugisch. The home team look a bit more settled now, with some effective play from the likes of Anna Vyakhireva and Ragnhild Dahl.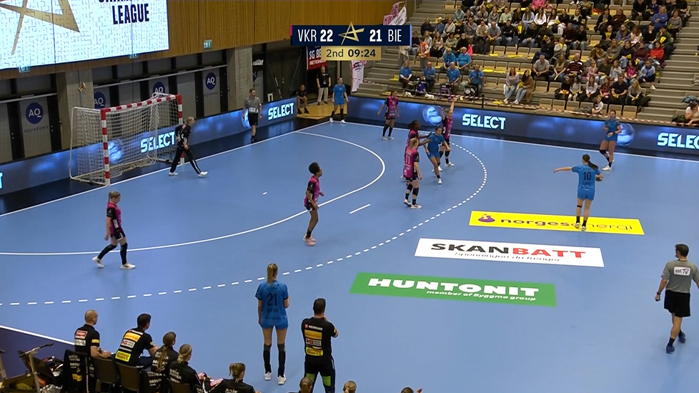 18:50
Before the MOTW we noted how important Katrine Lunde can be for Vipers; well, today's not really her day so far. Gabriela Moreschi, on the other hand, came in after Melinda Szikora started poorly for Bietigheim, and made some good saves. She's starting between the posts for the visitors as the second half gets underway.
18:42 | HALF-TIME
Last time these two met, Bietigheim won by two goals - and so far, that's the way things are going again. A particularly strong defence is proving effective for the visitors, and most of their squad have played a role so far in helping them to the lead at the break.
Vipers do have good experience, however, and this match is likely to go to the wire.
It's all smiles from CSM as they head to the dressing room with a very healthy lead. Odense can't compete with the combined force of the tournament's top scorer Cristina Neagu (seven goals so far) and top goalkeeper Marie Davidsen (seven saves, 38.9 per cent). 
Zagreb had a great start but the Györ machine then rumbled into gear and they gradually extended their lead. Silje Solberg is having the better day of the goalkeepers, which is definitely helping.  
18:33
In Zagreb, Györ now have control and will take a comfortable lead into the break - it's 13:8 right now. Ana Gros is top scorer, but this from Estelle Nze Minko is superb.
18:28
A timeout from Markus Gaugisch, just to tell his team to keep up what they're doing. They're playing fast and accurate handball and defending well against Vipers, and they currently have a handy 13:11 lead.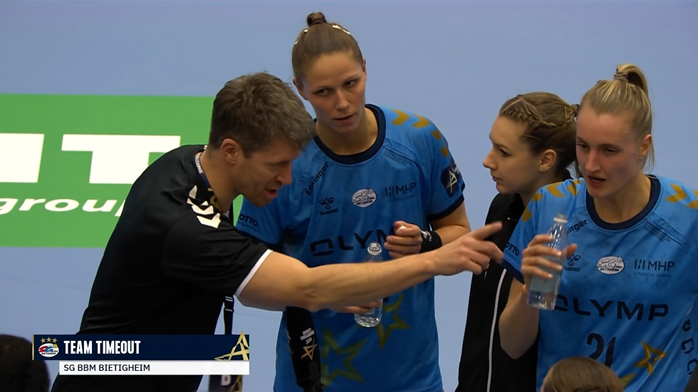 18:22
Some booing from the Vipers fans as Bietigheim are awarded a penalty, which Kim Naidzinavicius goes on to score. 
While Julia Maidhof has contributed more than half of Bietigheim's goals so far, it's a remarkably even team performance by Vipers with no single player standing out. This Anna Vyakhireva assist is pretty nice though!
18:16
"You have to wake up here," says Vipers coach Ole Gustav Gjekstad as he takes his first timeout. Vipers lead 7:6 but clearly Gjekstad is not happy with the current level of performance from his women. 
An update from elsewhere: Zagreb are putting up a great fight against Györ and the score is 5:7 right now to the visitors. CSM are leading Odense 9:6 and Cristina Neagu is already level again with Katrin Klujber in the top scorer standings, having netted four goals in less than 13 minutes.
18:08
It's a pretty even start in MOTW and a physical game is developing, with both sides defending hard. After seven and a half minutes, the score is 3:3.
17:55
Also about to throw off, we have CSM Bucuresti vs Odense, and Zagreb vs Györ. CSM have been superb so far this season and topped the power rankings in the Christmas break. They would create a five-point gap ahead of third-placed Odense if they win, putting them closer to the quarter-finals. Cristina Neagu needs to score four goals to go back in front of FTC's Katrin Klujber in the top scorer rankings, which, let's face it, is highly likely.
Györ currently sit second in group B, one point behind Metz. They beat Zagreb 32:16 in round 4 and must feel confident in their visit to Croatia, although the hosts drew with Kastamonu last week and will have taken a lot from that result.
17:45
Not long now until the Match of the Week!
Vipers and Bietigheim know each other pretty well. Bietigheim have the better record against the defending champions, with seven wins to five in their 12 previous matches including the encounter in Germany in October last year. Bietigheim won that one 32:30, but have struggled since then in the competition while Vipers have flourished. Vipers gained nine points from their last six matches and rank second in group A with 15 points; Bietigheim were in fourth place with 10 points before this round started. 
Several players on both teams have played five or six matches against the other side, including Vipers' goalkeeper Katrine Lunde. If she is on form, that will definitely boost the home team.









17:32 | FULL-TIME
Brest make a big statement with a performance that equals the second-highest score by one team in the EHF Champions League Women - that of Györ, also against Most, back in 2019 (46:21). The result puts them in sixth place in group A with nine points, one behind Bietigheim ahead of MOTW and two behind FTC after their win against Krim.
Itana Grbic is the only Brest field player not to find the net, and Helene Fauske ends as the team's top scorer with seven. Even goalkeeper Petra Marinovic got in on the action, scoring one goal and making nine saves.
But Adéla Stríšková is the top scorer overall, with eight goals for Most, and actually only two Most field players did not score, so everyone on court got a solid run-out. 
This is the end of Most's hopes of progressing further in the competition - they cannot now qualify for the play-offs.
FTC were strong from the start and didn't let Krim into the match, despite Daria Dmitrieva (10 goals) giving it a good go.
The home team were helped by a solid performance throughout from Blanka Bíro, who ended the day with 15 saves (37.5 per cent), as well as Katrin Klujber's 10 shots and the incredible connection between Angela Malestein and Emily Bölk. 
The win puts FTC up into fourth place in the standings, for now ...
17:20
Estel Memana scored her first-ever Champions League goals against Most in round 4, and she's added another two just now to give Brest their 40th and 41st goals of the match. Most, to give them credit, are still fighting and this is going to end up as a very high-scoring encounter.
Katrin Klujber has scored 10 now and is ahead of Cristina Neagu in the top scorer standings.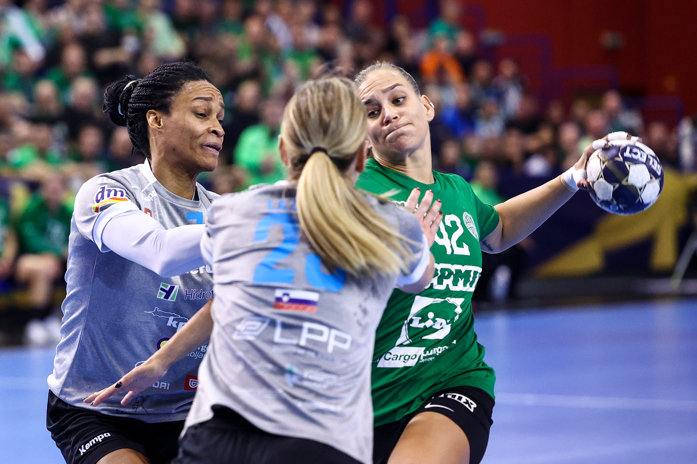 17:12
Angela Malestein and Emily Bölk are very much leading the FTC attack and both have perfect scores as we head towards the last quarter of the match - seven goals for Malestein, and six for Bölk. Meanwhile Katrin Klujber nets her seventh, and goes level with Cristina Neagu at the top of the top scorer standings for the tournament.
17:07
Both Brest and FTC are cruising in the second half, with 10-goal leads. In the Czech Republic, Pablo Morel is rotating his bench and giving opportunities to some of his younger players - such as 19-year-old right wing Siobann Delaye, who has scored two goals now.
16:54
We're underway again in both matches. 
Check out this superb assist from Emily Bölk from the first half in Hungary!
16:41 | HALF-TIME
Most's chances of their first win seem slim right now; Brest are running wild in Chomutov. It's very much a team performance by the French club, with nine of their field players scoring and four netting at least three times. Constance Mauny has netted four. Most left wing Adéla Stríšková also scored four times in the first half.
Brest's defence is holding strong too and goalkeeper Julie Foggea made 10 stops in the first half (41.7 per cent). 
FTC look good on home court today, but particularly key has been Blanka Bíro in goal - she's on a 47.4 per cent save rate. Although Daria Dmitrieva scored four times, five of her shots failed to go in, and Bíro also prevented one of Jovanka Radicevic's two penalty shots. Two points for the home team seem likely!
16:32
FTC's Katrin Klujber could easily end this match as the top scorer of the competition - she came in with 68 goals, but has added five already. Another two would put her level with Cristina Neagu on 75 in total.
16:23
FTC and Brest are both taking control of their matches, leading 13:5 and 13:7 respectively. Blanka Bíro is still performing at an insane level!
16:15
After 12 minutes, Daria Dmitrieva finally scores Krim's third goal. It's been tough for the visitors to get shots past Blanka Bíro who is on fire - five saves from eight shots in less than 13 minutes (62.5 per cent).
16:10
Having conceded six goals and scored just twice in less than eight minutes, Dragan Adžic takes a very early timeout to get Krim back on track. Remember, they do need a win here to help their chances of making the play-offs.
16:06
It's 4:2 to both home teams right now - a particularly good start for Most.
15:55
Just five minutes until throw-off - time to switch on your TV for your local broadcaster's coverage, or head to EHFTV. A reminder of the group A standings ...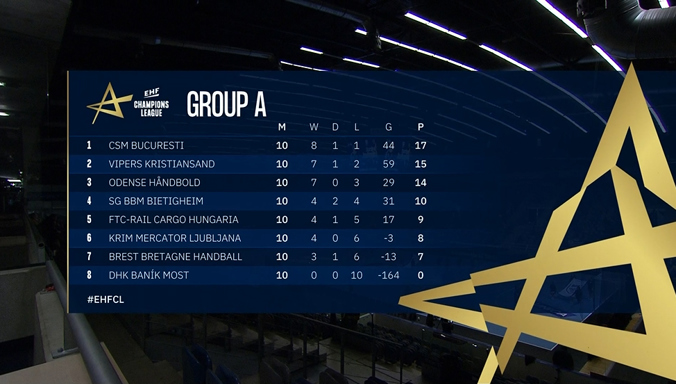 15:45
Also at 16:00 CET, DHK Banik Most host Brest Bretagne Handball. Most have lost every game, and will be mathematically out of contention for the play-offs if they lose today.
Back in October Brest beat Most 31:26 at home, and they do need another win to keep chasing the crucial sixth place in group A - currently, they sit seventh with seven points, while Krim have eight points in sixth and FTC are fifth with nine points.
With FTC vs Krim going on at the same time, those rankings could all change depending on the outcome of these two games. Exciting stuff!
15:35
First up today are two games from group A.
FTC-Rail Cargo Hungaria are playing their 295th Champions League match today and it's a potentially tricky clash with an improving Krim Mercator Ljubljana. The Slovenian club did not have a great start to the season, but they beat Brest Bretagne in France and Bietigheim at home in the last two rounds. 
In round 4, FTC won 32:30 in Ljubljana and you can be sure Krim want to take revenge in Érd this afternoon. Here's what the Krim coach Dragan Adžic had to say before the game.
We know the quality of FTC, I think out of all the teams we know them the best since last year's matches with them in the round of play-offs. I absolutely believe that we will be at a higher level than we were in the first game against them. I believe in the development of our team and character, so I believe that we will have a better game from our side.
15:20
Welcome to coverage of round 11 of the EHF Champions League Women 2022/23. It's hard to believe, but there are only four rounds left in the group phase and the race for the two automatic quarter-final places from each group remains very much alive.
Today's five games include a tantalising Match of the Week between Vipers and Bietigheim, which the German club need to win if they want to stay in the running for top two in the group. Meanwhile Györi Audi ETO KC could become the first club in history to record 200 Champions League wins if they can defeat Lokomotiva Zagreb in Croatia. We'll bring you all the coverage as the weekend progresses, starting with the round preview.