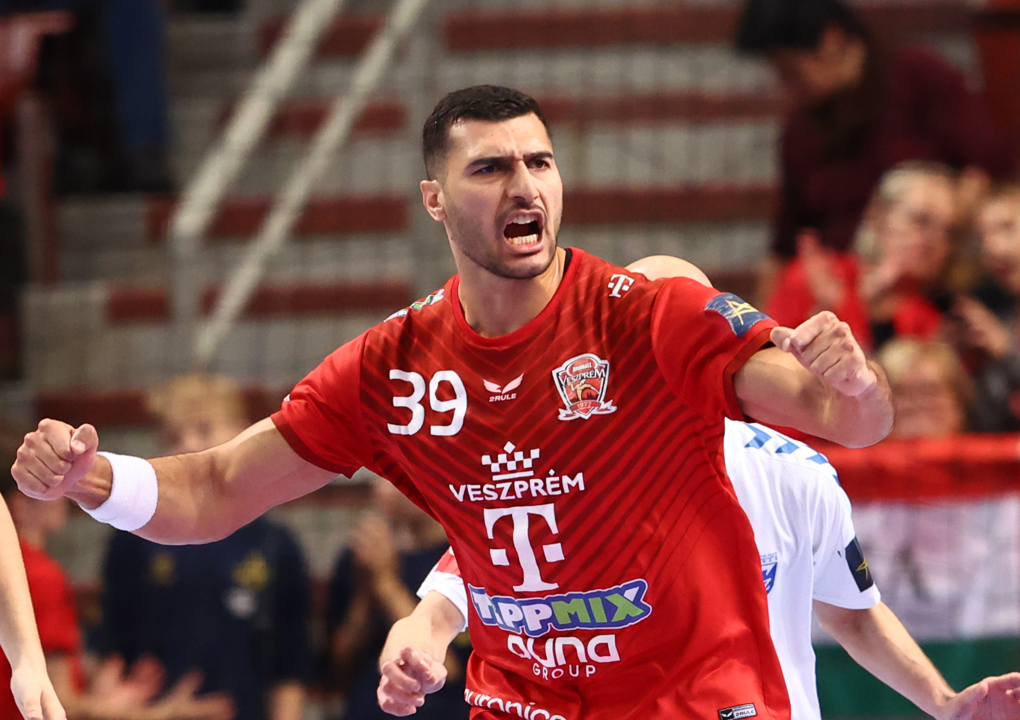 Elderaa eyes big break in second half of the season
During Roberto Garcia Parrondo reign as Egypt men's senior national team coach, they emerged as one of the best sides in the world, boasting a huge potential with excellent players coming into the squad.
Under Garcia Parrondo's guidance, several of those players shined in major international competitions as Egypt reached the quarter-finals of the IHF Men's World Championship and the semi-finals at the Tokyo 2020 Olympic Games.
The platform provided by the national team also helped convince club sides that Egyptian players could be called upon to deliver in Europe's elite club competition.
While left back Ali Zein and line player Mohamed Mamdouh play for Romanian champions Dinamo Bucuresti, centre back Yehia Elderaa is a rookie in the European premium competition, becoming more and more important for Hungarian giants Telekom Veszprém HC.
No time to dwell
At Poland/Sweden 2023, Elderaa became one of the most important players for Egypt, despite playing with a dislocated finger, he spent the most time on the court for the African side (six hours and 39 minutes) as only a handful of players had more playing time throughout the whole competition.
However, Egypt saw the seventh place they finished on at Poland/Sweden 2023 as a slight disappointment, especially after starting the tournament with five wins in a row before conceding a loss against Denmark in the final match of the main round and another loss against Sweden in the quarter-finals.
"It is a bit disappointing, sure, because we fought until the end in all matches and gave our all in these games. I think it was not written for us to finish higher, but as long as we gave it our all in this competition, as we put all our bodies on the line and fought for the team…this was the result," said Elderaa.
"It is a hard lesson to learn, a bitter pill to swallow, we had to suffer a lot and we will assess and reflect after the competition about what happened. We will see what lessons still need to be learnt and we will come back even stronger."
The 27-year-old centre back has been one of the top players for Egypt in the World Championship, being the second-best scorer, with 35 goals, six fewer than Ali Zein, and the top assists provider, setting up 32 goals, 10 more than other Egypt player in the competition.
But until Elderaa features again for Egypt, he will have to come back stronger for his club side, Telekom Veszprém HC, which is embedded in a tough battle for a quarter-finals berth in the Machineseeker EHF Champions League.
With only four matches left, the Hungarian powerhouse is second in Group A, with 16 points, tied with Paris Saint-Germain Handball and boasting a two-point advantage over SC Magdeburg, as the race towards one of the top two places, who ensure safe passage to the quarter-finals, is projected to go down the wire.
"It is now time to focus on my club team, there is not much time to think about what happened at the World Championship. But we are all professional players, we need to switch quite fast and it is a different setting. There are different goals, different players, different objectives, so we need to be focused," added Elderaa.
"This is why we play"
The first challenge for Veszprém will be the home match against GOG, the Danish champions which are boasting two world champions in their squad – left back Simon Pytlick and line player Lukas Jorgensen.
It will not be a walk in the park for the Hungarian side, regardless of their favourite status due to their home-court advantage, as Pytlick has been in superb form this season, earning a place in the All-Star team at Poland/Sweden 2023, while also scoring 58 goals in the European premium competition.
However, the Hungarian side has also been in good form since the restart of the domestic league, taking a 41:34 win in a friendly match against Csurgói KK, with Elderaa scoring four goals. Fellow Egypt right back, Yahia Omar, is also missing for Veszprém, as he also was a scratch from the World Championship team, due to a knee injury suffered in December.
"This is why we play handball, this is why we love the sport, therefore I am ready to achieve the objectives we set at the club level to become even better and better, even if the World Championship did not finish how I would have wanted for Egypt," concludes Elderaa.