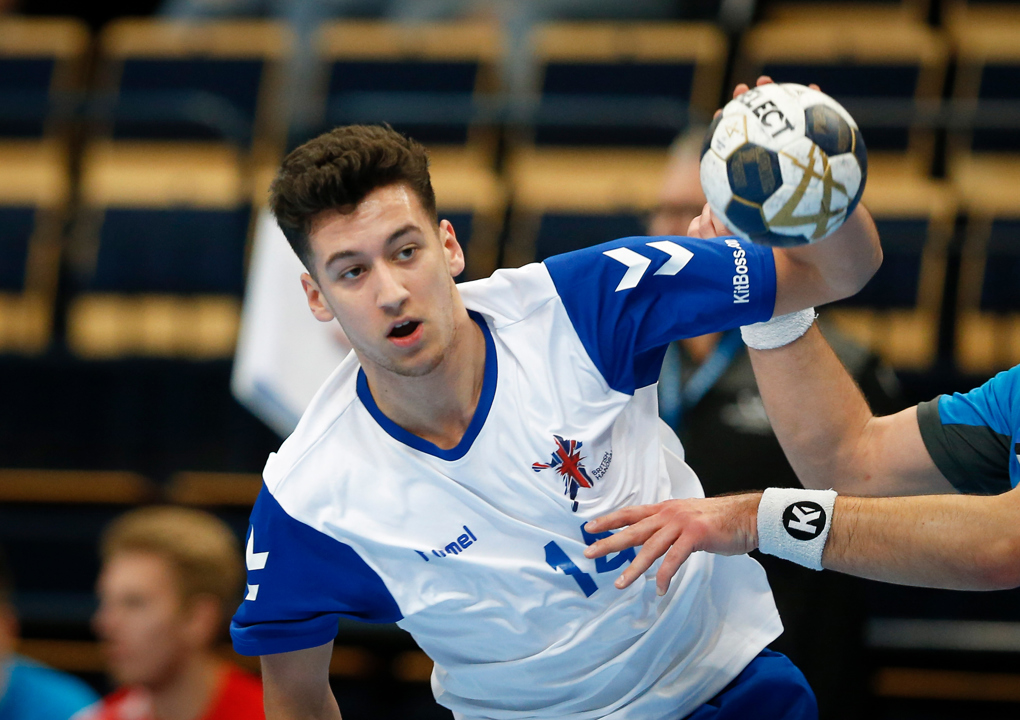 Great Britain aim for historic step
The long road to the Men's EHF EURO 2026 in Denmark, Norway and Sweden starts this weekend with a four-team tournament in qualifiers phase 1 in Azerbaijan. This short series presents all four participants. Part 4: Great Britain.
A decade after playing at their home 2012 Olympics in London, British Handball are hoping for another highlight: getting to the next stage of an international tournament.
The first chance to do so in 2023 is the qualifiers phase 1 tournament for the Men's EHF EURO 2026 this weekend, when Great Britain meet Cyprus, hosts Azerbaijan, and Malta. All matches will be streamed live on EHFTV.
Main facts:
Great Britain never qualified for a major championship, but took part in the 2012 Olympics as the host nation
one player who competed at the London Olympics is still part of the team: Sébastien Edgar
the team is led since June 2017 by Portuguese head coach Ricardo Vasconcelos
their 17-man squad includes five players from domestic clubs; the others are spread over eight different European leagues, with four players competing in Portugal
Most important question: Can Great Britain advance to the next phase?
It would be a first in the history of British Handball, but the team believes they can do it this time: taking the next step on the long road of the qualification for the EHF EURO 2026.
With a team in a constant building process, and recovering from an obvious setback during the Covid-19 pandemic which vastly limited playing and training options, the current squad is "very young and talented", as head coach Ricardo Vasconcelos puts it in a statement on the British Handball website.
"This year presents us with two opportunities to do what was never done before and qualify to the next stage," says Vasconcelos, also referring to the IHF Emerging Nations event coming up in April.
"The tournament in Baku is the first opportunity and we are very focused and ready to take this challenge. We are fully aware of the quality of the opposition, but our focus is on ourselves and in being competent in all areas of the game."
While their ambitions are strong, international experience might become a factor: only one player in the 17-man squad competes in a major European league: right wing Francisco Pereira plays for Füchse Berlin in the German Bundesliga.
How do they rate themselves?
The calculations are easy: With only one team guaranteed of progressing from this four-team event, Great Britain will have lo leave all three opponents behind them in the final standings on Sunday. Starting against Cyprus on Friday, followed by matches against Azerbaijan and Malta, it certainly sounds like a challenging task for Vasconcelos' team.
But the head coach is full of confidence.
"We won't shy away from the fact that we want to qualify," he says. "This change in our goal-setting process is a natural reflection on our progress, and we are very happy to be able to do so. Our responsibility is to honour Great Britain, and we will do our best."
Under the spotlight: Sébastien Edgar
He had already been part of the national team for four years when Great Britain had their historic appearance at the Olympic handball tournament in 2012. And at age 31 now, he is still part of the team in 2023.
Sébastien Edgar was born in Essex but moved to France at a young age. He competed in judo before taking up handball. He joined USAM Nimes Gard for two seasons in 2010 and spent seven more seasons in France before moving to his current club, Handball Käerjeng in Luxembourg.
Not just his vast experience, but also his versatility on court might come in handy for Great Britain, as Edgar is both usable as a right wing and a right back.
What the numbers say
0 and 1 – Great Britain never qualified for a major championship but still played at one: with London hosting the 2012 Olympics, the national team did not have to go through qualification.
Did you know?
While Great Britain will try to enter new territory by reaching the next qualifying phase of the EHF EURO 2026 this week, British Handball have just entered a new era off the court with the appointment of Chris Smith as the new independent chair of the Board of Directors, succeeding Paul Bray who has stepped down from that role after eight years.
"I look forward to working with the board, handball communities at all levels, partners and associates to raise the sport's profile, grow wider success and make handball a leading sport in the UK," Smith says.