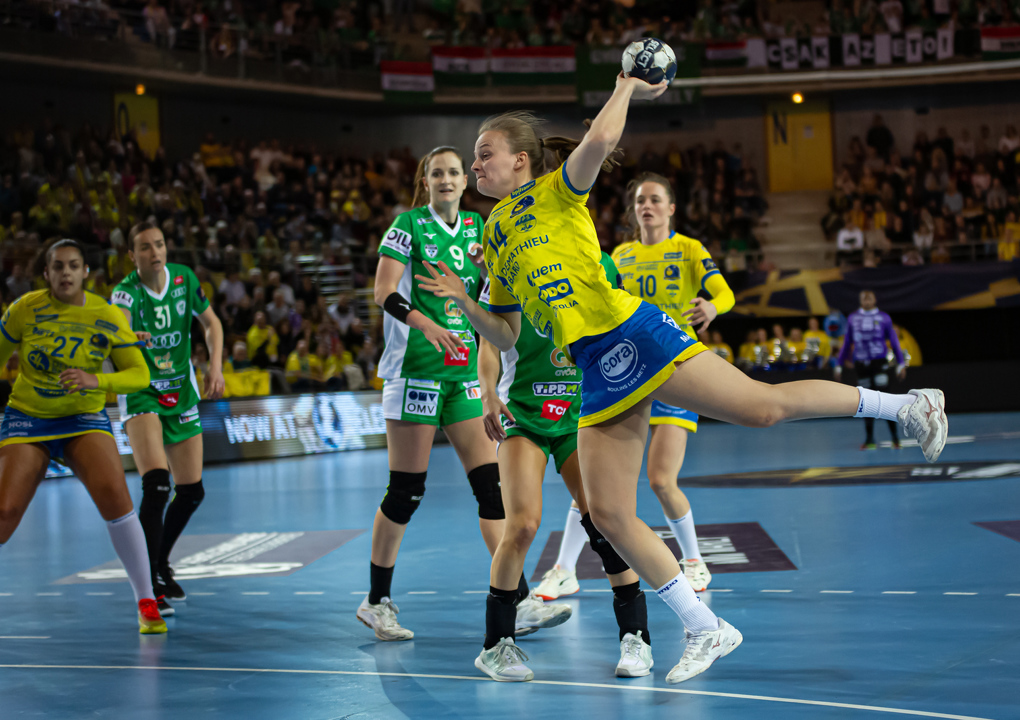 Tension builds as group phase enters crucial round
A lot is on the table for the last two rounds in the group phase of the EHF Champions League Women, with quarter-final and play-off berths to be delivered in the next two weeks. Round 13 takes place on Saturday and Sunday, when the battle for the play-offs berths in group A and direct quarter-final entry from group B will be fierce.
GROUP A
MOTW: FTC-Rail Cargo Hungaria (HUN) vs SG BBM Bietigheim (GER)
Saturday, 4 February, 16:00 CET, live on EHFTV
FTC will seal a play-offs berth if they beat Bietigheim
the German side are on a seven-game winless run, just one short of their worst-ever streak in the competition
Bietigheim have lost their last four away games as their play-off place is in doubt, despite starting the group phase with five unbeaten games
centre back Aniko Cirjenics-Kovacsics returned to the FTC squad after 668 days for a league game last Saturday, after a shoulder injury and giving birth to her first child
FTC top scorer Katrin Klujber (78 goals) will also make her return to the squad after missing the previous match – a 24:21 loss against Brest Bretagne Handball
Vipers Kristiansand (NOR) vs Krim Mercator Ljubljana (SLO)
Saturday, 4 February, 18:00 CET, live on EHFTV
Krim can still make the play-offs, but have to play the top-two teams from the group: Vipers on Saturday and CSM Bucuresti next week
the reigning champions are second in the group but will end up on the first place if they tie CSM, with Vipers holding the tiebreaker against the Romanian side
Vipers will be boosted by the return to full form by Czech back Markéta Jeřábková, who missed a game in January due to injury
the Norwegian champions have the second-best attack in the competition with 384 goals, an average of 32 goals scored per match
with a win, the Slovenian side will become only the third team in history to reach the 130-win milestone, after Györ and Buducnost
Krim centre back Nina Žabjek: "I would not look at the history of previous matches, I think that each match is for itself. They are very fast, aggressive, attacking, they have a good rotation, but I think we can face them and I think we have our qualities too, we just have to execute them."
It will be a very important match for both teams. I am sure that Bietigheim will also prepare very well against us and we really want to fight back for the last game against them. I hope that we will be able to play a much better match here in front of our home crowd.
DHK Baník Most (CZE) vs Odense Håndbold (DEN)
Sunday 5 February, 16:00 CET, live on EHFTV
the Danish side lost their last two games after winning six games in a row, but have already secured a play-off berth and can lock up the third place on Sunday
the Czech team has lost all the three matches played against Danish opposition – two against Esbjerg and one against Odense
if Most lose this game, they will tie the largest-ever losing streak in the history of the competition – 16 games – set by Krim between November 2014 and October 2016
Most head coach Jiri Tancos: "We will do our best in the last home match to show spectators and even ourselves that we are the team that never surrender."
only two sides have conceded over 400 goals this season, Kastamonu (403 goals) and Most (494 goals, a all-time record 41.6 goals per game)
Odense won the reverse fixture in September 2022 by 41:19 for their largest win in the European premium competition
CSM Bucuresti (ROU) vs Brest Bretagne Handball (FRA)
Sunday 5 February, 16:00 CET, live on EHFTV
CSM are already through to the quarter-finals and can win the group provided they earn at least one point more than rivals Vipers in this round
the French side, which are on a two-game winning streak, will secure their play-off berth provided they win and Bietigheim lose their match against FTC
CSM left back Cristina Neagu is the joint-top scorer with 90 goals, needing only 10 goals to secure her fifth season scoring in triple digits
the French side has conceded the lowest number of goals in the group – 312 – and the third lowest in the whole group phase, an average of 26 goals per game
CSM will be buoyed by a 27:26 win sealed against champions CS Rapid Bucuresti in the Romanian league last Monday
We have consolidated a very strong connection with our fans and we want to use every moment to make it even stronger. We will face an opponent capable of very good performances as they have also proven it in this hard group. There is only one thing to do; be on our very best to win the game.

GROUP B
HC Lokomotiva Zagreb (CRO) vs Storhamar Handball Elite (NOR)
Saturday 4 February, 16:00 CET, live on EHFTV
Storhamar can book a play-off spot if they do not lose against already eliminated Lokomotiva
Lokomotiva have the youngest squad in the competition and the least effective attack at 47.5 per cent efficiency
Lokomotiva have signed left wing Montenegrin Mela Mehmedovic from Mornar 07, the younger sister of Kastamonu left wing Majda Mehmedovic
both teams had clear wins in their domestic league: Storhamar against Ravens 33:20, Lokomotiva against Zamet
Zagreb head coach Nenad Šoštarić: "We will play at home to show how much we have improved. First of all, we have to play well in defence. The players must understand that the defence does not start when you return to your six metres, but when you have a shot at the goal or lost the ball. We need to stop their attacks as soon as possible."
Metz Handball (FRA) vs CS Rapid Bucuresti (ROU)
Saturday 4 February, 18:00 CET, live on EHFTV
if Metz win against Rapid Bucuresti, they will be the first club from group B to secure a direct quarter-final spot; depending on the other results, Rapid losing could mean they are out of the race for the top-two spots
the first encounter this season ended in a draw (32:32) after a great second-half comeback by Rapid
both clubs are in the top five attacks in the competition – Rapid's average per game is 31.6 goals and Metz hold an average of 30.58 goals per game
Hatadou Sako has a save rate of more than 34 per cent as Metz conceded just 294 goals in 12 games, making them the second-best defensive team
Metz defeated 2021 European League champions Nantes in the quarter-final of the French cup; Rapid lost to fellow Champions League contenders CSM in the Romanian league
This is our first final in the group, we had the ambition from the start to finish first or second at the end of the first phase. Bucharest is in a position where they can also aspire to it. A win for both teams would allow us to secure it and Bucharest to get closer. I think this match will be very demanding, with a lot of commitment. It's a very important match for everyone.
I am looking forward to play against Metz and to come back to the arena. It is always a big challenge to play against your old team. Metz will always have a place in my heart, but I hope we will play a better match and return to Bucharest with two points.
Team Esbjerg (DEN) vs WHC Buducnost BEMAX (MNE)
Saturday 4 February, 18:00 CET, live on EHFTV
Buducnost have already qualified for the play-offs, after missing out last season
Esbjerg, with a win, would keep their hopes of a direct quarter-final spot alive ahead of the crucial round 14 game against Györ
Esbjerg won the reverse fixture in September 28:23 with 10 goals from Henny Reistad, who is joint leader on the top scorers list with Cristina Neagu, both on 90 goals
Buducnost's Armelle Attingré is the competition's top goalkeeper with 146 saves in 12 matches and a 32.52 per cent save efficiency
Esbjerg beat Skanderborg in the domestic league 34:20 and are currently third in the Danish league
Kastamonu Belediyesi GSK (TUR) vs Györi Audi ETO KC (HUN)
Sunday 5 February, 14:00 CET, live on EHFTV
if Kastamonu lose against Györ, they are out of the race for the play-offs
in their first match this season, Györ took a big 44:25 win
Györ had a three-match winning streak ended at Metz in round 12; Kastamonu have only one win this season – against Lokomotiva in round 5
Ambros Martin's team has the best defence in Europe's top flight with 292 goals conceded – an average of 24.3 per game
the Hungarian side continue with a positive streak in the domestic championship after beating Mosonmagyaróvár by 28:21; Turkish league leaders Kastamonu had a clear 39:32 win over Adasokagi
Buducnost are a team that have played better and better as the season progressed. Their progress shows how well Bojana Popovic has coached them, and they will throw many things at us.