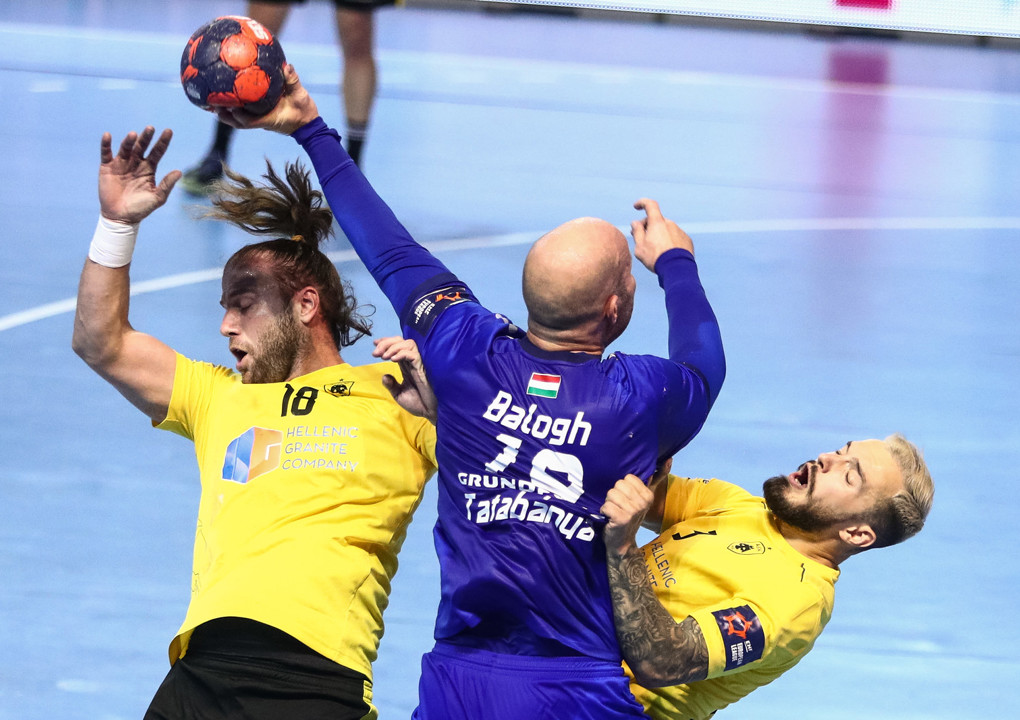 Are Tatabánya ready to turn the tide? 
Grundfos Tatabánya KC stayed winless in their last 14 matches in the second-tier EHF club competition. The Hungarian side face Sporting CP in the next round of EHF European League Group D in an attempt to end their worst start in international competition in the organisation's history.  
In Hungary, it is almost a tradition that Grundfos Tatabánya KC finish as bronze medallist in the domestic league, just as the two powerhouses, Szeged and Veszprém decide the title.
However, many changes and financial challenges means the Blue Tigers still fight for their first points in Europe's second top flight. 
László Marosi, chairman of the team said almost a year ago, that the current line-up cannot be held together in those circumstances as they struggle budget-wise. Marosi added to kemma.hu: "We might have to re-think our process and let players go, if we cannot find a solution."
Although the future was unknown for a while, with a new sponsor they can stabilise the company while "new dreams can be named, such as being stable in the European League" – said Zsolt Balogh, right back. 
Tatabánya had 12 changes in the squad over the previous summer. Besides the lack of fiscal stability, with a lot of fresh faces, Vladan Matic, head coach of the club had to create the chemistry and the game plan.
Not only this, but the COVID-19 pandemic also hurt their plans. Only two players stayed healthy in autumn, and thus they did not have time to build up the connection among them. For this season they decided to stick with their current athletes and brought in only three newcomers. 

So far, Tatabánya has two wins, one draw and two losses in the Hungarian championship, but the picture of their game is different than in the previous years.
In 2020/21, despite their unsuccessful results in the EHF European League, Matic's company took the bronze medal in Hungary. Since then, three of their top defenders left, which led many goals against them. 
"As three of our central defenders departed, we had to readjust and put new players in those positions. All of us need to adapt to that.
Also, as Piotr Wyszomirski, our goalkeeper is injured, László Bartucz is the only senior in the squad. He gets some help from the other goalkeepers from our youth team, but basically he needs to play every minute of every game which exhausts him both mentally and physically." – added Balogh 
We need to improve every aspect of the game when we look back at the match against AEK
To gather Tatabánya's first points in EHF European League, Matic's team faces the Portuguese Sporting CP in Győr, at the home of Győri Audi ETO KC. If everything goes well, in 2022 they can play their home games in their state-of-the-art arena, in their own city.
For that, the blue tigers have to start to win. In spite of their lost to AEK Athens HC in the previous round and continued their streak of victoryless battles, Balogh is optimistic. 
"We are still not in the best form and shape. We felt that our preparation went well during the summer, but shockingly realised in the domestic league where we already dropped three points, that the hard work was not enough," – shared the Hungarian national team member. 
 "We need to improve every aspect of the game when we look back at the match against AEK. Our defence was tragic, but we do not have much time to prepare.
I hope that many of our fans will come to Győr and help. For us, they are the eighth player on the court. Their cheering means a lot. We want to advance from the group phase; however, the first step to achieve that comes on Tuesday.
A victory could give us a push to go even higher."