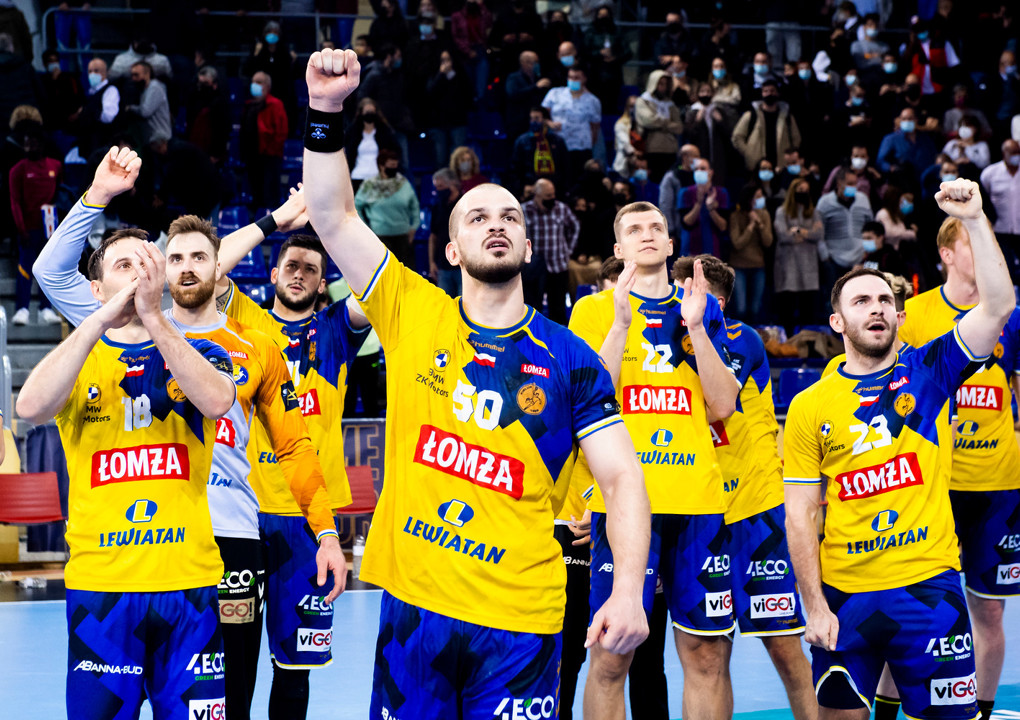 Summary: Kielce upset Barça to close exciting round 7
The EHF Champions League Men 2021/22 resumed after three weeks with round 7 of the group phase on Wednesday and Thursday. Highlights included Montpellier beating Elverum in the Match of the Week, and Kielce upsetting Barça for the titleholders' first home defeat since 2015.
Thursday 18 November
23:30
That is a wrap for round 7. The group phase is halfway done, and we enter round 8 with Montpellier and Kielce as the two proud leaders of group A and B, respectively.
Join us again next Wednesday and Thursday for round 8. Until then, stay healthy and we leave you with the reviews from tonight's matches:
23:23
PSG were flying against Porto tonight, especially in the first half. And that is very promising for the rest of the season, according to head coach Raul Gonzalez:
It is a great victory tonight but it is only two points. We were very good defensively, very strong during the first half; Vincent (Gérard) saved everything in the first half. And we were very performant in the fast break. It is good news for the rest of the season.
23:13
Oh man, what a way to reach the halfway point of the group phase. Excellent stuff. See the pictures from the night here:










22:32
The previous time Barça lost a home match was against... Kielce! Nearly six years ago, on 5 December 2015, Barça were defeated 33:31 by Kielce - who then of course went on to win the title.
Has that been an omen tonight?!
Crazy scenes in Barcelona: Kielce hold on to their half-time lead and take both points. After their flawless 20-for-20 season last year, the defending champions now concede their second defeat - and the group phase is only halfway done!

We already had a night of milestones (Dibirov's 1,000 goals, Barça's 500 matches), this is another one: PSG hand Porto their biggest defeat in the Portuguese club's EHF Champions League history. This 14-goal defeat beats Porto's 35:23 loss (-12) in Kielce in September 2013. Kamil Syprzak leads with eight goals for the hosts.
21:56
Team timeout Barça. They surely don't want to lose their 500th European match - but they will have to change something against a more efficient Kielce. Shots 34:30; goals 24:26... 

21:51
Tenth save and a huge roar from Andreas Wolff: Kielce are holding on to their lead in Barcelona, with 18 minutes on the clock.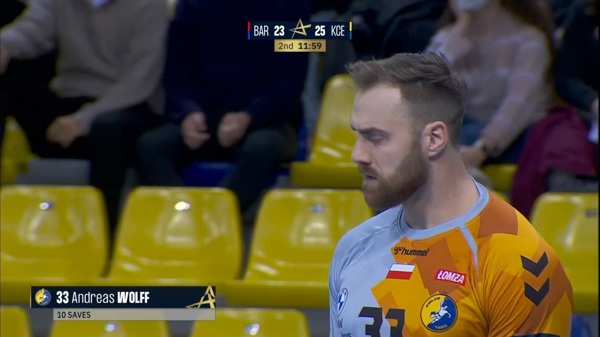 21:33
Kiel were made to work hard by Aalborg tonight, and the 2020 champions from Germany did just that, as Niclas Ekberg said after the match:
This was a really important match for us – also under a psychological aspect. Today our play was very solid, although we made some mistakes. But on this high-speed level it is not unusual that you are making mistakes.
21:24
HALF-TIME | BARÇA vs KIELCE 16:19 & PSG vs PORTO 18:4
Interesting things happening in Barcelona and Paris tonight: the defending champions are three down at the break, are they heading for their second defeat this group phase?! And PSG steamrolling Porto, who have netted four (= 4) times in 30 minutes...
21:20
Let's hear from winning head coach Juan Carlos Pastor after Szeged won their last match in their Újszeged Sports Hall, where they played since 1974 (!), before switching to the new multifunctional arena that will also be one of the host venues of the Men's EHF EURO 2022 in January:
The most important thing is that we could win tonight. The beginning was OK, our goalkeeper Roland Mikler was really good. In the second half there was a critical moment, but we managed to survive it and got the victory.
21:05
Luka Cindric, Just returned from an injury break, but already razor-sharp: 
20:59
Team timeout Porto. Magnus Andersson clearly not happy with the start of his team, which has dropped 5:1 behind to PSG in 11 minutes. How to turn the tide in Paris?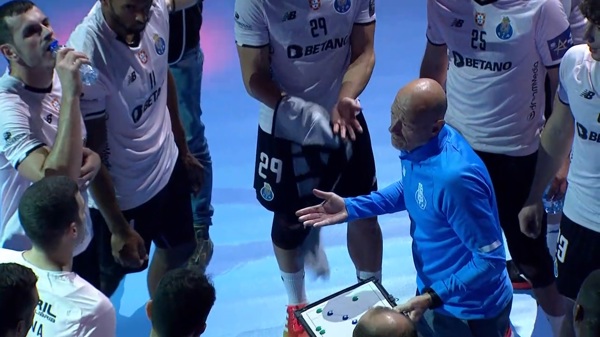 20:41
While we had a round number earlier tonight when Timur Dibirov netted his 1,000th EHF Champions League goal, we have yet another round number coming up: the match against Kielce will be Barça's 500th in the club's history across all European club competitions!
Felicidades!
20:30
Right, that was a nice start into our evening programme... and we are only halfway through now. Coming up are two crackers in group B, so don't go anywhere! (Or: be back in 15 minutes...):
20:45 CET: Barça vs Kielce
20:45 CET: PSG vs Porto










Kiel opened a substantial gap several times but Aalborg kept hanging in there. So the 2020 champions add two useful points in their fight for a top-two spot in group A.
Dibirov's seven goals - including his 1000th in the EHF Champions League - are not enough for Vardar as Szeged, led by Sebastian Frimmel's nine goals, keep the points in Hungary. 
20:02
Smooth Szeged:
19:50
A cool penalty... this is how Timur Dibirov has scored his 1,000th career Champions League goal tonight:

19:37
Not much time to fool around with two seconds on the clock...
19:33
No, Kiel were not so dominant that Niklas Landin had time to read a book, right?!
19:29
HALF TIME | KIEL vs AALBORG 17:14 & SZEGED vs VARDAR 17:15
Home advantage so far! Can the guests from Aalborg and Vardar hit back in the second half?
19:18
Timur Dibirov rewriting the handball history books here: his third of the night against Pick Szeged was the Vardar wing's 1,000th in his Champions League career!
Only the third player to achieve the feat, after Kiril Lazarov and Nikola Karabatic.
Congrats!!!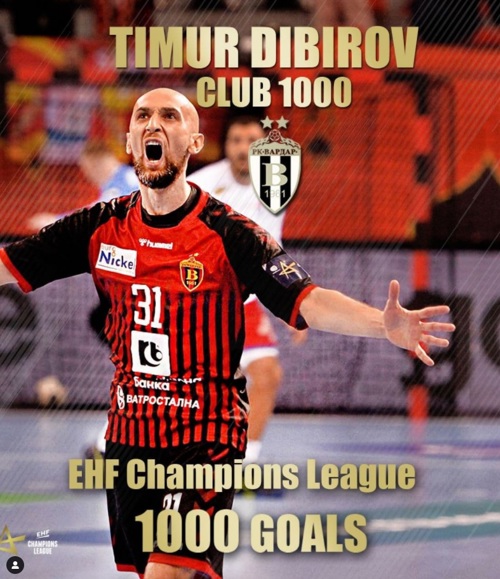 Picture: HC Vardar 1961 Instagram
19:06
Bombac has got the moves in the opening stages:
18:57
First team timeout for Aalborg. They led by two goals early on in Kiel but find themselves 7:5 down when Stefan Madsen thinks it's time to give them some much needed advice.

18:40
We are off in five minutes! Remember to use the multiscreen function on EHFTV if you want to watch both games side-by-side on the same screen.

18:24
If winning runs count for anything, you have to favour Kiel tonight over Aalborg. The German side have not lost since that tough defeat in MOTW against group leaders Montpellier a few weeks ago. Aalborg, on the other hand, are coming off a defeat at Szeged, which marked the second loss for the Danish finalists from 2021.
17:57
So, while MOTW for round 7 was yesterday, all of the four matches tonight would have fitted the bill as well.
We throw off with two group A matches at 18:45 CET, in Germany and Hungary, both featuring a former EHF Champions League winner: Kiel vs Aalborg and Szeged vs Vardar.
We brought you up to date on the first match an hour ago, so let's focus on the clash in Szeged now. Pick are right up there with the big boys in group A, in joint third place with Elverum and Aalborg and just one point behind Kiel.
Vardar, after their great start to the season, have dropped to sixth position - and will stay there after tonight, no matter the result against Szeged. While Vardar have won six of their 12 previous matches against Szeged, they have earned only one point away from home so far this season.
Still, with top scorer Timur Dibirov on board, everything is possible.
16:47
Another clash between group frontrunners tonight pits 2019/20 title winners THW Kiel against 2020/21 finalists Aalborg. The German team, currently in second, hope to join Montpellier on 11 points after the French side won MOTW last night, while Aalborg (sitting third) aim to take the points and leapfrog Kiel in the standings. 
Aalborg have never won against Kiel, with THW having been victorious in five out of six previous clashes and the other game ending in a draw. 
Two superstars will face the club they gained their first Champions League experience with: Aalborg's Aron Palmarsson won his first two Champions League trophies with Kiel while THW back Sander Sagosen played for the Danish team at the start of his career. 
16:29
Tonight's top-of-the-table clash between Barça and Kielce not only promises a fiery 60 minutes, but will be a very special one for the Spanish powerhouse, as the club celebrates reaching 500 matches in European cup competitions. 
Barça wing Blaz Janc will also play against his former club, after spending three years in Poland. 
Kielce top group B with 10 points ahead of the match, and Barça are just one point behind. Kielce have beaten Barça only once in nine previous encounters, back in 2015, but that victory was the last time Barça were defeated on their own court. Aside from that, Barça won six of the clashes and the teams drew twice. 
It's a fantastic figure. A magic figure [500 games in Europe]. Not many clubs in Europe can get there. Maybe the number is anecdotal, but Barça are always fighting to win European competitions and especially in recent years to win the Champions League. It makes me proud to continue with this story.
16:00
Welcome back to our live blog coverage of round 7 of the EHF Champions League Men group phase! 
Tonight we have four exciting clashes ready to wrap up the round: 
18:45 CET THW Kiel vs Aalborg Håndbold
18:45 CET Pick Szeged vs HC Vardar
20:45 CET Barça vs Vive Kielce
20:45 Paris Saint-Germain Handball vs FC Porto
While we wait for the action to get started, take a deep dive on each of the clashes with our round preview below. Also be sure to check out our latest power ranking, topped by Kielce. Can they prove they belong in the pole position and defeat Barça in Palau Blaugrana tonight? 

Wednesday 17 November
23:12
With the match review from the final game of the night, Flensburg vs Dinamo Bucuresti, we come to the end of Wednesday night's coverage of round 7 of the EHF Champions League Men. 
Read all about how the German side took their second win of the season below — and join us tomorrow as round 7 continues with four exciting matches! 















Today we got good chances but had a lot of problems in our defence in the beginning. We lacked the aggressiveness necessary. In the second half we played with more power and more speed and therefore created a lot of good chances. We played very good with seven-against-six in our defence. Now we are looking forward and keep fighting.
Bucharest run out of steam while Flensburg power to a seven-goal win and move up to five points — and seventh place — on the group B table. 
With their closest rivals on the table (aside from Dinamo) still in with the chance to add points in round 7, Flensburg will need more than tonight's win to climb the ranking further — but it is an important step towards doing so nonetheless.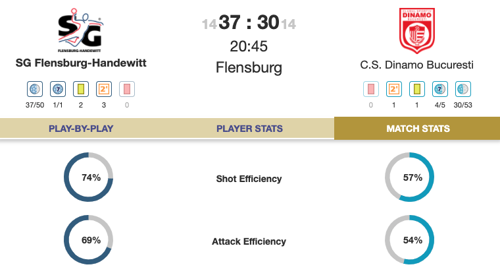 21:55
After stumbling towards the end of the opening half and allowing their Romanian visitors to draw level, Flensburg re-found their game at the break and have taken control. 
With the first two goals of the second half, the German team immediately opened a lead that has since swelled to 29:24 as we near the final 10 minutes. Following their very rocky start to the season, it looks as though Flensburg are set to clinch their second win. 
21:35
How did Montpellier take such a commanding win in the MOTW? How did Motor upset Veszprém? How did both Brest and Zagreb miss the chance for a first win of the season? Relive the first games of round 7 in our match reviews below! 














21:23
HALF-TIME UPDATE: FLENSBURG VS DINAMO BUCURESTI 14:14
After a strong opening from the home side, we go to the break in the final match of the day with the score level — and an exciting second half promised.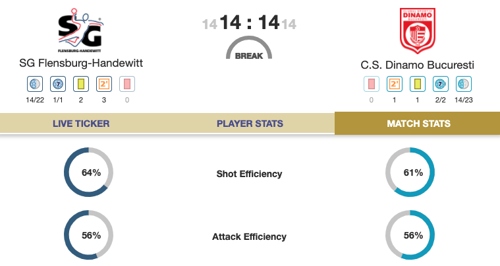 21:14
As we near the end of the opening half in Flensburg, the German side have seen their lead evaporate and we now have a level game at 12:12. 
The majority of the damage for Flensburg is coming from the line, with Bucharest line player Mohamed Mamdouh Shebib netting six goals from six attempts already, highlighting problems in the German team's defence. 
20:56
Flensburg are wasting no time in their fight to clinch their second victory of the season, after taking their first in the previous round. The German side lead Dinamo 7:3 as we hit the 12-minute mark.  
20:41
The final match of the evening is about to throw off in Germany, with Flensburg hosting Dinamo Bucuresti. 
Flensburg enter the match in eighth place in group B with three points, while Dinamo dropped to seventh due to Motor's win over Vespzrém, with four. 
It is the first time ever that the teams have met in any European competition. 
This was a good game and a strong game. It is very important to play well against Elverum. We knew it was going to be a tough game after we saw them win against Szeged in Szeged. The key for us tonight is the defence and that made us able to handle players like [Eric] Johansson.




































I congratulate Motor on the victory. It was a completely deserved victory for the opponent. For my part, I can say that we did not find the rhythm in this game. I don't know why this happened. We were unable to focus or for some other reason we were unable to win. This is not our first failed game. At home, in the Champions League, we are not doing everything right now. Now we are waiting for Motor to visit and hope that we can change something already in Veszprém.
Disappointment for both Brest and Zagreb on the hunt for their first wins of the season, as neither side can clinch the victory and the match ends in a draw. While it is the Croatian team's second draw of the season, taking their tally to two points, it is Brest's first point in 2021/22. Their group rankings therefore stay the same, with Zagreb in seventh in group A and Brest in eighth.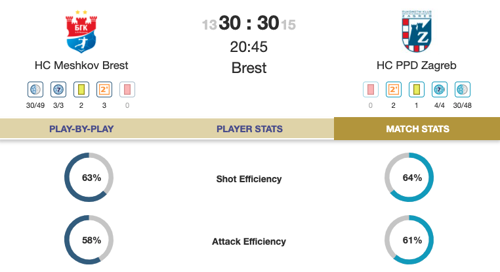 Montpellier do their job and clinch the clear win after leading all the way through the MOTW. The French team move up to 11 points with the victory, where they await THW Kiel's round 7 result to find out if they finish the round alone on top of group A or equal with the German side on points.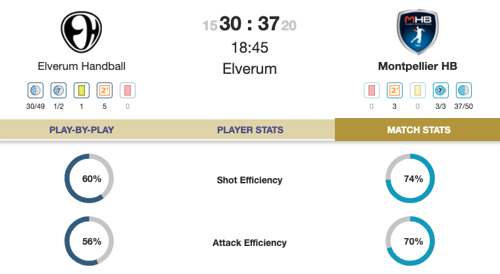 Montpellier back Gilberto Duarte is named Player of the Match. 
Motor hold off Veszprém, who really threaten to close the gap in the final minutes, and clinch their third win of the season. The victory takes Motor to six points on the table, and they jump up to fourth place temporarily, with the rest of group B still to play round 7.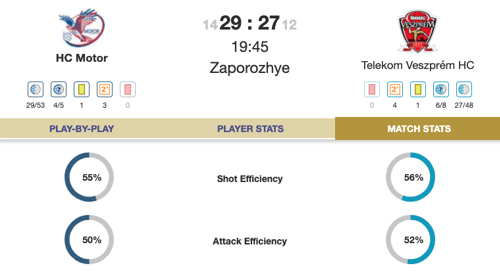 20:11
We are into the final minutes and Montpellier can clearly see the two points within their grasp at this point, with a 35:26 lead in the MOTW vs Elverum and only five minutes on the clock. Hugo Descat has netted a huge eight goals for the French side, while Gilberto Duarte, Lucas Moscariello and Julien Bos are also having a stellar outing, combining for 16 goals. 
At Motor, the home side look set to clinch the points but they cannot lose focus now, as they have a much narrower lead at 29:26. 
In Brest, the battle for first win is still raging, with the score at 29:29. Will it be Meshkov or Zagreb who take the victory? Or will they have to settle for splitting the points?
19:50
Nearing the 45-minute mark in our three opening round 7 clashes, both Elverum and Veszprém are still chasing their rivals — although, while the Hungarian side appear in with a chance, Elverum look very much on their way to a defeat in the MOTW. 
Courtesy of a goal from their captain Yanis Lenne, Montpellier have just hit a 10-goal lead, at 29:19. Elverum will need a miracle to turn the MOTW around now, and it seems the chance for their record-equalling run of victories in the top flight is about to end. 
Meanwhile in Ukraine, Veszprém are much closer, with the score at 22:20 for Motor. But Veszprém have been hovering that close for some time and have not managed to shake that pesky narrow difference. Can they find the magic trick to do so in the last quarter of the game? 
In the clash of teams targeting their first victory of the season, Meshkov Brest and Zagreb are now locked in a one-for-one battle, with the score level at 22:22. 





























19:30
Tonight's MOTW journalist Björn Pazen weighs in with his thoughts on Elverum vs Montpellier so far:
Maybe the hopes were too high and put Elverum under pressure in their first ever MOTW in the EHF Champions League. On the other side, Montpellier arrived with a lot of confidence after four straight victories, despite a defeat against PAUC in their domestic league. The French side were as cold as ice and overran the truly chanceless Norwegian champions in the first 25 minutes and until the score of 18:12.
Seven different Montpellier players scored the first 14 goals shows that Elverum could try whatever they wanted, but the visitors always had the better answer. And Elverum had one problem: the goalkeepers. Emil Kheri Imsgard and Thorsten Fries did not stop any of the 20 Montpellier shots before the break, while on the other side, even an average performance from Marin Sego was enough to back Montpellier with confidence.
To be down by "only" five goals at half-time means that Elverum still have a chance to turn the match around, but the whole way of defending and goalkeeping need to improve.
19:27
HALF-TIME UPDATE: MOTW ELVERUM VS MONTPELLIER 15:20
A tough battle for home side Elverum so far, as they cannot narrow the deficit against Montpellier before the half-time break. The French side hold a confident lead after the first 30 minutes. Can Elverum find the right answer during the break?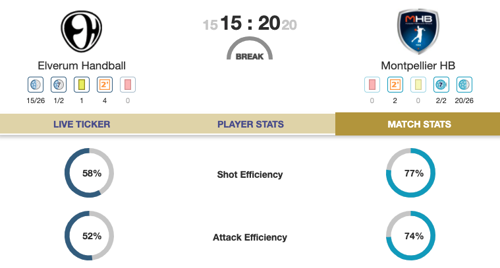 19:23
HALF-TIME UPDATE: HC MOTOR VS VESZPRÉM 14:12
Kentin Mahe has the last say of the half, scoring a penalty goal that is his fourth strike in the match, taking Veszprém within two goals of Motor as we go to the break.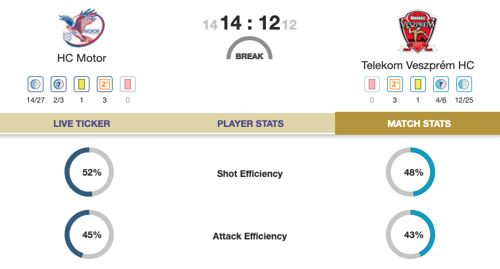 HALF-TIME UPDATE: MESHKOV BREST VS ZAGREB 13:15
A two-goal distance in Belarus as well, but the home side are the ones left with a task for the second period as they go to half-time with a deficit against them. Zagreb will surely be ready to fight very hard to keep their advantage. Can they do it and clinch the long-awaited victory?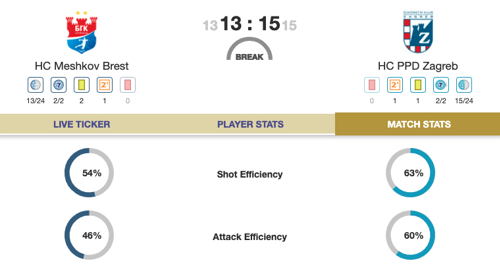 19:13
It's a familiar feeling for Zagreb as they see their narrow lead slip away, with the score in Brest now level at 11:11 in the 23rd minute. Despite their record this season, with no wins yet, Zagreb have held the advantage or been level with their opponents multiple times before the chance slipped away. 
With Brest having fought back from a three-goal deficit, is the momentum going to stay on their side or can Zagreb keep up the pace? 
Meanwhile in the MOTW, Montpellier are steamrolling their opponents with an 17:11 lead. In Zaporozhye, Veszprém are still chasing Motor, currently trailing 8:11. 
19:01
Just past roughly the 10-minute mark on all three courts, let's check in with who's in front! In the MOTW, Montpellier are in charge — and quite confidently so — at 9:6 vs Elverum. 
Veszprém had some serious trouble getting started on Motor's court, taking nine minutes to score their first goal. In the 12th minute, the Hungarian side trail Motor 2:5. 
Over in Brest, Zagreb have the edge at 7:5. 
18:47
And we're officially back! Starting whistle sounds at Elverum, Brest and Motor and round 7 is open with the first three matches underway. 
In the MOTW in Norway, Montpellier line player Lucas Moscariello is the first on the score board. 
Watch all three matches live on EHFTV. 























18:19
It's not only the MOTW getting the round started at 18:45 CET — we also have Motor hosting Veszprém and Zagreb taking on Meshkov Brest in Belarus.
Meshkov Brest vs Zagreb sees a duel of sides desperate to take their first win of the season, as Meshkov have lost all six encounters in the season so far, while Zagreb have just one point gained from a draw. They were defeated in the remaining five games. Meshkov are eighth in group A, while Zagreb are seventh. 
Over in group B, Motor will be hoping to overthrow Veszprém, who are third ranked with eight points — two behind group leaders Kielce and one behind reigning title holders Barça. Motor have four points gained from two wins this season, and have been defeated in their four remaining games. 
See all the group standings here. 
18:00
Let's dive into some key facts about the MOTW, Elverum vs Montpellier!
Montpellier enter the round as the group A leaders, on nine points after four wins, one draw and one loss this season. Highlighting just how competitive this group is, Elverum are fifth ranked but only one point behind MHB. The Norwegian side have won three clashes this season, delivered two exciting draws and lost once. 
Elverum's record of four unbeaten matches has seen them equal their record for longest unbeaten streak in the Champions League. A victory in the MOTW will equal their longest winning run. Montpellier have collected four wins on the trot ahead of tonight's match. 
When the clubs met in 2016/17 in the group phase, they each won the home leg. 
17:00
Elverum vs Montpellier — that is also the duel between Scandinavian left wings Sindre Heldal and Lucas Pellas. Check out how that stack up against each other: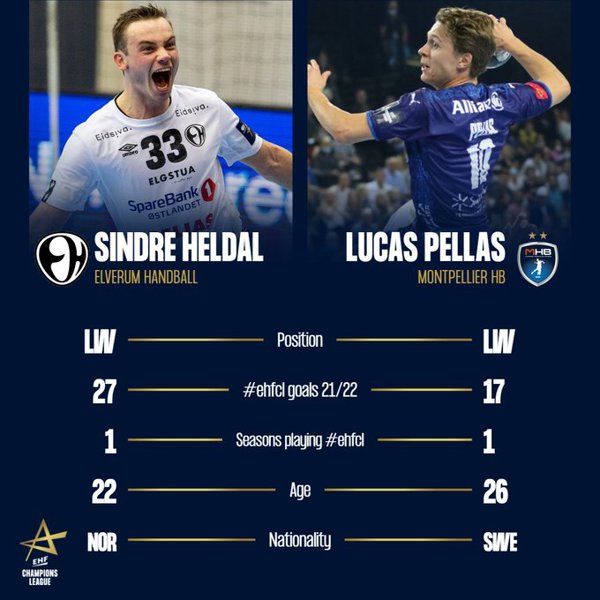 16:45
So we start in Norway, where Elverum, one of the surprise packages of the season, are taking on Montpellier, who have been doing very well after a year absence from the EHF Champions League by claiming top spot in group A after six rounds.
Why Elverum have been doing so well, too? Listen to Tobias Grøndahl, who explains to EHF journalist Ola Selby why he and Elvererum are where they are - among the very best of the group phase:
16:21
I feel like this is among the best group phases we have seen for many seasons. The round 7 schedule includes several games that could easily have made for a terrific Match of the Week...
... but of course, there is only one MOTW per round, and the good news is: we won't keep you waiting too long for it this time, as Elverum Handball vs Montpellier HB will already throw off among the first batch of matches at 18:45 CET today!
16:09
Have you seen the playing schedule for today and tomorrow? This is just so W-O-W: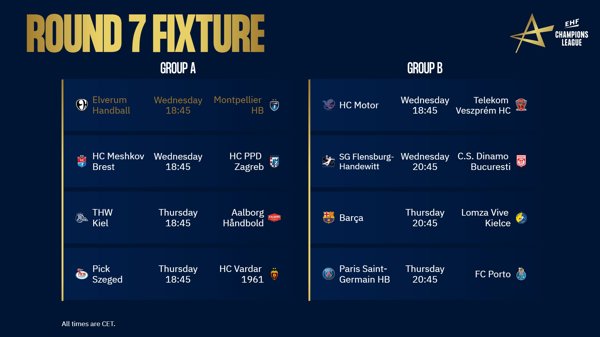 16:00
Hello, and welcome back to the EHF Champions League Men!
We never thought that waiting for almost three weeks could last sooooo long, but finally we are back again with action from Europe's top flight.
Get yourself in the mood and up to date with our round 7 preview: