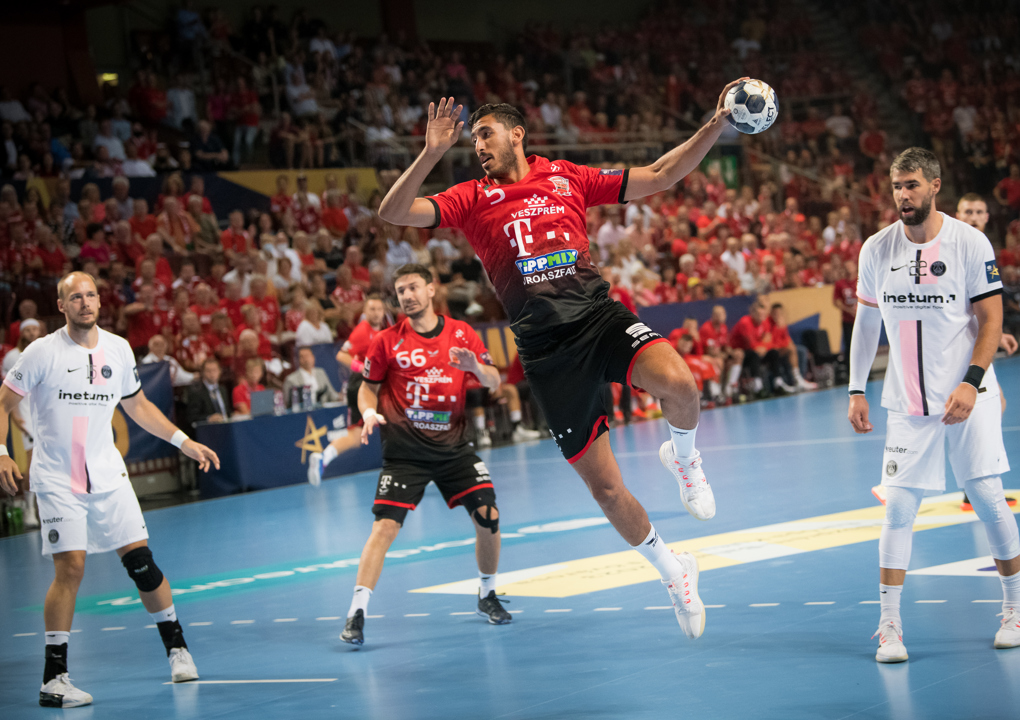 Egyptians heating up the EHF Champions League
On Monday, EHF Champions League powerhouse Telekom Veszprém announced the signing of 2020 African Championship MVP Yehia Elderaa. Roughly a month ago, 2016 title winners Lomza Vive Kielce announced the transfer of 2019 Youth World Championship top scorer Hassan Kaddah. Ahead of the 2021/22 season, the reigning champions in Europe's top flight, Barça, welcomed Ali Zein into their ranks.
Going back to the summer of 2019, Yahia Omar was donning the Veszprém jersey for the first time while Ahmed Hesham, fresh from the Youth World Championship title and MVP award, was arriving at USAM Nimes Gard alongside fellow Egyptian Mohamed Sanad, ready for the EHF Cup.
The Egyptian national team stars, who were all part of the historic Tokyo 2020 Olympic semi-final berth this past summer, highlight the fact that European eyes have started roaming south to make the most of the talent to be found in north Africa with increased frequency.
It was not so long ago that Sanad was one of very few Egyptians plying their trade in Europe's biggest club competitions, as he played the EHF Champions League 2016/17 with Spanish side BM Logroño La Rioja. At that time, both Ali Zein and Mohamed Mamdouh Shebib were playing in France, but not yet in the top flight. It would not be long, however, until Mamdouh would join Montpellier HB and eventually lift the most coveted trophy in club handball, in 2017/2018. That same year, Karim Hendawy was in goal for Besiktas.
Egyptians have been seen in the EHF Champions League for some time. Another who enjoyed significant success was Hussein Zaki, now coach of top Egyptian club team Zamalek as well as part of the 2019 Youth World Championship-winning coaching staff. Viewed as one of the most important Egyptian players of all time, Zaki played for Ciudad Real from 2002 to 2005, reaching the Champions League final, before four seasons at Aragon to end his tenure in Europe.

Of the current national squad, who else would have led the way to Europe but the iconic captain Ahmed Elahmar? Any Egyptian handball fan will loyally describe Elahmar as one of the greatest of all time, and he had his own stint in Europe — but it was a very short one, with SG Flensburg-Handewitt for a few months at the start of 2015 to replace an injured Holger Glandorf. Nevertheless, Elahmar got to raise one trophy — the German cup.
At 37, Elahmar was the oldest player in the national squad at Tokyo 2020. The slew of younger players joining the top European clubs in recent years well and truly represent a generation change and the future of Egyptian handball — and perhaps European club handball as well.
With one of the top men's national teams in Africa consistently for decades, and a run of top 10 finishes at World Championships from 1995 to 2001 — including a semi-final appearance in 2001 — Egyptian men's handball has never been short on talent. So why the recent influx into European clubs? And not just any European clubs, but in many cases the best of the best?
"When I arrived in Europe there were very few Egyptians and it also was extremely hard for a European club to sign an Egyptian player," says Sanad, who is Nimes' top scorer in the current edition of the European League. "We didn't have a lot of exposure. The clubs didn't see us a lot. If you were lucky they'd see you in the World Championship. Other than that there was nothing.
"I'm really happy with the transformation and that more Egyptians are coming into the European leagues because I believe that we do have a lot of great potential and great players who could really be top players in the handball world. I don't know exactly the reason for the change but I can say that the few Egyptians who were in Europe gave a good example and gave confidence to European clubs so the clubs now were ready to take risks and sign Egyptians.
"Also, we have a young generation that's coming really strong and I'm sure they'll do big things," adds Sanad, who outlines another important development: the more professional relationships with agents. When Sanad was first trying to come to Europe, he was contacting agents on Facebook and often did not receive a response let alone an offer. It took six years for him to secure his first place at a European club.
The main reason is believing — believing in ourselves, believing in our team, that we can reach that level and compete.
Veszprém right back Yahia Omar was part of the All-star teams in both the SEHA League 2020/21 and at the Tokyo 2020 Olympic Games — the first non-European in 29 years in the latter. Omar credits the national team development with helping Egyptian players grow to a high enough level to interest big European clubs and agrees that perhaps there is something of a circle, where more Egyptians in Europe means that in turn more Egyptians are asked to come to Europe.
"Clubs now have more trust to bring players from Egypt. The national team has ensured that the players have the quality to be competing at the highest level. Maybe players like me and Sanad have brought more trust into the quality of the people, not just in terms of handball physicality, but how we think, what mentality we have, what education and motivations we have to come play in Europe for a long time," says Omar.
Omar believes the cultural adaptation required can present a challenge, but with more national teammates abroad, those moving to Europe have a bigger frame of reference and support to aid the transition. Omar's new Veszprém teammate, Elderaa, highlights the fact that seeing others from your national team having success abroad helps bring the dream closer. Elderaa's transfer to Veszprém will be his second venture to Europe, after a difficult season at Ribe-Esbjerg in Denmark marred by injury.
"The main reason is believing — believing in ourselves, believing in our team, that we can reach that level and compete," says Elderaa, who also credits players from other African nations, such as Tunisia and Algeria, for leaving their mark on the Champions League and paving the way for more from his continent. "Before we had two or three players playing abroad, in some of the good teams, but right now, every year you see another talent, another one going and competing.
"The dream you have been living, your friends reached it and they achieved it, so it's not that far from you."

Elderaa also mentions the Spanish coaches for the national team — former Veszprém coach David Davis and now 2019 Champions League-winning coach with Vardar, Roberto Parrondo — and how they introduced a new perspective surrounding the game.
"The Spanish system — when I was introduced to this system, I saw handball with a different perspective. Handball became easier for all of us in our [national] team and it has been shown in the presence of our team and how far we are right now," adds Elderaa.
As for his joining Veszprém, Elderaa is naturally thrilled to — as Omar put it so perfectly in his first Champions League season — "come to Europe through a big door."
"I'm really happy and overwhelmed about signing for Veszprém of course," says Elderaa. "It's one of the biggest teams and the strongest teams in Europe with a very, very amazing handball history. So it's a dream of course, and it's a great opportunity and I'm honoured for that. I'm super excited to meet the team and start the season and see our challenges. I wish I can be a good addition to this team.
"I'm going to fight and I'm going to give all that I have to be up to their expectations and the responsibility that I have towards them."
Photos Yehia Elderaa courtesy of IHF