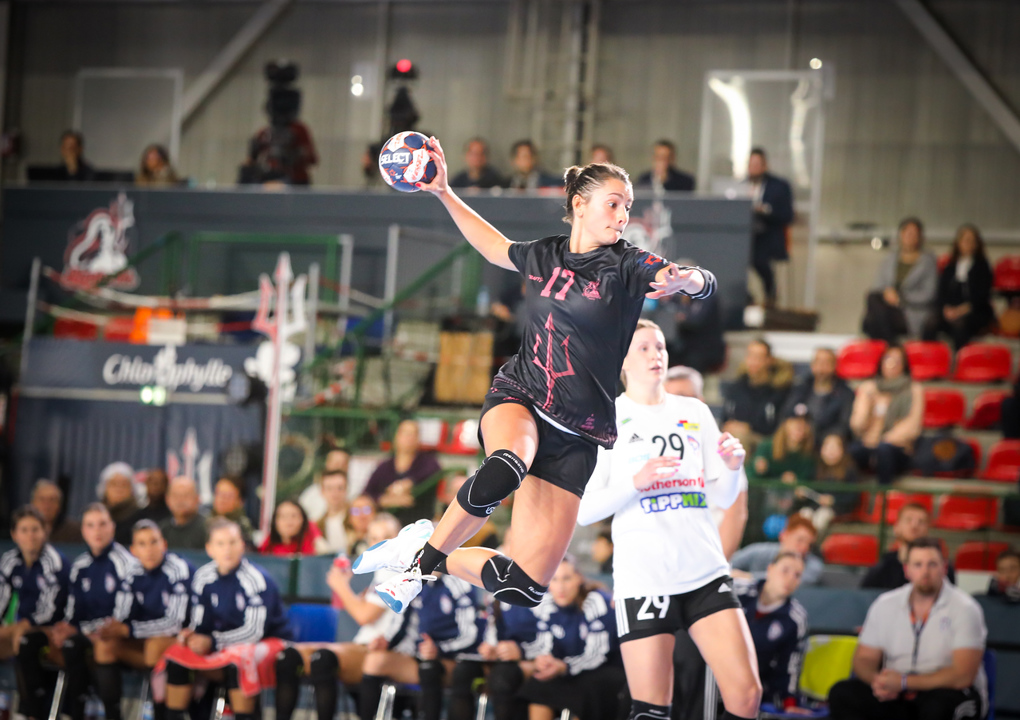 French sides take strong victories
EHF European League Women 2022/23 returned with three matches on Saturday. The luck was on the French side as Besancon cruised to their second straight win, scoring 41 goals which put them into second place for the most goals scored in the competition. Their compatriots from Neptunes de Nantes inflicted the first defeat on Motherson Mosonmagyarovari. Kristina Novak led Sola to a second straight win, providing yet another narrow defeat to Nykøbing Falster Håndbold.
GROUP A
Molde Elite (NOR) vs ES Besancon Feminin (FRA) 29:41 (15:17)
Besancon Feminin cruised past Molde Elite and won for the second time this season, passing the 40-goal mark, putting themselves in second place for most goals of all time in the competition. Molde had a good start to the match with a 3:0 lead but Ine Stangvik Karlsen's saves pushed Besancon level. The French team trailed again up until the 23rd minute of the match when Alizee Frecon set the 13:12 lead. And it seemed to be a close match until midway through the second half when Clarisse Mairot's fast break shifted things. Besancon started to hit top gear and went from a 6-goal lead to a 12-goal lead. 12 out of 14 field players netted for Besancon, while Mona Obaidli was once again her side's top scorer with six goals.
GROUP B
Neptunes de Nantes (FRA) vs Motherson Mosonmagyarovari KC (HUN) 36:29 (18:15)
Neptunes de Nantes redeemed themselves after a double-digit defeat by Ikast Handbold at the start of the competition. After an almost equal start to the match, Nantes soon saw a 4:0 run take them from trailing by one to a 7:4 lead. Mosonmagyarovari did not give up and, near the end of the first half, levelled the scores at 15:15 with a nice goal by Barbora Lancz, who was the Hungarian team's top scorer with ten goals. A total of 13 saves by Adrianna Placzek and an eight-goal outing by Nathalie Hagman allowed the French side to soon see some daylight and open up their biggest lead; eight goals, which they almost kept until the final whistle.
We found the Neptunes tonight. It was a super fun game to play. We played well, made few mistakes and managed to shake them up. We are finally launched in this competition.
GROUP C
Nykøbing Falster Håndbold (DEN) vs Sola HK (NOR) 26:28 (13:12)
Sola HK remain unbeaten after two rounds of the EHF European League. The two sides' goalkeepers were the main reason for the half-time score. Cecilie Greve produced a 41% save efficiency for the home team, while Sola's Rinka Duijndam's 35% prevented her teammates from trailing by more than two. Both of them remained on a high level throughout. Nykøbing were the ones with the lead (7:5,11:9) but Sola kept coming back with the help of Maja Magnussen after two time-outs called by Steffen Stegavik. It took eight minutes of the second half for Sola to make a turnaround with a 3:0 run for 17:15. The gap proved to be decisive for the end result despite the home side narrowing it to only one goal in crunch time. Ema Halicevic's six goals were not enough as Live Rushfeldt and Kristian Novak led the way for Sola with five goals each. Nykøbing now have to reconcile after two narrow defeats in a row.
This victory is a great victory for our team. We knew it will be hard to meet Nykøbing away, an I am so proud of how the girls solved our game plan. In the start of the game we started wisely, got to keep the team running and when we got in the lead we manage to calm down.