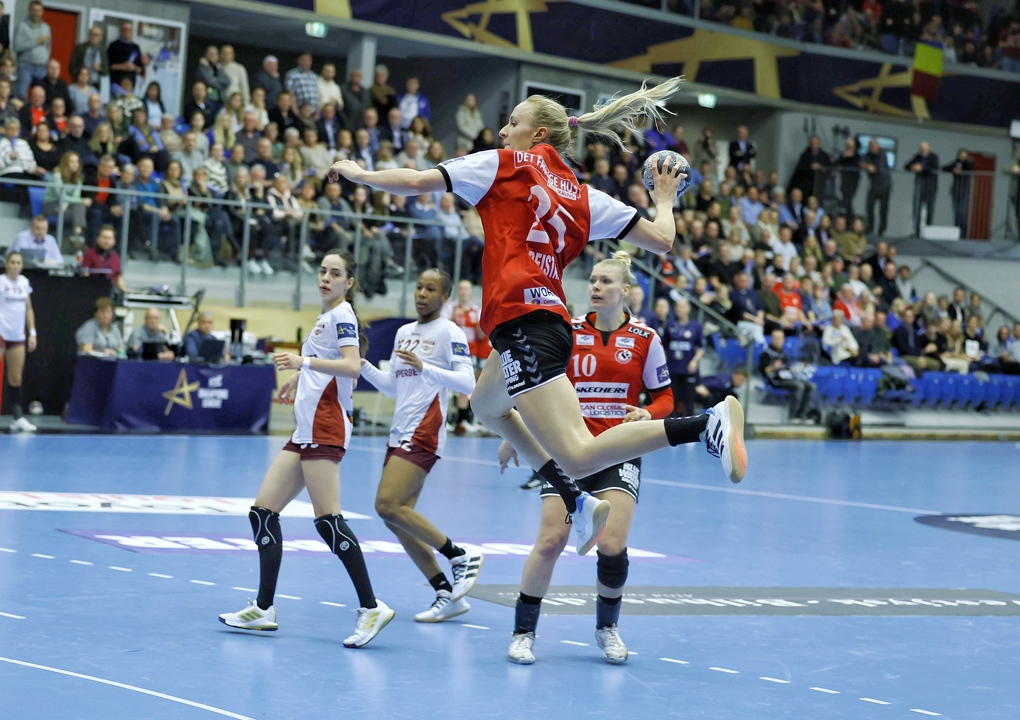 Stat Attack: Team Esbjerg's outstanding offence
Throughout the course of the EHF Champions League Women and the Machineseeker EHF Champions League, data analyst Julian Rux provides the handball community with deep insights into the numbers behind the game, analysing what the data says about teams' and players' performances.
Scoring 29.7 goals per 50 possessions, Team Esbjerg has the best offence in this EHF Champions League season. The main reason for this is their excellent shooting. They clearly have the best overall shooting percentage with 68.6 per cent, which is 3.1 percentage points better than second-ranked SG BBM Bietigheim.
Even more outstanding is their field goal shooting. They were successful on 68.7 per cent of their attempts from the field, which is 4.8 percentage points better than Györi Audi ETO KC, ranked second.
Henny Reistad is the main reason for the outstanding attack
Accordingly, several players of the team from the North Sea coast are having a very efficient campaign on an individual level as well. Amongst all players with more than 50 attempts from the field they even have two players in the top seven. Vilde Ingstad is the fourth most efficient with 74.5 per cent, while Henny Reistad is ranked seventh with 69.4 per cent.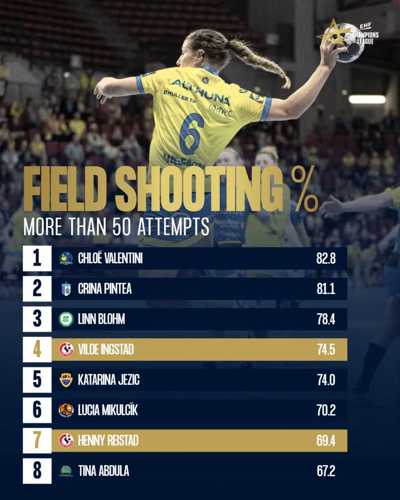 No other backcourt player is more efficient than Reistad. The next best backcourt players are teammates at Györ; Stine Oftedal and Estelle Nze Minko in places nine and ten respectively, with 66.1 per cent scoring efficiency each. But together they have only attempted ten more shots than Reistad's 108. Drawing the line at a minimum of 80 shots from the field, the MVP of the EHF Champions League Final Four 2021 is clearly the most efficient.
The 23-year-old Norwegian is by far the highest scorer (7.5 goals per game, 6.8 field goals per game) of her team. She is responsible for 23.0 per cent of the field goal attempts of her team. Only the share of Milena Raicevic for WHC Buducnost BEMAX is higher, with 23.6 per cent. So, the fact that the Danish club are doing so well in attack is largely thanks to their number 25.
Only penalty shots could be better
Esbjerg's field goal shooting percentage being better than their overall shooting percentage also shows their only offensive weakness: seven-metre shots. They were successful with only 67.8 per cent of their attempts from the penalty line. Only HC Lokomotiva Zagreb are slightly worse with 67.4 per cent.
Six of Esbjerg's players have thus far attempted at least one penalty shot, but only the success rates of two of them are satisfactory. Mette Tranborg has scored on both of her attempts, while Kaja Nielsen has scored seven out of nine (77.8 per cent).
The other four, including their main penalty takers, are under the magical 75% with which seven-metres are converted on average (this season the average is at 75.3 per cent): Nora Mørk (24 attempts, 70.8 per cent), the otherwise-so-efficient Henny Reistad (12, 66.7 per cent), Marit Røsberg Jacobsen (8, 50.0 per cent) and Michala Møller (4, 50.0 per cent).
The early starters
Last season, such a seven-metre problem did not exist. Back then, they scored an average of 75.8 per cent from the line and their first-choice penalty-taker Henny Reistad was much more accurate than this season with 81.5 per cent successful attempts.
But, on the contrary, their overall offensive performance has improved significantly in comparison to last season where they had the fourth best attack with 27.1 goals per 50 possessions. The improvement of 2.5 in comparison to last season is only surpassed by CSM Bucuresti (2.9).
But, not only the comparison to last year, but also between the two halves of each game is very interesting in Esbjerg's case. Projected on 50 possessions, they score 31.0 goals in the first half (the best half of any team), while in the second they are at 28.2. That's still the seventh best number for any half of any team but the decrease of 2.7 is also the second highest behind Metz Handball's 2.8 (who have the overall fourth best offence at 28.1 goals per 50 possessions).
Interestingly, all of their offensive statistics are better in the first half. Their field and penalty shooting percentages are better, they have fewer turnovers and even get more second chances trough offensive rebounds. But since their offence overall is still clearly the best of the competition that's nothing to worry about.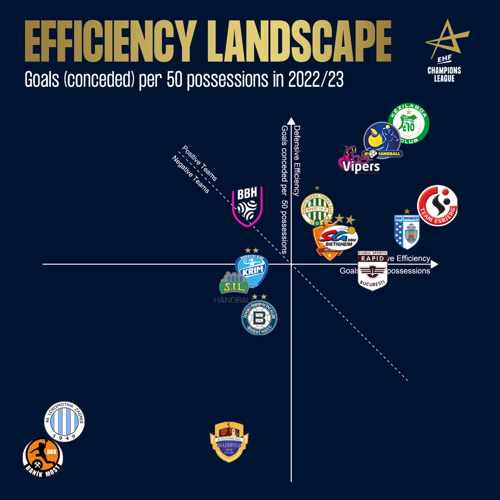 What is more worrying if they want to lift the big trophy at the end of the season is their performance at the other end of the field. Because the fact that they are only in third place in their group is due to their defence.
24.0 goals conceded per 50 possessions is not bad and is enough for fourth place. But it is also clearly behind the top trio of Györi Audi ETO KC, Metz Handball and Vipers Kristiansand, who are all between 21.7 and 22.7 goals conceded per 50 possessions.
Again, there is a clear drop-off between the two halves. Per 50 possessions they only concede 22.5 goals in the first half (third best half overall), while in the second it's 25.5 (just 18th best half). The decrease of 3.0 is clearly the worst among all teams. Like in offence, every defensive statistic gets worse in the second half.
So, in order to reach the top in June in Budapest, Jesper Jensen's team will have to improve their defence and, more importantly, play in the second half like they did in the first.
Julian Rux is a data analyst. More of his work can be found on his website and blog Handballytics.de as well as on social media: Instagram, Facebook and Twitter.