EHF European League
Unfamiliar foes meet in round 2
After an exciting round 1 for the EHF European League Women 2022/23, the competition heads into round 2 with a chance for half the participants to pick up their first wins.
Only HC Podravka Vegeta and DVSC Schaeffler have met before – although not for nearly 17 years – creating plenty of excitement and uncertainty in the weekend's games. The round features two Scandinavian derbies, with Norway's Fana hosting Denmark's Ikast Handbold, and Danish side Nykøbing Falster Håndbold welcoming Norway's Sola HK.
GROUP A
Molde Elite (NOR) vs ES Besancon Feminin (FRA)
Saturday 14 January, 20.00 CET, live on EHFTV
Besancon are one of three French teams competing in the group phase this season
in round 1, Besancon beat Siófok KC 30:21, while Molde produced a strong fight in their first-ever European experience, losing away to Dortmund 32:33
Molde back Mona Obaidli was outstanding against Dortmund, scoring a huge 16 goals
Besancon also won in their French division 1 match this week, beating Saint Amand 30:22; Molde lost 27:34 to Romerike Ravens in the Norwegian league
Siófok KC (HUN) vs BV Borussia 09 Dortmund (GER)
Sunday 15 January, 14.00 CET, live on EHFTV
it is the first time since the season of 2018/19 that Dortmund plays in the EHF European League, having participated in the EHF Champions League Women for the past two seasons
Dortmund goalkeeper Yara ten Holte was on fire in their round 1 match against Molde, making 19 saves and scoring one goal
Siófok made their return to the competition last week after reaching the EHF Finals Women in 2021, when they lost to Nantes in the final – and they lost against another French side in Besancon
Siófok head coach Uros Bregar: "

We respect Dortmund a lot, they played Champions League, have good experience and are still such a good team. Their key player is Alina Grijseels, we need to stop her If we want to have a good result."

both sides had matches against fellow European League participants in the domestic leagues this week: Dortmund drew 30:30 with Thüringer, while Siófok face Mosonmagyarovar on Thursday evening
Dortmund head coach Henk Groener: "I can't really say what to expect from Siófok, they are hard to judge. We will prepare well tactically and we play every game to win it, no matter who we play against."

GROUP B
Neptunes de Nantes (FRA) vs Motherson Mosonmagyarovari KC (HUN)
Saturday 14 January, 20.00 CET, live on EHFTV
Nantes bring the European experience to this tie, having won the competition in 2021, while Hungary's Mosonmagyarovar are making their EHF European League debut this season
however, last week Nantes fell 20:30 to Ikast Handbold in Denmark despite seven goals from Nathalie Hagman
the Hungarian club had better luck on their debut, downing Fana 35:29. Goalkeepers Kitty Mistina and Zsófia Szemerey combined for 20 saves, a 40 per cent efficiency
Nantes also lost to Nice (27:29) in the French division 1 this week, while Mosonmagyarovar met Siófok. After a loss, Mosonmagyarovar coach János Gyurka said, "We have to find ourselves again, our play style after the match against team Siófok"
Nantes head coach Helle Thomsen is preparing for a tough opponent, which she believes is "a team mixed with young and experienced players. It's a team that want to run and play fast, and play good together"
Fana (NOR) vs Ikast Handbold (DEN)
Sunday 15 January, 18.00 CET, live on EHFTV
this will be the second of the two Scandinavian derbies on the schedule in round 2
Fana are in their debut international season and this will be their first-ever international home match
Ikast made a good start in their bid to reach a third consecutive EHF Finals Women with their big win against Nantes last week
left back Aurora Hatle (seven goals and five assists) and goalkeeper Olivia Nygaard (12 saves, 30 per cent efficiency) stood out for Fana as they lost to Mosonmagyarovar in round 1
Ikast have not played since last week's European League, while Fana lost an away match 25:32 to group C particpants Sola in the domestic league
Erlend Lyssand, head coach of Fana, is excited for what lies ahead, "We know we face a tough task, but we love challenges like this"
GROUP C
Nykøbing Falster Håndbold (DEN) vs Sola HK (NOR)
Saturday 14 January, 16.00 CET, live on EHFTV
Nykøbing and Sola play the first Scandinavian derby of the group phase on Saturday, in their first encounter
the home team have form against Nordic opponents, having defeated fellow Danish side Viborg in qualification round 3
Nykøbing centre back Mia Svele is the only Norwegian on her team, which is predominantly Danish; goalkeeper Rinka Duijndam, from the Netherlands, is the only non-Norwegian in the Sola squad
Sola are unbeaten in their last seven matches, chalking up six wins and one draw in the EHF European League and domestic games – including their 35:29 round 1 win against HC Podravka Vegeta
Nykøbing are playing their home games in the Arena Naestved, a venue for the 2015 IHF Women's World Championship, some 60km north of the town of Nykøbing Falster

Nykøbing's Alberte Kielstrup Madsen is looking forward to the spectacle, "I expect there will be a great and intense atmosphere in the arena. It's the European League and that's just something other than the Danish league. I'm looking forward to a blast!
We can't wait to travel to Denmark this weekend to play against Nykøbing. They're a team we haven't faced before and it's always exciting with new opponents that we don't know as well. They play fast handball and are an attacking team and we need to be fully focused to bring points home to Norway.
HC Podravka Vegeta (CRO) vs DVSC Schaeffler (HUN)
Sunday 15 January, 16.00 CET, live on EHFTV
both teams are in the European League group phase for the first time, but Podravka return to the second-tier competition after two seasons in the EHF Champions League
the two sides met in 2006 in the semi-finals of the EHF Cup, with Podravka winning both legs by five goals
while six different nationalities are represented in the DVSC squad list, Podravka have just two non-Croatian players – Austrian centre back Ana Pandza, and Ukrainian line player Iryna Stelmakh
although Pandza scored six times and wing Andrea Šimara added five goals last week, Podravka incurred an away loss against Sola to start the season
DVSC continued their good form during the week, drawing 30:30 with Champions League side FTC-Rail Cargo Hungaria in the domestic league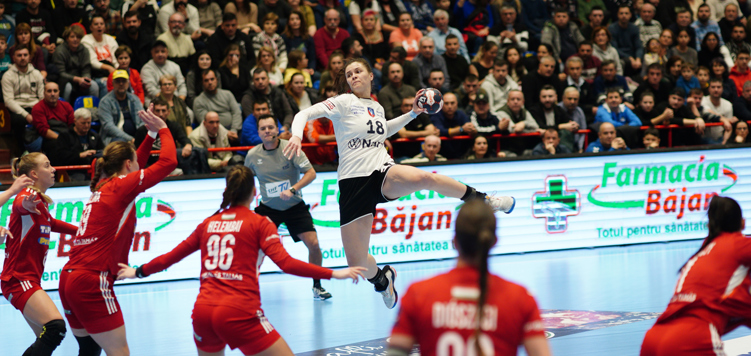 GROUP D
Paris 92 (FRA) vs SCM Ramnicu Valcea (ROU)
Sunday 15 January, 14.00 CET, live on EHFTV
2021/22 quarter-finalists Valcea beat French side Chambray-Touraine twice last season – although they struggled more against Brest Bretagne Handball in the two previous EHF Champions League Women seasons
Valcea come into the match riding a nine-game unbeaten streak stretching back to October in the domestic league and EHF European League – although they drew with Craiova this week domestically
captain and centre back Déborah Lassource was the stand-out player for Paris 92 last week, netting five times; her sister Coralie is captain of Champions League side Brest Bretagne
after last week's European League loss to Thüringer, Paris beat Dijon 31:28 at home in the French league
10 different nationalities are represented in the Valcea squad, which make them one of the most international teams in the competition
Praktiker-Vác (HUN) vs Thüringer HC (GER)
Sunday 15 January, 18.00 CET, live on EHFTV 
the two squads have contrasting characteristics: while all the Vác players and staff are Hungarian, Thüringer's team are drawn from across Europe and also includes Japanese left wing Yuki Tanabe
this is Pratiker-Vác's third consecutive group phase appearance in the EHF European League, while Thüringer reached this stage in 2020/21
centre back Csenge Kuczora's 10 goals, including four penalties, was not enough to stop a 30:40 defeat away to Valcea in round 1 for Vác
Thüringer won their first group phase game of the season at home against Paris 92, 28:24, with goalkeeper Irma Schjött producing a 40 per cent save rate
the German club have lost just two domestic and international matches this season – back-to-back defeats in Germany against SG BBM Bietigheim and TuS Metzingen in late November
We have to find ourselves again, our play style after the match against team Siófok