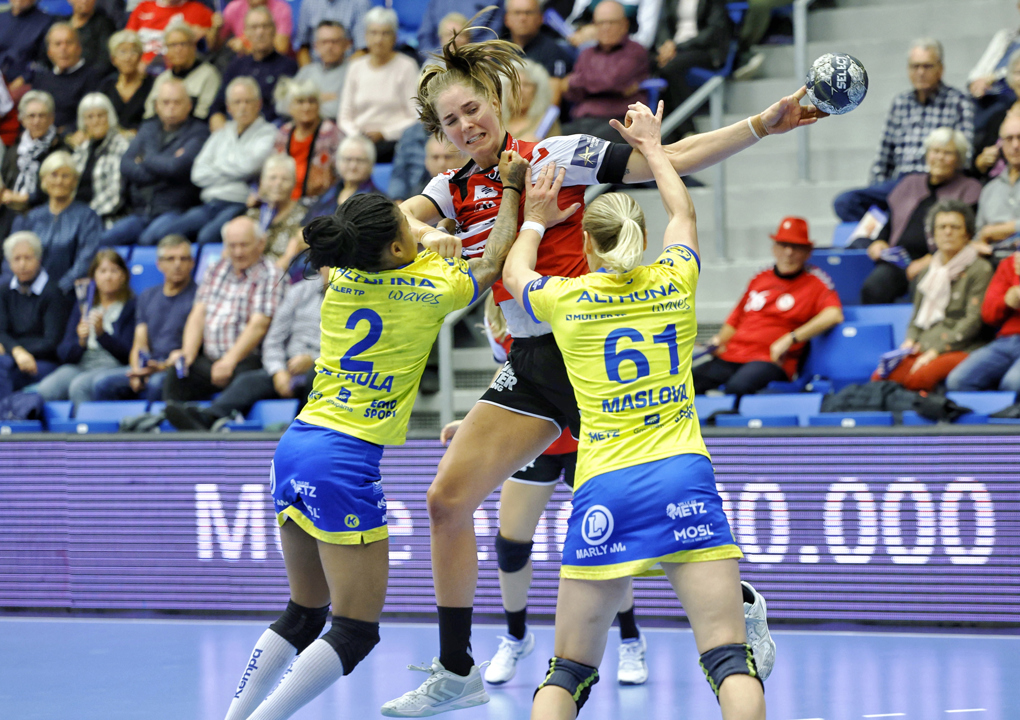 2023 arrives with high-profile EHF Champions League clashes
The EHF Champions League Women is back and what better way to start 2023 than with the Match of the Week between the top two teams of group B. Metz Handball will try to defend their leading position as Team Esbjerg seek to overthrow them.
Györi Audi ETO KC and CS Rapid Bucuresti want to continue their winning streak, while HC Lokomotiva Zagreb will try to gain their first win over Kastamonu Belediyesi GSK.
In group A, CSM Bucuresti look to hold their lead with a game against DHK Banik Most, while the battle for sixth place is heating up with Krim Mercator Ljubljana eyeing Brest Bretagne Handball's position in the standings.
GROUP A
DHK Banik Most (CZE) vs CSM Bucuresti (ROU)
Saturday 7 January, 16:00 CET, live on EHFTV
CSM head into the game with a three-game winning streak and as group leaders, with two points ahead of Vipers
Most are currently on a 12-game losing streak, only four games shy of the largest losing run in the history of the competition – set by Krim between November 2014 and October 2016
CSM left back Cristina Neagu is the joint top scorer in the competition so far, putting 66 goals past the opponents, as many as FTC's Katrin Klujber, and needs only 24 goals to hit the 1,000-goal milestone in the European premium competition
victory would mean CSM would become the 10th team in the history of the EHF Champions League Women to win 70 games, in only 120 matches
Most have conceded at an alarming rate of 41.2 goals per game, shipping at least 40 goals in eight of the nine matches played so far in the competition
The match against the leading team of our group will be extremely hard, but we are not giving up and we will fight till the last minute of the match. These games against opponents like this are like a handball university, that can especially to the younger players give a lot of experience. And we try to learn the most from each game.
Odense Håndbold (DEN) vs Brest Bretagne Handball (FRA)
Saturday 7 January, 18:00 CET, live on EHFTV
Odense are currently riding their largest-ever winning streak in the EHF Champions League Women, winning the last five games on the trot
the streak started last October, when Odense surprised Brest on their home court by taking a superb 25:21 win
only Metz and Györ, conceding 219 and 221 goals respectively, have a better defence than Odense this season. The Danish side conceded 228 goals, or an average of 25.3 goals per game
the hosts have conceded only one loss on their home court this season, against CSM Bucuresti, while Brest have a single away win. Brest are now fighting to keep sixth place and a play-offs berth
Odense mounted an impressive comeback this Wednesday in the domestic league, snatching a draw against Team Esbjerg, as their unbeaten streak in all competition rose to 12 games
Brest have a really strong team with a strong defence so it will definitely be a hard fight for us. The away game where we won against them, plus the results we achieved in the last two months, will give us some confidence for sure. We want to win to still be in the race for the top places in the group, but it will be a hard and exciting game.

 
Vipers Kristiansand (NOR) vs FTC-Rail Cargo Hungaria (HUN)
Saturday 7 January, 18:00 CET, live on EHFTV
after a loss against CSM in the last game of 2022, Vipers are heading back home as the only side to have an immaculate performance on their home court after four matches this season
Vipers left back Markéta Jerábková has been having an excellent season. The reigning MVP of the EHF FINAL4 scored 65 times, making her the third top scorer of the competition
the Hungarian side had mixed away outings this season, with the wins against Most and Krim being cancelled by tough losses against CSM and SG BBM Bietigheim
FTC are looking for their 110th win in the competition, after they secured a 43:19 win against Most – their 109th - in the last match of 2022
the two sides have met each time in the past three seasons, with the record being perfectly split – three wins for each side and one draw, sealed in the first match this season, 26:26
Krim Mercator Ljubljana (SLO) vs SG BBM Bietigheim (GER)
Sunday 8 January, 16:00 CET, live on EHFTV
Krim have now cut the gap to sixth-placed Brest to a single point, after the win against the French side in the last game of 2022
after boasting a 64-game unbeaten streak in all competitions until October, Bietigheim are on a four-game winless streak in the EHF Champions League Women, with their last win coming in mid-October
captain Danick Snelder and left wing Antje Döll are still missing for Bietigheim due to injuries, while centre back Kerstin Kündig and left wing Roos Dalemann settle into the squad
this will be Bietigheim's 50th match in the European premium competition, with the German side having won only 11 of those matches, four wins coming this season
Krim's home form has been hit and miss, as they won a single game from the four played, against Brest, this season, while Bietigheim also have one win from four matches in away games
Bietigheim head coach Markus Gaugisch said: "Very important games in the Champions League are coming up for us in the coming weeks. We want to leave Krim, Brest and FTC behind us. A win in Ljubljana would be a strong sign of that. In the first leg we saw that the team is well prepared and that they have an outstanding individual player in Daria Dmitrieva. Our offensive game has to adapt to many cover formations and act flexibly against the 6-0 and 5-1 formation."

GROUP B
Györi Audi ETO KC (HUN) vs Storhamar Handball Elite (NOR)
Saturday 07 January, 16:00 CET, live on EHFTV
Györ and Storhamar have met only once before. In round 5 of this season the Hungarian side won 35:21
Storhamar are on a negative streak, having five consecutive defeats in the competition; their last win was in October 2022 against Kastamonu
the Hungarian side is still in the top three teams of the group despite two defeats, by Rapid Bucuresti and Metz
Linn Blohm and Ana Gros have both scored 34 times, making them Györ's leaders, right back Maja Jakobsen is the most high-scoring player for Storhamar with 51 goals
Györ have the second-best defence in the league, conceding only 221 goals – two more than Metz
I don't expect an easy game on Saturday against Storhamar, as they are playing very fast handball, and they never give up. Although we respect our opponent a lot, we must win this match, as we can not lose any more points in the group phase. The high quality and excellent work we do in training we have to show also in the game, than we will have no problem.
HC Lokomotiva Zagreb (CRO) vs Kastamonu Belediyesi GSK (TUR)
Sunday 08 January, 14:00 CET, live on EHFTV
Kastamonu have only one win in 23 matches played – a 26:23 victory over Lokomotiva in round 5. The Croatian side still dreams about its first points this season
the two teams are at the bottom of group B. While Lokomotiva is the least effective team in the competition, with an attack efficiency of 47.6 per cent, the Turkish side is 11th with 55.2 per cent
with 47 goals, Croatian line player Katarina Jezic is Katamonu's top scorer. She has also played for Lokomotiva twice, most recently in the 2014/15 season
in the round 4 match, Mia Tupek and Ana Malec were the best individuals in Lokomotiva's squad, both scoring five times
this is the second time these two teams meet up in Europe's top-tier competition
CS Rapid Bucuresti (ROU) vs WHC Buducnost BEMAX (MNE)
Sunday 08 January, 16:00 CET, live on EHFTV
Rapid Bucuresti are on a winning streak after two strong victories, while Buducnost were stopped by Györ after their two consecutive wins
the first encounter between them in round 5 ended in a 30:30 draw after a thrilling match in Podgorica
the Romanian side have only one defeat this season, also by Györ, and share the same points (14) with the Hungarian powerhouse and Esbjerg
Buducnost's goalkeeper Armelle Attingré is the current top goalkeeper of the competition with 112 saves at 32.4 per cent save efficiency; she will face Maria Sorina Grozav, Rapid's top scorer with 44 goals scored so far
with 283 goals scored, Rapid have the joint third most successful attack of the competition, behind Esbjerg, Vipers and level with Metz
this will be Buducnost's 300th match in the EHF Champions League Women
Buducnost are a very dangerous team. Their players have an incredible competitive mentality, they have shown it once again at the European Championship in November. It is a team with many players with international experience with the Montenegrin national team and in the Champions League.
MOTW: Metz Handball (FRA) vs Team Esbjerg (DEN)
Sunday 08 January, 16:00 CET, live on EHFTV
Metz have only one defeat in this EHF Champions League Women season – losing 28:35 to Esbjerg in MOTW in round 5. The Danish side was defeated twice, against Györ and Rapid Bucuresti
both teams are on a winning streak; Metz have four consecutive wins, while Esbjerg were successful in five straight games
Henny Reistad is Esbjerg's top scorer, netting 61 times so far in the competition puts her fourth overall; Metz left back Bruna de Paula follows with 55 goals
Esbjerg and Metz are both in the top three most effective teams in the EHF Champions League with shot efficiencies of 69.6 per cent and 65.4 per cent respectively
coach Emmanuel Mayonnade prolonged his contract with Metz until 2024, and German international line player Luisa Schulze, who won the EHF European League in 2022 with SG BBM Bietigheim, joined the French team until the end of the 2022/23 season
this will be the sixth encounter between the two sides. Metz have three wins and Esbjerg two, while one match ended with a draw
this will be Metz's 170th match in the EHF Champions League