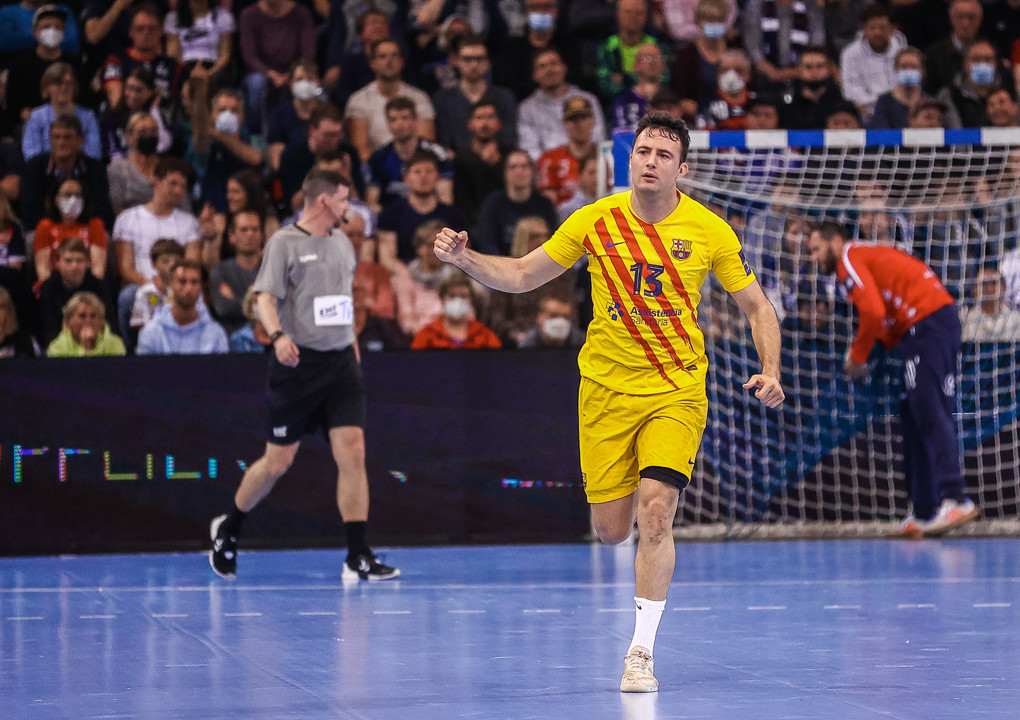 Cologne calling: which four teams will make the cut?
Eight teams, four berths at the EHF FINAL4 2022: the second leg of the EHF Champions Men 2021/22 quarter-finals on Wednesday and Thursday determines the quartet that advances to Cologne in June.
It is all or nothing this week for the eight teams eyeing a spot at the EHF FINAL4 2022 in Cologne in 18/19 June. The second leg of the quarter-finals determines which four teams are left in the race to the EHF Champions League Men 2021/22 title.
While Barça and Lomza Vive Kielce, both after away wins in the first leg, as well as Telekom Veszprém HC, following a big home win, look favourites to advance from the quarter-finals, the fourth tie between THW Kiel and Paris Saint-Germain HB is open after last week's draw in Paris.
The field for this year's EHF FINAL4 could be identical to the one from 2015, when Barça, Veszprém, Kielce and Kiel appeared at LANXESS Arena in Cologne.
QUARTER-FINALS, LEG 2
Aalborg Håndbold (DEN) vs Telekom Veszprém HC (HUN) – first leg 29:36
Wednesday 18 May, 18:45 CEST, live on EHFTV
Veszprém ended Aalborg's series of seven consecutive CL wins in style with a dominant performance in the first leg
Veszprém have been unbeaten for five CL matches, including last week's win and the win and a draw in the play-offs against HC Vardar 1961
Aalborg won two CL matches this season by at least eight goals – the margin they need to advance: against Zagreb 34:24 and Montpellier 36:28
Veszprém left wing Dejan Manaskov: "We should not worry too much about Aalborg; we need to focus on ourselves. We should play as if nothing happened last week, forget the seven-goal advantage. That is our only chance"
Veszprém can qualify for their seventh EHF FINAL 4 (including final appearances in 2015, 2016 and 2019); Aalborg's for their second (after reaching the final in 2021)
the top- and third-ranked top scorer of the CL meet in this game: Felix Claar (85 goals for Aalborg) and Petar Nenadic (82 goals for Veszprém)
We made it very difficult for ourselves by losing with seven goals last week in Veszprém. But now we play at home with a lot of confidence and believe that we can do better and really want to show that last week's result is not how we wanted it to turn out. We really want to go back to Cologne.
Lomza Vive Kielce (POL) vs Montpellier HB (FRA) – first leg 31:28
Wednesday 18 May, 20:45 CEST, live on EHFTV
Montpellier led for the first 10 minutes in the first leg last week but Kielce went ahead soon and never looked back
in the play-offs last season, Kiel won the first leg away against a French team – HBC Nantes – before losing the return leg at home and missing out on the next round
Montpellier have won four of their five CL away matches in Kielce; their only defeat came in a group phase game in 2015
Montpellier have won five games by more than five goals this season
while Kielce can hope for a full squad, Montpellier's Yanis Lenne is out with a hand injury though Julien Bos could return from injury
After the first game, we know that we need to stay calm. Probably they will attack us hard, we play at home so emotions will get really high and we want to start as strong as possible from the very first minute.

We do not perceive ourselves as favourites, we have played just the first half. Three goals are not too much.
Barça (ESP) vs SG Flensburg-Handewitt (GER) – first leg 33:29
Thursday 19 May, 18:45 CEST, live on EHFTV
Barça took early control of the first leg last week with a 9:2 lead within 10 minutes, on their way to a seventh straight win against Flensburg
best scorers in the first leg were Emil Jacobsen, with nine goals for Flensburg, and Youssef Ben Ali, with eight for Barça
Flensburg have not returned to the EHF FINAL4 since their (winning) debut in 2014; Barça are aiming for their 10th appearance
Barça have lost only one CL home match this season – against Kielce; Flensburg have won just two away marches – in Bucharest and Porto
Barça right back Dika Mem is the second-best scorer of the CL with 84 goals; Flensburg's outgoing wing Hampus Wanne has scored 75 times
MOTW: THW Kiel (GER) vs Paris Saint-Germain HB (FRA) – first leg 30:30
Thursday 19 May, 20:45 CEST, live on EHFTV
the MOTW starts with neither team having an advantage: Kiel had to settle for a draw in the first leg, having led by up to five goals (19:14) in the second half
when the teams also met in the quarter-finals last season, Kiel won the home leg 31:29 but PSG ultimately advanced to the EHF FINAL4 2021
Kiel are unbeaten on home court this CL season and failed to win just one match: 32:32 against Pick Szeged; their last home defeat was against Barça (32:26) in November 2020
Kiel had no match in the German Bundesliga; PSG defeated Toulouse 37:32 in the semi-finals of the French cup
Kamil Syprzak is PSG's leading scorer with 80 goals; CL 2019/20 top scorer Niclas Ekberg has netted 66 times for Kiel