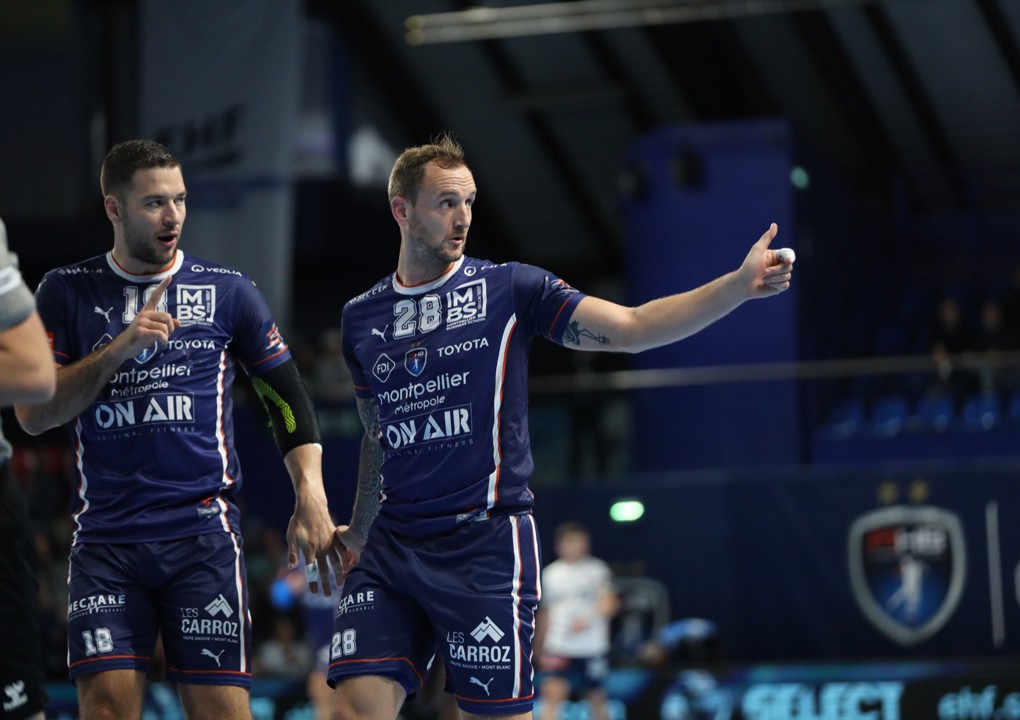 SUMMARY: Montpellier win big; Nexe with last-second joy
The EHF European League Men 2022/23 returned from a three-week break on Tuesday (22 November) with 12 matches in round 3 of the group phase, with Nexe taking a win against Sporting and Montpellier winning big against Göppingen being results among in the highlight matches.
23:03
A full overview of tonight's results can be found here: 
23:00
Check out the best images from tonight's action in the gallery below:
























22:27
It was a night that felt like nothing could go wrong for Montpellier and this goal just sums it up. After a late charge by Göppingen, Montpellier still won big 35:27.

And with that loss, Göppingen's unbeaten run comes to an end. 
22:14
HIGHLIGHTS
Make sure to check out our channel for highlight packages of selected games from tonight: 



22:18

RESULT: RK Nexe 32:31 Sporting CP
Wow! Nexe do it, they worked the ball around and with just 5 seconds left Srsen unleashes an underarm shot to the near post and wins it for the Croatian hosts. 

Nexe remain unbeaten this season moving to three wins along with Granollers at the top of group C. Nexe will travel to Austria to face Hard in the next round. 
22:16
I expected them to play a longer attack there but there are 15 seconds on the clock after Costa's goal. 31:31, it is now Nexe's time to decide it. 
22:15
Last attack. Sporting down by one, it is their ball.... 
22:10
Sporting have gone into a very high and aggressive 5-1 to chase this game and force Nexe into some mistakes. There is just one goal in it now.
22:09
We pop over to Spain briefly, check out this top save from Irun's gate keeper!
22:07
This Sporting team is the Costa brothers. They have netted 20 of Sporting's 27 goals so far. With six other Sporting players having taken shots and missed all of them. Something needs fixing there.
22:02
RK Nexe are en route to taking a big win over a big name. It is 28:26 in their tie against Sporting. 
21:52
Valur are proving to be a test for SG Flensburg tonight in Iceland with the home side sitting just three goals behind SG, 26:23. 
21:46
Montpellier have just totally shut Göppingen down. Handball is a sport that eats you alive when you are not up to pace and Montpellier's intensity and quality on the wings has killed this game for Göppingen. It stands 28:18, 10 goals. Looks like a long road back for the German side.
We will now move to Nexe hosting Sporting in Croatia.
21:30
Could be a long evening for Sporting away from home to Nexe. They are 22:16 behind after the break. 
21:20
HALF-TIME: Montpellier 20:13 Frisch Auf Göppingen
Well, it has been a tough return to Montpellier for Martin Sego in the Göppingen goal. While the Croatian keeper has done his part with four saves, his team have not performed at the other end of the court netting only 13 and missing 10 shots. Montpellier only missed six having taken 26 in total. 
21:19
This is vintage Montpellier. High energy, great on the break, wings crushing it and a rock solid defence - don't forget the highlight reel entertainment. 
21:17
Valentin Porte 4/4, Yanis Lenne 3/3. Montpellier are flying high on their wings so far. 19:13 to the French side. 
21:15
Stas Skube running at you on the second wave fast break = total nightmare.
21:10
Montpellier are looking serious! A wing-to-wing in-flight goal leaves Göppingen speechless, Lenne again being the man on the end of the move. A very entertaining side to watch... 
21:03
"When we run back and you can make that foul then make that foul" - Hartmut Mayerhoffer, Göppingen's head coach is looking for his side to slow down the hosts Montpellier. The German side is 11:8 down and is looking like this game could get away from them if they don't step up. Stas Skube bossed it from the backcourt with an in-flight goal to Lenne. 
20:22
For our last round of games this evening at 20:45 (CET) we will see a host of matches. Click here for all of the ties.

For the live blog, we will be focussing on Montpellier vs Göppingen. 

Watch them all on EHFTV
20:19
RESULTS: 
PAUC Handball 33:30 FTC 
Granollers 38:28 Alpla HC Hard 
Pelister 34:43 Füchse Berlin

PAUC showed huge heart tonight having been down for the majority of that game. Granollers leave no doubt and net a 10-goal win over Austrian side Hard while Pelister concede their biggest amount of goals in Europe at home to German powerhouse Füchse Berlin; Milos Vujovic netted himself a whopping nine goals for the Foxes.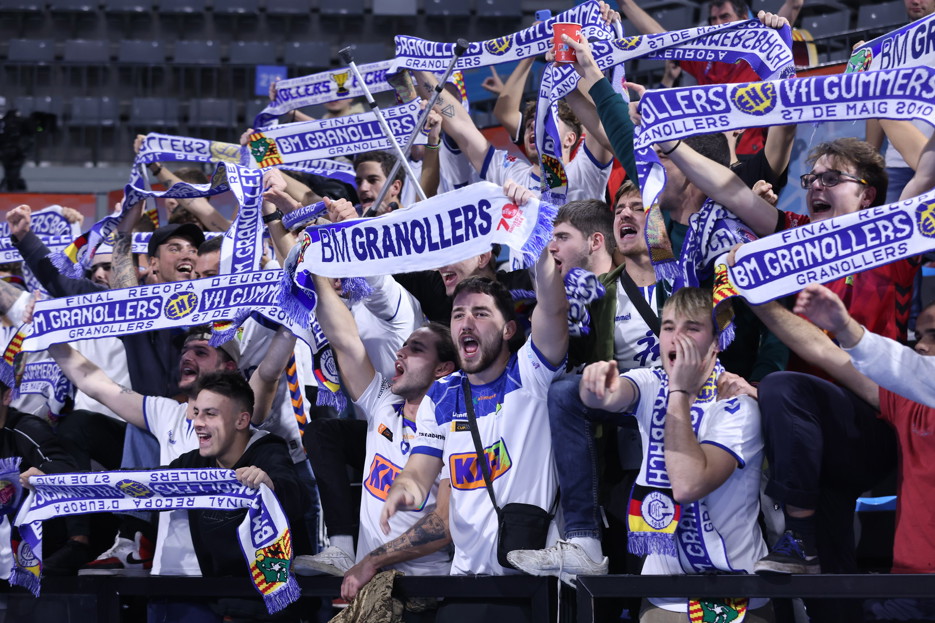 20:14
The goal is nice but it is the main man of the second half, Ian Tarrafeta with the assist!
20:13
Some lovely action from Spain!
20:10
PAUC on FIRE! They are now up by three with only two minutes left and FTC have switched to a man-marking system on Tarrafeta... who has just netted his 4th of the second half, game changer!
20:03
My goodness, what a save by Alejandro Romero Carreras in the PAUC goal! Imre Bence found himself with tonnes of space coming in from the right wing, and the PAUC keeper reads the shot the whole way and saves it sending the crowd into jubilation. 
20:00
Borbely with ANOTHER save from the spot, the man is on fire. He stood right back on his line and Ben Ali, EHF Champions League winner from last season, sent it to the keeper's low left and the Hungarian keeper booted it into the stands. Nice work! 27:26 for PAUC with 9 minutes left.
19:55
Nicolas Claire has popped up to score his first for PAUC and give them the 25:24 lead and their first lead since the score was 3:2 for the French side. Boy, do they need the experienced French international to now step up and offer some real threat in front of the goal. It seems they have lacked that killer instinct at the attacking end of the court in big moments. 
19:53
What a game this has turned into, stuck again level at 24:24 both sides now are trading blows. 
19:42
Adam Borbely with a HUGE save from the penalty spot and FTC are back to plus 3 thanks to a Kovacsics goal. What a turnaround again from this FTC, putting in a serious shift away from home.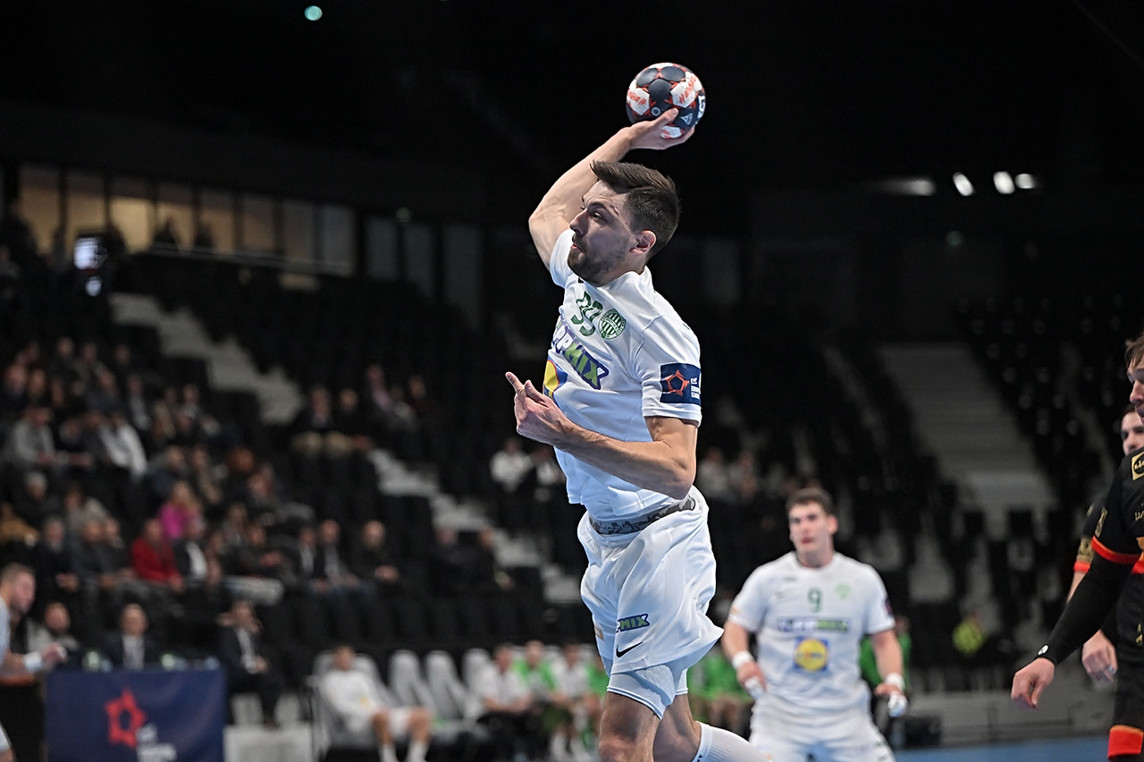 19:39
We are level in France! 18:18, a much improved PAUC side has improved their shooting and tightened up in defence and it is all paying off. 
19:34
The big man has a few tricks up his sleeve...
19:22
HALF-TIME: PAUC Handball 14:17 FTC
It's been some of the best handball we have seen from FTC this season, with 71% shooting percentage they take a three-goal lead with them into the locker room. All of this without their star Mate Lekai. It's been PAUC shooting that has really let them down having taken 27 shots and only netted 14, that will need to improve if they plan to close the gap.
19:15
It is a real team effort from FTC with 10 players scoring 14 of the goals so far, I like it. Has been nice to watch but PAUC are slowly starting to find their feet with Lagarde finally getting on the scoresheet. 
19:06
Granollers vs Alpla HC Hard and Pelister vs Füchse Berlin have started as expected with Granollers and Berlin having opened up four-goal gaps in their ties but FTC have come bursting out of the gates and are leading 10:7 over PAUC, that's tasty so we will keep our eyes on that for the moment.
18:50
We have more matches that have just thrown off: 

PAUC Handball vs FTC 
Granollers vs Alpla HC Hard 
Pelister vs Füchse Berlin 

Join us now on EHFTV.com for the action (note that geoblocking may apply)
18:37
FULL-TIME: Balatonfüredi KSE 28:31 Skjern Handbold
In the end, it was superior backcourt shooting that won this for Skjern. While Tagen was very expensive at times having only netted 47% of his shots, he did net eight when it was all said and done and Jönsson the Swedish shooter had a better shot-to-miss ratio with 8 goals from 10 shots. 

My player of the match would have to be Arián Andó with his 13 saves. In reality he was the main figure in this game being as close as it was. But it wasn't enough with the Hungarian side waiting for their first win; Skjern move to two wins. 
18:21
Plus four now for Skjern, their quality is starting to show as the Hungarian side is starting to slip up in defence.
18:09
Andó is like their get-out-jail card, he comes up with another save after some terrible defending; both middle blocks not communicating and just rushing out to the backcourt and leaving the line alone but Andó comes up with a big save. Just a minute later the Hungarian almost saved a fastbreak from Rasmussen but the ball just skipped in past him. 
18:03
It is only the second time in the game that Skjern have opened up a two-goal lead. Pettersen nets off the back of a solid Robin Paulsen Haug save in the Skjern goal. It is starting to look like, just maybe, the Balatonfüred backcourt is looking a little tired. 
17:52
Here is that double save I talked about earlier, great stuff from the Hungarian!
17:38
HALF-TIME: Balatonfüredi KSE 15:16 Skjern Handbold
Andó in the host's goal is the big headline of the first 30 with nine very important saves. He has kept this game close with Skjern relying on their backcourt shooters in Tangen and Jönsson to provide eight of their goals (four each). Can the Hungarian side keep up in the second half? Join us on EHFTV to find out.  
17:27
Another big save by Andó in the hosts' goal gifts them an easy open-net goal and the lead! The Hungarian side is playing their socks off... 13:12 to Balatonfüredi KSE at the moment. 7 minutes left in the half. 
17:21
The ease with which the goals are coming for Skjern in comparison to Balatonfüred might be a concern for the outlook of this match. Jönsson's goals are a prime example of that, two quick beautiful goals by the talented Swede. 
17:16
Balatonfüredi KSE are here to play ball tonight! A double save by Andó their number 21 has the bench jump off their feet, amazing stuff. It is 8:7 to Skjern at the moment. 
17:09
We are up and running, and the speedy Skjern are off to a marginally better start leading 5:4 after just eight minutes. 
16:31
One of the eye-catching games tonight is the one in Croatia between Nexe and Sporting.
Nexe made it all the way to the EHF Finals 2022 and they look strong contenders again this season, winning their first two matches in group C.
Sporting, however, enjoyed mixed fortunes with a win over Hard, followed by a defeat at Granollers the next week. In this feature by EHF journalist Tiago Nogueira, Spanish player Mamadou Gassama says Sporting are "motivated" and "very confident" ahead of their trip to Croatia:
16:14
Like usual this season, the round throws off with an early match in Hungary. Today, Balaronfüred and Skjern have the honour to open the playing day as they meet in the Veszprém Arena at 17:00 CET.
Skjern started group C with a narrow defeat against last season's EHF Finals participants Nexe, but recovered the following week with an away win at Hard in Austria.
Balatonfüred, however, will be eager to bag their first points of the season after a home defeat against Granollers and a 14-goal drubbing at Nexe.
To get you in the right mood, here are the Top 5 Goals of round 2:
16:00
Yes, we are back!
Good afternoon and welcome to the live blog for round 3 of the EHF European League Men group phase. The competition returns from a three-week break today, and action already starts in one hour.
Here is the full schedule: