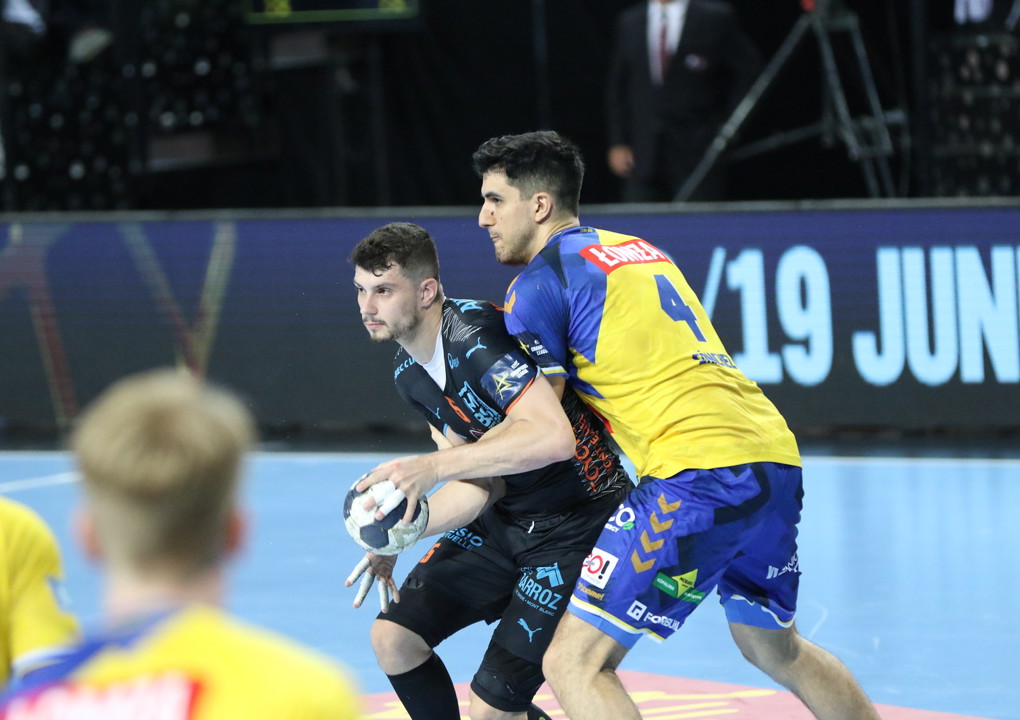 Live blog: Kielce defeat Montpellier after Veszprém beat Aalborg in MOTW
23.15
That concludes our coverage of the EHF Champions League for today. Thanks for joining us, we hope you enjoyed tonight's action. 
Just four more matches until we know who will be competing in the men's EHF FINAL4. Two next Wednesday, two next Thursday. 
We hope you can join us for another round of thrilling handball matches. 
23.12
What a pair of matches we have had today. 
First off in the MOTW we had Veszprém delighting their passionate fans with a 36:29 win over Aalborg. 
Steered by Kentin Mahe and top scorer Gasper Marguc, awarded Player of the Match, Veszprém were in full control after 15 minutes. After their quarter-final elimination by Nantes in 2021, the four-time Champions League finalists have paved the way to Cologne with a seven-goal margin.
Then we saw Kielce hold off a rampant Montpellier team in the second half to leave southern France with a 28:31 victory. 
Alex Dujshebaev and Uladzislau Kulesh were at the heart of the Polish team's performance, and while Hugo Descart sparked a Montpellier fight-back, Kielce didn't relinquish control and took their chances in attack, and worked passionately in defence.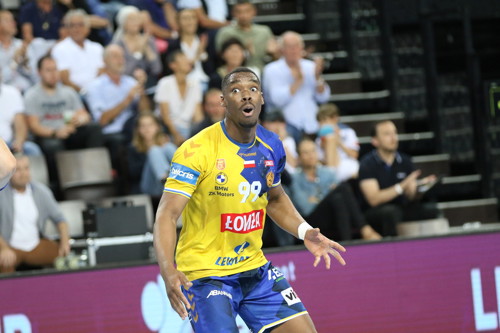 22.52
The quarter-final second legs will take place next week, here's the details.
Wednesday 18 May
18:45 CEST - Aalborg Håndbold vs Telekom Veszprém HC
20:45 CEST - Lomza Vive Kielce vs Montpellier HB
Thursday 19 May
18:45 CEST - Barça vs SG Flensburg-Handewitt
20:45 CEST - THW Kiel vs Paris Saint-Germain Handball
22.39
Here's how the quarter-finals stood at the halfway stage. Four more matches to come before we know the EHF Champions League FINAL4








22:28 RESULT | Montpellier HB 28:31 Lomza Vive Kielce (12:16)
22.17
Time is ticking for Montpellier to mount a comeback. Five minutes remaining has ticked by and Kielce still enjoy a three-point cushion. 
They are quick to get behind the ball when the French side go on the attack and them smother the ball carrier 
22.00
We're nearly a quarter of the way through the match and Kielce are keeping Montpellier at bay despite the home team raising their intensity again and again.
21.50
Kielce's Nicolas Tournat spins, dives and fires home for a goal that he celebrates emphatically. The Polish team are keeping their energy levels high as the home side raise the tempo, backed by their vocal supporters.
21.47
We are back underway in southern France and while there is no let up in the intensity, the hosts have pulled back a couple of goals. 
21:27 HALF TIME | Montpellier HB 12:16 Lomza Vive Kielce 
The visitors are well worth their lead and the last play of the half summed up their performance. After they added their 16th goal, they quickly regrouped in defense to keep out Montpellier's last attack of the half, and forced a rushed shot that hit the bar. 
Where would Montpellier be without Marin Sego? Earlier this week, left-winger Hugo Descat said that the French side would be two perfect games in order to qualify. But so far, only the Croatian goalkeeper has risen up to the occasion in the Montpellier ranks.
That's not to say that Kielce are playing a blinder either, but the Polish side is making the most of every turnover to increase their lead on the scoreboard. Even Dani Dujshebaev's red card could not stop the visitors' progression. If Kielce can keep up their defensive intensity, they should not be far from having a chance of qualifying.
21.15
Lomza Vive Kielce are really putting up an impressive fight against Montpellier. They are putting the crowd out of their minds and getting on with the job in hand in attack and defence. So far they are good value for their two-goal lead and closing up the gaps on the French side. 
21.00
It has only been a few minutes, but the great goals are already flying in
20.57
We are 10 minutes into the match at the Sud de France Arena, and the visitors hold a 4:5 lead. 
20.46
We are underway in Montpellier and it is the home side who score first. 









20.38
While we catch our breath after a phenomenal MOTW, in five minutes time we go again when Montpellier HB take on Lomza Vive Kielce in the fourth and final EHF Champions League quarter-final first leg. 
20.26
Veszprém's Kentin Mahé is the player of the match after showing in which he scored five goals. It was his team-mate Gasper Marguc who led scoring with seven goals from eight shots.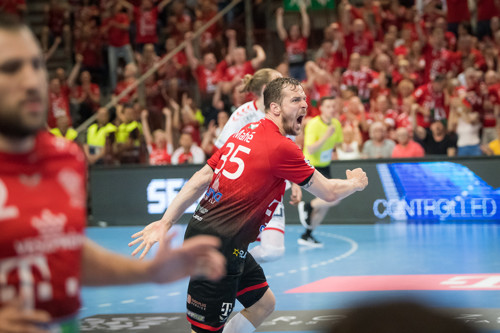 20.21
RESULT | Telekom Veszprém HC vs Aalborg Håndbold 36:29 (17:16)

It is a huge result for the Hungarian team, and the seven-goal advantage they will take with them to Denmark will give them huge confidence that they will be able to complete the job. 
Telekom were the team with the greater pedigree in the EHF Champions League and they made all their experience count in front of a boisterous crowd who added to a vibrant match. 
20.16
That looks like the end of the night for Yahia Fathy Omar, who rolls his ankle as he lands and is helped off. He's put in a great performance and at the heart of everything good that Telekom Veszprém HC did, most notably with his six goals . 
20.03
The match is creeping over the 50th minute mark and still the hosts are showing no sign of slowing down. It doesn't matter what they do in attack, whether down the middle or from the flanks, or up high or down low, there is little the Aalborg defense can do to stop them. 
19.54
Just over 10 minutes gone in the second half and the home side have opened a six-point lead, all the while roared on by a vociferous crowd. 
19.38
We are back underway at Vezsprem Arena, and already each team has scored. It's that sort of match. 
19.37
It may be knockout handball, but that doesn't mean they don't get on...




19:26
HALF TIME | Telekom Veszprem HC vs Aalborg Handbold 17:16
Despite 33 goals before the break, the MOTW was defined by strong defense – first Aalborg built up an extremely movable and tight wall of defenders, then  Veszprém found the gaps to get through and at the same time strengthened their defence.
Boosted by the home crowd, the hosts dominated from the 15th minute, but their lead could be more after an 11:7 advantage at one point. 
19.00
The home side have opened a bit of daylight and hold a 10:7 lead after 15 minutes. Their attack is somehow finding a way through a very tight Aalborg defence, and the Danish side has called a timeout to catch their breath and reorganize. 
It doesn't stop Telekom Veszprém HC's momentum though, and they quickly score the first point after the teams return to the court. 
18.53
It has been going point for point so far, but for the first time the home team take the lead 
18.45
We are off at the Veszprem Arena and with less than a minute gone Aalborg have opened the scoring.
18.40
The fans are being treated to ACDC, the atmosphere is phenomenal, and here come the home side...
18.38
There's smoke, there's a light show and the Veszprem Arena is rocking. We haven't even had the home team out yet, so expect the earth to shake when they take the court. 
18.35
Ten minutes till the start of the match between Telekom Veszprém HC and Aalborg Håndbold - the teams are warming up, the crowd is building and old friends and team-mates are catching up with one another. 
The MC has just introduced the teams and the Telekom Veszprém HC are in good voice, roaring on their favorites when their names are announced. 




18.20
This week we found out what the Official EHF Champions League 2022/23 Match Ball and we have to admit, we absolutely love it. 
18.16
Then Montpellier HB (FRA) face Vive Lomza Kielce (POL) at 20.45 CEST
Kielce qualified directly for the quarter-finals by finishing first in group B, while Montpellier eliminated Porto in the play-offs (64:56 on aggregate)
Montpellier and Kielce have faced each other 10 times, since 2014, and Montpellier took six confrontations, while Kielce won four
out of these confrontations, four of them were in the knockout stages in 2014/15 and 2016/17. Kielce qualified in 2015 and Montpellier made it to the quarter-finals in 2017
Montpellier's top scorer Hugo Descat netted 65 times, three more than Kielce's leading scorer, Dylan Nahi
Montpellier will be missing three left-handers for the first leg, due to injuries: Valentin Porte, Julien Bos and Yanis Lenne
Kielce are currently leading the Polish league, with 25 wins in as many games, while Montpellier are fourth in the French league after losing in Paris last Friday (37:33)
18.12
First off on Thursday it is the week's EHF CL Match of the Week when Telekom Veszprém HC (HUN) vs Aalborg Håndbold (DEN) at 18:45 CEST,  live on EHFTV
Here's everything you need to know about these sides ahead of tonight's clash
Aalborg directly qualified for the quarter-finals as winners of group A, while Veszprém eliminated Vardar in the play-offs after finishing fourth in group B
Veszprém play their 27th EHF Champions League season and their 20th quarter-final, while Aalborg are in their seventh season and their second consecutive quarter-final after eliminating Flensburg last year on their way to Cologne
both sides faced four times so far, each side won two matches, both teams won the away matches in the 2020/21 group phase
Icelander Aron Palmarsson is the only Champions League winner in Aalborg's squad (with Barça in 2021, 2010 and 2012 with Kiel) and he is a former Veszprém player
current Champions League top scorer Felix Claar (81 goals) and Lukas Sandell on Aalborg's side won gold medals at the EHF EURO 2022 with Sweden, beating Spain including Veszprém's players Rodrigo Corrales and Jorge Maqueda
Aalborg top the group of the Danish play-offs after beating Fredericia 27:23, while Veszprém are second in the Hungarian league, one point below Szeged but with two games in hand following a 34:28 win against Budakalsz








18.00
Before we get into today's matches, let's remind ourselves of what happened on Wednesday.
Barça took a big stride towards the FINAL4 after they beat SG Flensburg-Handewitt 29:33 - Barça make huge step towards EHF FINAL4
However, it is finely balanced in the match between Paris and Kiel after a 30:30 draw - Everything yet to be decided between Paris and Kiel
Thursday 12 May
Welcome back to our live blog coverage of the EHF Champions League Men 2021/22 quarter-finals! After two exciting games to open this stage last night, we are set for another two matches to conclude the first leg:
18:45 CEST MOTW Veszprém vs Aalborg
20:45 CEST Montpellier vs Kielce
Let's get up today and running with some reading: For the MOTW, check out the feature with Veszprém back Rasmus Lauge or the This is me installment with his teammate Kentin Mahe. Then for the final match of the first leg, read the feature with Montpellier wing Hugo Descat.
Wednesday 11 May
23:15
Here ends our coverage of the opening night of the quarter-final first leg. We are back tomorrow for another promising night of handball, as Veszprém host Aalborg in the MOTW, followed by Montpellier taking on Kielce.
Hope to see you again tomorrow, for now it is good night and enjoy the best pictures from the evening:




















23:11
Read what happened tonight in the match reviews here on eurohandball.com:
23:03
Two different matches but the same excitement: the quarter-finals have started in great fashion tonight.
First, we have seen how Barça set course firmly towards the EHF FINAL4 2022 in Cologne on 18/19 June by earning a four-goal away win at Flensburg, whose spirited fightback in the second half was probably not more than damage control: 33: 29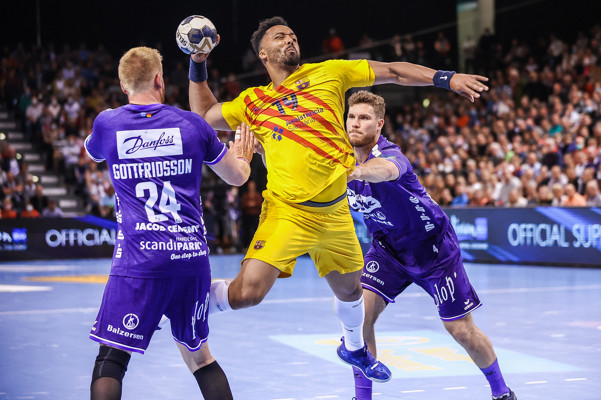 Then we have witnessed how Kiel dictated much of the game in Paris, but failed to keep PSG at distance. Several leads, even up to five goals in the second half, were not enough to take the win. And while a 30:30 draw at PSG is a strong result, it does not guarantee anything for the return leg.

10:58pm
The crowd in Paris was awesome during the match. Even though PSG were chasing a deficit against Kiel almost the entire 60 minutes, they never stopped supporting their heroes.
22:51
PSG and Kiel have served us exactly the spicy meal we were hungry for. Great game, great emotions, and all open going into the reverse fixture next week.
This is what Kiel coach Filip Jicha said after the match:
It was a very tough game, very intense. I think we have to be happy with a draw, even though we were leading almost the entire match. There were a lot of emotions, this was an advertisement for handball.

In the end PSG and Kiel settle for a draw. The visitors have been several goals up many times, up to five goals (19:14) early in the second half, but they just can't shrug off the hosts, who have been pushed throughout the match by a loud Parisian crowd.
All to play for in Kiel next week!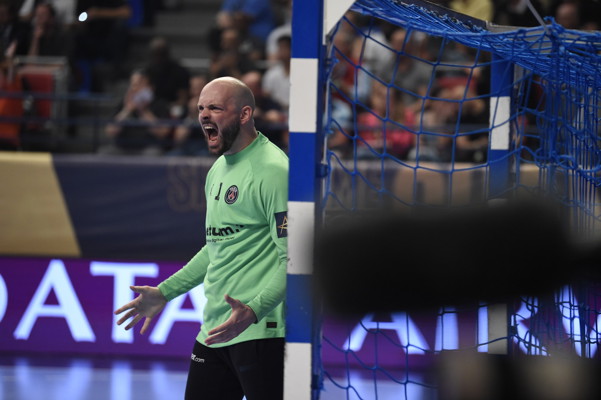 22:27
Luc Steins doing Luc Stein things:
22:17
Just when you think PSG have finally found their stride, Kiel edge in front again. Yes, it is a close match, but fact is also PSG have only been in front once: when Kamil Syprzak converted a penalty for 1:0 in the opening minute.
Great goalkeeping from Niklas Landin also helps Kiel, of course..:
22:12
Team timeout Kiel. PSG have come back again and we are back level at 21:21. Can coach Filip Jicha inspire his team to take the lead once more in the last quarter?

22:03
The second half in Paris has started. Can the hosts turn this around in the second half?
Of course they can (which doesn't necessarily mean they will...) but the experience is very different from last year's quarter-final against Kiel.
The first leg was played in Germany, Kiel won it 31:29, but PSG won the decisive home leg by six goals (35:29) to book their ticket to Cologne.
Tonight, PSG are down by four (20:16) on home court just over six minutes into the second half.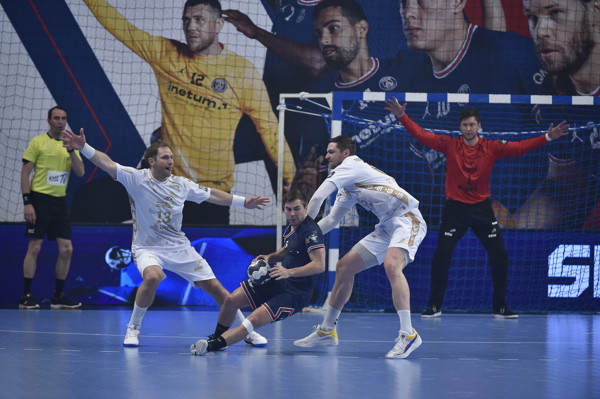 Interesting at first, it has been worth while the wait. An electrifying atmosphere in Paris and even watching the game on EHFTV you can feel the tension in the air. Sander Sagosen leads to Kiel against his former club with four from four; Nedim Remili the best scorer for PSG with four from five.
21:27
Meanwhile, PSG have overcome their shaky start into this quarter-final and are back level with Kiel at 11:11.
21:24
Barça will be satisfied traveling home to Spain, taking that four-goal buffer with them from Flensburg, which should be enough going into the decisive 60 minutes on home court next week Thursday.
Let's hear from the winning coach, Carlos Ortega:
It was a really good match from our side. We got a nice advantage, even if we know that Flensburg are an amazing team with a lot of fighting spirit. Our defence was unbelievable today, on a super level. And we played a really smart attack.
21:13
Time timeout PSG. Raul Gonzalez is far from happy with his team in the opening minutes. Meanwhile it is 7:4 to Kiel after just over 10 minutes.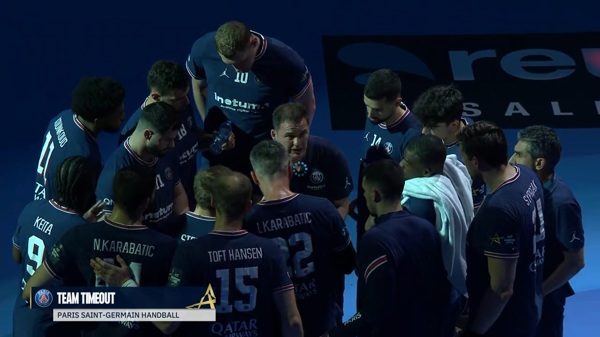 21:00
After a 15-minute delay, we are underway now in Paris... and Kamil Syprzak has given the hosts an early 1:0 lead.
20:58
While we wait... do you think PSG vs Kiel is going to be the closest tie in the quarter-finals this year? At least this one is hard to predict!
20:52
Throw-off in Paris has been slightly delayed because of a spectator in need of medical attention.
We expect to get going anytime soon, though.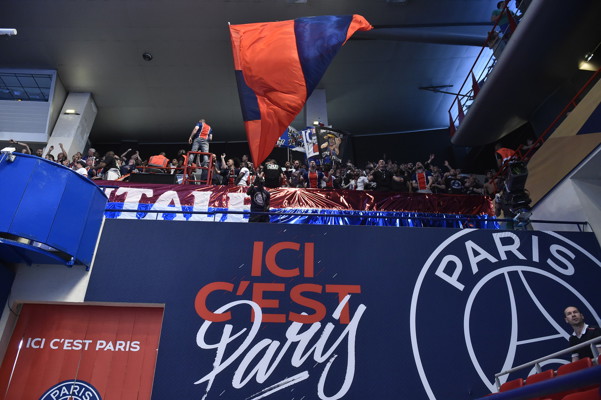 20:40
In the build-up to this match, EHF journalist Kevin Domas had a chat with PSG (and former Kiel!) star Nikola Karabatic for this interview on eurohandball.com .
"Of course, when you are playing at top level handball, you appreciate every trophy, but the Champions League remains the Holy Grail among all of them," Karabatic said.
We couldn't agree more!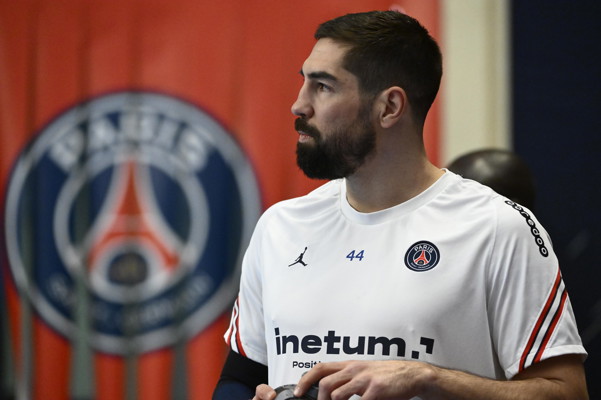 20:36
Don't go anywhere, as we go straight from Flensburg to Paris for PSG against Kiel. We all remember the teams also met last season, when Kiel were the titleholders but lost their chance to defend their title in Cologne as they lost in the quarter-finals to PSG.
Overall, the head-to-head between the teams couldn't be more even: both had six wins from their 13 previous duels.
And tonight..? Find out live on EHFTV now!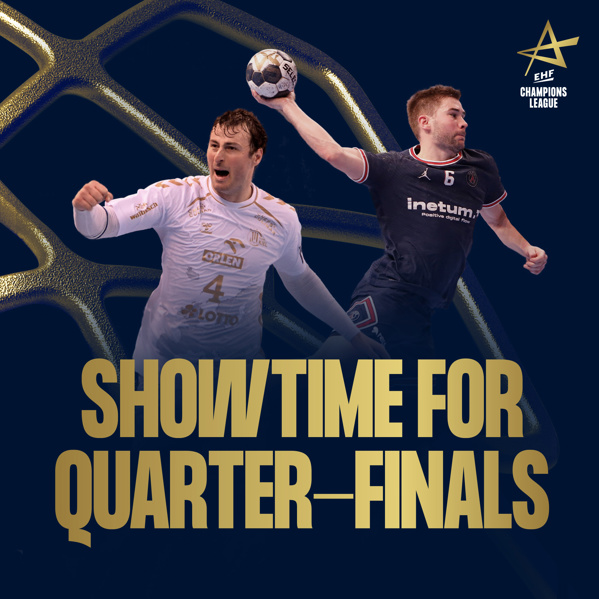 Barça take a big, big step towards the EHF FINAL4 2022 with this four-goal win Flensburg. But still, well done to the hosts who recover from a dramatic start and a 9:2 deficit after nine minutes to make it a real match in the end.
Emil Jakobsen is the leading scorer with nine for Flensburg, but Youssef Bin Ali impresses with a perfect eight from eight for Barça.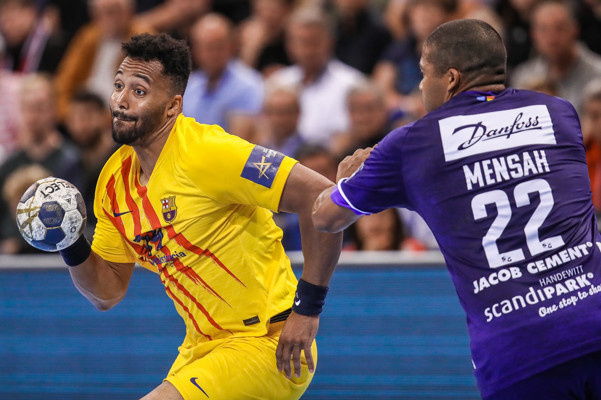 20:19
Flensburg have not beaten Barça since that flensational semi-final win in 2014 – and it is not going to happen tonight, either. Last minute and 33:29 to Barca...

20:12
Closing stages in Flensburg. The hosts missed a few chances to come within two goals from Barça, who have stretched their lead to four, five goals again since.
Still, this is a beauty from Jim Gottfridsson:
19:59
Slowly but surely are Flensburg clawing their way back into this game. The margin is back to just three now: 26:23 for Barça. This is a match again!
19:49
No real difference early in the second half, as Barça look on their way to a more than substantial buffer ahead of the second leg in Spain in the next week.
A penalty from Aleix Goméz has just raised the margin to seven...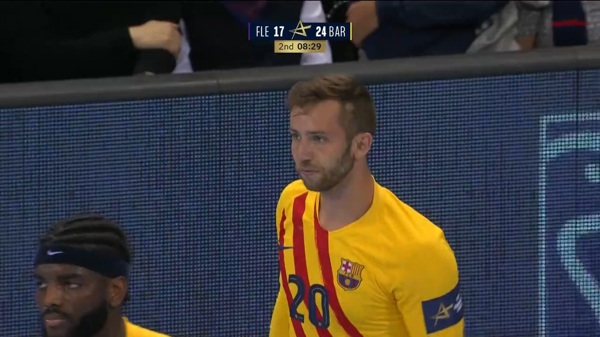 19:33
Barça might not have been as dominant this season as they were last season (would that even have been possible..?) but the first half tonight has shown the titleholders back at their best. A dominant performance from the start in an away match, clearly out to make the difference early in this potentially tricky tie with Flensburg. 
The half-time buzzer has sounded a while ago but Flensburg coach Maik Machulla remains seated at the side of the court. The disappointment in his face tells the story of the first half: how to stop this Barça?
Five goals each for Emil Jakobsen and Youssef Ben Ali so far, but the dominant visitors are well ahead at the break.

19:12
Told you something before about the goalkeepers in this match. (Just arrived here? Scroll down to 18:17.) Gonzalo Perez de Vargas fully living up to that billing:
19:04
Barça are cruising in this first quarter, and so is Dika Mem – currently with four out of four, which sends him top of the top scorers list for the season with 82 goals.
18:57
Team timeout Flensburg. At 9:2 down after nine minutes, no wonder Flensburg coach Maik Machulla needs to talk to his players so early in the game. "Too naive!" he says about his team's defence.

18:50
Well, make that 5-1 down in four minutes, and with two players off for a two-minute suspension. A nightmare start for Flensburg against Barça...

18:47
We are off and running... but what a horror start for Flensburg, who find themselves 3:0 down within one minute and 40 seconds!

18:33
If you are a handball nerd, you knew the answer to the question I just asked at 6:26 pm right away, of course.
If you are a bit less of a handball nerd, or you just enjoy numbers and statistics, I can strongly recommend the facts & figures piece compiled by EHF journalist Björn Pazen, with everything you want to know before the quarter-finals throw off in about 10 minutes:
18:26
We start the quarter-finals with two heavyweights, who have been to this stage of the competition numerous times before.
How many times?
Flensburg play their 14th quarter-final in their 17th season in the EHF Champions League, while this is Barça's 22nd quarter-final in 25 seasons; out of these 25 occasions, they reached the semi-finals a stunning 17 times.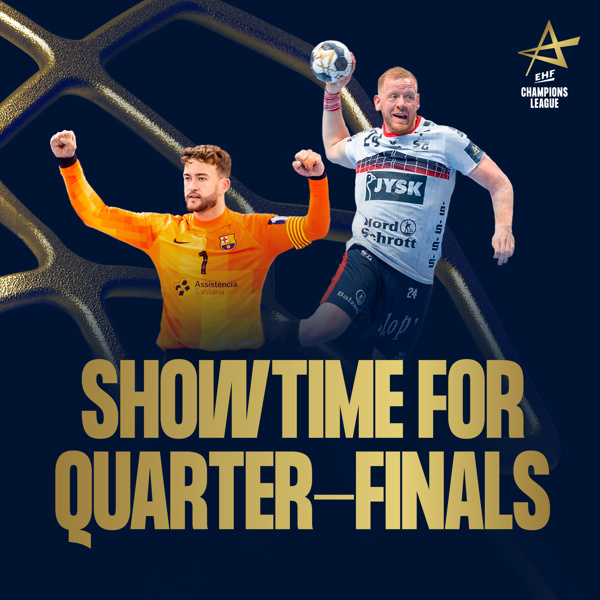 18:17
So the fun is starting in Germany tonight. Of course, Flensburg and Barça met as recent as two months ago, when the Spanish side won their group B match on home court 29:22. Earlier in the season, Barça also won the reverse fixture in Flensburg: 25:21.
What does that tell us about tonight? We will find out in less than half an hour, as the teams are already preparing in the FLENS Arena for the 18:45-CEST throw-off.
And with Benjamin Buric and Gonzalo Perez de Vargas, we are about to witness another goalkeeper show:
18:03
While we have plenty in prospect tomorrow, including the Match of the Week in Hungary between Veszprém and Aalborg, tonight's schedule is not too shabby, either.
We are going to see our two most recent champions in action: first the current titleholders Barça, who continue their mission title defense with an away game in Flensburg; followed by the 2020 champions Kiel, who make a trip to Paris for a repeat of last season's quarter-final against PSG:
17:52
As always, the preview here on eurohandball.com from EHF journalists Björn Pazen and Kevin Domas is a good starting point to get informed in detail about the matches coming your way:
17:45
Just one more hour until throw-off... so welcome to the live blog covering the first leg of the EHF Champions League Men 2021/22 quarter-finals!
For sure, we are going to witness two great nights of handball as this is the menu we will be served over the next 30 hours or so:
Wednesday, 18:45 CEST: Flensburg vs Barça
Wednesday, 20:45 CEST: PSG vs Kiel
Thursday, 18:45 CEST: MOTW Veszprém vs Aalborg
Thursday, 20:45 CEST: Montpellier vs Kielce