EHF European League
Summary: Portuguese sides give fans real drama; defending champs win
The EHF European League Men 2021/22 resumed on Tuesday night with the start of the group phase, after two qualification rounds confirmed the line-up of the 24 teams, here is what happened on the opening night on all 12 courts.
23:26
It was an epic start to the group phase of the EHF European League 2021/22; last-second goals and tension right until the end; pure grit and determination - that's why we love it. 

Need proof? Just click on that photo to relive what tonight was all about...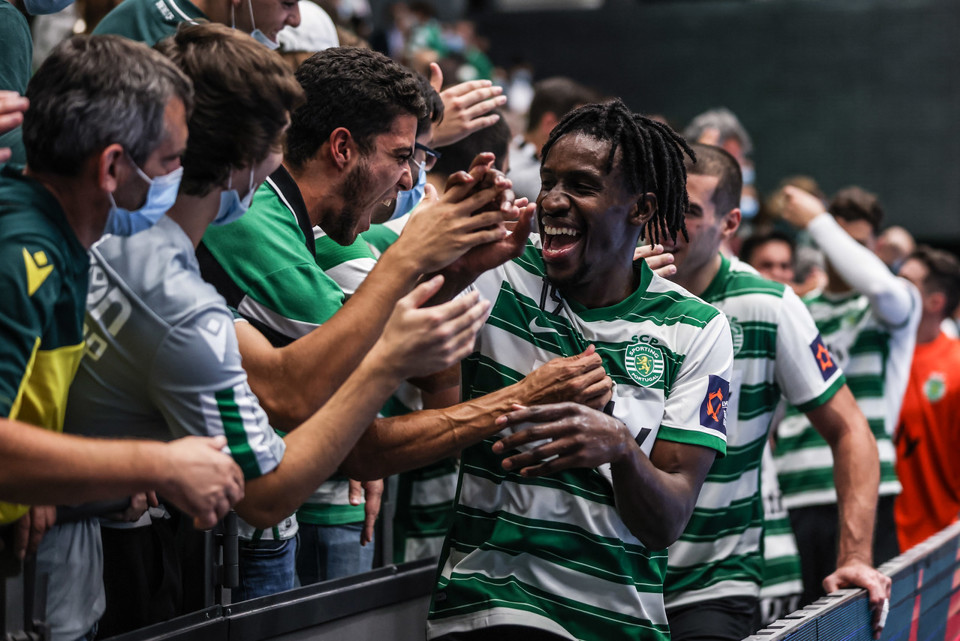 23:19
For all of the action you missed we have a quick recap of how each tie went down in our reviews! 
22:59
RESULTS OVERVIEW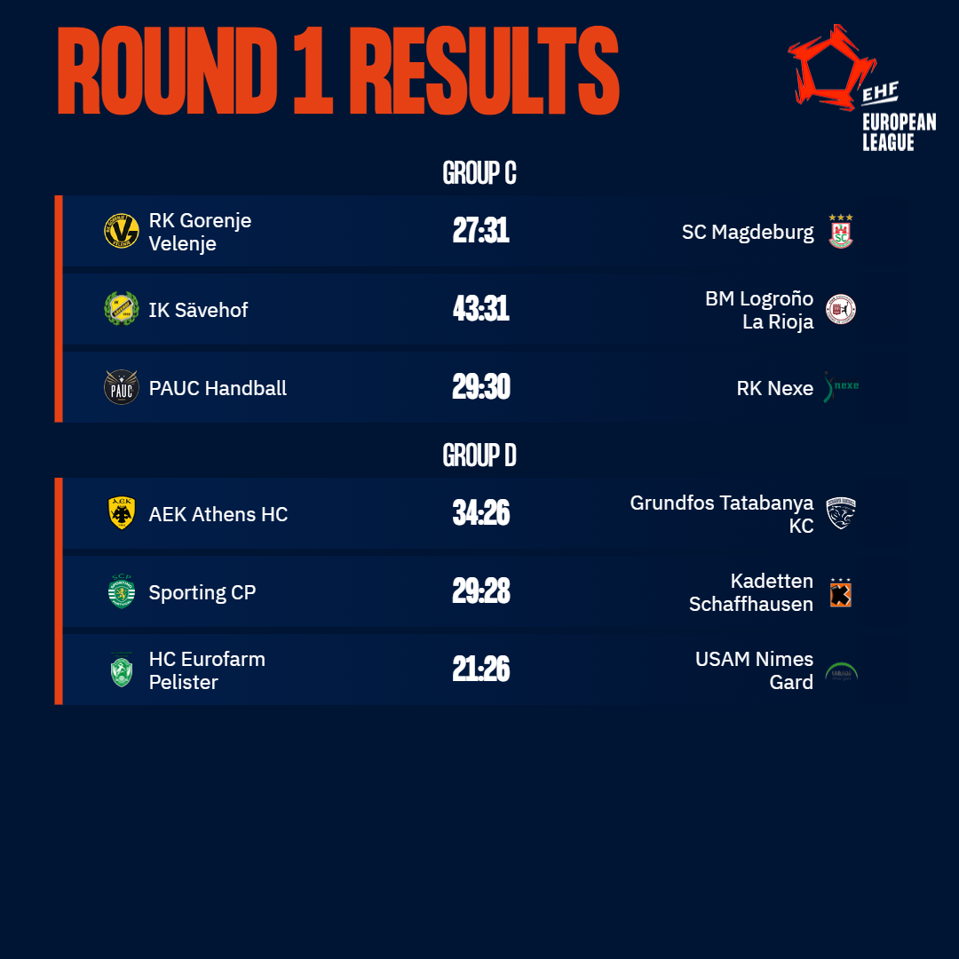 It was a very tight game. Our defence became better at the end of the first half, but unfortunately Benfica scored three goals at the beginning of the second half. Any single situation could have been decisive. We are bit disappointed today.
I congratulate my athletes, they believed until the end that we could win. They put us in some difficulties, but we never gave up ant it was very important to win at home. These are two very well-earned points.
22:36
PURE DRAMA IN LISBON! Sporting score a dramatic last-second open-net goal. Serious guts of Gassama to go for that steal, he could have blown it all. Just incredible scenes there at the end. Behind since the 17th minute and when they went four goals down mid-way through the second it looked over. This is the European League, folks. 
RESULTS: 
HC Eurofarm Pelister 21:26 USAM Nimes Gard 
Sporting CP 29:28 Kadetten Schaffhausen 
TBV Lemgo Lippe 29:30 SL Benfica 
TATRAN Presov 27:25 Bidasoa Irun 
Pfadi Winterthur 23:35 Orlen Wisla Plock 
PAUC Handball 29:30 RK Nexe
22:21
Wow, what a game! Lemgo will be really kicking themselves that they couldn't get a point there at the end and giving up a two-goal half-time lead. The game management in the last play could have been better. Carlsbogard who netted maybe the goal of the game to make it 29:29, missed the last shot from a poor position, and Benfica take the one-goal win. 
22:16
Zecher makes a HUGE save to stop Benfica going two up. Then Simak scores on the break! That Zecher save is worth pure gold. Who has the nerves now? 28:28.
22:06
It's crunch-time now! Kehrmann during their time-out: "Our defence is working well. We can take them on 2v2 in attack, we need clear passes with clear intent." Elisson nets his 7th for the day to make it 27:26 for Lemgo. 
21:54
Lemgo vs Benfica is where it's at tonight. The teams are neck-and-neck, trading goal for goal. Moraes just went for a very half-hearted lob and it was snatched out of the air by Lemgo keeper Finn Zecher (7/30). 
21:45
I cast an eye on another close game: Sporting CP vs Kadetten Schaffhausen. The Swiss side have had a grip on this tie since the 20-minute mark. Young 21-year-old Saumel Zehnder has netted a tidy 5/5 goals/attempts so far. Sporting 12:16 Kadetten. 
HALF-TIME:
HC Eurofarm Pelister 6:15 USAM Nimes Gard 
Sporting CP 9:12 Kadetten Schaffhausen 
TBV Lemgo Lippe 16:14 SL Benfica 
TATRAN Presov 12:12 Bidasoa Irun 
Pfadi Winterthur 11:18 Orlen Wisla Plock 
PAUC Handball 14:17 RK Nexe
21:13
Lukas Hutecek has a great arm on him. His last goal being a good example of that, being held up off the ground and he is still able to let the shots fly. Great signing for Lemgo from last season's bright sparks Fivers. 
21:17
An excellent bit of defending by Rogério Moraes wins Benfica a free and the burst into the fast break converted by the Spaniard Arnau. We are back level 13:13.
21:04 
Bodies on the line for both sides so far. Nothing between them in reality. Bjarki just opened up a two-goal lead after a lovely fast break move by Lemgo. 

Great to see Lemgo back in European cup action after an 11-season absence. The German side won the EHF Cup twice, in 2006 and 2010, and the Cup Winners' Cup in 1996
20:55
The first you can't help but notice is how much bigger this Benfica team is to Lemgo. That Benfica defence are a serious problem for any team to deal with, serious units in their ranks. 5:5 so far. 
20:39
The action rolls on and we have some more top games coming up on EHFTV. Two games I want to focus on will be the Sporting CP vs Kadetten Schaffhausen and TBV Lemgo Lippe vs SL Benfica! Can't wait. Join us now in five minutes on EHFTV to catch them.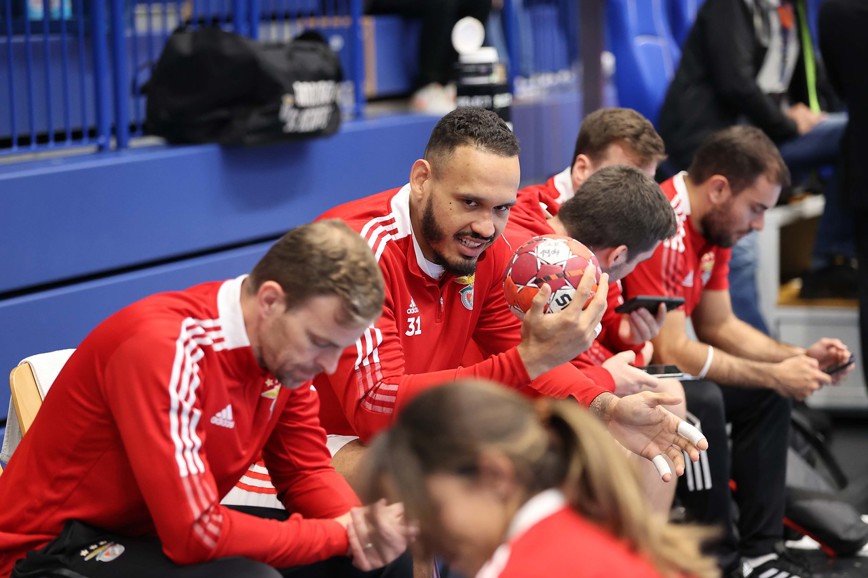 Benfica have a physically very strong team with a solid and aggressive defence and much power in their offence from any position, not only from the back players but also from the line. It will be important for us to show the same emotions and the same passion as in the matches before and I hope we will go into the match against Benfica with the same spirit aiming to win the match.
We know that it is crucial to win games at home and enter the competition in a good fashion. We're going to find a team that won both games in the knockout phase against a powerful opponent. Kadetten are the record Swiss champions, and have been hiring big-name players and for us it will be a great challenge. To win, we have to be at the maximum of our strength.











RESULTS
AEK Athens HC 34:26 Grundfos Tatabanya KC 
RK Gorenje Velenje 27:31 SC Magdeburg 
Chekhovskie medvedi 32:39 GOG 
IK Sävehof 43:31 BM Logrono La Rioja 
Füchse Berlin 32:30 Fenix Toulouse Handball 
Cocks 28:40 HBC Nantes 
20:16
It's money time! And the foxes came out to play! A missed shot by Toulouse and a full court goal, followed by another fast break by Holm my Füchse and they now have a three-goal lead and it could have been three if it wasn't for a HUGE Cantegreal save!
20:13
Cantegrel loves the European League and we love him. The Belgian international makes a huge save for Toulouse to keep it level at 29:29. 3 minutes left! 
20:56
Wow! And 8:2 run sees Tolouse take the lead. Feuchtmann and Pettersson with two important steals!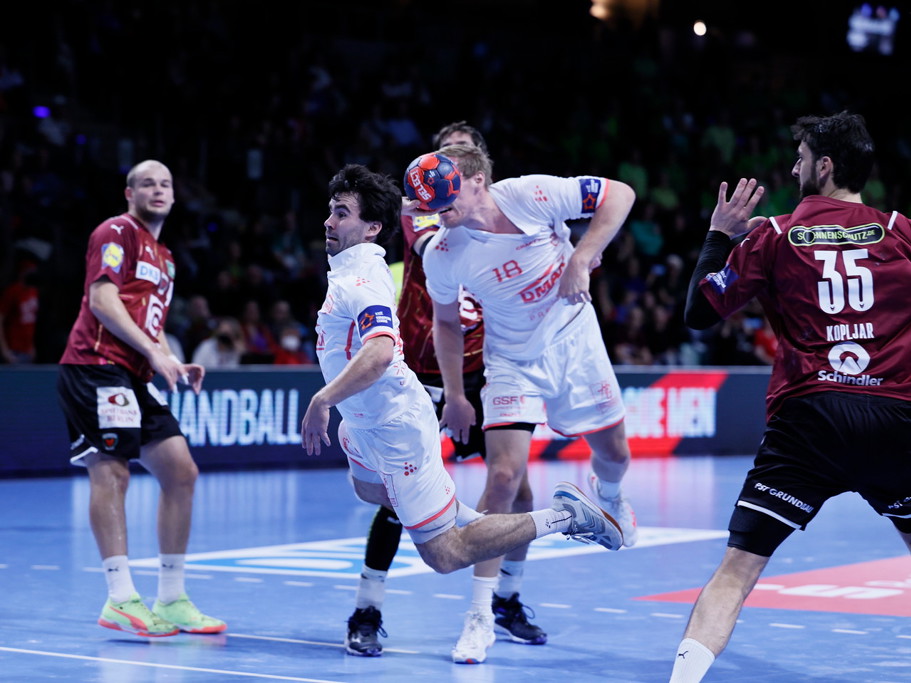 19:59
I cast an eye now elsewhere. SC's Bundesliga rivals Füchse Berlin who had a comforable lead for the majority of the game now find themselves a mere one goal up 26:25. 
19:55
Time-out Velenje: It is amazing to watch a team dust off their cobwebs and start to flex their muscles and that's just what we are seeing now with SC. It looks like a totally different team from the first half. The reigning Super Globe champions say goodbye to their 1v1 problems and they seem to have the 5:1 issue totally figured out. Velenje 19:25 SC. 
19:49
A much-improved SC Magdeburg have turned the tide. Improved shooting and defence and Green in goal looks to have the Velenje shooters second guessing. 20:17 for SC.
PS: Green just made another huge save from the penalty spot. SC are in a flow now. 
19:41
Ohhhh interesting. Green pulls off a save from the penalty spot and sends SC on the break with the O'Sullivan tearing up the court the Velenje defence scramble to get organised and a pass to Gullerud on the line sees a desperate defensive effort hand SC win a penatly and they pull it level 16:16. Could be a big turning point in the game...  
19:34 
We will stick with what has been the match of the evening so far: RK Gorenje Velene vs SC Magdeburg. How will Magdeburg switch it up in the second half? Can Kavcic (3/3) and Sokolic (3/3) keep their perfect records in front of goal? Join us here! 
19:20
HALF-TIME
AEK Athens HC 16:12 Grundfos Tatabanya KC 
RK Gorenje Velenje 14:13 SC Magdeburg 
Chekhovskie medvedi 15:22 GOG 
IK Sävehof 23:16 BM Logrono La Rioja 
Füchse Berlin 15:12 Fenix Toulouse Handball 
Cocks 14:18 HBC Nantes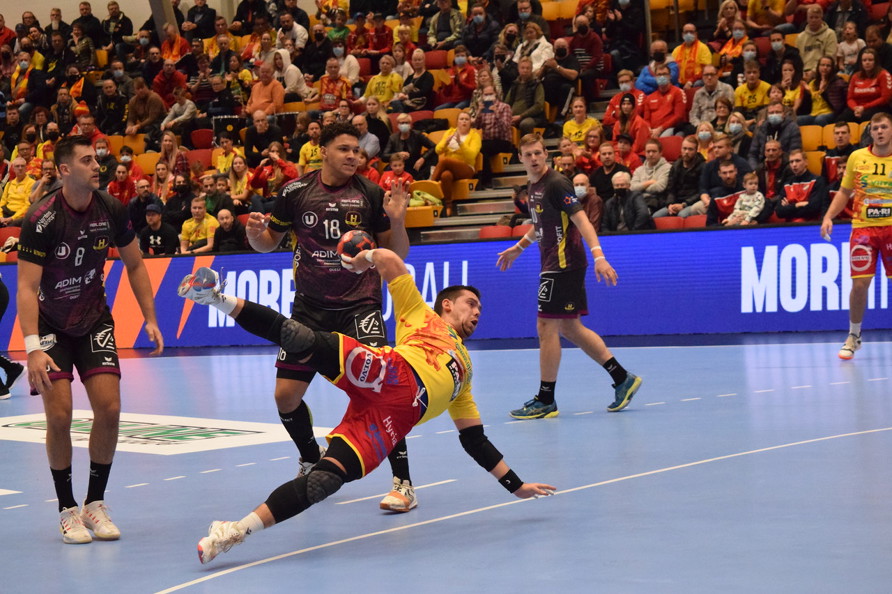 19:19
A team I haven't mentioned yet, but wow SÄVEHOF! Are they out to make a point this evening or what?! They lead 22:16 over BM Logrono La Rioja with just a few minutes left in the first half. 19-year-old Faroe Island international Elias Ellefsen a Skipagotu is crushing it with 5/6 so far. What an opening 30 minutes.
19:17
Bennet Wiegert head coach of Magdeburg can't stop shaking his head. His side seem to be not themselves so far. They are looking outmatched by this Velenje side with a very mobile defence. Each one vs one attempt by the German side seems lackluster and gets easily shut down by the Slovenian side. 
19:04 
Time-out Magdeburg, that pesky 5:1 defence is causing the German side big problems. And coach Bennet Wiegert isn't a happy camper, letting his team hear it during the time out. The Slovenian champions lead 9:7. 
18:56
10 minutes gone and we are have razor close games right across the board with only Füchse Berlin taking a comfortable lead over Fenix Toulouse (9:4). But two games are really sticking out: Cocks vs HBC Nantes (9:10) and RK Gorenje Velenje vs SC Magdeburg (7:6). 


18:52
This is just too hard to pick, I mean, just look at this collection of games to open this season's action. There is only one solution, we will use EHFTV's multi-screen function! 


18:43
We are live on EHFTV now for the first round of matches for the new season! Let's go join us now for: 



18:30
Just 15 minutes until throw-off and here is a quotes from the head coach of Tatabanya who sees his side as the underdog going into tonight's tie against European League debutants AEK Athens HC.

And below a word from two-time EHF Champions League winner Cristian Ugalde who has been playing in Athens since 2020...
First of all, I want to express my appreciation for our Greek opponents: AEK Athens HC. They won the EHF European Cup last year. They have a very strong team with good players. In my opinion they are the favorites in this game, but we will do our best to make their job harder and win at least one point. It won't be easy, but we will fight until the end.


Tatabanya will be a difficult opponent for us. Our goal is always to think about winning the next game. Our dream is to get past this round. We are capable to make the surprise at our group.
18:14
Our social media team was flat out creating some interesting graphics for the upcoming season from the.. 
Youngest: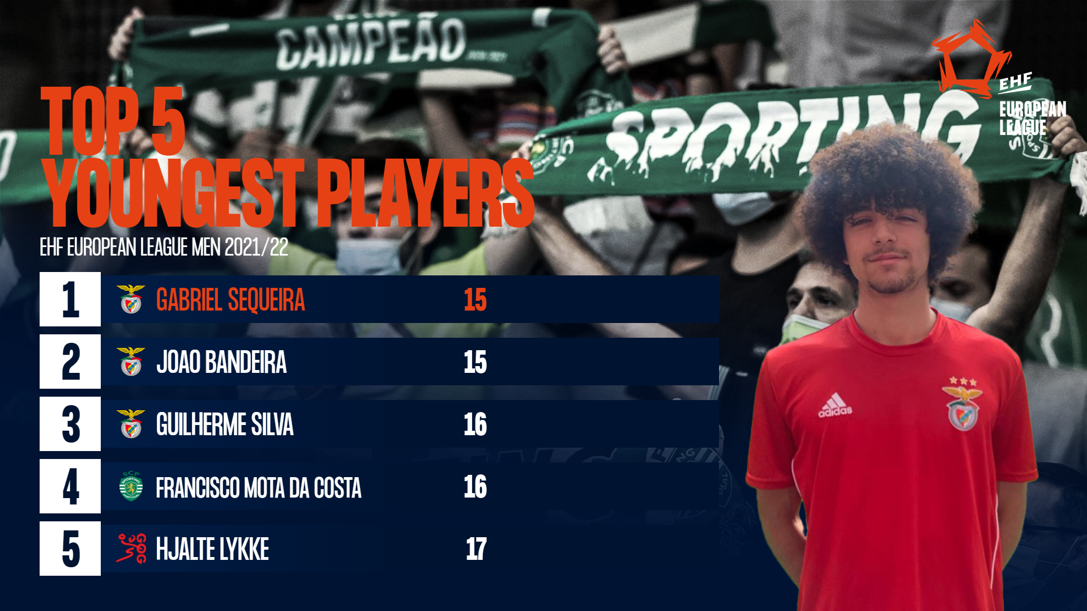 Oldest: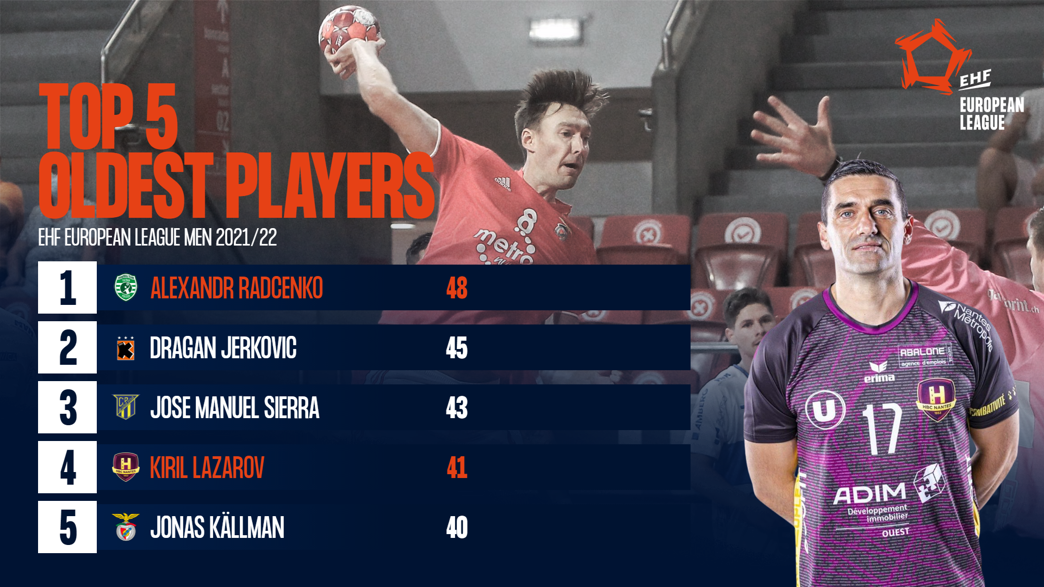 Shortest: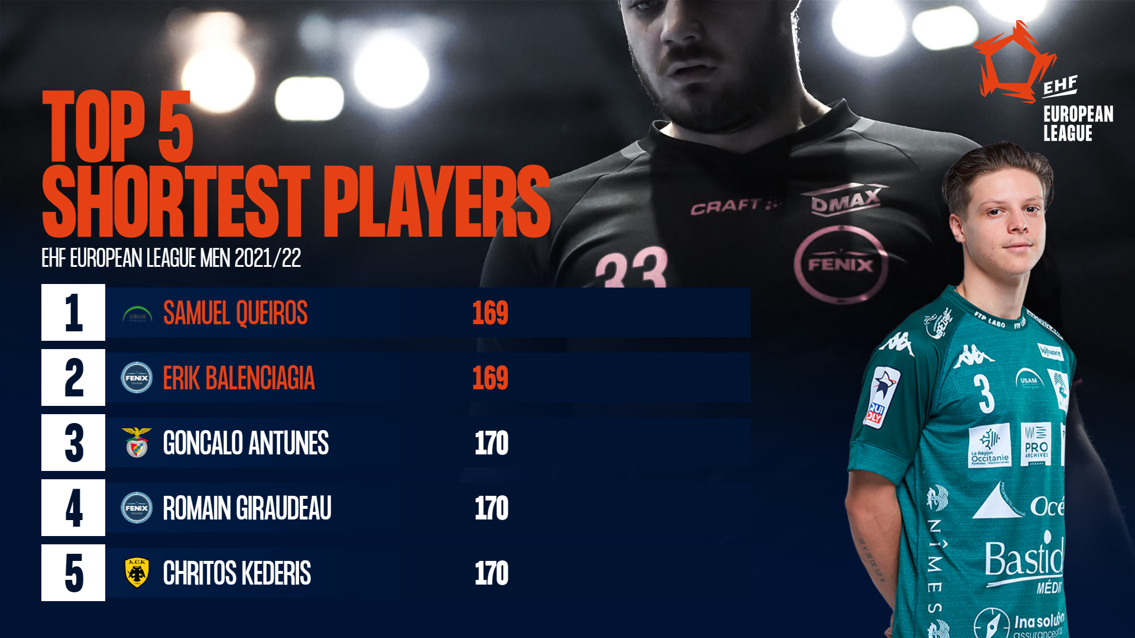 to the tallest:

17:58
The group phase of the EHF European League Men 2021/22 begins in just over 45 minutes and handball fans will be treated to wide-ranging coverage with 27 broadcasters bringing the action to TVs across Europe and further afield. More details in the article below! 
17:00
Before we dive deeper into tonight's matches coming up at 18:45 and 20:45 CEST respectively, here is the full round 1 schedule for each group: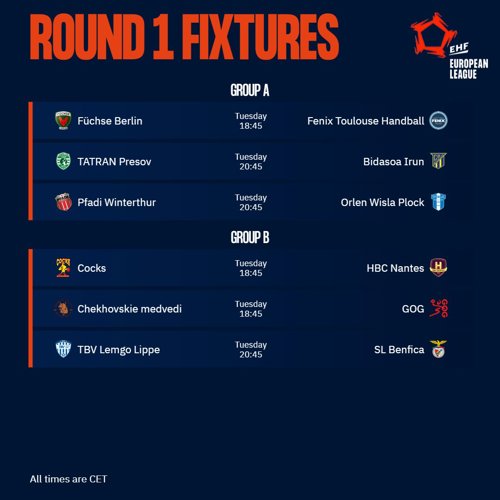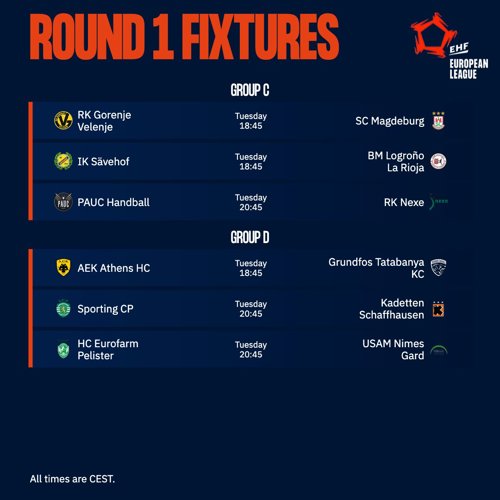 16:52
When I said "across Europe" in the previous post, I meant really across Europe! Take a look at where they are all coming from, our 24 teams for this season's group phase:
16:45
The excitement has already been building during the two qualification rounds. But tonight is the real deal: in two hours' time, the group phase of the EHF European League Men 2021/22 starts!
Good afternoon and welcome to our live blog, where we are going to guide you through everything that is happening on the 12 courts across Europe tonight.
To get going, our preview on eurohandball.com is a good start: