Summary: Kielce win MOTW; SCM end Veszprém's winning run
The Machineseeker EHF Champions League 2022/23 returned from its three-week break with round 5, which included a repeat of the 2021 final between Aalborg Håndbold and Barça — won by the Spanish team — on Wednesday. The Match of the Week between RK Celje Pivovarna Laško and Lomza Industria Kielce on Thursday saw a victory for the Polish side, while Magdeburg became the first to snatch a point against Veszprém. 
23:14
And so we farewell another round of the Machineseeker EHF Champions League 2022/23! The action returns next week, with round 6. See you then!
23:05
What a night to end round 5! Recap all the action with our match reviews below. 
22:49
Time to check on the top scorer standings, after the conclusion of round 5. Celje's Aleks Vlah did enough today to stay in first, with 41 goals — a clear six ahead of his nearest rival, PSG's Kamil Syprzak (35). Two Danes are right behind — Aalborg's Mikkel Hansen on 33 and Veszprém's Rasmus Lauge on 32. Rounding out the top five of the season so far is Dika Mem, also on 32, but with a slightly lower shooting percentage than Lauge. 
See more of the top scorer list here.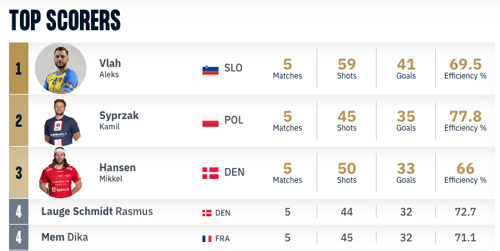 It was a difficult game and this would be a big game if you have the ambition to go far in this Champions League, but today and the real truth is that they were better than us. We need to try to find how can we come back and continue to work.
























The atmosphere at the H Arena is always fantastic, and it's even better in the Champions League. What a feeling when we play with this pleasure and this intensity.
A big home victory for HBC Nantes as they earn an eight-goal result against Kiel. It is Kiel's biggest loss of the season, after they lost by two to Celje and three to Kielce, but earned clear victories over Szeged and Elverum. 
On the other hand, Nantes not only add to a run of wins but a run of decisive ones — five goals over Szeged, 11 over Elverum and 11 over Celje.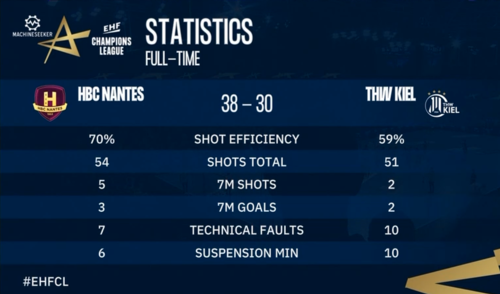 A commanding away win for Danish side GOG, who move up to five points with what is their second victory of the season. Porto remain on zero points with their fifth straight loss.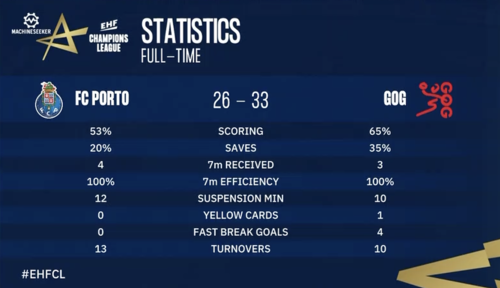 22:12
Five minutes to go in Nantes and the score is unreal — the French team lead the German powerhouse 36:27. 
And the score line is almost as big in Porto, where the home team trail GOG 23:31 in the 56th minute. 
The points are pretty much decided in these encounters, barring some late (huge) miracle for Porto or Kiel, but the defeated teams will surely hope to walk away with the narrowest losses possible. 
With the points here, GOG will separate themselves from Dinamo Bucuresti and Zagreb on the group A table, as they will climb to five points alongside Plock. Nantes are set to join Kielce on eight points on the group B table, staying among the group frontrunners. 
21:51
A lot of highlights coming in from Nantes — but the French side's performance is nothing short of astonishing. In the 39th minute, Nantes are clearly in charge versus Kiel, with a 28:20 advantage. 
Goalkeeper Viktor Hallgrimsson continues his spectacular show. Below, check out one of his earlier saves — and a very memorable one it is!
21:39
The second halves resume in the last matches of round 5 and Nantes and GOG in promising positions to collect two points. Can their opponents change the momentum? 
Below, enjoy one of the best of Nantes' actions from the first half — a superb hammer goal from Thibaud Briet. 
An huge half of goals comes to an end in Nantes, where the home side lead Kiel with an impressive five-goal margin. Aside from a consistent attacking game all round, the performance of Nantes goalkeeper Viktor Hallgrimsson has been important for the French team. The Icelandic keeper has stopped eight shots at 34 per cent.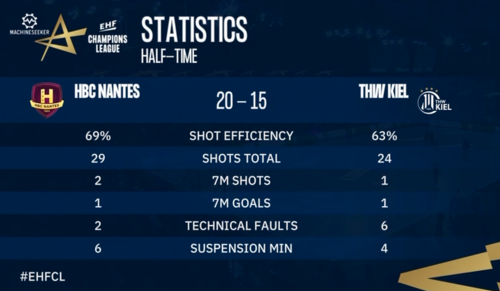 Not the first half Porto hoped for, as the Portuguese side find themselves five goals behind at the break. Can they pull off a big comeback and nab their first points of the season? 
The top scorers of the opening half are Simon Pytlick and Jerry Tollbring, with five goals apiece for GOG.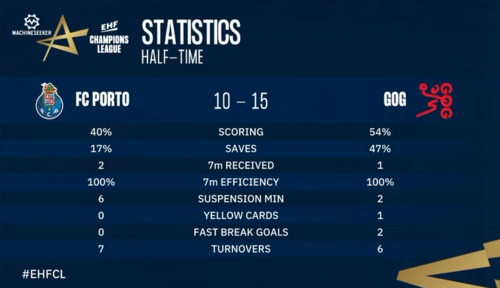 21:07
18 minutes played in Nantes and the home side have taken a promising lead against Kiel, 14:11. 
In Porto, it's a different situation for the home side, who have fallen behind GOG — 6:11 at the 20-minute mark. 
Porto are chasing their first points in the competition, and the early score line does not bode well for the Portuguese side in that endeavour. GOG have three points in their account and sit sixth in group A, so while they are not as desperate for points as Porto, they certainly hope to add to their tally. 
It is the first ever encounter between these sides. 
20:52
The last matches of the round are underway! In France, Nantes and Kiel have already given the goals a workout, with a score of 4:4 five minutes in. It's also a level game in Portugal — 2:2 between Porto and GOG. 
Let's take a closer look at the encounter in France:
Nantes lost their season opener but have since had a great campaign in the Machineseeker EHF Champions League 2022/23, winning the last three games. Kiel have collected two wins — both on the home court, so let's see if the German team can end their away record of only losses so far in the season in this clash. 
Before the match, Nantes coach Gregory Cojean said: "Kiel are a monument, one of the best teams in the world. They won the EHF Champions League two years ago. It is going to be tough during 60 minutes against a strong team. They have got amazing players on the court, and can shoot from everywhere. We have to give everything and play our best handball, in front of our fans, to make this game a great one." 
20:31
Two more matches ahead to wrap up round 5, with both throwing off at 20:45 CEST: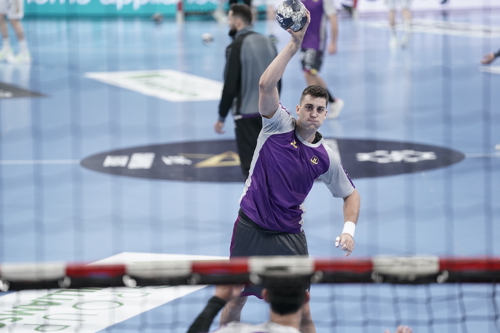 Too bad for the final outcome, but overall we can be proud of how bravely we fought against such a strong team. I think we prepared well, played in accordance to our agreements, but at the end we missed just some small details to grab a win. It was a great handball event, and I would like to say thanks to all of the spectators for the amazing atmosphere.
A great fight from Celje but Kielce maintain the edge to the final whistle and collect the two points from the Match of the Week. 
Four goals at 100 per cent accuracy and four assists earn Celje's Tilen Strmljan the Player of the Match award, while Aleks Vlah nets eight goals to be the top scorer of the game.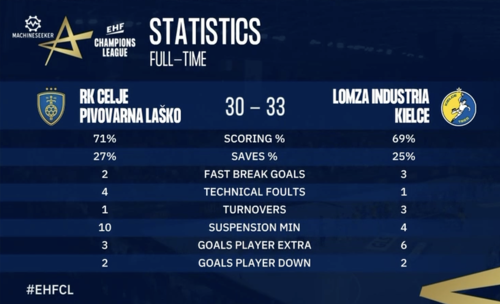 A fiery ending in Veszprém, with Lukas Mertens having the last say for Magdeburg and securing a draw inside the last two minutes. 
It is Veszprém's first dropped point in the season, ending their perfect run of victories, and Barça are now the only side in the competition to hold the maximum points after five rounds.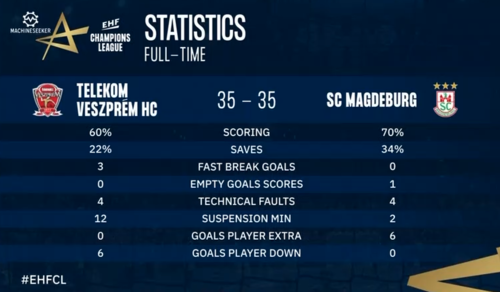 20:09
What thrillers we have on our hands! In Veszprém, the teams are racing towards the buzzer with the match still on the knife edge, at 33:32 for the Hungarian side and four minutes on the clock. 
In the MOTW in Celje, the home side cannot close that two-goal distance, though they've come within one goal multiple times. Kielce can see the two points at the end of the tunnel with a 29:27 advantage and six minutes to go. 
Little consolation for Celje, but they did manage a remarkable comeback, having trailed as clearly as four goals in the second half — latest at 18:22 in the 37th minute. Will their persistence be rewarded in the end? 
20:00
The last quarter of the Match of the Week begins and Celje are still keeping it tight against Kielce, with a deficit of just two goals at 22:24 — a promising edge for Kielce, but a distance that is far from insurmountable for Celje. 
The game between the posts has really heated up, with both teams' save rates increasing dramatically in the second period. For Kielce, this statistic has gone from 20 per cent for the first period to 40 per cent for the second so far. For Celje, it's an increase from 15 per cent to 36 per cent. 
Kielce's Szymon Sicko is the top scorer of the clash now, with six goals, while Celje's Aleks Vlah has netted five to put himself back in first on the season's overall scoring chart. 
In Veszprém, it's still very much anyone's game, as the Hungarian team lead by one, 29:28, in the 48th minute. 
19:40
We are back with both second halves now underway. In the MOTW, one minute in, both teams have added one more goal to their account, for Kielce to maintain the lead at 18:17. 
At the 35-minute mark, it's 20:20 between Veszprém and Magdeburg, after the goalkeepers — Nikola Portner at Magdeburg's end and Vladimir Cupara in Veszprém's goal — take turns making a spectacular save. 
The two have been delivering an epic battle between the posts — check out the proof below!
19:25 HALF-TIME UPDATE: MOTW CELJE VS KIELCE 16:17
Almost the exact same score in the MOTW as in Veszprém, with the home team from Slovenia just one behind last season's runners-up Kielce. 
Celje's Gal Marguc leads the score sheet with four goals and several players on three goals right behind him.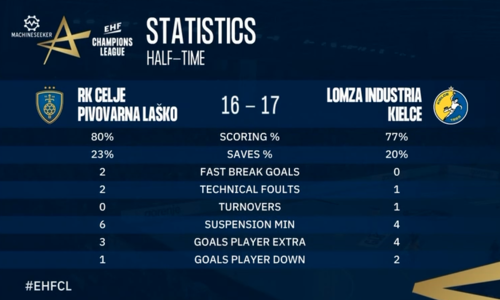 19:21 HALF-TIME UPDATE: VESZPRÉM VS MAGDEBURG 16:16
We go to the break in Hungary with a level score, as Veszprém managed to close the half stronger and equalise in time to set themselves up with an easier task for the second period. 
Veszprém back Rasmus Lauge finishes as the top scorer of the first half, with five goals, while Icelandic Omar Ingi Magnusson nets four for Magdeburg.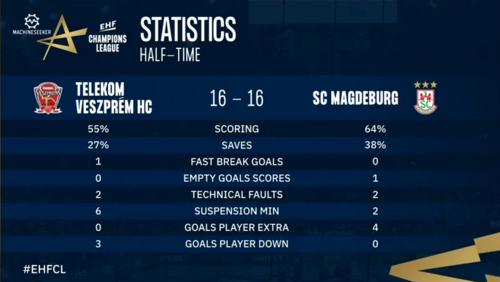 19:14
Roughly 23 minutes in on both courts, and the situation in both games currently live has changed completely: Celje have snatched the lead from Kielce in the Match of the Week (11:10), while Magdeburg have turned the tables on Veszprém, who now trail the German team 12:15. 
In Veszprém, a key to the score in favour of Magdeburg has been the performance of keeper Nikola Portner. The Swiss goalkeeper has stopped eight shots at a rate of 40 per cent. On the other side, Danish back Rasmus Lauge is standing out for Veszprém, with four of his side's goals so far. Yahia Omar has netted three for the Hungarian team. 
19:05
Difficulty for both home sides as the clocks in Celje and Veszprém tick on, with Magdeburg having drawn level with their Hungarian hosts (11:11) and Celje still chasing Kielce in the Match of the Week. The Slovenian team trail their opponents by two goals, 7:9. 
18:57
A strong start from Kielce in the Match of the Week, with the Polish team creating an early lead against Celje, 6:4. 
Kielce goalkeeper Andreas Wolff and back Nedim Remili are off to a great start, with a 42 per cent save rate and a tally of three stops for Wolff and three goals from three from Remili. 
Just on 12 minutes in Veszprém, the home side have the edge in a one-goal encounter against Magdeburg, 6:5. 
18:40 
It's time to join us on EHFTV.com for the first two games of the night! The MOTW Celje vs Kielce and Veszprém vs Magdeburg are both just minutes from throw-off. 
18:17
Alongside the Match of the Week between Celje and Kielce, one more match throws off at 18:45 CEST: Veszprém vs Magdeburg. 
Veszprém are one of only two teams to count the maximum points in their account thanks for four straight wins to open the season. The Hungarian team will aim to join group B leaders Barça, who collected their fifth victory last night, and now sit on 10 points. 
Magdeburg are third in group A, currently one position behind Veszprém. The German team have collected six points so far. 
The two clubs have not met for 20 years — and two of the encounters that year were in the two-leg finals of the Champions League, won by Magdeburg. 
18:02
The Match of the Week features the top scorer of the Machineseeker EHF Champions League ahead of this round: Celje's Aleks Vlah, with 33 goals. As PSG and Aalborg played on Wednesday night, with PSG beating Dinamo Bucuresti and Aalborg losing at home to Barça, Vlah has been passed by PSG's Kamil Syprzak (35 goals now) and seen Aalborg's Mikkel Hansen draw level with him on 33 goals. 
The 25-year-old centre back is enjoying his breakout season in the competition, having already clearly eclipsed his previous best record — 20 goals for RK Zagreb in 2019/20. Vlah returned to Slovenia from Zagreb in 2021, after gaining his first international club experience with Koper in the EHF Cup. 
15.50
Our Match of the Week pitches Slovenia's RK Celje Pivovarna Laško against Poland's Lomza Industria Kielce. It is the ninth time the teams have met in the competition, with Celje winning six and Kielce, two. 
Since round 4, when Celje lost 38:30 away to Barça, and Kielce enjoyed a 40:37 victory over THW Kiel, the Polish outfit have added to their trophy cabinet.
Kielce returned from the IHF Super Global with the bronze medals in their luggage. They lost their semi-final to Barça, but recovered to beat Egyptian side Al-Ahly 35:26 in the bronze medal match. 
15.45
Welcome back to our Machineseeker Champions League blog after four enjoyable matches on Wednesday.
We'll be bringing you all the news and updates from across the continent as round 5 wraps up with four more matches. 
23:20
Reaction from Barça win's against Aalborg, courtesy of Jepser Nielsen and Carlos Ortega, can also be found below. The Barça coach was undoubtedly correct when he described tonight's final match as a "great match". 
The live blog will return on Thursday for coverage of four more matches from round 6 of the Machineseeker EHF Champions League. 
We were playing a really good game after 40 minutes. We lost concentration in a couple of minutes and against a team like Barça you cannot do that. So in seven to eight minutes, we lost the game.
A great handball match. In the first half we were really equal. Both teams played really well, especially in the attacks. In the middle of the second half, there was a really important moment for us when Emil (Nielsen) saved a fast break and that changed the game for our side.

















23:00
Tonight's match reviews, written by Kevin Domas and Adrian Costeiu, are now online for you to read if you click on the links below.
22:56
The significance of Barça's fifth victory of the season is that they are now four points clear of Nantes, Aalborg and Kielce. 
On Thursday evening, Nantes and Kielce can reduce the gap between themselves and Barça to two points. Aalborg, who face THW Kiel in round 6 next Wednesday, have slipped to third place after tonight's loss due to their goal difference.
We would like to see this kind of atmosphere in every handball game. We are very happy with the win tonight. It is obviously a really tough place to win. I thought that a lot of teams will lose points here, so we are really happy with this. It was a game with a high tempo, a lot of goals. Playing with fast breaks, we managed to score more goals in attack.

22:28
Dika Mem made an immediate impact for Barça tonight, scoring three goals in the first 10 minutes. But the French right back was also influential in the second period. 
22:25
Barça retain their perfect record in the Machineseeker EHF Champions League 2022/23 season with an impressive six-goal victory over Aalborg. 
The Danish side matched the group B leaders for 45 minutes, but a combination of Emil Nielsen's excellent performance in the second half and a cameo from Aitor Ariño ensured that the visitors stormed clear in the final quarter. Indeed, Barça coach Carlos Ortega can be pleased with his decision to introduce Nielsen at half-time.
While Aleix Gómez finished the match with 11 goals, Dika Mem scored one more goal from open play than his teammate. Lukas Sandell scored eight times for Aalborg, but he will probably be rueing a missed fast break chance when Aalborg were still in the ascendancy.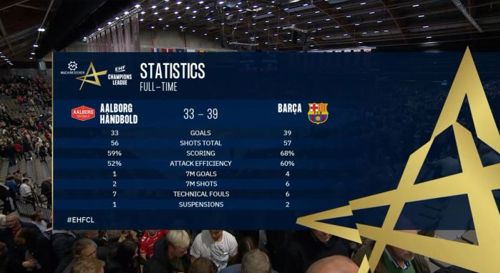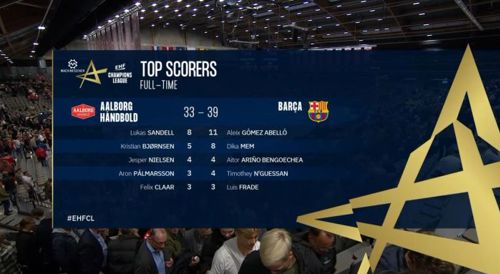 22:09
Kristian Bjørnsen, who has scored five goals from five shots for Aalborg, restored the Danish side's lead in the 35th minute. Significantly, shortly afterwards, when Aalborg led 24:22, Emil Nielsen stopped a golden fast break chance for Lukas Sandell. It was probably a turning point in the outcome of this match.
22:06
Goal times for Aitor Ariño: 49:14, 49:33 and 51:17. Having waited almost 50 minutes for a shot on goal, Ariño has catapulted Barça into what looks like a match-winning position. Barça lead 35:29 after 53 minutes.
22:03
Aitor Ariño scores a fast break goal to extend Barça's lead to three goals, runs back in defence and then scores off a fast-throw off. 
22:00
Since his introduction, Emil Nielsen has made six saves from 15 shots faced. Barça have a two-goal advantage again, 30:28, after a rapid fast break from Aleix Gómez and a typically effortless nine-metre goal from Dika Mem.
21:56
Aalborg coach Stefan Madsen receives a yellow card after seemingly voicing his decision at the award of a penalty for Barça. Dika Mem beat Mikkel Hansen, who has been defending at left back for Aalborg, and the French right back just about caught Hansen defending inside the area.
21:52
Aalborg's shot efficiency is one per cent higher than Barça's after almost 40 minutes, but the team from Spain are ahead by one on the scoreboard.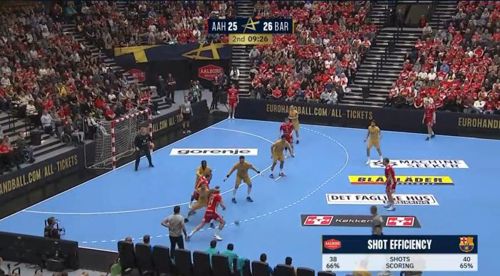 21:41
In his homeland, Emil Nielsen has started the second half in goal for Barça. Perez de Vargas's save percentage at the end of the first half was a creditable 30 per cent... if you round up 29.63 per cent.
21:38
28 shots for Aalborg vs 31 shots for Barça is an illustration of the type of handball that both teams have played so far. If they play at a similar tempo in the second half, it might come down to which team has the legs to keep going physically.
21:32
After a highly entertaining first half between Aalborg and Barça in Denmark, there is nothing to separate the two teams. In truth, the first half had everything that you could want from a handball match: a high tempo, goals, saves and lead changes.
While Aleix Gómez has scored six goals for the visitors, Kristian Bjørnsen, Mads  Hoxer Hangaard and Jesper Nielsen have scored three each for Aalborg, who had nine scorers in the opening 30 minutes. Given that Aalborg had a 5:0 run that lasted more than five minutes in the first half, the visitors might be happy to be level at the break.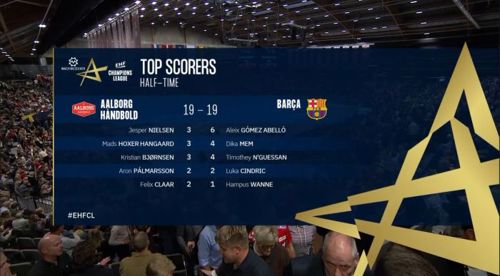 Our goalkeeper, Mirko Alilovic, was fantastic. He had many important saves and it was also important that we could make a big difference in the first half. Then I think in the second half we controlled the game. This victory was really important for us. We played under pressure, but we gained a great win. We have to build on this.
21:18
Will Hampus Wanne be wishing that he went low here? When you're facing a goalkeeper of Simon Gade's height of 194cm, you can end up regretting any shooting choice.
Incidentally, Wanne has just hit the crossbar from a similar angle from the left wing. 
21:08
Despite the speed of the attacks in the opening quarter, Gonzalo Perez De Vargas and Simon Gade both have save percentages that are hovering around the 30 per cent mark. As you can see below, Perez De Vargas has made several eye-catching saves.
21:05
A high tempo is clearly the order of the day (or evening...) in Aalborg. After 15 minutes, Aalborg have had 16 shots and Barça have had 14. Thanks to a 5:0 run, the home side are ahead 11:8. 

20:48
The Sparekassen Danmark Arena is full and ready for Aalborg to face Barça.
20:40
Confirmation that PSG are now top of group A of the Machineseeker EHF Champions League – although their goal difference has not yet been updated in this graphic.
As you may have seen, the full-time score changed after initially appearing as 35:29 in Bucharest.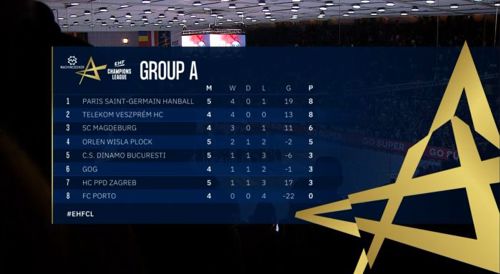 20:34
Jannick Green finished the match for PSG against Dinamo with a 37 per cent save efficiency. It didn't feel like a game for goalkeepers in the first half, although Green made three saves from 10 shots faced, but the Danish goalkeeper stopped seven more shots in the second half.
20:31
Pick Szeged have their first points in group B after beating Elverum by seven goals at home in Hungary, while Zagreb have drawn in Croatia against Wisla Plock.
Wisla Plock remain fourth in group A. Indeed, the Polish side have increased their cushion over Dinamo Bucuresti to two points, but GOG will overtake Plock if they beat Porto on Thursday evening.  
20:25
PSG claim a seven-goal victory over Dinamo Bucuresti in Romania to put themselves top of group A. With Elohim Prandi scoring nine goals from 11 shots and Luc Steins registering nine assists, PSG's attack shone for the vast majority of the match in Bucharest.
After powering through the first 45 minutes, PSG's victory was all but assured when they led 30:22. Although they were able to ease off in the final quarter, they essentially maintained the margin that they had at half-time.
20:05
Alexandru Florin Bucataru stops a penalty from Kamil Syprzak and denies the Polish line player's rebound attempt. PSG lead 32:24 with just over eight minutes remaining in Bucharest.
20:01
There is no respite for Dinamo as PSG are keeping their big names on court in attack.
Well, Elohim Prandi, who has scored nine goals from nine shots, is now being afforded a rest, but Nikola Karabatic and Luc Steins remain at the heart of things for the French side.
19:57
The crowd noise in Bucharest has dipped substantially after Andrii Akimenko's first miss in six attempts from the seven-metre line. PSG lead 29:22 as the 45-minute mark approaches.
19:52
On the subject of assists, Japanese centre back Kosuke Yasuhira had two to check out in the first half for Wisla Plock against Zagreb.
19:45
Luc Steins' role in PSG's success against Dinamo cannot be overstated. As per the match statistics, he's recorded six assists and scored four goals after 34 minutes. His speed and creativity is causing Dinamo's defence huge problems and helping Elohim Prandi to increase his personal scoring tally.
19:38
If you want an example of the commitment it takes to play in goal in the Machineseeker EHF Champions League, this photo of Mirko Alilovic in action for Szeged captures it perfectly.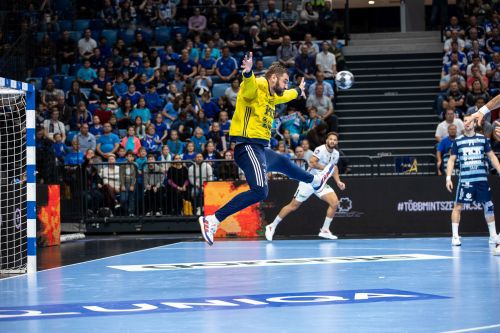 19:35
Timur Dibirov continues to lead the scorers in Zagreb, with the veteran left wing scoring five goals from eight shots in the first half, but Wisla Plock have a one-goal lead at half-time.
Meanwhile, Pick Szeged – like PSG – have a six-goal advantage after 30 minutes as they lead against Elverum. Mirko Alilovic said that Szeged needed to win this evening, and the Croatian goalkeeper has been helping to make it happen with eight saves from 18 shots faced.
19:30
Elohim Prandi rounds off an excellent first half for PSG with a strike from nine metres with less than 10 seconds remaining to give the French side a six-goal lead at half-time.
In a half in which PSG have officially scored 22 goals from 24 shots, Prandi leads PSG's scorers with six goals from six attempts. While Dinamo kept pace with PSG in the early stages, PSG's consistency in attack and defence has ensured that they are firmly in control after 30 minutes.
Unsurprisingly, with PSG's attack flourishing in the first half, Dinamo's goalkeepers have not had a productive evening so far. Khalifa Ghedbane has made zero saves from 10 shots faced, while Alexandru Florin Bucataru has stopped one shot from 13 faced.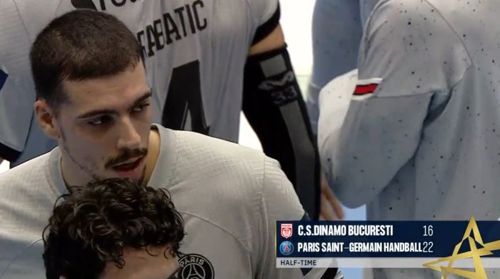 19:19
After scoring 10 goals in Dinamo's win against Porto, Ali Zein is up to four goals this evening. More of his firepower from the back court may be needed if Dinamo are to remain in contention.
19:14
Double trouble for Dinamo as Kamil Syprzak scores his fourth goal to give PSG their first three-goal lead, 14:11, and Robert Militaru receives a suspension for a foul on Nikola Karabatic in the build-up to the goal.
19:09
Timir Dibirov is leading Zagreb's attack against Wisla Plock. The veteran left wing has scored three goals for the Croatian side – but they trail 9:8.
19:05
There are clear signs that PSG want to play with a 5-1 defence with Henrik Toft Hansen at the point. Dinamo's quick attacks have largely nullified PSG's ploy in the first 15 minutes, but we'll see what effect it has over the course of 60 minutes.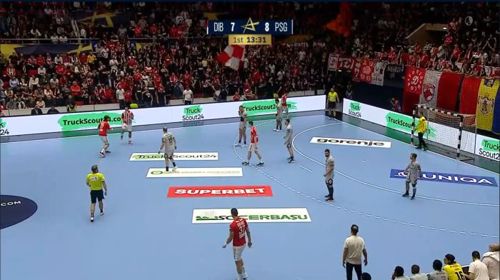 18:55
If Dinamo's players wanted an intense atmosphere to intimidate PSG, they can have no complaints. The full crowd in Bucharest is creating some noise!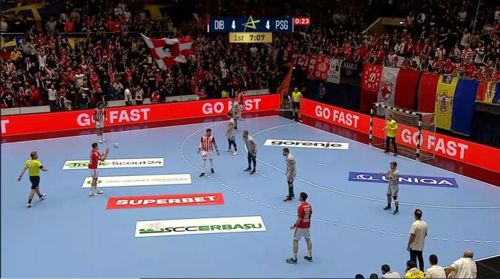 18:47
PSG are facing one of their former players this evening: Cedric Sorhaindo. Sorhaindo played in Paris from 2004 until 2009. 
Nikola Karabatic shared many incredible moments with Sorhaindo for France's national team and Barça. We will find out over the course of the next 60 minutes which French great is happy at the end of the match.
18:40
As we mentioned earlier, if PSG beat Dinamo Bucuresti this evening, they will go top of group A. However, Telekom Veszprém's match against SC Magdeburg on Thursday will ultimately determine the group leaders at the end of round 5.
Dinamo Bucuresti will move up to fourth place if they beat PSG and Wisla Plock fail to beat PPD Zagreb in Croatia. Dinamo can also move above Plock if they draw against PSG and Plock lose to Zagreb.
18:20
Every point in the EHF Champions League is valuable – but that statement is particularly true for Pick Szeged and Elverum. Both teams are yet to get off the mark in group B, but at least one of them will do so when they meet in the Pick Arena this evening. 
Szeged goalkeeper Mirko Alilovic is insistent that the Hungarian side must find a way to beat Elverum. 
"There are many injuries in our squad now, so it'll be a really difficult job to beat Elverum, but we can't imagine anything else – we should win against them. Last year we won against them in Norway, but Elverum got the victory in Szeged. We can't let them win here again. From the first moment of the game, we will have to give our best on Wednesday," said Mirko Alilovic, Szeged goalkeeper.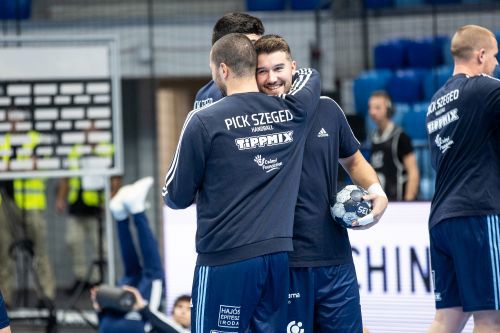 18:09
Speaking on Monday, Dinamo right back Stanislav Kasparek agreed with Xavier Pascual's assessment of PSG's strength in defence.
"I am expecting a very tough game. They are an amazing team. With PSG, they play very good in attack. I would say that we meet the best defenders in Europe right now. So we have to play calm, play good. I hope that the atmosphere will be amazing. Our fans will give us more power and we want to fight for two points," said Stanislav Kasparek.
Kasparek enters this evening's match after scoring only one goal from seven shots in Dinamo's 32:27 win against Porto in round 4. In the first three rounds of this season's competition, Kasparek had scored 17 goals for Dinamo.
17:55
Before Aalborg face Barça at 20:45 CEST, former Barça coach Xavier Pascual will be on the bench for Dinamo Bucuresti's clash with PSG in Romania.
When Dinamo and PSG met in the EHF Champions League season, the two teams scored a total of 141 goals in two matches. However, Pascual has pinpointed PSG's defence as the "best in the world". In group A of this season's competition, PSG have conceded 13 goals more than Magdeburg, though that fact does not account for how many attacks each team has had.
"It is an incredible game for us, to receive PSG, one of the best teams in the world. I think, at this moment, they have the best defence in the world. They can defend in 5-1 or 6-0 – it is an amazing team. We have a lot of respect for them. But we will try to show our best handball. We (will) try to be close in the score and we will see what comes," said Xavier Pascual.
17:00
The Aalborg vs Barça game is also special for another reason: Aalborg star Mikkel Hansen will play against his former club for the first time since returning to Denmark this season. Hansen started his international club career at Barça in 2008 and stayed with the club for two seasons.
Back then, short hair and no headband yet:
16:47
A special game is coming up at 20:45 CEST, as Aalborg and Barça are set to meet again for the first time since their 2021 final in Cologne. Back then, Barça completed their perfect season with 20 wins from 20 matches by beating Aalborg 36:23.
Even though that defeat hurt, Aalborg have excellent memories of the 2020/21 season, in which they made it to the EHF FINAL4, and ultimately to the final, for the first time in the club's history.
Worrying, however, for the Danish side is their head-to-head comparison with Barça: nine played, nine lost, and Barça's winning margin has been just over nine goals on average! (*)

(*) To be fair, that number is a bit distorted by one stunning result: the 31:11 defeat in 2015, still the match in which Aalborg scored the fewest goals in their EHF Champions League history.
16:32
The Match of the Week travels to Slovenia in round 5 to see two one-time EHF Champions League winners go head-to-head: Celje (2003/04) and Kielce (2015/16). That game is scheduled for Thursday at 18:45 CEST, so for now we will focus on tonight's games...
... and we start with an interesting triple-pack at 18:45 CEST:
Dinamo vs PSG: Can PSG join group leaders Veszprém on eight points – at least for one night?
Szeged vs Elverum: Both on zero after four games, so who get their first points of the season?
Zagreb vs Plock: Can Zagreb get their second win and go level with Plock on four points?
16:04
The best way to get ready for the eight matches this week is reading our round 5 preview:
16:00
Good afternoon and welcome back to the live blog for the Machineseeker EHF Champions League 2022/23! After a two-week break that saw many of the competition's stars play for their national teams, Europe's top flight returns with round 5 of the group phase.
As usual, eight matches coming your way – four tonight, four tomorrow. This is the full schedule: