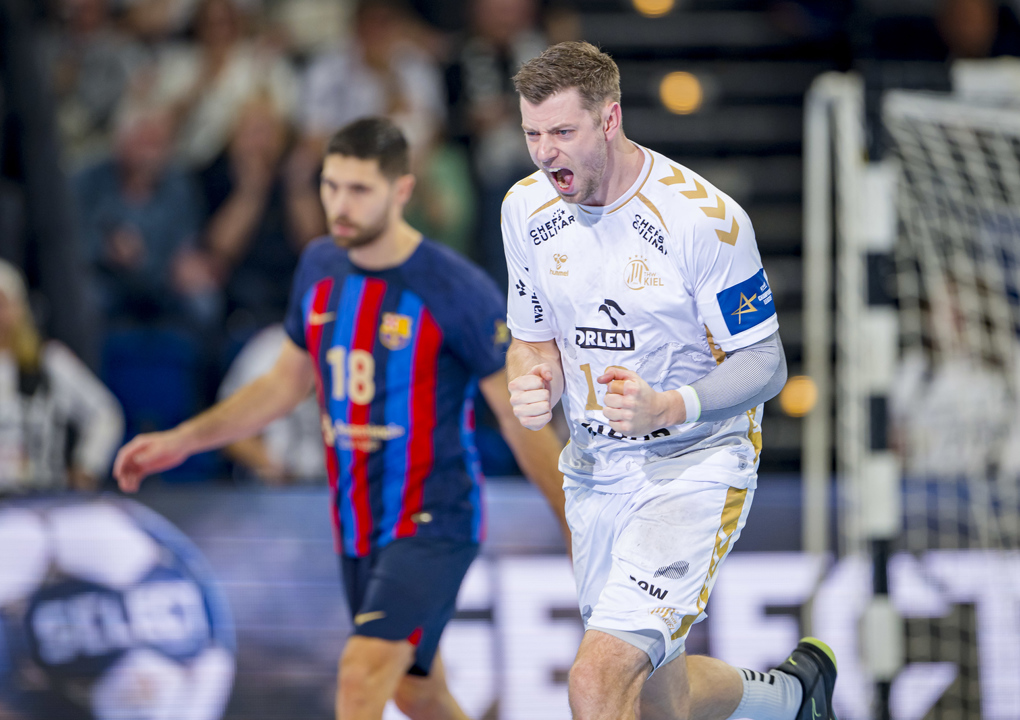 SUMMARY: Kiel draw with Barça; Veszprém score 10,000th goal as round 7 closes
The Machineseeker EHF Champions League has returned after a two-week break for round 7. As the competition hots up, eyes this week have turned to MOTW between Aalborg and Nantes (32:35) on Wednesday, as well as the classic clash between Kiel and Barça (30:30) on Thursday.
23:15
The Machineseeker EHF Champions League is back! Round 7 completes the first half of the group phase, and here is the overview of all results from Wednesday and Thursday: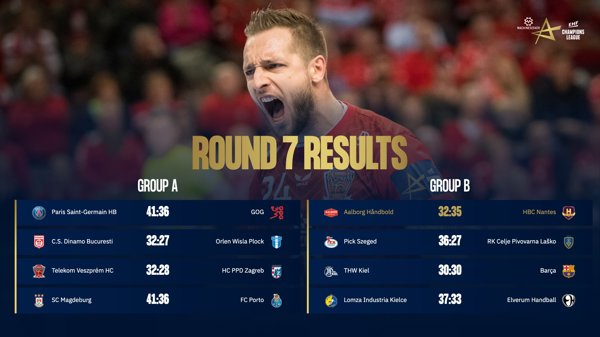 Here ends our coverage of round 7. We are back next week with round 8, when we see the reverse fixtures from this week's games. That promises to be two more exciting nights of top-flight handball as the race to play-off and quarter-final spots will become increasingly important!
It is good night for now and, as usual, here are the best pictures of the day:






















22:56
A handful of exciting games tonight! So, which team has stood out for you? Take part in our poll below:
22:46
Two home wins and a lot of goals! Read what happened at Kielce vs Elverum and Magdeburg vs Porto tonight in our match reviews:
22:37
Earlier tonight, the highly anticipated clash between Kiel and Barça fully lived up to its billing, with Barça dominating the first half, Kiel getting back into it for a tense final minutes and a 30:30 result.
Here is what Kiel coach Filip Jicha has said after the game:
My boys believed in themselves and in a victory. After Barça had the first half completely under control, we even had the chance to win at the end. After the first 30 minutes I would have been happy with a draw, after the second 30 minutes I am a bit sad that we drew.
22:29
Round 7 ends with two high-scoring games: Magdeburg set a new club record for most goals scored (41), and Kielce and Elverum finish on 70 goals combined – quite remarkable if you see some of the goalkeeping on display in the Hala Legionów tonight:
The match has looked all over after Kielce's goal for 29:22 with 18 minutes left, but Elverum answer with a 5:1 run (30:27) to create an entertaining closing phase. In the end, Kielce hold on to extend their winning streak to five matches, while Elverum remain on two points; remarkable, for a team boasting so much quality!
Artsem Karalek hit double figures for Kielce (10); Uros Borzas the leading scorer for Elverum (six).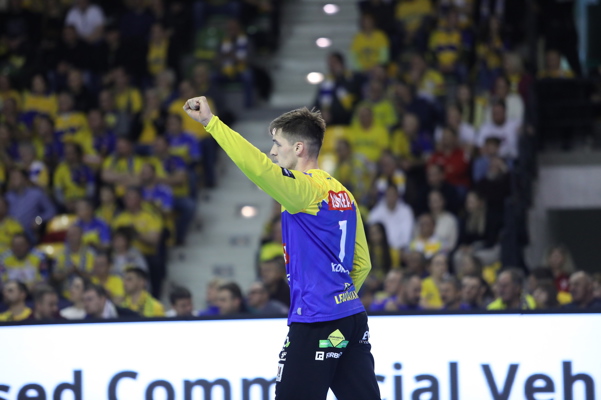 Porto have done well in the second half to keep up with Magdeburg, but this goal fest has had a German victory written all over it from the start.
Matthias Musche and Ómar Ingi Magnussen both score 10 times, while Kay Smits scores the goals No. 40 and 41 to hand Magdeburg a club record for most goals in one EHF Champions League game, beating the 20-year-old best mark from a 40:31 win over Plock in November 2002!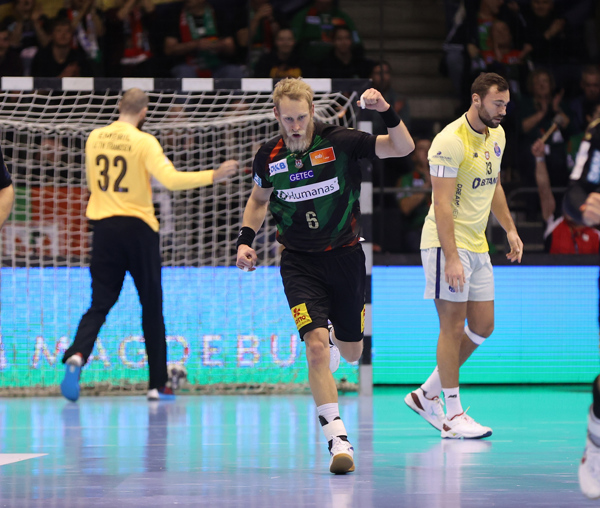 21:57
A goal scoring record could be on the cards for Magdeburg here: they have never scored more than 40 goals in a single EHF Champions League match...
If they keep scoring them like this, anything is possible:
21:48
It has been a promising start for Porto in the second half as they close the gap to three (23:20), also thanks to this goal, but meanwhile Magdeburg are ahead by six (29:23).

21:31
Dinamo have certainly stepped up compared to last season. Following their clear win over Plock (32:27) tonight, they have seven points from seven games and look bound to make the play-offs from group A.
Here is what head coach Xavi Pascual has said after the game: 
We had a plan in the game and I think we resolved some situations regarding the defence. Today, we deserved the result. I am very happy for my players. Our fans helped us a lot. These are two important points and we must follow our way.
21:20 HALF-TIME |
Two dominant home teams, two almost identical half-time scores. You cannot see either Kielce or Magdeburg give this away in the second half – but hey, this is handball and we have seen Kiel vs Barça earlier tonight...
21:16
Kielce 20:16 up against Elverum, shortly before the break. One of the 20 was a real test for the goal netting:
21:11
Read how the first three games of tonight have panned out, including Kiel's late draw against Barça and the home wins for Veszprém against Zagreb, and Dinamo against Plock:
21:01
Over in Kielce, the 2016 champions lead Elverum 10:7 after the opening quarter – though, in fairness, the nicest goal so far has come from the Norwegian visitors:
20:56
Time timeout Porto. Already 9:4 down, Magnus Andersson must be wondering what is going wrong with his team again. Six matches from six lost this season, and if they don't come up with a solution soon, this is bound to become No. 7...

20:51
Wow, Magdeburg 6:2 up after six minutes. It already feels unlikely this is going to be the match where Porto finally get their first points of the season.
20:41
No time to waste as we are heading straight into the last two matches of round 7: We stay in Germany for Magdeburg against Porto, and we see Kielce taking on Elverum.

20:33
This is the moment where Barça at least save a point in the Wunderino Arena. Having lead 28:25, they find themselves down 30:28 going into the last minute but still manage to get that one point:
20:25 RESULT |
Two decent home wins: Veszprém have been made to work hard against Zagreb, who are definitely improving and are becoming a force to be reckoned with over the next rounds. Petar Nenadic and Željko Musa with six each the best shooters.
And Dinamo confirm they have taken steps forward as well, taking a deserved won over Plock and scoring 32 times against the best defence of the competition prior to round 7. Lazar Kukic with seven for Dinamo and Tin Lucin with eight for Plock the leading scorers.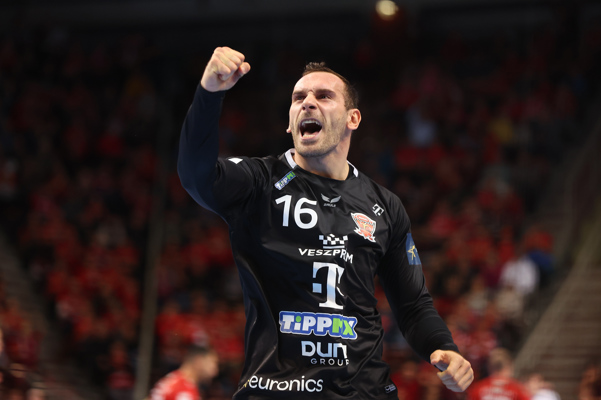 What a thriller in Kiel! The hosts have been behind the whole game, then claw back into the match that has seemed lost just minutes before, go 30:28 up with five unanswered goals, but cannot hold onto their lead.
First point dropped for Barça after seven rounds! Kiel right wing Niclas Ekberg the big man with nine from nine; no other player from either team has scored more than five.

20:13
Incredible scenes in Kiel! They have completely turned the match against Barça around with a 5:0 run and now lead 30:28! Last minute...
20:09
Well, make that nine from nine for Niclas Ekberg and we are all square: Kiel 28, Barça 28!
No wonder Barça head coach Carlos Ortega is calling a team timeout now. Still over three minutes left in the Wunderino Arena...
20:05
Niclas Ekberg hits his seventh of the night as Kiel come back to within two: 27:25. What can Kiel still do in the last seven minutes against Barça?
19:57
Over in Kiel, the hosts are currently three behind Barça: 25:22. Kiel have been playing catch-up since that poor start into the match. Niclas Ekberg with six from six their best scorer.
19:55
Meanwhile Veszprém are facing a bigger challenge than expected, as they have been kept level by Zagreb for a long, long time and now only lead them by two: 23:21. Still all to play for with 17 minutes on the clock!  
19:51
To celebrate the occasion, Veszprém have posted this impressive overview:
19:47
Here you go: we announced some history in the making, and here is the video. Veszprém's ninth goal against Zagreb tonight – when Andreas Nilsson netted for 9:9 – was the 10,000th in the club's rich EHF Champions League history!
Only two teams have passed this milestone before the Hungarian powerhouse did so – an by coincidence, they are playing against each other at the moment: Kiel and Barça!

19:28
A dominant start has given Barça a clear lead in Kiel. They were 3:1 up within three minutes thanks to three French goals (Timothey N'guessan twice, Dika Mem once) and have remained ahead ever since, with five goals (9:4) their biggest lead.
Are Barça cruising towards their seventh straight win this season? Or Filip Jicha adapts his game plan to help his Kiel getting a positive result tonight?
19:22 HALF-TIME |
19:12
Peter Nenadic's 200th match for Veszprém is one of the milestones for the Hungarian powerhouse tonight. The other one coming up very soon...
19:08
Kiel have found some stability now, the gap has at least not grown bigger and remains at four after 22 minutes: 14:10 to Barça. Timothey N'guessan with four goals the leading scorer so far.
18:56
Good to see Hendrik Pekeler finally back in the squad for an EHF Champions League game after recovering from his Achilles tendon injury, but his Kiel are trailing Barça already by 9:5 after 12 minutes. 

18:36
Laszlo Nagy has been involved in a large part of Veszprém's EHF Champions League history.
Tonight, now retired Nagy will witness how a new chapter is going to be added to Veszprém's history in Europe's top flight... 

18:27
Kiel and Barça share a rich history of EHF Champions League duels: since their first match in 2000, they have met 29 times, including in three finals, with Barça leading the head-to-head comparison 15-12 (plus two draws).
More interesting is a look at their recent duels: over the past two years, they have met four times, with Barça winning three of these encounters, each time by at least four goals. However, Kiel won the most important game of this quartet: the 2020 final! 
18:05
We are 40 minutes away from throw-off, and players in Veszprém, Bucharest, and Kiel are getting ready for their matches.
We have been looking ahead in the live blog this afternoon to all three games; our main focus during the games will be on the cracking encounter between Kiel and Barça – however, we will switch to Vesprém vs Zagreb for sure at a certain point...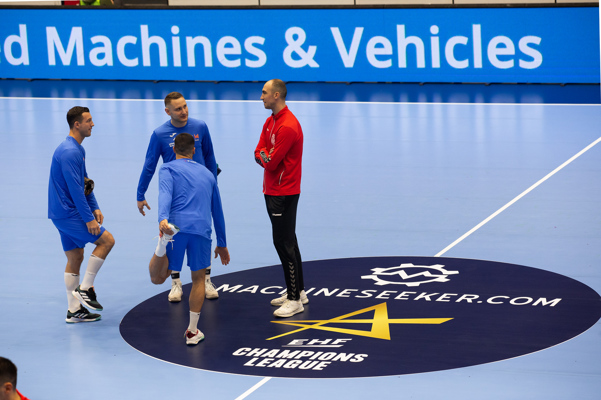 17:00
Later on this evening round 7 will conclude with two games: Kielce vs Elverum, and Magdeburg vs Porto. The home sides are the overwhelming favourites in both - although Porto did press PSG close in round 6, losing in Paris by only two goals. Both matches throw off at 20:45 CET.
Here's the Kielce squad list for the game.

16:47
The other match throwing off at 18:45 CET today is Dinamo Bucuresti vs Orlen Wisla Plock. They both have five points in group A, with Dinamo sitting fifth thanks to a superior goal difference. And both have Spanish coaches (Xavis Pascual and Sabate respectively). So this ought to be a tight contest. Dinamo will face Plock's defence, which is currently the best in the Champions League as they have conceded just 176 goals in six matches. But Sabate said in advance of the match that he knows Dinamo have taken a big step up this year, and he is expecting a tough game.
Valentin Ghionea and Dan Emil Racotea will bring a bit of inside knowledge for the hosts, as both played for Plock in the past.
Here's a few words from Ali Zein on the match.
16:30
Over in Veszprém, coach Momir Ilic is not being drawn on whether he thinks his side can beat Zagreb. Objectively you would expect Veszprém to win - Zagreb's sole victory this season came in round 3 against Porto, who have had a horrible start to the group phase with six defeats - but the break will have given Zagreb time to regroup.
Meanwhile Zagreb spent their journey to Hungary watching Croatia draw with Morocco in the FIFA World Cup. A draw tonight would probably be something they would celebrate.

16:15
Staying on Kiel vs Barça for a bit, here's Barça's line-up for the match. No surprises here, and no injuries either.
16:00
With a few hours to go before today's matches begin, welcome back to the live blog. 
The games today will see both Veszprém (in group A) and Barça (in group B) try and remain unbeaten. As a reminder, Veszprém have five wins and a draw to their name so far this season, while Barça have won every match. PSG overtook Veszprém last night after their win over GOG, but the Hungarian side would obviously regain top spot in the event of another win or a draw; Barça are still two points clear of the competition in group B, although if they lose and Kielce beat Elverum that would mean both teams have 12 points after round 7.
Looking to spoil the Catalan party are Kiel, who have met their rivals 29 times before. The most recent game was Barça's 34:30 win in the EHF FINAL4 semi-finals this year. 
Bad news for Kiel, though: Eric Johansson is out after breaking his hand in training.

Wednesday 23 November
23:10
That's all from us for tonight. The blog will be back again tomorrow for the five remaining matches in round 7, starting at 18:45 CET when Veszprém look to regain top spot in group A while Barça try and hang on to their unbeaten record when they visit Kiel. Lots to look forward to!
We knew before the game that it would be an important fight for us. GOG is a very good handball team which plays very well tactically and technically. They run a lot and we got some problems to coming back in defence. But we demonstrated experience today and our second half was pretty better with good momentum in defence.
We are very disappointed. We hoped to get two points today. We think we have got the team to win such a game, but we were not ready and are very disappointed about our intensity and performance in the first 15 minutes.
We are happy and our fans are happy too when we have a victory like this. We were under big pressure before the game and we are still under pressure because we need points in the Champions League. In the beginning we were a bit nervous, but then we could improve.

We know that next week's match in Celje will be a totally different game. They will be strong in front of their fans. What happened here is nothing. We have to clear our heads and get some more points before the end of the year.
22:46
Round 7 really got off to an exciting start with three high-scoring, intense encounters. The MOTW lived up to its name with Nantes bringing their A-game to Aalborg; Szeged made a big statement as we head closer to the play-offs; and Paris Saint-Germain were able to secure their sixth win and move to the top of group A, ahead of Veszprém's encounter with Zagreb tomorrow. 
Read more about the night's action in our match reviews.












22:17 | FULL-TIME
PARIS SAINT-GERMAIN HB 41:35 GOG
A penalty taken by 19-year-old left wing Léo Plantin secures a big 41:35 win for PSG against a tough GOG team. It's Plantin's first Champions League goal in his second senior season for the club, and he grins widely as he sends it into the net. It's their biggest score this season, exceeding the 40 goals put past Zagreb in round 4.
Lukas Jørgensen is top scorer with nine goals from 15 shots for GOG; Emil Madsen, together with PSG's Luc Steins, Dainis Kristopans and Kamil Syprzak, scored seven goals. 
GOG can take comfort from the way they played - they took the fight to Paris and can hope to secure themselves a home win next week.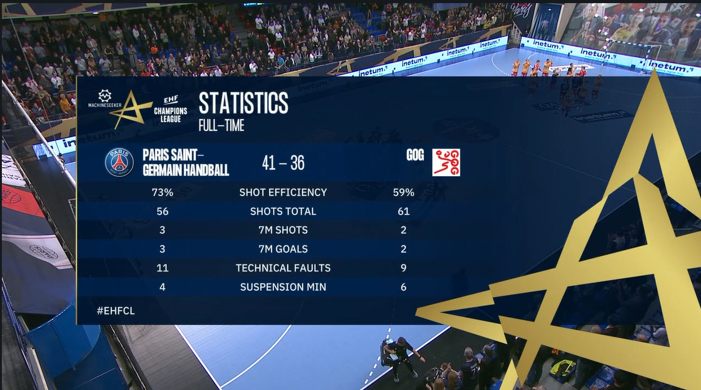 22:05
With about five minutes to play, GOG are carrying on fighting and have brought the gap back to three goals. But it's hard to see what they can do, especially against Jannick Green - he's up to 17 saves (37 per cent) in this high-scoring handball extravaganza.
21:56
Jannick Green is playing absolutely brilliantly and keeping everything out in an increasingly physical encounter. GOG are scrapping for possession, but PSG are doing enough to stay three goals in front.

21:47
After a 6:3 run, including two goals from Mathieu Grebille inside 30 seconds, PSG have a 23:20 lead and its time for a GOG timeout. GOG have a less experienced bench than PSG, and it might be starting to show. 
21:40
We've had a lively start to the second half. Jannick Green denied Simon Pytlick twice in a row, and after Lukas Jørgensen scored early on Nikola Karabatic and then an in-form Dainis Kristopans have put PSG ahead 18:17.
21:23 | HALF-TIME
PARIS SAINT-GERMAIN HB 16:16 GOG
Just when it looked like PSG were going to take control of the match, GOG got themselves right back into it - or rather Jerry Tollbring did, with three quick goals including one penalty. Since then things have been pretty much end-to-end with the pace in attack ramping up.
Jannick Green, who, of course, is Danish, is reading the GOG attackers well and has made eight saves (33.3 per cent) to Tobias Thulin's five (25 per cent). 
But it's all square at the break, and the second half will be fascinating!
21:11
With Henrik Jacobsen suspended and Lukas Jørgensen's shot missed, Ferran Sole catches the rebound, scores into the empty net and puts PSG ahead for the first time. The momentum is now all with Paris, albeit with a bit of respite for GOG when Luc Steins is suspended too for a foul on Nejc Cehte.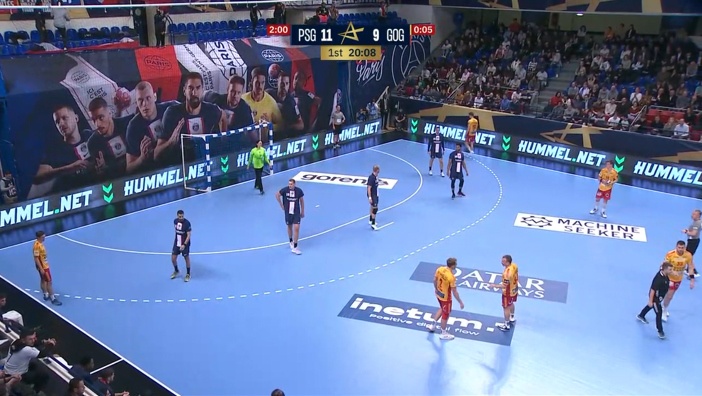 21:05
The home fans have woken up and are singing enthusiastically as PSG close the gap up to 8:9 with a string of goals, including a brace from Ferran Sole. Nicolej Krickau has called a timeout and is encouraging his men to keep up their early pace.   
20:55
This isn't the start Paris wanted. Too many mistakes already and some slick play by GOG gave the visitors a 4:1 lead inside 10 minutes. Raul Gonzalez has already used a timeout.
20:45
Luka Karabatic is missing this game due to a calf injury, but the younger of the two brothers is in the stands to see if Nikola & Co can beat the Danish men in yellow and red. They've just thrown off.
20:32
So we've had one French victory against a Danish side - can Paris Saint-Germain make it two? They take on GOG in just under 15 minutes. PSG are currently second in group A, having lost only to Veszprém in round 1, while GOG are fourth with three wins, a draw and two losses. 
These two sides haven't met for 16 years. In 1996/97, both won their home match in the Champions League.











20:20 | FULL-TIME
AALBORG Håndbold 32:35 HBC NANTES
With the game wrapped up, Nantes perhaps took their eye off in the closing minutes and let Aalborg close back up to three goals. But they've done enough to take the win, and set themselves up nicely for the return leg in Nantes next week. 
Alexandre Cavalcanti takes the Player of the Match award for his work in defence plus six goals. 
PICK SZEGED 36:27 RK CELJE PIVOVARNA LASKO
It's a big win for Szeged against Celje, extending their run over the Slovenian side. Kent Robin Tönnesen, Sebastian Frimmel and Bence Bánhidi all score six goals. For Celje, Tilen Strmljan is top scorer with five; the tournament's top scorer Aleks Vlah is kept to just four. While it doesn't change Szeged's place in the standings (sixth), it puts them in a more secure position going into the second half of the group phase.
20:10
Nantes withstood the Aalborg attack magnificently and pulled back to a five-goal lead, which is now being intermittently brought back to four goals as the game ebbs and flows. Although all bar two of the Nantes field players have scored, it's Valero Rivera (eight goals) and Thibaud Briet (six) who have really driven the attack and to great effect. 
In Szeged, the hosts lead by eight goals and seem to have their second win of the competition wrapped up.
20:03
A 4:1 run from Aalborg, started by that Mikkel Hansen penalty, put the hosts back to a three-goal deficit. Nantes take a timeout but Mikael Aggefors blocks the shot and Sebastian Barthold brings it back to 27:29 for the hosts. Aalborg have found a bit more fluidity and effectiveness in attack, led by Barthold, and suddenly Nantes have a real battle on their hands. Just over 10 minutes left ...
19:59
At the start of the second half in Szeged it looked like Celje might claw their way back. However, Szeged held on as their visitors started well, and have since put the hammer down. It's a 27:20 lead for the Hungarian club right now, and they have held a nine-goal lead a couple of times too. 
Both teams are putting on a good team display though with no single players massively standing out; Bence Bánhidi is currently top scorer with five goals, and Mirko Alilovic continues to be strong in the Szeged goal.
19:53
Lukas Sandell goes down hard as he shoots and is blocked by both Jorge Maqueda and Jérémy Toto. Maqueda receives a suspension - his second of the day - and Mikkel Hansen steps up to score the penalty against Viktor Hallgrímsson. Nantes lead 28:23 and the momentum remains on their side.
19:45
Stefan Madsen takes an early timeout and he needs to do so, as Aalborg now trail 19:25 against a rampant Nantes side. Pedro Portela came on and promptly scored twice in a row to help Nantes on their way. 
Aron Pálmarsson gets one back for Aalborg, but Thibaud Briet - who's on absolute fire - keeps the gap at six. Aalborg are going to need all of the skill of their stars like Pálmarsson and Mikkel Hansen to get back into this.
19:38
Off we go again. Viktor Hallgrímsson's back between the Nantes post, with Mikael Aggefors still on for Aalborg. Pedro Portela starts things off strongly for the visitors with their 21st goal.
19:27 | HALF-TIME
AALBORG Håndbold 17:20 HBC NANTES
Mikael Aggefors makes a crucial save to keep the scoreline close as the teams leave for the dressing room. A win for Nantes, if they can hold on, would be a strong result and revenge for the 24:32 loss they suffered in Aalborg in 2020/21. It would also strengthen their position in the group standings. But Aalborg have the support of thousands of their fans on side, so don't count them out in the second half.
PICK SZEGED 18:12 RK CELJE PIVOVARNA LASKO
Szeged have taken firm control of the match now, and four of their players - Mario Sostaric, Sebastian Frimmel, Bence Bánhidi and Imanol Garciandia - have all scored three times. 
19:19
"We'll continue to be patient in attack," says Gregory Cojean as he takes his first timeout of the match. Nantes still have a three-goal cushion, against an Aalborg who are attacking hard but not finding their way to stop their opponents just yet. Thibaud Briet is on particularly fine form, scoring his fifth goal as play resumes.
19:14
And with Simon Gade only having saved two shots, Mikael Aggefors is on for Aalborg. 
Here's a superb save from Mirko Alilovic over in Szeged to enjoy.
19:12
Evidently Gregory Cojean has decided Viktor Hallgrímsson has done his bit for now, with a few goals conceded, and he's put Ivan Pesic on between the posts. Felix Claar instantly scores to make it 12:15.
Speaking of goalkeepers, Szeged are missing Roland Mikler tonight, but Mirko Alilovic is doing a decent job and they have a 14:11 lead now over Celje.
19:10
After almost 20 minutes, it's the first timeout for Aalborg who continue to trail Nantes, 9:13. The French attack has just been more effective so far, and Viktor Hallgrímsson is winning the goalkeeper duel - although his efficiency has dropped after a superb start.
19:04
An update from Szeged: Celje had a strong start, but three quick goals from Bence Bánhidi and Richard Bodó gave the hosts a 10:8 lead shortly after the 15-minute mark. It's a fast-paced match from both sides.
18:58
It's not going Aalborg's way just yet, but this first goal from Felix Claar was really excellent. The hosts are slowly clawing their way back, and with 10 minutes gone the score is 3:5.
18:52
Nantes have had a solid first few minutes, helped by some excellent saves from their goalkeeper Viktor Hallgrímsson. The young Icelander knows Danish handball well, having moved from Nantes in the summer. Nantes have a nice 4:1 lead after six minutes played.
18:45
And here we go, as both matches throw off in front of packed arenas - it's a sea of red for Aalborg and it's great to see.
18:20
Wondering just how to watch tonight's matches? Well, it depends as usual on where you are in the world. Check each game's match page for the TV schedule - here's Aalborg vs Nantes, and Szeged vs Celje - for a list of broadcasters. If your country's not shown, then head over to EHFTV for our streaming service. 
There's exciting news for UK-based handball fans as new streaming service Viaplay UK will now show every MOTW. See below for more on that development.
18:06
So as well as the MOTW tonight, we have two other games. In group B Szeged host Celje. Both sides have, it's fair to say, struggled somewhat this season and have only one win apiece - Szeged beat Elverum at home in round 5, while Celje pulled off a remarkable 38:36 victory in Slovenia against Kiel way back in September. They've both had more success domestically this season and both sit second in their respective league standings.
The odds are overwhelmingly in Szeged's favour - they have won the last seven games against Celje, and Celje have not beaten their hosts since 2008.
Here's Szeged's roster for the match.
17:50
The teams in the Champions League spend quite a lot of time travelling the Continent to get to each other's home arenas. Although it doesn't look like such a hard thing when you're able to sleep like the Celje players could en route to Szeged yesterday, a journey of about 550km. Hopefully that means they're ready to play a good match in just under an hour's time!
16:59
Aalborg star Mikkel Hansen spent the last 10 seasons in France, with PSG. Must feel a bit like déjà vu when playing Nantes in the MOTW tonight:

16:36
So, it is MOTW time at 18:45 CET. Going into this group B match, Aalborg and Nantes are separated by just one point, in fourth and third position, respectively.
Aalborg have not won a home match so far this season – but, in fairness, one has to mention that they have played against Barça and Kielce – and have won just one of the last four games.
Nantes had their four-match winning streak ended just before the competition break three weeks ago, by Barça.
In this feature by EHF journalist Ida Hummeluhr, Aalborg's Henrik Møllgaard expresses his confidence ahead of tonight's MOTW:
16:18
Only three of the eight matches in round 7 will be played tonight, but that doesn't mean we are in for a slow start. On the contrary, as we start with the MOTW between Aalborg and Nantes right away at 18:45 CET!
Here is tonight's schedule:

16:11
Before we dive into today's programme, let's look back at the six rounds played before the three-week break. EHF journalist Kevin Domas has compiled a series of top threes to summarise the standout performers so far. Worth a read:

16:00
Welcome back to the Machineseeker EHF Champions League! The men have had a break while the women have been playing the EHF EURO, but now it's time for the premium European club competition to get underway once more.
Two clashes between French and Danish clubs highlight the night - for more on what's to come, read the round preview: