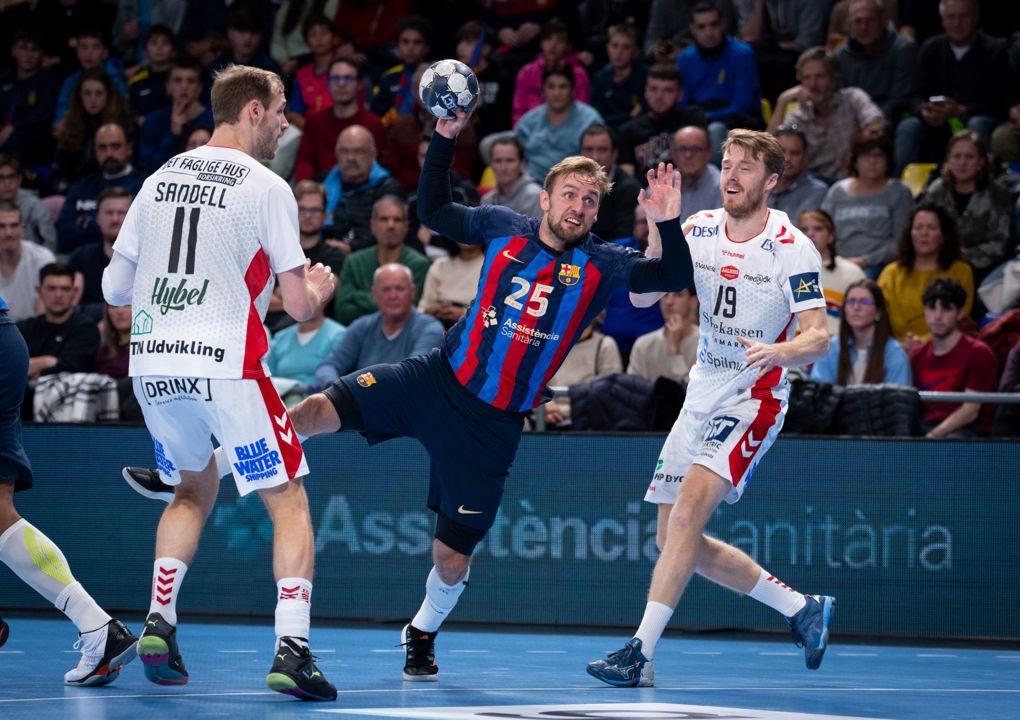 SUMMARY: Barça return to top of group B; Kielce triumph in MOTW
Round 9 of the Machineseeker EHF Champions League group phase, which features four matches on Wednesday and four on Thursday, threw off with Kielce beating Szeged in Match of the Week. 
However, Barça reclaimed top spot in group B from Kielce on Thursday evening when they defeated Aalborg in the Palau Blaugrana.
23:20
Our live blog coverage has concluded for round 9 of the Machineseeker EHF Champions League 2022/23 group phase.
We will leave you with the highlights from Barça's home win against Aalborg and Kiel's victory over Nantes. Don't forget that the competition returns for round 10 next Wednesday and Thursday. 
23:10
For more on the three games that started at 18:45 CET, check out the match reviews. Björn Pazen and Adrian Costeiu's articles will contain all the facts that you need to know about the action.
23:03
If you want to enjoy the best photos from Thursday's four matches, there is a large selection available to view below.






















22:52
Round 9 ends with PSG and Barça topping their respective groups. The results from the round reveal that only Veszprém enjoyed a win by 10 goals or more.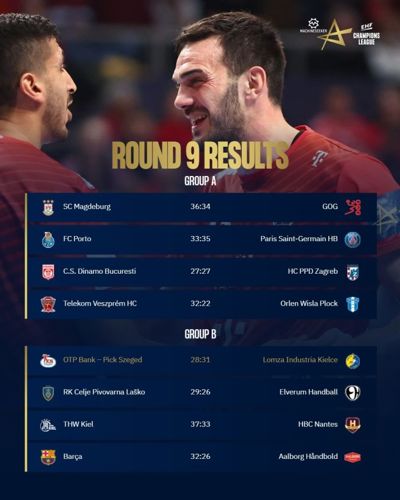 22:47
If you want to catch up with the best moments from Veszprém vs Wisla Plock or Dinamo Bucuresti vs Zagreb, you can watch the match highlights on YouTube. 

22:32
With Barça leading 29:25 inside the final five minutes, this moment might have been the icing on the cake! 
22:27
What does a goal timeline look like when a goalkeeper is stopping shots at a 55 per cent efficiency?
(Look away if you're an Aalborg fan – but this does illustrate the effect that Barça's number one had in the second half.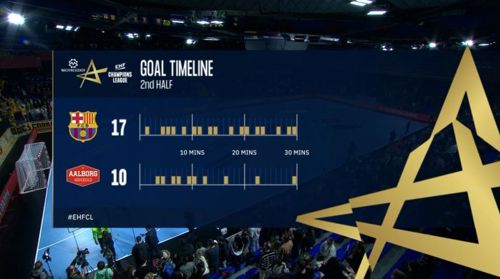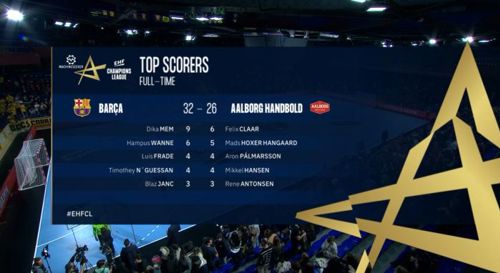 22:22
Barça return to the top of group B after sealing a six-goal win over Aalborg in Spain.
Gonzalo Perez de Vargas's stunning performance in the second half, which featured three penalty saves among his 12 stops, is the main reason why Barça's margin of victory was so big. Dika Mem capped a fine outing in attack with his ninth goal of the game shortly before the buzzer.
Aalborg, who were led on the scoresheet by Felix Claar (six goals), are now in fifth place in the group after THW Kiel's win against Nantes earlier in the evening.
22:06
This is the phase of a play that featured a Perez de Vargas save, a great pass to set up a fast break and a save by Mikael Aggefors to stop Hampus Wanne.
22:04
Perez de Vargas stands tall and uses his left hand to stop a penalty from Mikkel Hansen. The Spanish goalkeeper appears as though he is making a match-winning contribution in the second half for Barça.
21:59
Dika Mem converts a penalty to put Barça in front, 24:23, and Stefan Madsen responds on the Aalborg bench by calling a timeout.
21:53
Here is a taste of what Perez de Vargas has been offering for Barça after his introduction at half-time.
21:50
Perez de Vargas stops a shot from Aron Pálmarsson, immediately sends the ball down the court to Hampus Wanne, but the Swedish left wing's fast break is denied by Mikael Aggefors. Both teams are matching each other at this point.
21:42
Having started the second half in goal for Barça, Gonzalo Perez de Vargas has made two stops from three shots faced. The Spanish goalkeeper has made an immediate impact, but Aalborg are ahead on the scoreboard, 17:16. We suspect there is a long way to go for the Danish side, though.
21:34
Björn Pazen informs us that if Barça lose against Aalborg, it will be only their 10th home defeat in the EHF Champions League since 1994.
The goal timeline from the first half shows that Aalborg did well to respond after experiencing a significant 'goal drought' in the second 10-minute segment.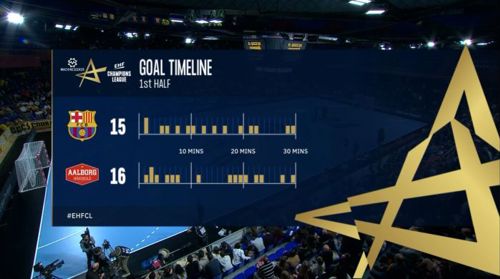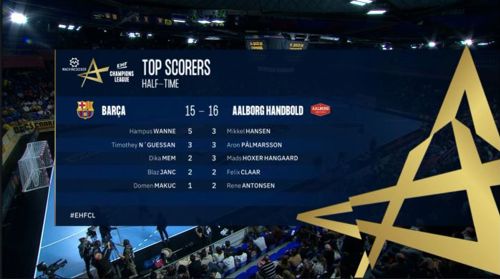 21:28
After an intriguing first half in Spain, Aalborg are in front by one goal, 16:15, against Barça.
Aalborg started the match with a flurry of fast break goals, but Barça were in the ascendancy when Timothey N'guessan gave them a two-goal lead in the 17th minute. 
While Aron Pálmarsson, Mikkel Hansen and Mads Hoxer Hangaard have scored three goals each, Mikael Aggefors' performance in the first half has been crucial for the Danish side. Aggefors' save percentage is just above 40 per cent, while Emil Nielsen's efficiency for Barça is below 25 per cent.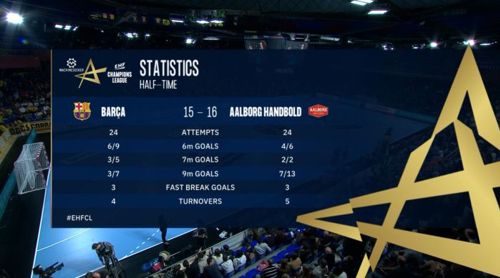 21:18
Barça fans will be familiar with Aron Pálmarsson wasting no time to unleash a shot from nine metres (or beyond!) in the Palau Blaugrana.
Of course, as Pálmarsson is now wearing the colours of Aalborg, the home fans will not want to see the Icelandic centre back repeat this type of moment too many more times tonight.  
21:11
Barça and Aalborg are level at 12:12 on the scoreboard as the away side call a timeout – and the teams have identical scoring percentages.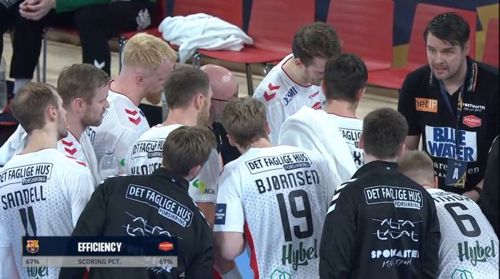 21:09
THW Kiel back Nikola Bilyk was pleased that his side made amends this evening for their defeat against Nantes in October. 
"We are very happy to have won this game. We all knew what happened to us in the first leg in Nantes. That was in our minds. At the beginning we struggled with a few problems, then we played better. We were ready, we wanted to win and show that to everyone. And we had the spirit to win this game," said Nikola Bilyk.
21:03
A succession of fast breaks for Aalborg ensured that they had a two-goal advantage in the early stages, but Hampus Wanne has just slotted home a penalty to give Barça the lead, 9:8.
20:54
Before the match Barça's players showed their support for left wing Aitor Arino. Arino is facing a lengthy spell off the court after suffering another knee injury.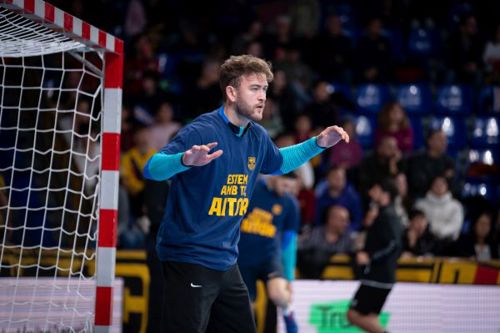 20:45
The Palau Blaugrana is ready for Barça's match against Aalborg. Barça will return to the top of group B if they avoid defeat.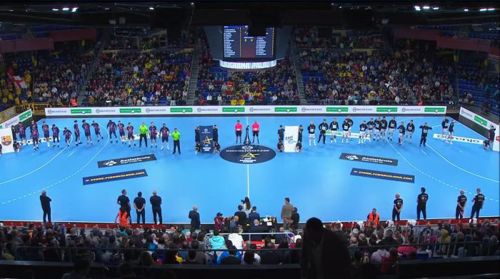 20:40
Interestingly, Kiel's 37:33 win over Nantes was their fourth EHF Champions League game this season featuring 70 goals or more. In the other three games with 70 goals or more, Kiel lost twice (against Celje and Kielce) and drew once (against Aalborg).
20:30
Karpo Sirotic's strike with 19 seconds remaining is enough to earn Zagreb a point in Bucharest against Dinamo Bucuresti. After Zagreb made a strong start to the second half, the home side trailed 19:15 in the 41st minute.
With the point that they have earned this evening, Zagreb now have six points and have moved above Wisla Plock to take sixth place in group A. Dinamo Bucuresti have 10 points – but they remain in fourth place.
20:24
Veszprém seal a 10-goal home win against Wisla Plock to close the gap on group A leaders PSG to one point. Petar Nenadic finished as Veszprém's top scorer with nine goals, and the home side had an impressive 74 per cent shooting efficiency after scoring 32 goals from 43 shots.   
20:18
THW Kiel end their five-game winless run in the Machineseeker EHF Champions League with a four-goal triumph over Nantes.
Both teams had similar shooting percentages in the match, but the firepower of Nikola Bilyk and Karl Wallinius ultimately made the difference for Kiel over the 60 minutes. Indeed, Bilyk added his 10th goal of the game – and Kiel's 37th goal – just over a minute before the end with a trademark strike from the back court.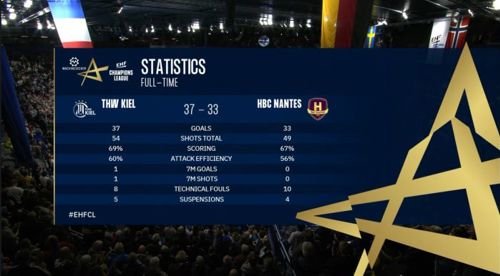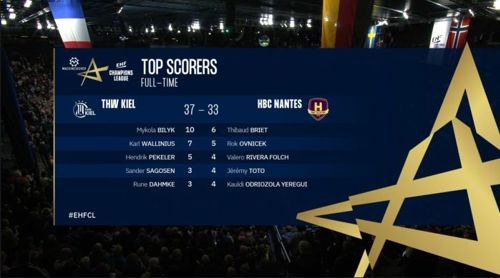 20:09
It's in-flight time for Veszprém as they cruise towards a comfortable victory at home against Plock. Veszprém have a eight-goal lead, 28:20, after 51 minutes.
20:02
Patrick Wiencek takes what can only be described as a big hit from Linus Persson. Wiencek might have had a clear fast break opportunity if Persson wasn't there to cover in defence.
19:59
A few minutes ago, Thibaud Briet gave his teammates a reassuring thumbs up after soaring through Kiel's defence to score. Briet looked a lot less happy after hitting the bar with his latest attempt. Incidentally, Niklas Landin is back in goal for Kiel as the match nears its conclusion. Kiel lead 31:28 and Nantes have called a timeout.
19:54
We mentioned in the first half how Nantes had eight different scorers on the scoresheet to Kiel's four.
With Reinkind and Øverby adding their names to Kiel's list of scorers since the break, the German side are now up to 10 different scorers in this match.
19:50
Nantes have reduced Kiel's lead to one goal on five occasions so far in the second half. Unfortunately for the French side, they have not yet been able to equalise. 
19:46
We are all familiar with Timur Dibirov's magic from the left wing. However, Nicusor Negru might have had the 'highlight' moment of the first half between Dinamo Bucuresti and Zagreb.

19:34
Timur Dibirov scored six goals for Zagreb in the first half in Romania, but Dinamo Bucuresti have a slender lead at the break. Goalkeeper Saeid Heidarirad, who has stopped nine shots from 22 faced, has been the star of the show for the Romanian side in a low-scoring contest.
19:32
As we mentioned earlier, Petar Nenadic's performance has helped guide Veszprém to a comfortable lead at the break over Wisla Plock in Hungary. Rodrigo Corrales ended the first half with a 40 per cent save rate for Veszprém.
19:28
After a 3:0 run towards the end of the first half, Kiel have a two-goal advantage against Nantes in Germany. 
Despite the home side scoring 20 goals in the opening 30 minutes, there have been periods where they have relied on individual efforts from Karl Wallinius, Nikola Bilyk and Sander Sagosen. However, we imagine that Filip Jicha will be satisfied that his big guns have found a way to make an impression when he has asked them to step up.
Since replacing Niklas Landin in goal for Kiel, Tomas Mrkva has made three saves from seven shots faced. For Nantes, while their scoring depth and shooting percentage have been a match for Kiel, Andreas Hofmann's save percentage is below 20 per cent.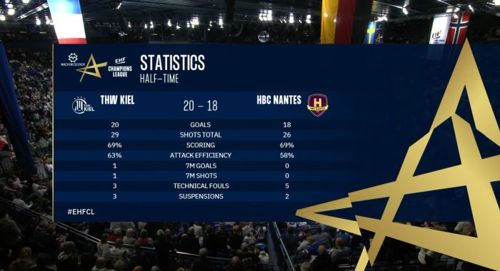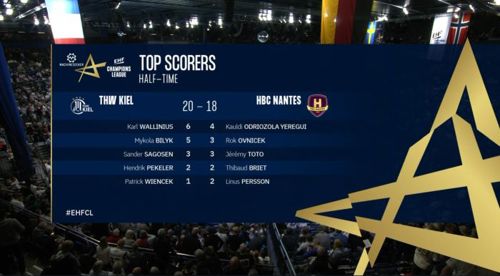 19:16
Petar Nenadic is seemingly in blistering form for Veszprém. The veteran Serbian left back has already scored six goals for the Hungarian side – and he has provided us with some variety along the way. Veszprém currently lead 14:7 against Wisla Plock. 
19:13
Nantes have an inexperienced goalkeeping duo this evening, but Kiel have made the first change in goal. Tomas Mrkva has replaced Niklas Landin, who made four saves from 18 shots faced while he was on court.
19:10
With five goals from five shots, Karl Wallinius has vindicated Jicha's decision to use him in attack for Kiel after the opening 10 minutes. Remarkably, Nantes have had eight different scorers so far, while Kiel have only had four.
19:06
The scoring percentages look relatively healthy for both teams as we approach the 18-minute mark.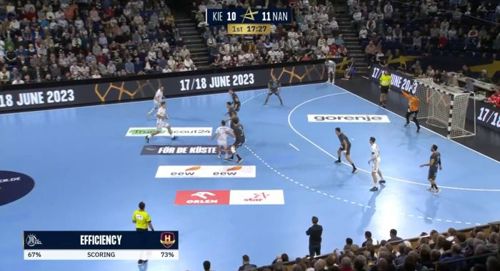 18:58
Only two players feature on the scoresheet for Kiel after almost 12 minutes against Nantes: Sander Sagosen and Nikola Bilyk. Both players have scored three goals, but Sagosen has been replaced by Karl Wallinius after making a couple of errors that led to fast breaks for Nantes. 
18:45
The Wunderino Arena is almost full as Kiel prepare to face Nantes in group B.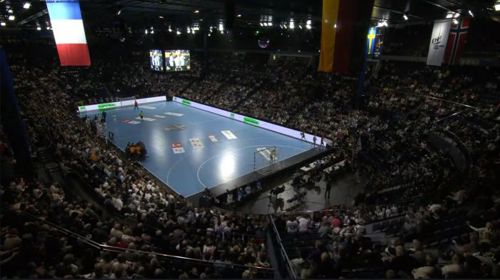 18:40
Here is a photo of Sander Sagosen in action in the warm-up for Kiel. Throw-off is only five minutes away, so we will find out shortly if Sagosen can make a big impact for the German side this evening.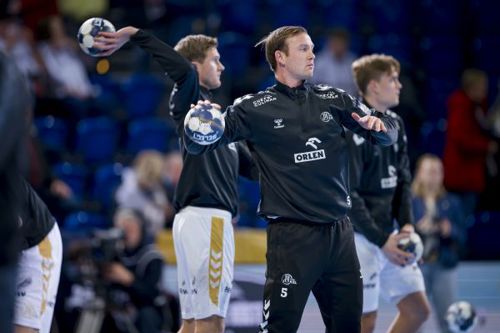 18:25
When Nantes beat Kiel 38:30 in October, Viktor Hallgrímsson made 15 saves from 43 shots faced to finish with a 35 per cent save efficiency.
This evening, Nantes will have to rely on the inexperienced goalkeeping pair of Andreas Hofmann and Junayd Belbrahim. 
18:10
Gregory Cojean noted that Sander Sagosen is back for Kiel. The Norwegian centre back scored one goal from three shots against Barça last Wednesday – but that was his first appearance in the Machineseeker EHF Champions League this season. Since then, Sagosen continued his return from injury by scoring four goals against Wetzlar in the German Bundesliga on Sunday. 
17:55
In one of our three games at 18:45 CET, HBC Nantes will bid to earn their second win against THW Kiel in this season's group phase.
During the 2020/21 season, Nantes beat Kiel 35:27 in Germany before the two teams drew 24:24 in the return match in France. As you might expect, both coaches are expecting a tough match this evening.
"This will be an extremely difficult game. Nantes is playing a strong group phase. Compared to the first leg, we have to play better in every position to win this game," said Filip Jicha, THW Kiel coach.
16:55
The round will finish with a flourish in Barcelona, as Barça host their second home match in a row. Last week they beat Kiel with a brilliant second half, saving the day for Victor Tomas as his number 8 jersey was retired. 
In round 5, Aalborg had no answer to the Catalan charge and lost 33:39 at home. The Danish club's last victory was actually in round 4, against Szeged; since then they have lost three games and drawn at Kiel. They travel with 15 players - Jesper Nielsen being the only member of the team who played in Nantes last week not to make the trip to Spain.
A win for Barça would put them back at the top of group B, after Kielce's win last night - a win for Aalborg would leave them fourth or fifth, depending on what happens in Kiel. Barça are playing without Aitor Ariño, who injured his knee last week and is out for the season. In his place comes the young left wing Martí Soler to make his first Champions League appearance this year.  
16:35
Over to Veszprém, who host Plock today. Plock currently sit in the all-important sixth place in group A, level with points with Zagreb but with a better goal difference. Veszprém are second, and will remain in second whatever happens tonight - as they are one point ahead of Magdeburg, and three behind Paris, both of whom played yesterday. 
Veszprém won the round 6 clash in Poland 30:26 so are the favourites, but coach Momir Ilic wants his men to focus on themselves.
16:15
It's fair to say that Zagreb haven't had a great season so far. Before last week they had one win (against Porto) and one draw (with Plock). But the return of Slavko Goluza as coach seems to have worked wonders and last week Zagreb shocked Veszprém with a 29:26 win. That came after a four-goal loss to the Hungarian side in Hungary in round 7.
When Zagreb hosted Dinamo in round 6, the match ended 28:29. This week, they travel to Romania to see if they can't surprise Xavi Pascual's team. Ahead of the match, EHF journalist Danijela Vekić spoke to young centre back Stefan Dodic about his time at the club and about playing in the Champions League. It's well worth a read!
16:00
Welcome back to the live blog ahead of tonight's four Machineseeker EHF Champions League round 9 matches. Most of the top-ranked teams in both groups are in action this evening, and there are no fewer than three games throwing off at 18:45 CET - Kiel vs Nantes, Dinamo vs Zagreb, and Veszprém vs Plock.
Let's start off with a look at the Wunderino-Arena in Kiel, where Nantes are preparing to take on the Zebras. Nantes beat Kiel 38:30 in Nantes back in round 5 and they know their hosts are keen for revenge. Kiel are coming off a narrow away defeat to Barça last week following a good draw at home, while Nantes have a two-game unbeaten streak against Aalborg.
We made a very big match during the first leg, a very big performance. They will be keen to react, to take their revenge at home. It's Kiel, in Kiel. With Sander Sagosen back. It's going to be very tough.
Wednesday 7 December 2022
23:15
That is all for Wednesday evening's coverage from round 9 of the Machineseeker EHF Champions League group phase 2022/23. The live blog will return for the build-up on Thursday afternoon ahead of four more matches from Europe's premier competition.
23:13
Raul Gonzalez felt that PSG's improved display in the second half contributed to his side claiming the two points against Porto.    
"FC Porto made a good game. They were strong with their fast breaks and made a difference of five goals but in the second half we were better," said Raul Gonzalez, PSG coach.
23:05
If you want to read more about Magdeburg and PSG's wins in group A, click the links below for Kevin Domas' match reviews.
22:55
Speaking after the match in Germany, Magdeburg centre back Christian O'Sullivan praised GOG's fast breaks. 
"GOG plays arguably the best fast-break handball in the world and it's hard to force them to make mistakes. Therefore, we are happy with two important points in the group," said Christian O'Sullivan.
22:49
As the evening draws to a close, enjoy a selection of the best photos from our four matches in the gallery. 
Rightfully, Arkadiusz Moryto, pictured with his Player of the Match award after Match of the Week, is the first image in the gallery.






















22:33
Ómar Ingi Magnusson certainly produced the spin shot of the night!
22:30
Group A leaders PSG trailed by one goal at half-time against Porto, but the French side have taken both points with a two-goal win in Portugal.
Kamil Syprzak scored nine goals from 11 shots for PSG, including five penalties from five attempts, while Porto line player Victor Iturriza top-scored for his side with eight goals from nine attempts. All of Iturriza's goals for Porto came from open play.
22:26
Magdeburg edge a hard-fought and high-scoring contest against GOG, 36:34, to close the gap on Veszprém in second place of group A to just one point.
While the visitors had three players score eight goals or more – Emil Madsen, Simon Ptylick and Lukas Jørgensen – the German side's depth and higher volume of shots ultimately made the difference. Of course, Magdeburg's star Icelandic duo of Ómar Ingi Magnusson and Gisli Thorgeir Kristjansson deserve huge credit for scoring 19 of their side's 36 goals.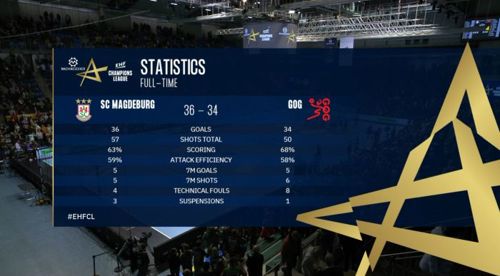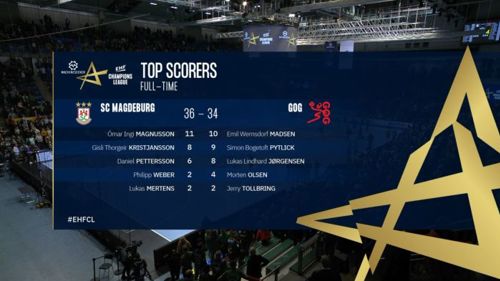 21:14
Emil Madsen fires a penalty past Mike Jensen as soon as he hears the whistle from the referees. Magdeburg lead by one goal, 33:32, with just over two minutes remaining. 
21:13
Here is a glorious PSG move that is worth watching at least once... and possibly a few more times!
22:05
Morten Olsen hits the post with an attempt from the left wing for GOG before Mike Jensen denies Lukas Jørgensen's rebound. Jensen might have touched Olsen's initial effort – but, either way, it felt like a big moment for the home side. 
21:58
GOG's shot efficiency is 11 per cent than Magdeburg's after 45 minutes. The only problem for the Danish side is that Magdeburg have had seven more shots. The good news is that we might be in for an exciting finish in this match.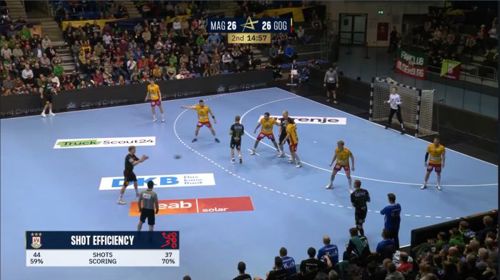 21:54
While GOG have reduced Magdeburg's lead in Germany, PSG have taken control of their match against Porto in Portugal.
Jannick Green's save percentage is currently 30 per cent – and the Danish goalkeeper has stopped a shot from Porto's man of the moment, Victor Iturriza. 
21:49
A faulty substitution for Magdeburg means that GOG will have a two-player advantage for 34 seconds. Meanwhile, Morten Olsen has just stepped to score a penalty that reduces Magdeburg's lead to two goals, 25:23.
21:44
Renowned for his powerful shots from the back court, Simon Pytlick has not disappointed for GOG this evening. The Danish left back is now on nine goals from 11 shots.

21:37
Despite Magdeburg scoring 21 goals in the first half, GOG goalkeeper Tobias Thulin had a more than respectable save percentage at half-time.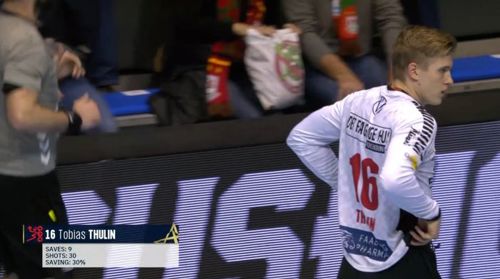 21:31
Perhaps unexpectedly, Porto have a one-goal lead at half-time against PSG. Line players have made a big impact in the first half in Portugal, with Victor Iturriza scoring five times for the hosts and Kamil Syprzak netting four goals for PSG.
21:28
After a high-scoring first half in which both sides flourished in attack, Magdeburg have a three-goal cushion over GOG.
Although the Danish side took a 5:2 lead in the seventh minute, the home team worked their way back into contention via Gisli Thorgeir Kristjansson and Ómar Ingi Magnusson. 
Simon Pytlick stood out for the visitors in the first 30 minutes, scoring eight goals from nine shots, but Magdeburg's fast breaks towards the end of the half have put them firmly in control.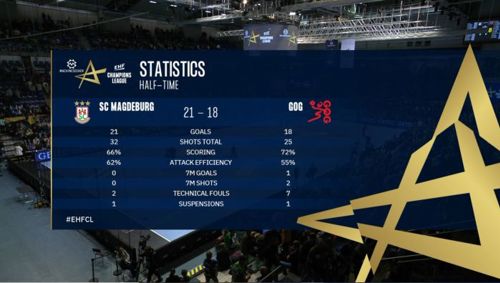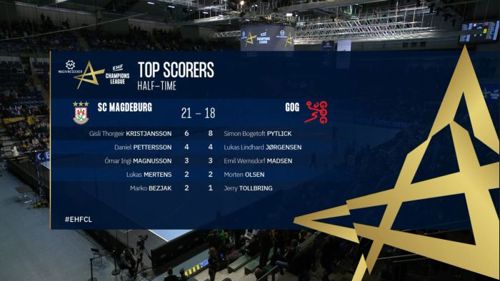 21:17
Tunisian goalkeeper Yassine Belkaied played a crucial role in Celje's victory over Elverum earlier this evening. When Belkaied spoke after the match, he was thankful for the help of the home supporters in Slovenia.
"I would like to thank all the supporters that came to the arena to help us. We started well and had a deserved lead at the break. Elverum then took the lead, but after a big fight we managed to win two important points," said Yassine Belkaied.
21:13
Gisli Thorgeir Kristjansson and Ómar Ingi Magnusson have scored eight of Magdeburg's 15 goals in the first half. While Kristjansson leads Magdeburg goalscorers, Magnusson has provided three assists.
21:09
Magdeburg have seized control of the first half with a 4:0 run to lead 13:10 against GOG. 
21:03
Group A leaders PSG have some catching up to do after the opening quarter against Porto in Portugal. Porto have a 9:5 lead – and they might be benefitting from the confidence boost of gaining their first point last week.
20:53
A fast break goal for Jerry Tollbring has given GOG a 5:2 lead against Magdeburg. which is the first significant advantage for either side so far. Meanwhile, the match reviews from our first two matches of the evening are now online for you to read.
20:45
After Kielce's Match of the Week win against Szeged, our attention now turns to group A. More specifically, our main focus will be on SC Magdeburg's game against GOG.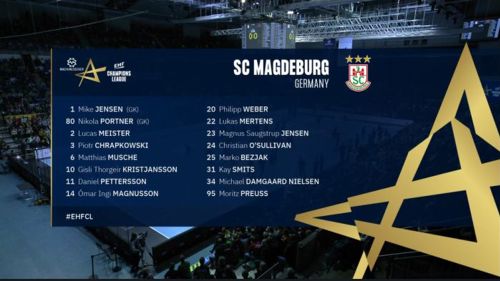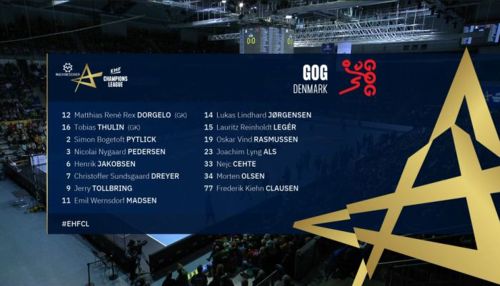 20:34
Šimon Mizera made eight saves from 20 shots faced to finish with a 40 per cent save efficiency for Elverum. Unfortunately for Mizera, Celje's Yassine Belkaied eclipsed him in terms of efficiency after making six saves from 14 shots faced.
20:31
Here are the current group B standings. Kielce fans will enjoy looking at this table this evening. Of course, Barça can retake first position on Thursday evening when they face Aalborg.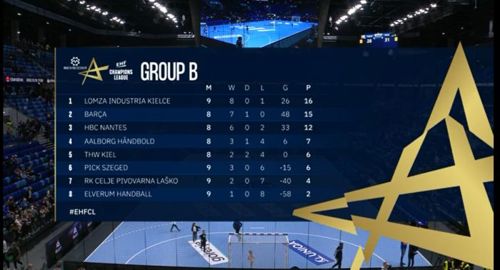 20:27
In our other match in group B, Celje have claimed a three-goal home win over Elverum. However, that does not tell the full story of the match, as Elverum led 26:23 inside the last 10 minutes. While Aleks Vlah finished with 11 goals for Celje, Tilen Strmljan scored two of the home side's final three goals in the closing minutes. 
20:22
Despite a late push from Szeged, Kielce take a three-goal win over the Hungarian side to record their seventh consecutive win in the Machineseeker EHF Champions League. The win is also Kielce's seventh in a row over Szeged in European club competitions.
After scoring eight goals from eight shots, Arkadiusz Moryto has collected the Player of the Match award. Notably, Moryto's performance also featured three steals, so the Polish right wing influenced the game in both attack and defence.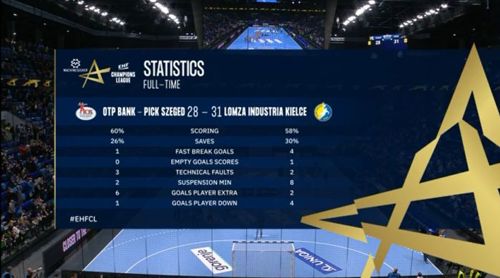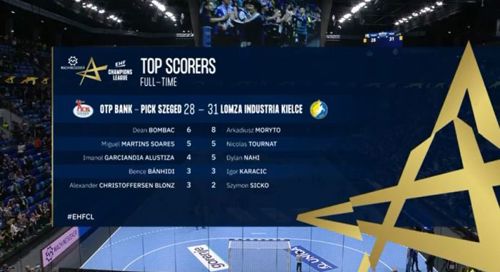 20:09
Whether it's been Dylan Nahi on the left wing or Arkadiusz Moryto on the right wing, Kielce's fast breaks have helped them gain the upper hand over Szeged this evening.
20:04
Arkadiusz Moryto glides down the court to score an empty net goal that gives Kielce a 26:21 lead with less than 10 minutes remaining.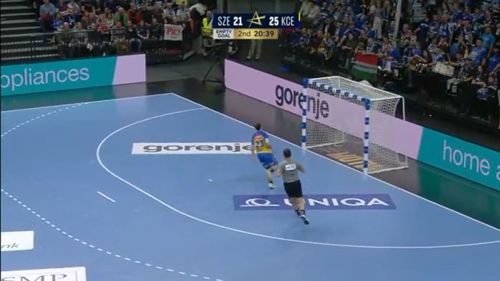 20:01
Aleks Vlah has reached double figures for Celje against Elverum. However, the Norwegian side have a three-goal advantage, 25:22, after a fine start to the second half in Slovenia.
19:59
Andreas Wolff is still edging the goalkeeping battle – but there hasn't been anything wrong with Mirko Alilovic's performance for Szeged.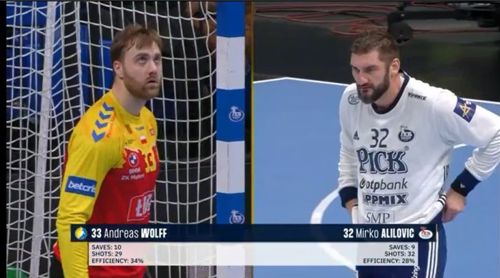 19:56
Nedim Remili hasn't made a big impact in this match with his shooting. But he is making a contribution with his passes to Nicolas Tournat – as shown below – and more recently to Dylan Nahi.
19:51
Dean Bombac is instrumental in all of Szeged's good work in attack. He is attempting to test Kielce's defence with one-against-one runs at every opportunity that he gets.
Unfortunately for Szeged, Arkadiusz Moryto has just stormed away after making a steal to increase Kielce's lead to three goals, 21:18, once again. 
19:41
The second half in Hungary begins with Richárd Bodó firing a back court shot straight at Andreas Wolff.
Bodó started the first half by opening the scoring for Szeged with two goals, but his miss in the first 30 seconds of the second half has allowed Kielce to re-open a four-goal lead, 17:13.

19:33
In the battle between the two teams at the foot of group B, Aleks Vlah has scored five goals from six attempts in the first half to give Celje a two-goal cushion at the break. Officially, Celje had seven more shot than Elverum in the opening 30 minutes, which is quite a signfiicant difference.
19:29
The first half of Match of the Week ends with Kielce using a 3:0 run to take a 16:13 lead over Szeged at half-time.
While the Polish side had a reasonably long period without a goal from the 21st minute until the 27th minute, they found their stride again on the counter attack in the last few minutes of the half. Arkadiusz Moryto scored five goals for Kielce in the opening 30 minutes, and Andreas Wolff has made nine saves from 22 shots faced.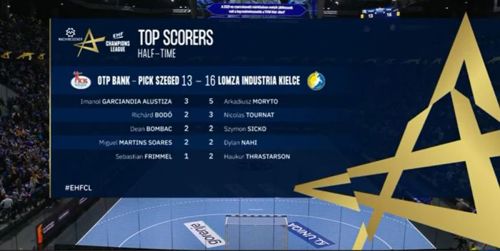 19:18
Dean Bombac breaks through Kielce's defence to level the match at 13:13. Kielce have had more than five minutes without a goal. 
19:13
There is a break in play as Haukur Thrastarson receives treatment on court after going down as he was preparing for a jump shot.
"It is the last thing you want to see for any player," says Chris O'Reilly in commentary on EHFTV. We can only hope for the best for Thrastarson.
19:06
While Arkadiusz Moryto is leading Kielce on the scoresheet, courtesy of his penalty and fast break goals, Igor Karacic has shown that he can deceive Szeged's defence.
19:02
Kielce's fast breaks have been key to their early success in this match, but Dean Bombac was able to thwart a looming opportunity for Dylan Nahi and then set up Szeged's sixth goal of the game. However, Kielce remain in control and lead 9:6 after 14 minutes.   
18:54
Kielce's attack is roaring in the early stages of this encounter. Dylan Nahi has just raced away on the fast break to give the Polish side a 6:2 lead. Nedim Remili's premature shot that Mirko Alilovic saved is the only shot that Kielce have failed to score with so far. 
18:46
Match of the Week begins with Kielce in possession in attack.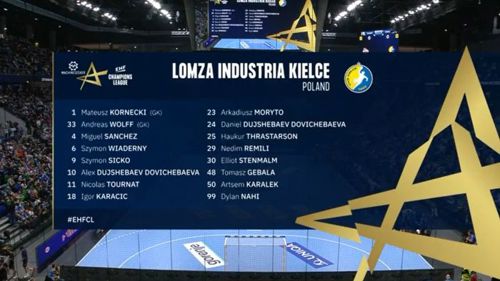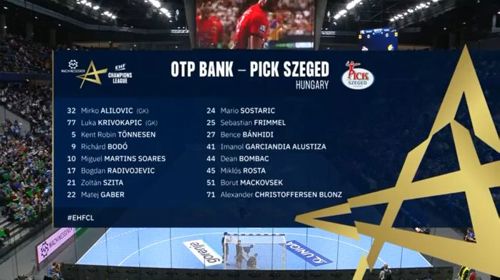 18:28
There are few smiling faces in the pre-match photos from Szeged before Match of the Week begins in Hungary. It is always good to see that two coaches can enjoy a moment together before such a big clash.







18:11
Last week, while Kielce extended their winning run in the Machineseeker EHF Champions League to six games, they scored fewer than 30 goals for the first time since they lost to Barça in round 2. 
Szeged have scored 30 goals or more in their last four EHF Champions League matches. In the last two rounds against Celje, Szeged scored 36 goals in both games – their best attacking output of the season.  
17:55
As you might have already seen in the round 9 preview, Kielce have won their last six matches against Szeged. The biggest win for the Polish side during this streak came just over a month ago when they won by seven goals.
Kielce's win in November also saw them equal their best performance for goals scored in a match against Szeged.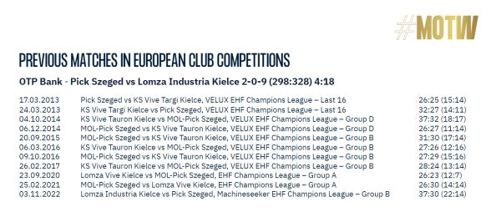 16:58
Round 9 will be off to a flying start with the Match of the Week between Szeged and Kielce opening the schedule at 18:45 CET.
Szeged are recovering from a rough start to the season and have won three of their last four matches, with the first meeting with Kielce in Poland the only exception: 37:30. Kielce, however, are on a six-match winning streak as the 2022 finalists look set to go deep in the EHF Champions League again this season.
"We have a positive streak and much greater confidence," says Szeged's Imanol Garciandia in our MOTW feature. "I am sure that we will play this game in a different way and we hope to make our fans happy."
16:47
So, group A will be in the focus at the 20:45-CET matches, but it is all about group B when round 9 starts in about two hours from now.
In Slovenia, Celje and Elverum will battle for crucial points, as they are both on two coming into this match. Elverum won the first match between the teams in Norway (31:29), while Celje upset Kiel in round 2. Celje (238 goals) and Elverum (224) have the less productive attacks of group B, but Celje's Aleks Vlah is currently the second-best scorer of the competition with 54 goals.
16:38
Also starting at 20:45 CET, third-place Magdeburg host GOG as the German side hope to get back to winning ways after dropping a point at Porto last week.
GOG, however, will be hopeful to get a point or two tonight since they defeated Magdeburg in the reverse fixture in Denmark in round 6, when a last-second goal from Mads Madsen made it 33:32.
16:32
Teams like Veszprém, Kiel, and Barça will only take the courts on Thursday, but we have already a lot to look forward to tonight.
In group A, leaders PSG travel to last-place Porto. The contrast could hardly be any bigger: PSG have won seven of their eight matches so far, Porto have lost seven. PSG also won their first duel in Paris: 32:30.
But Porto did well last week to snatch their first point, holding Magdeburg to a draw. Can they surprise again against PSG, or will the French team lock up the top spot for at least another week?
16:19
What do you need to know prior to the eight matches of round 9 this week? Find out in our round preview:
16:00
Welcome to the live blog for round 9 of the Machineseeker EHF Champions League! It is Wednesday afternoon so we are not far away from throw-off now.
The schedule includes eight matches again: four on Wednesday, four on Thursday: