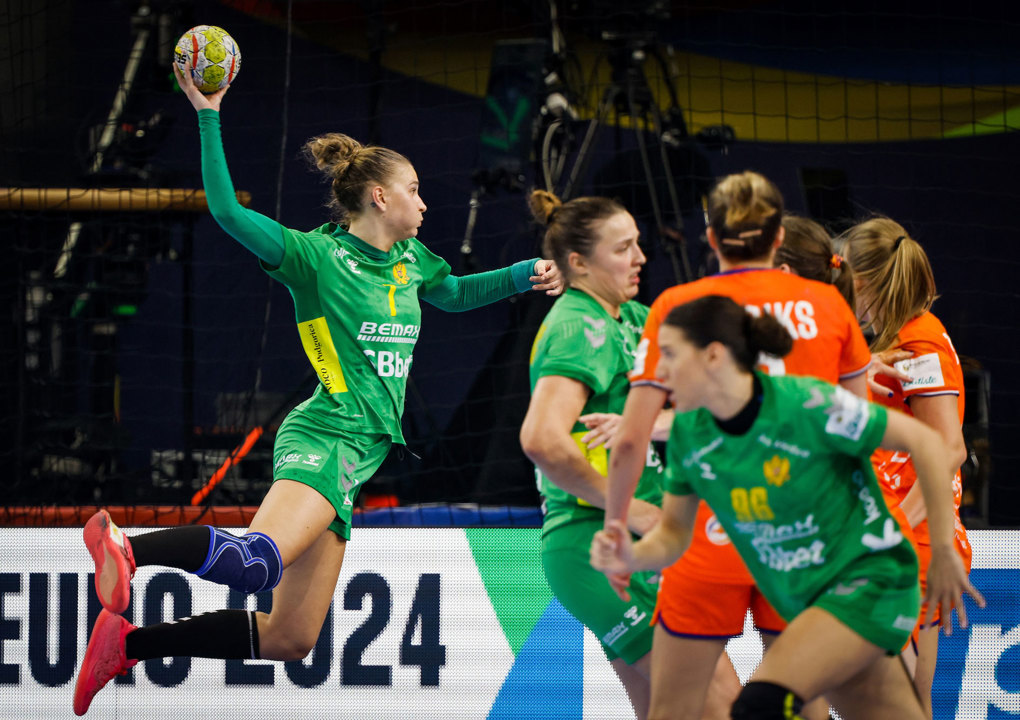 Four Respect Your Talent alumni in international action
After the conclusion of the EHF Champions League Women play-offs and the EHF European League Women quarter-finals, club teams are on a break and international matches take over across Europe.
Some 20 teams are fighting for a place at the 2023 IHF Women's World Championship, while several others meet in friendly matches, having already earned their tickets to Denmark/Norway/Sweden 2023 via the Women's EHF EURO 2022.
The three Scandinavian countries are already through as hosts, while Montenegro, France and the Netherlands have also made it through, after finishing in the top six at the EHF EURO 2022.
With the Paris 2024 Olympic Games still more than a year away, and a new cycle starting for many teams, it is a chance for teams to welcome new players, especially in the sides that have already qualified for the World Championship.
Plenty of them have already made their mark at the junior and youth level, having been selected in the EHF 'Respect Your Talent' programme, which identifies the best young handball players from across Europe and helps them develop not just their handball but also their off-court skills.
While there are plenty of alumni featuring for their senior national teams in the next week, here are some who have already made their debut and look to cement their places for the long term.
Julie Mathiesen Scaglione (Denmark)
Scaglione is a significant talent and has scored 67 goals in the last three seasons of the EHF European League Women, including 31 this season for Ikast Handbold. The 18-year-old left back has been nothing short of amazing, displaying excellent maturity and great handball nous and using both her strong shot and her handball IQ to make her teams better.
She was the top scorer of the 2022 IHF Women's Youth World Championship, but has already made the step towards the senior national team, where she made her debut in June 2022, against Slovenia. Also named the All-star left back at the W17 EHF EURO 2021, Scaglione looks poised to be a household name in Denmark in the next years, but will try to cement her status in the friendly games against Sweden this April.
Léna Grandveau (France)
The 20-year-old centre back made her debut in international competitions this season, after her transfer to Les Neptunes des Nantes, and has been truly special for Helle Thomsen's side in the European League. Grandveau became one of the top scorers of the team, putting 39 goals past her opponents in the second-tier European competition, and has been a force to be reckoned with at Nantes.
Grandveau announced herself at the W17 EHF EURO 2019, when she was named in the All-star Team. Since then she has slowly ground her way to the top, having checked another All-star berth at the W19 EHF EURO 2021.
With coach Olivier Krumbholz always keeping an eye on the talent pipeline, Grandveau made her debut in the senior national team in October 2022 in a 30:19 win over Poland. She looks set to feature as one of the top players in the future, being called up for the friendly matches against Brazil this time around.
Tyra Axnér (Sweden)
They usually say that having a known name is a blessing and it can help you in your career, but Tyra Axnér has been focused to make a name for herself, having delivered excellent performances in the first years in handball. If you recognise the name, yes, Tyra is Tomas' daughter, and is currently coached by her father in Sweden women's senior national team.
Born in Germany, where her father was playing at that time, Axnér took up handball from an early age and announced herself as a huge talent, having won the silver medal at the W17 EHF EURO 2019, where she was also named in the All-star Team.
The left back, who has an amazing shot, made her debut in the senior team in 2022, after playing well at club level for Ikast. Now at Nykøbing Falster Håndbold, Axnér has scored 27 goals in the EHF European League so far, and is a strong reason why the Danish side qualified for the EHF Finals Women.
Nadja Kadovic (Montenegro)
Montenegro have a way of producing excellent wings, as highlighted by Jovanka Radicevic, who is the all-time top scorer of the EHF Champions League Women, or Majda Mehmedovic, another reliable wing in the European premium competition. Both have retired from international handball; therefore it is time for new players and Kadovic fits that role perfectly.
She is only 19 years old, but is one of the four RYT alumni currently in Montenegro's squad for the friendly games against Norway this April. Kadovic already has four seasons in the EHF Champions League under her belt, scoring 33 goals. Her latest season, when Buducnost were eliminated from the play-offs by FTC, was the best, with 17 goals. Kadovic got more playing time and was relied upon by coach Bojana Popovic, who is also Montenegro's national team coach.
Photos © Anze Malovrh/kolektiff; Frederik Dahl, Hamistolen; SURF UP; Jozo Cabreja/kolektiff