Nantes eye another quarter-final participation
"The hardest part is not to reach the top but to stay there." French club Les Neptunes de Nantes experienced that mantra the tough way last season. After winning the first ever EHF Finals Women in 2021, the club went through a tough season in 2021/22.
A change of coach in December, with Helle Thomsen taking over, did not resolve every problem, and the French side did not progress from the group phase. But the 2021 champions are back with humility and a couple of new faces, and the aim of once again reaching the knock-out phase.
Main facts
Nantes won the EHF European League Women in 2021, defeating Siofok 36:31 in the final
in 2021/22, les Neptunes could not get out of their group, eliminated by Bietigheim and Baia Mare
they finished fifth in the French League last season, behind champions Metz, Brest, Paris 92 and Besançon
coach Helle Thomsen took over from Guillaume Saurina in December 2021 after being his assistant for a few months
last summer signings include line player Anna Lagerquist (Rostov) and new French national player Lena Grandveau (Bourg de Péage)
les Neptunes will face Ikast, Motherson Mosonmagyarovari and Fana in group B
Most important question: Was the 2021 trophy a one-off or a promise for a bright future?
Back in September 2020, only a few people would have said Les Neptunes de Nantes were favourites to win the European League. But led by Nathalie Hagman's stellar performance, the French side made it to the top, lifting the first ever trophy in its short history.
Two years later, fans are left wondering if this success was a one-off surprise or the first stone of a great project. Last season, Nantes looked like a different team, lacking cohesion.
This season, the Scandinavian delegation is more important than ever in Nantes, and it feels like the players are forming a team again. In qualification round 3, Oldenburg could not do anything to stop the Neptunes, led by an impressive offensive performance.
How they rate themselves
Manager Romuald Notari is very clear on what his club is expecting from this European season.
"We want to go to the quarter-finals and then we will see. It would be pretentious to say anything else because we know that the group phase will be tough," Notari says.
With experienced players such as Nathalie Hagman, Anna Lagerquist and Adrianna Placzek, you can expect the French side to progress. Helle Thomsen has been able to put her print on the group during the summer preparation, unlike last season, and the collective work should give Nantes the options to move throughout the competition.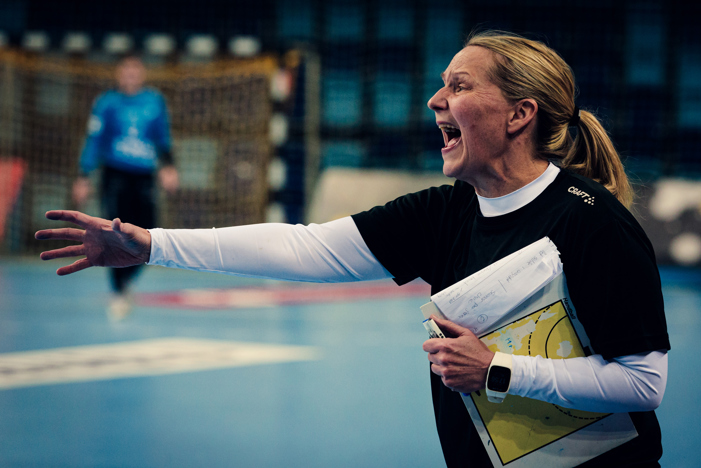 Under the spotlight: Léna Grandveau
French centre back Léna Grandveau was the sensation of the domestic league last season, when she played for Bourg de Péage. And when her former club faced financial difficulties, almost all the French clubs were interested, but she decided to join Nantes, a club that could help her develop before maybe joining a Champions League powerhouse.
So far, it feels like the right choice, as the 19-year-old was granted with an EHF EURO with France last November. She might not have played much, but she definitely grew into a much more experienced player, something that she will be able to profit from during the second part of the season with her club.
What the numbers say
Four Scandinavian players are part of the Nantes roster this season: three Swedes (Carin Strömberg, Hagman and Lagerquist) and one Norwegian (Mari Finstad Bergum). This number has been stable in the last couple of seasons, as Nantes hosted Danish and Norwegian players in the recent past before turning to Sweden after the Tokyo 2020 Olympic Games in 2021.
Did you know?
Les Neptunes de Nantes are unique in Europe, as this is the only club wholly focused on women's sport. Not only do they own a handball team playing at European level, but they also have a volleyball side that plays at the top level in France, and aims to be playing Europe next season.
While some women's handball projects are one-season wonders, in Nantes, the president and his staff aim to build women's sports for a long time.
Arrivals and departures
Newcomers: Anna Lagerquist (Rostov), Marine Dupuis (Toulon), Léna Grandveau (Bourg-de-Péage)
Left the club: Mai Kragballe Nielsen (IK Savehöf), Clara Vaxes (Plan de Cuques), Fie Woller (København), Déborah Kpodar (Gloria Bistrita)
Past achievements
EHF European League Women participations (including 2022/23): 3
Winners (1): 2020/21
Group phase (1): 2021/22
Other
EHF Cup
Quarter-final (1): 2016/17
Round 3 (1): 2015/16