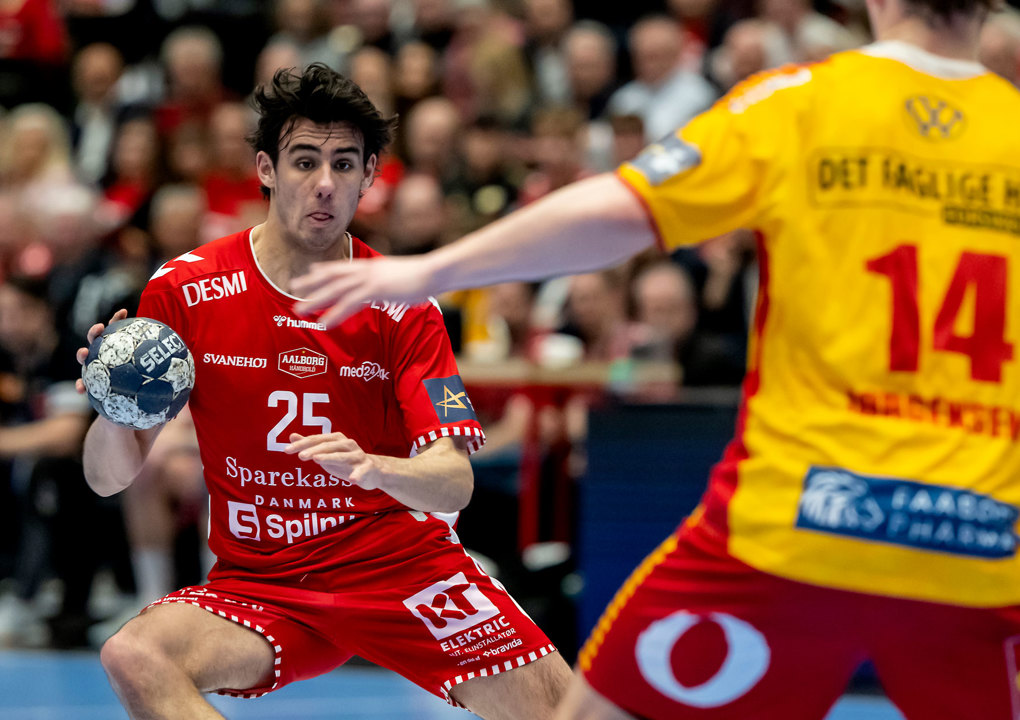 Aalborg defeat GOG in all-Danish play-off
Felix Claar, Aron Pálmarsson, Lukas Sandell, Jesper Nielsen, Mikkel Hansen, Martin Larsen: the list of injuries in Aalborg Håndbold's roster was long, but Stefan Madsen and his boys did not let these problems get them down.
Helped by Victor Klove, Mads Hoxer and Marinus Munk, Aalborg dominated the whole game and took a 30:28 victory. Munk, in particular, was impressive, scoring six in his first-ever Machineseeker EHF Champions League match.
But GOG remained in contact, never down by more than four, and their two-goal defeat is a promise for a thriller next week for the return game.
PLAY-OFFS, FIRST LEG
MOTW: Aalborg Håndbold (DEN) vs GOG (DEN) 30:28 (16:12)
in order to have a chance to beat GOG despite suffering many injuries, Aalborg had to pull out the perfect defensive performance, and that is what they did, conceding only 12 goals in the first 30 minutes
the hosts delivered on the other side of the court as well, with Kristian Bjørnsen netting four times in the first half alone to help Aalborg take a maximum advantage of five goals in the 26th minute
apart from Simon Pytlick and Emil Madsen, who both scored nine goals, GOG were never able to find offensive solutions in the second half
on the other hand, Aalborg counted on Mads Hoxer and Marinus Munk, usually substitutes, to feed the scoreboard as their team stretched out to a four-goal lead again after the break
GOG had the opportunity to reduce their deficit to one at the last second but Simon Gade stopped Madsen's last shot
the teams will meet for the return leg next Thursday, with the match due to be played in Odense
Henrik Møllgaard steps up
Prior to this game, the 35-year-old back court player had only scored seven goals this season. On Thursday, due to several of his teammates being unable to play, Henrik Møllgaard had to step forward, and he did it in style.
The Player of the Match was the only Aalborg player not to leave the court at any point, and both defensively and offensively, he was the real leader for his team. He might only appear on the scoresheet thanks to his three goals, but with five assists and a steal on top of those strikes Møllgaard made a significant contribution as Aalborg look towards the quarter-finals.
It was a nice game for us today. We played really good in both ends and I think we played really good especially in the defence. We are very satisfied about the match and looking forward to next week.
It was not good from our side. We have a lot to come with when we are playing in Odense so we have to go home and train a lot. We need to play a little faster in attack and also defend better, because they came with a new thing and we weren't prepared for that.