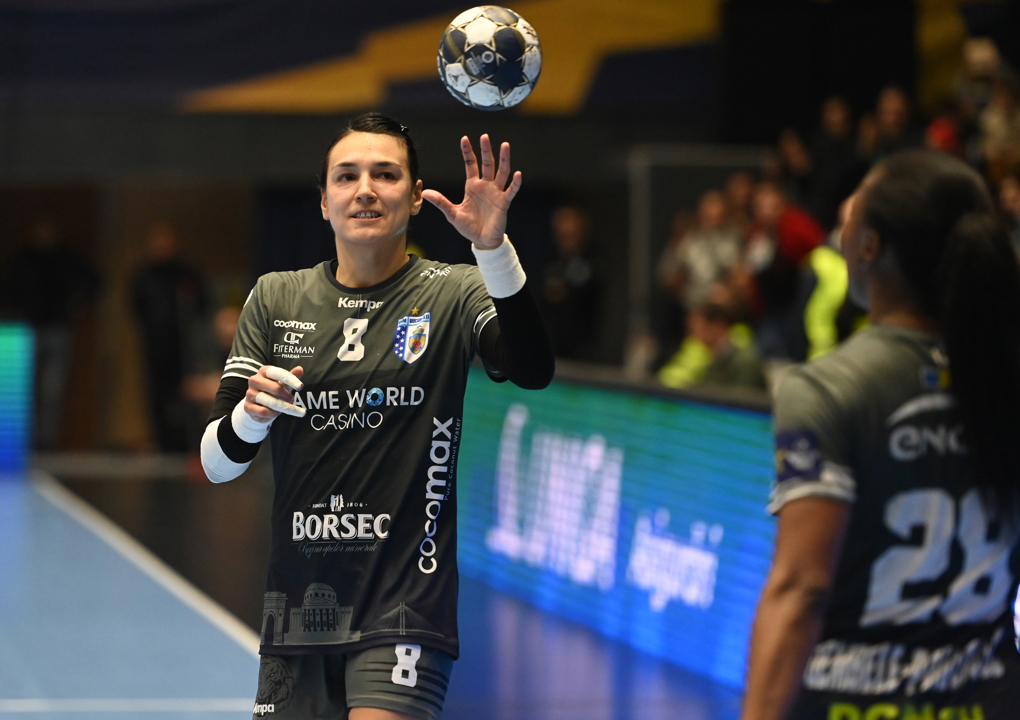 SUMMARY: CSM win Match of the Week, Radicevic sets record
After the break for the Women's EHF EURO 2022, the EHF Champions League Women 2022/23 season returns this weekend with eight matches from round 7 of the group phase.
On Saturday evening, Györi Audi ETO KC triumphed 32:30 against CS Rapid Bucuresti in a top-of-the-table clash in group B. On Sunday, CSM Bucuresti will bid to enhance their prospects of finishing in the top two in group A when they face FTC-Rail Cargo Hungaria in Match of the Week.
18:30
We leave you tonight with some of the best photos of this evening's actions. Come back next weekend when we will commence with round 8!

















18:15
Here are the highlights of today's matches that are available on the Home of Handball channel:
18:05
Need a refresher on today's matches or see thoughts from players/coaches? Check out the reviews below for more information.
17:40
Watch the final goal that completed Brest's comeback for the draw.
17:35
See one of the goals of player of the match Cristina Neagu here:
17:28
MOTW FULL-TIME: CSM Bucuresti 30:24 FTC-Rail Cargo Hungaria
FULL-TIME: SG BBM Bietigheim 25:25 Brest Bretagne Handball
The two teams were tight the first 50 minutes of the match, but CSM wrestled the game from the FTC's grasp in what became a comfortable victory. Cristing Neagu, the player of the match, showed her class once again with 13 goals to her name.
Bietigheim looked like they were cruising to a comfortable victory, but Brest managed to claw their way back into the contest and tied the match with ten seconds to go through a goal by Alicia Toublanc, the leading scorer with seven goals. 
17:20
CSM have gained control, going on a six-goal run to lead by five goals. FTC call a timeout, but it's looking dire with less than four minutes to go.
17:15
Things have gotten interesting in Germany. It appeared Bietigheim were well on their way to a victory with a six-goal lead midway in the second half, but Brest have now tied it with a fast-break goal. Kudlacz-Gloc is receiving treatment after getting a knock during the play. It's 23:23.
17:12
As we head into the final stretch, with CSM having an one-goal lead, check out this goal from Andrea Lekic:
17:02
Meanwhile in Bucharest CSM retakes the lead with a quick counterattack. Dembele Pavlovic seemed to have lost control, but she regains it and finishes it.
16:58
What a save, Gabriela Moreschi! She blocks a seven-metre and her team maintains a two-goal lead, 16:14.
16:40
MOTW HALF-TIME: CSM Bucuresti 10:11 FTC-Rail Cargo Hungaria
HALF-TIME: SG BBM Bietigheim 14:13 Brest Bretagne Handball
The first half was definitely a struggle for both teams in the Match of the Week. Marie Davidsen has seven saves from eighteen shots so far. Cristina Neagu has six goals from twelve attempts, while Angela Malestein has three goals to lead her team.
In Germany Bietigheim had the lead for most of the half; the French team had it for a few seconds a couple of minutes before halftime before conceding two goals. Djurdjina Jaukovic leads all scorers with four goals, as Bietigheim have four players with three goals each.
16:33
Meanwhile Brest have taken the lead after a goal from Djurdjina Jaukovic. However, it does not last long after Kelly Dulfer equalises. 13:13 tie right now.
16:29
While FTC are ahead, CSM goalie Marie Davidsen made some great saves at the start of the match. Watch them below.
16:24
FTC have managed to break away a little in the past few minutes. Kinga Janurik has made some good saves (and catches), yet even she is unable to stop Neagu's powerful shot from the seven-metre line. FTC lead 8:6.
16:22
In the other match Bietigheim have had a narrow lead for most of the match, and now they have a two-goal advantage, 10:8.
16:12
In the Match of the Week, both teams are struggling on offence. The first ten minutes saw missed shots and turnovers as both teams managed to score three goals between the two of them. Four goals in the last five possessions hopefully is a positive sign for things to come. 4:3 in FTC's favor.
15:50
SG BBM Bietigheim had their impressive 64-game unbeaten streak come to an end in round six, losing 24:31 to Odense. Nevertheless, they have rebounded with two wins in Germany, one in the domestic cup against Leverkusen, 26:24, and the other in league play, a 31:29 result against Thuringer HC.
The French side has gotten the better of Bietigheim on both occasions which took place in the group phase of the 2019/20 season, but with the team currently in seventh place, they will be the underdogs in today's match.
15:45
We're now down to the weekend's final two matches: the Match of the Week between CSM Bucuresti and FTC Rail-Cargo Hungaria plus SG BBM Bietigheim and BBH Brest Bretagne.
CSM have had a good start to the season, suffering their only loss so far to reigning champions Vipers Kristiansand in the last round. EHF EURO 2022 All-star left back Cristina Neagu is sixth on the top scorer list and has 950 goals in total.
FTC are riding a three-game unbeaten streak with two wins and a draw. They also have the top scorer in the Champions League, Katrin Klujber (50 goals).
15:31
FULL-TIME: Krim Mercator Ljubljana 23:29 Odense Handbold
Credit has to be given to Odense players and coaches. They were down for almost the entire first half, and the game seemed it could have deteriorated into a one-sided win for Krim, but they persisted and managed to seize control for a six-goal victory.
Bo van Wetering and Maren Aardahl paced the winning team with six goals each; Current all-time leading scorer Jovanka Radicevic, Barbara Lazovic and Tjasa Stanko each had four goals for Krim.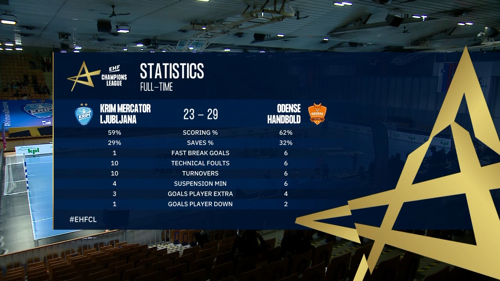 15:25
The timeout did no good as Krim lose the thread and Odense are cruising to another victory, ahead by six goals with two minutes left.
15:17
We are in the final ten minutes, and it's Odense holding a two-goal lead as Krim trainer Dragan Adjic calls a timeout to prevent the game from getting out of hand.
15:10
The moment Jovanka Radicevic got on top of the all-time scoreboard:
15:05
Amid the excitement of Jovanka Radicevic becoming the all-time leading scorer in the EHF Champions League, Odense have tied the game and now have the chance to take the lead.
15:00
And she has done it! Radicevic has become the all-time leading goal scorer with 1,017 goals!
14:56
Odense cut the lead to one after gaining a player advantage. Yet Odense have re-established their two-goal lead as the suspension expires.
14:38
HALF-TIME: Krim Mercator Llubjana 15:11 Odense Handbold
A tepid beginning for both teams turned into Krim gaining momentum. Odense have stabilized the match, but can they start a run of their own to turn it into a competitive match?
If so, they will have to find a way around Babi Arenhart. The Brazilian international stopped nine of Odense's 20 shots for an impressive 45 per cent save rate.
14:32
With that converted seven-meter Radicevic is now tied with Anita Gorbicz at 1,016 goals. It's now only a matter of exactly when Radicevic will break the record.
14:28
Well, the answer to the previous question has been no. They have however, maintained their distance to Krim and have not let the contest become a rout. The score is 13:9 in Krim's favor.
14:17
Ulrik Kirkely calls timeout as his team trails 5:10 halfway through the first half. Will the timeout help his team focus and end Krim's run?
14:10
Krim have taken control of the match, going on a 4:0 run to bring their advantage to 8:4. Babi Arenhart is continuing to produce in goal. This could be a long night for Odense.
14:05
Not the cleanest handball so far. Five minutes in and we have had five turnovers between the two teams. An Odense fast break gives them their first lead of the match, 3:2. They almost double the advantage seconds later, but Babi Arenhart prevents it.
14:00
And we're underway!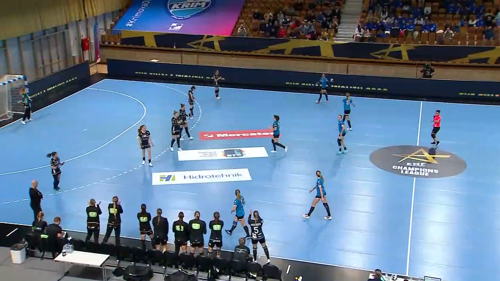 13:55
Player introductions are almost complete; the match will be underway shortly!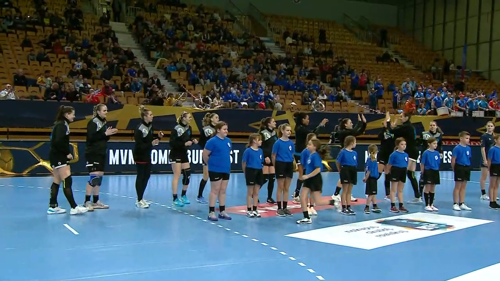 13:45
Odense may have gotten the better of Krim in both of their first-ever matches against the Slovenian club last season, but Odense coach Ulrik Kirkely is not taking them lightly:
"When Krim play at their top level, they play fantastic handball. We must play the game on our terms and control the speed of the game."
13:30
We're almost half an hour away from the start of our first match. Krim's success will rely on their two stars, Daria Dmitrieva and Jovanka Radicevic. The pair has contributed almost 40 per cent of Krim's goals in the EHF Champions League so far, scoring 67 of the team's 168 goals. Radicevic is currently three away from Anita Gorbicz's record at 1,016 goals in the EHF Champions League, so we will definitely be keeping a close eye on whether she breaks the record tonight.
Odense have been ravaged with injuries in the past month. Dione Housheer and her Dutch counterpart Nycke Groot, back after a year off, have relieved the Danish club with their returns to the squad, but the club is still reeling from the absence of Mia Rej, Noemi Hafra and Larissa Nusser. 
13:15
Good afternoon, folks! We have two fewer games today than Saturday, but that does not mean there is less anticipation, and all matches will feature teams from Group A. Starting the day off is the match between Odense and Krim, two teams who are right next to each other in fifth and sixth place, respectively, at 14:00
The marquee of the games at 16:00, our Match of the Week features Cristina Neagu with CSM Bucuresti and Hungarian club FTC Rail-Cargo Hungaria, and these teams are also close to each other with the Romanians two points ahead of their fourth-placed rival. Last but not least, second-place Bietigheim are playing Brest Bretagne, a team currently out of the playoff picture in seventh place, but there is plenty of handball to play in the next couple of months.
SATURDAY
20:45
The live blog will return on Sunday at 13:00 CET for build-up ahead of three more games. Until then, you can check out the content below, stay up to date via our social media accounts or catch up on any action that you might have missed on EHFTV (if your territory allows).
Sunday's Schedule
14:00 CET: Krim Mercator Ljubljana vs Odense Håndbold
16:00 CET: SG BBM Bietigheim vs Brest Bretagne Handball
16:00 CET: CSM Bucuresti vs FTC-Rail Cargo Hungaria (MOTW)
20:33
Here are the group B standings after all four matches in round 7 were played today.
Rapid Bucuresti lost their unbeaten record this evening, and their goal difference is significantly inferior to the three teams above them in the standings. Of course, if they are tied with any teams at the end of the group phase, direct head-to-head records will determine the final standings.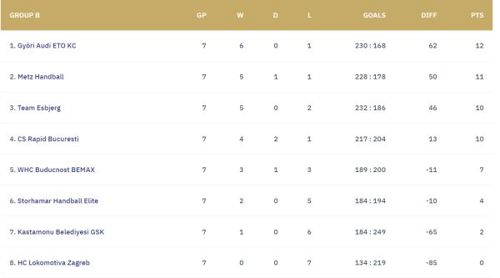 20:29
In group A, Vipers Kristiansand now have a two-point lead over SG BBM Bietigheim. The German club will be in action at 16:00 CET on Sunday when they face Brest Bretagne.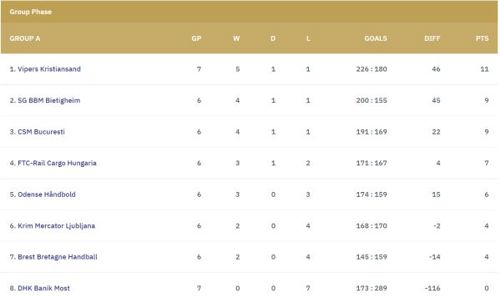 20:25
For more information about Saturday's five matches in the EHF Champions League Women, check out our match reviews. You will also find a selection of the best match photos in each review.
20:20
Highlights of our three matches that started at 18:00 CET are now available on the Home of Handball YouTube channel.
20:11
Despite Metz recording a clear win against Kastamonu, Louise Burgaard found it a challenging match for the French side.
"It was a difficult game to play, we missed a lot of chances in the first half, but we got back on track in the second half. I hope the next games will be better for us, but I'm still happy with this win," said Louise Burgaard, Metz right back.
20:08
To clarify the main points regarding the group B standings at the end of this evening...
Györ have 12 points and are in first place
Metz have 11 points and are in second place
Esbjerg have 10 points, the same as Rapid Bucuresti, but the Danish side are in third place due to their superior goal difference
Rapid Bucuresti have 10 points and are in fourth place
20:04
Speaking after the match, Silje Solberg was happy to give credit to her teammates for Györ's triumph against Rapid Bucuresti.
"It was a very good and strong game with two big opponents playing great handball. The atmosphere was great, we played in front of fantastic fans from both sides, so it was a big pleasure to play. I am really happy that we won. It was a real team performance," said Silje Solberg, Györ goalkepeer.
Marta Lopez, who scored two goals from four shots for Rapid Bucuresti, was proud of the Romanian side's resilience in the second half. 
"We showed that we could play good until the end, we are in good shape and we fought. We had the chance to fight against a very good team, but I am really proud of my team because we didn't give up. We missed some important shots at the end and, anyway, it was a really good game," said Marta Lopez, Rapid Bucuresti right wing.
19:55
Silje Solberg is not the only goalkeeper who has starred this evening.
Hatadou Sako made 11 saves for Metz and finished with a save percentage above 50 per cent. 
Armelle Attingré helped Buducnost take both points in Podgorica. Indeed, she ensured that they took both points!
19:48
This is the huge fast break save from Silje Solberg after Stine Oftedal allowed Eliza Iulia Buceschi to steal the ball. Solberg made four more stops after this one for Györ, so the Norwegian goalkeeper definitely delivered in the "crunch" moments this evening.
19:42
With Metz beating Kastamonu by 11 goals in France, Györ's lead at the top of group B at the end of this evening will be one point. The Hungarian side are two points ahead of Rapid Bucuresti, but Metz now have 11 points.
Bruna de Paula scored seven times from 12 shots for the French side this evening.
Despite Eli Marie Raasok's best effort in the Storhamar net, Buducnost have earned a one-goal victory at Montenegro. Milena Raicevic scored three of Buducnost's last four goals as she helped her side claim their third win of the season.
19:35
In a match that became a lot closer in the closing stages than appeared likely at one point in the second half, Györ take a 32:30 win over Rapid Bucuresti to move two points clear at the top of group B. For the Romanian side, this is their first defeat in this season's EHF Champions League.
Stine Oftedal and Ana Gros powered Györ's attack for large parts of the match, but the home side needed several huge stops from Silje Solberg to help them over the line. Solberg finished with a save percentage of 32 per cent, which might underplay the timing of her crucial saves.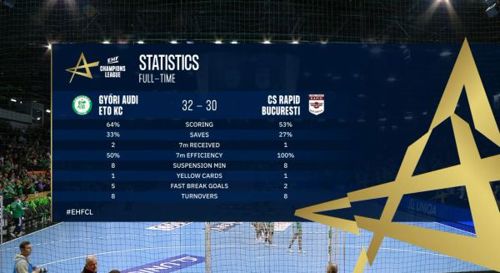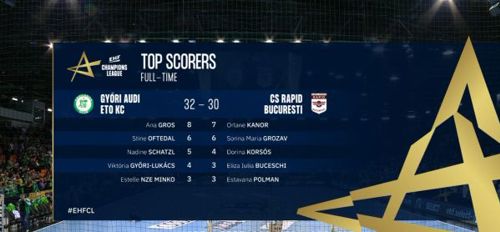 19:19
A rare misplaced pass from Stine Oftedal allows Eliza Iulia Buceschi to steal the ball. However, Buceschi's fast break shot is thwarted by Silje Solberg.
19:14
"Let us come back here for the easier attack," says Ambros Martin during a timeout for Györ. The Hungarian side lead 27:24 but their coach evidently wants them to refocus on completing the job in the last 11 minutes.
19:11
Eli Marie Raasok is one reason why Storhamar only trail Buducnost by two goals (19:17) at the moment. The Norwegian goalkeeper is matching the performance of Buducnost's Armelle Attingré.
19:07
Ivana Kapitanovic has made an impact since her introduction after the break. However, Silje Solberg's save percentage has also risen in the second half. Györ now lead 27:20 and appear as though they are heading for a fairly big win.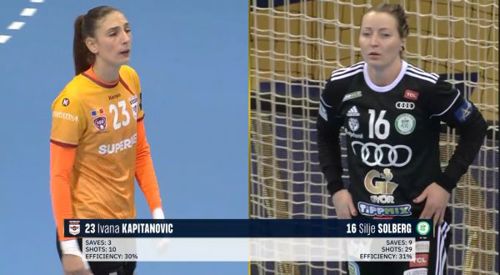 19:03
Ana Gros bounces back from taking a blow to score her seventh goal for Györ. On Rapid's next attack, the Slovenian right back takes another blow to the face – this time from Orlane Kanor – and has to leave the court. It is worth emphasising that Kanor accidentally caught Gros while she was shooting and the referees did not see any foul play.

18:55
Ivana Kapitanovic has started the second half in goal for Rapid Bucuresti, replacing Denisa Stefania Sandru. The Croatian goalkeeper has stopped one shot from Viktória Gyori-Lukács and conceded another.
18:52
Here is Silje Solberg denying Orlane Kanor's fast break attempt as the clock hit the 10-minute mark in Hungary. As we mentioned earlier, it felt like an important stop in the context of the match.
18:50
While this EHFTV graphic was shown a few minutes before half-time, it does indicate the story of an important contest that Györ are winning. Silje Solberg ended the first half with five saves from 20 shots faced, while Denisa Stefania Sandru only saved three shots from 21 faced.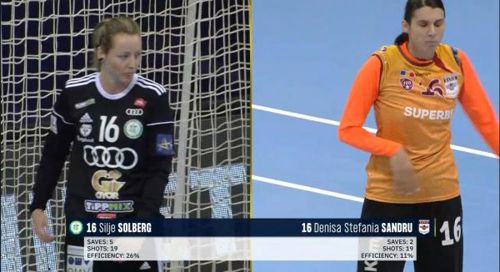 18:45
In a low-scoring encounter in Montenegro, Buducnost have the narrowest of leads against Storhamar. Meanwhile, Metz have a four-goal lead at home against Kastamonu, and they appear on course to reclaim third place in group B. Eight different players have scored for the French side in the first half.
18:42
Inspired by Stine Oftedal and Ana Gros in attack, Györ have taken a three-goal lead against Rapid Bucuresti after 30 minutes of the top-of-the-table clash in Hungary.
Orlane Kanor scored six goals in the opening 13 minutes for the visitors, but her last impact in attack for the Romanian side in the first half was a technical fault in the 26th minute.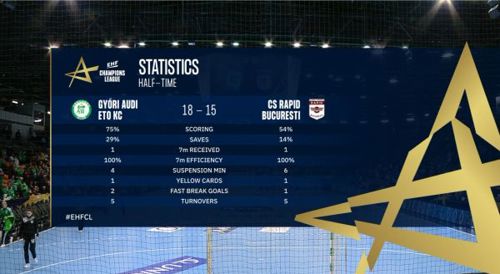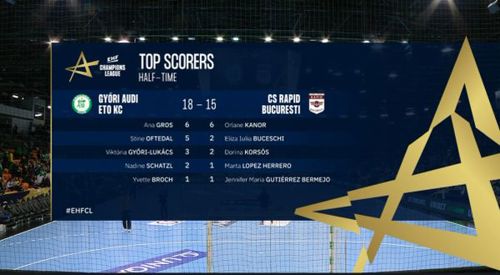 18:29
Stine Oftedal bursts through Rapid's defence to score her fifth goal and give Györ a two-goal cushion, 15:13, after Silje Solberg makes a big save at the other end. 
18:24
Here is a taste of the type of shots that Orlane Kanor has been firing at the Györ goal.
Importantly, though, Silje Solberg did deny a fast break chance for Kanor when the score was 7:7 after 10 minutes.
18:21
Györ's shot efficiency is clearly higher than Rapid's after 17 minutes of the match. Orlane Kanor has scored six of the Romanian side's first 10 goals, so it will be interesting to see what happens if her scoring power dries up.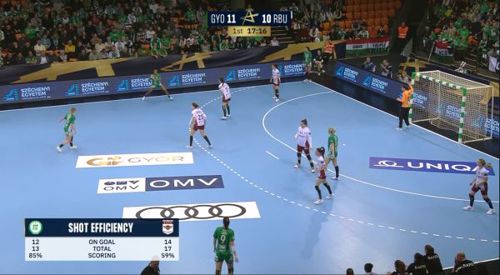 18:18
Ana Gros produces a delightful behind-the-back pass to feed Viktória Gyori-Lukács, but Denisa Stefania Sandru makes her first save from 11 shots faced this evening to deny the Hungarian right wing. 
18:12
Fans of high-tempo handball will be pleased with what Györ and Rapid Bucuresti have produced in the first 11 minutes. Györ have a narrow 8:7 lead – though Anne Mette Hansen has just picked up a suspension.
Meanwhile, here is some post-match reaction after Esbjerg's victory against Lokomotiva Zagreb.  
"We're obviously happy about the win here in Zagreb. It's always a challenge to come here to Croatia because we know what they have to offer, but we looked good today and we're going home with two new points," said Jesper Jensen, Esbjerg coach. 
18:05
Raphaelle Tervel, who retired in 2014 after winning the EHF Champions League, is back in Györ's squad for this evening's match. We will find out if the Hungarian side's assistant coach makes an appearance on the court.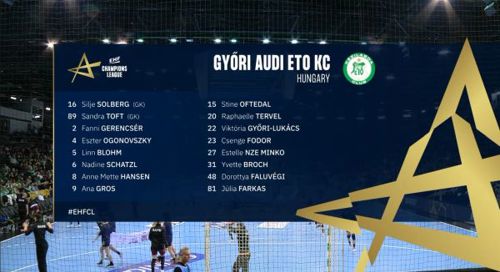 18:02
Before the match, Ambros Martin and Carlos Viver shared a warm embrace. For the next 60 minutes (or so...), the Spanish coaches will be rivals as Györ seek to end Rapid's unbeaten run in the EHF Champions League.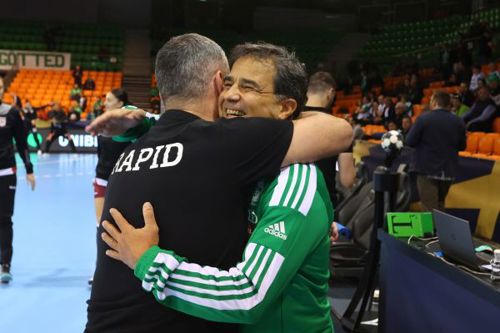 17:50
Arguably the highlight of Saturday's action is up next as Györ host Rapid Bucuresti.
When Ambros Martin spoke about Györ's clash with Rapid on Friday, he was aware that the Romanian side have ambitions of going all the way in this season's competition.  
"It will be an interesting match. It looks like they signed new transfers this week. It means a lot about their intentions in the EHF Champions League this season. We are not in our best shape yet, but we are really motivated. Our fans will be one of the keys of the game – like they always are," said Ambros Martin, Györi Audi ETO KC head coach.
17:45
As Vipers Kristiansand have recorded a huge win against Banik Most, Scandinavian teams have won both of our matches so far this afternoon. 43 goals is a club record for Vipers in the EHF Champions League – and Markéta Jerábková (11 goals) and Jana Knedlikova (four goals) accounted for 15 of them against the team from their homeland.
Swedish goalkeeper Sofie Börjesson racked up an impressive 14 saves in the second half to finish with a save percentage of 70 per cent, while fellow Swede Jamina Roberts scored eight goals from 11 shots for the reigning champions.
17:37
Here is the goal timeline from the second half of Esbjerg's win over Lokomotiva Zagreb, plus the EHFTV graphic showing the top scorers from the match.

17:33
Esbjerg complete a comfortable 12-goal away victory over Lokomotiva Zagreb to move above Metz in group B. Of course, Metz will reclaim third place if they beat Kastamonu at 18:00 CET.
While Esbjerg conceded more goals in the second half than they did in the first half, the Danish side profited more in attack from the fast breaks that resulted from their good defensive work. Additionally, with Henny Ella Reistad adding six goals after the break to her single goal in the first period, it was good afternoon's work for Jesper Jensen's team in Croatia.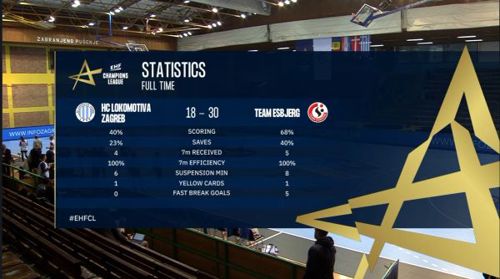 17:23
The difference in shooting percentages between Lokomotiva and Esbjerg is stark.
Lokomotiva Zagreb: 15/41 (36.6 per cent)
Esbjerg: 27/39 (69.2 per cent)
17:16
One bright spot for Lokomotiva Zagreb is that Ana Malec has converted all four of her penalty attempts. After a stylish rebound finish from Lokomotiva's Marija Kaludjerovic and another goal for Esbjerg from Reistad, the Danish side lead 23:15 with 10 minutes remaining.
17:09
Vipers' attack has just hit the 30-goal mark against Banik Most – but Dominika Müllnerová has reminded Sunniva Næs Andersen that goals cannot be taken for granted.
Sofie Börjesson's save percentage for Vipers is 80 per cent since she replaced Julie Stokkendal Poulsen at the beginning of the second half.
17:02
One notable feature of the first eight minutes of the second half between Lokomotiva Zagreb and Esbjerg is that Henny Ella Reistad is receiving more court time in attack. The Norwegian back has scored both of her shots since the resumption after the break.
Meanwhile, Esbjerg have extended their lead to 10 goals, 19:9. 
16:45
Defending champions Vipers Kristiansand have a five-goal lead against Banik Most after 30 minutes of handball in Chomutov. Czech stars Markéta Jerábková and Jana Knedlikova have combined to score nine of the Norwegian side's goals in the first half. Julie Stokkendal Poulsen has made 10 saves from 25 shots in goal for Vipers.
16:41
After an extremely solid defensive performance in the first half, Esbjerg have a six-goal lead at half-time over Lokomotiva Zagreb. With Amalie Milling making seven saves, as per the official statistics, and Esbjerg's defence interrupting Lokomotiva's attack as often as possible, the home side have struggled to make an impact on the scoresheet. 
For Esbjerg, Nora Mørk, who has scored three penalties, and Anne Petersen Tolstrup have scored four goals each. Ana Malec has top-scored for Lokomotiva with three goals.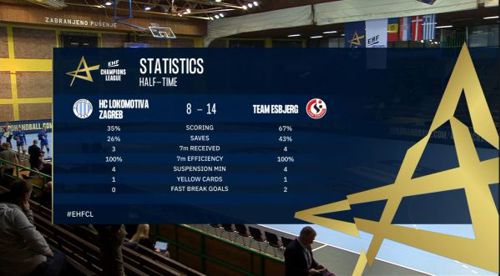 16:31
Vipers Kristiansand have a commanding six-goal lead (18:12) against Banik Most as half-time approaches in the Czech Republic. The Norwegian side are clearly willing to move the ball swiftly when they can this afternoon. 
16:27
After making six saves from 12 shots faced, Amalie Milling has a save percentage of 50 per cent for Esbjerg. Milling has saved the shots that you would expect and helped her side out here when she was called upon to stop a golden chance.
16:25
A suspension for Mette Tranborg gave Lokomotiva an opportunity to build on their good work after they reduced Esbjerg's lead to two goals, but the Danish side have restored a four-goal advantage, 10:6, through goals from Anne Tolstrup Petersen and Nora Mørk.
16:21
Jesper Jensen calls a timeout for Esbjerg after Lara Buric successfully lobs Amalie Milling to reduce the Danish side's lead to two goals, 8:6. 
16:12
Nora Mørk missed a straightforward fast break chance for Esbjerg in the fifth minute, but she has already scored three penalties from three attempts. Esbjerg lead 5:2 after 11 minutes.
16:09
After seven minutes of the game in Croatia, Lara Buric opens Lokomotiva Zagreb's account with a good finish from the right wing. Esbjerg's defence has largely restricted the home side to attempts from the nine-metre range in the early stages. 
16:02
As you might have seen already, Rikke Poulsen, who missed Esbjerg's match in midweek against Aarhus United, is not in their line-up for this afternoon's game.
15:48
Ahead of our first two matches of the afternoon, Banik Most (-94) and Lokomotiva Zagreb (-73) have the worst and second worst goal difference in the competition.
Lokomotiva Zagreb have only scored 116 goals this season, while Banik Most have conceded 246 goals. We'll find out shortly if Lokomotiva's attack and Most's defence have improved after the EHF EURO break.
15:41
Vedran Krkac, assistant coach of Lokomotiva Zagreb, is aware of the daunting task that his side faces this afternoon against Esbjerg.
"If you need to prepare for Esbjerg, you should watch the final of the last European Championship. Looking at the Norwegian and Danish outside lines, it is preparation for Esbjerg: Mørk, Reistad, Ingstad, Tranborg. Even the coach of Esbjerg is the coach of the Danish national team. It's shooting, defending, running — that's 60 minutes of running," said Krkac.
Vilde Mortensen Ingstad is not on the team sheet for Esbjerg this afternoon, but Lokomotiva Zagreb will still have to cope with Nora Mørk, Henny Ella Reistad and Mette Tranborg. 
15:27
Esbjerg won their last two matches in group B before the break, beating Metz and Kastamonu. 
Esbjerg goalkeeper Amalie Milling finished with a save percentage above 40 per cent when they beat Aarhus United in the Danish league earlier in the week. On Wednesday, when Milling spoke about the prospect of facing Lokomotiva Zagreb on Saturday in the EHF Champions League, she emphasised that Esbjerg had to remain focused throughout the match.
"They are going to throw everything they have at us, which makes it our job to keep our focus so we do not underestimate their skills in any way. They are in the EHF Champions League for a reason and do have many good players," said Amalie Milling.
15:15
Good afternoon and welcome to the live blog for coverage of round 7 of the EHF Champions League Women group phase 2022/23.
Whilst we have five matches scheduled today, four of them are in group B. With all eight teams in group B in action on the same day, we will know where each side stands at the end of round 7 this evening.
Before then, at 18:00 CET, Györi Audi ETO KC vs CS Rapid Bucuresti will headline the four group B matches. Both teams have 10 points after six matches in the group phase, but the Romanian side are the last unbeaten team in the competition.
Our first two matches of the afternoon are at 16:00 CET.
DHK Banik Most vs Vipers Kristiansand (group A)
HC Lokomotiva Zagreb vs Team Esbjerg (group B)
On paper, these two games may appear similar. Banik Most and Lokomotiva Zagreb are both on zero points after six games, while Vipers Kristiansand and Esbjerg have four wins apiece in this season's competition.
For more on the eight matches ahead of this weekend, check out our round 7 preview below.